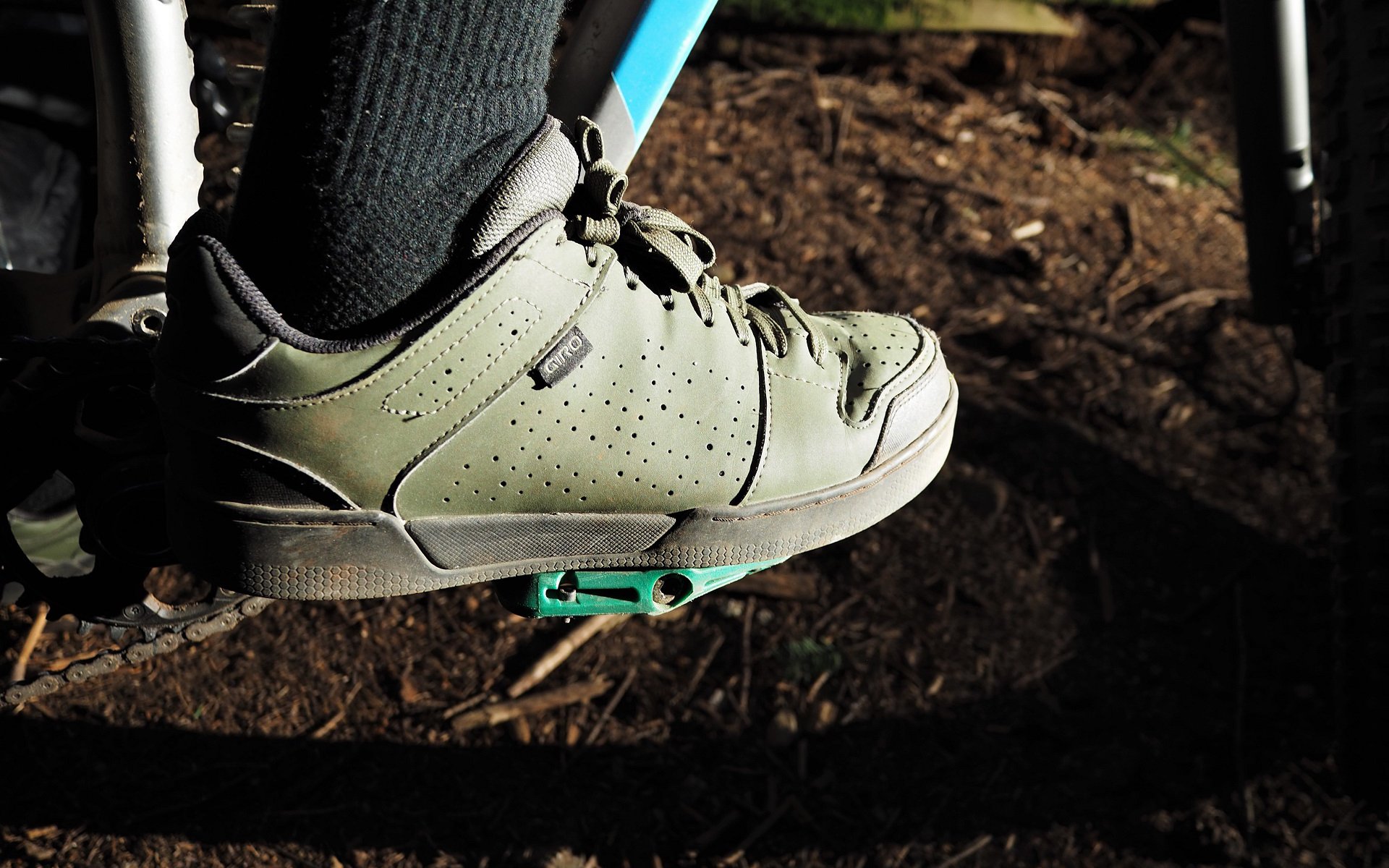 REVIEW | EDITORIAL
Budget Flats : Race Face Chester Pedals X Giro Jacket II Shoes
Five Ten
There's really no point in carrying on with a flat-shoe review without addressing the most popular flat pedal combo amongst my riding friends; Five Tens mated to Chromag Scarabs. This is a great place to start a discussion of budget flat pedal setups. The stickiest of sticky-soled shoes wear out surprisingly quickly and the popular Freerider Pro or Impact Pro models will run you 160 USD | 210 CAD a pair. Chromag's iconic platform shape will set you back 130 USD | 170 CAD.
My friends that ride flat pedals every ride in every weather condition will tell you it's worth every penny. When I think about 290 USD | 380 CAD for a pair of, admittedly really nice pedals and then some shoes that are being replaced at least yearly it makes me cringe a bit.
I've never loved the Five Ten Stealth rubber myself, even on the wettest, greasiest, steepest, days and I quite like plastic pedals (sorry, glass-nylon composite) so my own setup is quite a bit less expensive, and longer-lasting, with a pair of Michelin-soled Shimano GR7 (now the GR701) shoes running 140 USD | 185 CAD and large-body Kona Wah Wah 2 composite pedals ringing up at 60 USD | 80 CAD for a combined total of 200 USD | 265 CAD.
It had me wondering about the relationship between a solid and durable flat pedal combo and price. The question of min-maxing an un-clipped pedal and shoe combo made for the timely arrival of Race Face's popular Chester pedals and these, Vibram soled, Giro Jacket II shoes.
I'm too ornery to give up performance just to save a few bucks. My shoe-and-pedal combo is reasonable for an enthusiastic participant in mountain biking so I tested both these products with two questions in mind:
A) Would I be happy to run them year-round in all weather conditions on North Shore trails and if not, then when would I choose not to run them?
B) Would I choose them as a more-budget-friendly option for a kid, newer rider, or someone experimenting with flat pedals part-time to improve their overall riding skills and for all those other good reasons?
I entered this test with a couple of assumptions:
1)The Chester platform would feel small compared to my Wah Wah 2 base (which was only sometimes true)
2) That with our abnormally wet spring and summer would limit my usage of the Jacket II or have me resenting days when I 'had' to ride them instead of my GR7 shoes. (which was also only sometimes true)
Chester Is Convex
Race Face claims that Chester uses "a slim yet durable Nylon composite body accented with a concave design." This is so measurably false that I assume it's a mistake on the part of their marketing department. One they appear to have made over and over and over again in marketing materials. Thanks in large part to the good folks at OneUp, having pedals that are actually concave in 2020 is really not a big deal. Pedals are either good, or okay, or shite. Put another way, a convex pedal shape only matters to those people who love concave-shaped pedals, and, at least in my extended riding group, they're tuned in to the point that they'll spot this kind of bullshit from a kilometer away on someone else's cellphone screen.
Chester has a decidedly convex shape. Race Face hasn't even installed tall pins that tower above the axle bulge. The pedal body tapers from around 15mm at the edges to 18.4mm at the axle and back again. Think a "subtle convex profile to provide you with more grip thanks to the pedals sitting in the natural arch of your foot" a la OneUp. Only with fewer sharp, aggressive, hungry pedal pins.
Measurements aside, Chester has a natural feel underfoot as my shoe sinks into the pedal. I've ridden them with both the Jacket II and some well-worn GR7 shoes and the grip is healthy but not generous in either case. As soon as the trails get slippery, technique and foot position becomes increasingly important compared to riding either shoe on a larger platform with sharper pins. Personally I'm good with it; drop your heels and go. Buddy who normally rides Dagga's wearing Sam Hill's shoes is probably not going to have a great ride with this combo however.
I really enjoy the Chesters, particularly on my full suspension bike where a bit smaller pedal clears the sport surface and my feet don't get tired the same way as descending a hardtail. I wear a size 43 shoe and I think going between the 101x110 platform and larger for someone with my shoe size is going to come down entirely to personal preference. I was okay with the Chester on my hardtail and I really like it on my full suspension bike, and I felt the opposite way about the Wah Wah 2.
Composite (nylon, plastic, glass-fiber, whatever you want to call it) is not just my first choice for flat pedals because they generally come in at 1/2 the price of the machined aluminum equivalent with the same guts. I'm not only focussed on budget and I'm not giving up performance at key contact points to save a few bucks. Chester, like other similarly high-quality composite pedals, is solid and a bargain. They've held up well to regular smashing and the bearings are still tight and smooth.
Jacket II Shoes v. Weather
Am I happy when it rains? Let's just say it's complicated. Since the Jacket II arrived I've worn these shoes more than any other pair of footwear I own, including my much-loved GR7 shoes and my BirksAndSocks. Some of that comes down to these being a product on test, but it's also the fact they've become my everyday shoes on my commuter bike and just for hanging out. They're a great all-purpose flat pedal shoe in which I've ridden janky technical trails in the rain, every time I go for a family bike ride, and commuting to and from work.
The Vibram sole has a good pattern that interfaces well with all the different pedals I've used but it gives up quite a bit of tachkness compared to the GR7's Michelin rubber and is like a hiking boot compared to anything from Five Ten. In dry conditions they're fantastic and in wet conditions, they're A-Ok as long as my flat pedal riding technique is on point. I have blown my foot off the Chester a few times due to the combination of firmer soles and a technique lapse.
When the going gets greasy these shoes work better with sharper pins like those of the OneUp or Wah Wah 2, but I think anyone with good technique is going to find them survivable in all conditions. For folks learning to ride flats, or just using them to hit the pump track or ride with their groms (or for groms themselves) there is a lot of long-lasting-shoe here for 90 USD.
Would the Jacket II be my only flat pedal shoe for mountain biking? Only if I lived somewhere dry and it was at the upper end of my budget. Certainly, my unicorn remains the GR7, but hang on a moment because the Jacket II may live on to represent one of the better value per dollar pieces of cycling kit I've used.
One of the things I love about riding flat pedals is the feeling of always being ready to roll. I go to work, pick up my kid at school, and we go for a ride and I can do that in one pair of comfortable footwear. If I'm home alone working on an NSMB article and I need to go for a blast around the block to finish a thought and there's no remembering what shoes have what cleats - I just put on the pair by the front door and grab a bike. A combination of fit, fashion, walkability and wearability, the Jacket II is like a casual shoe that's really good for mountain biking as opposed to a technical mountain bike shoe that you can wear around after a ride.
I have the luxury of owning a couple of pairs of flat pedal shoes, and these are not the first ones I reach for when it comes time for a moist lap of Boundary Trail. If they were eaten by beavers tomorrow I'd replace them in a heartbeat as my daily footwear on and off the bike that's solid for hitting the pump track and grippy enough for most trails in most conditions. Giro's latest Jacket is perfectly versatile.