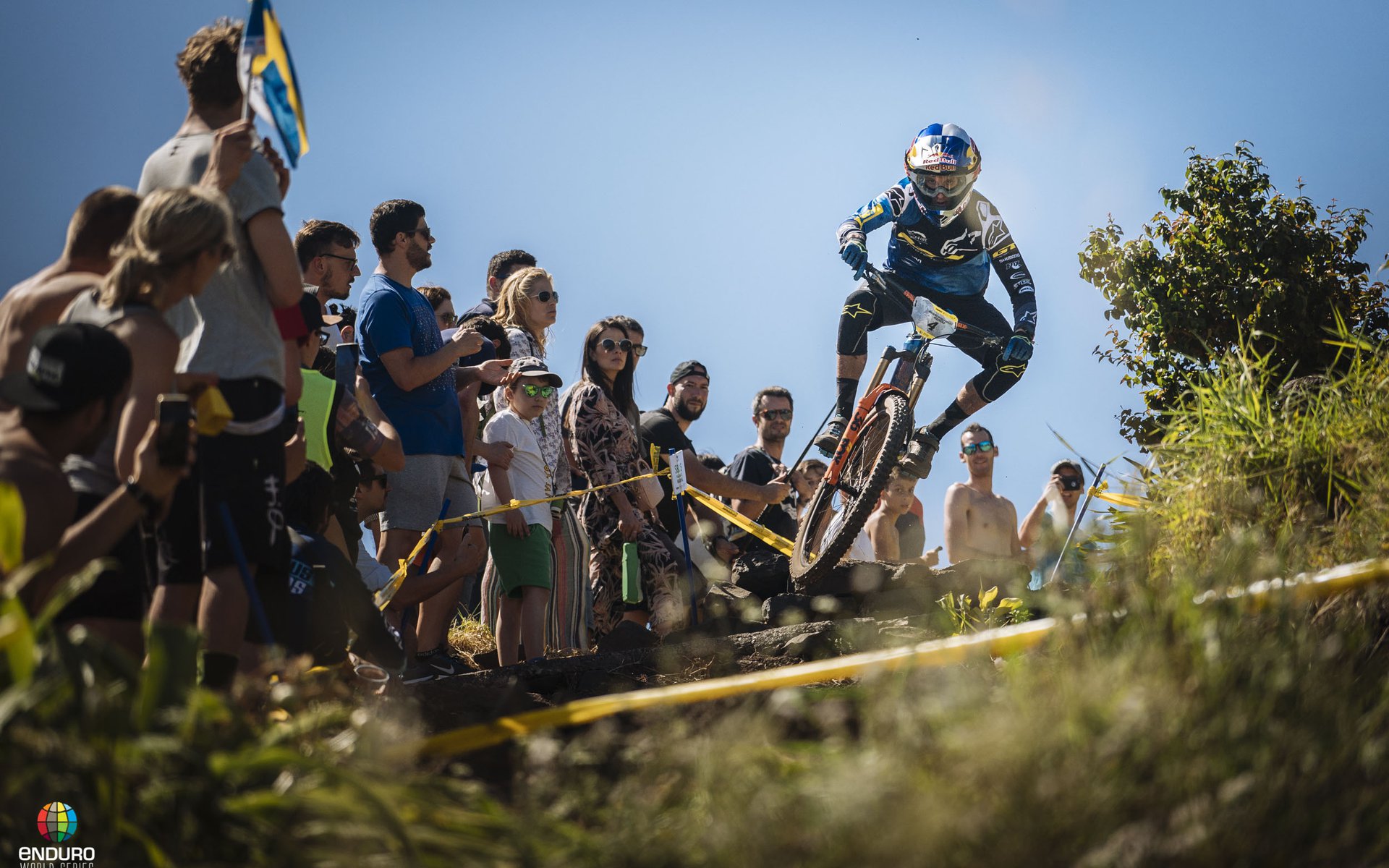 RACE NEWS/EDITORIAL
2019 Madeira EWS – Is a Trend Developing?
Two familiar faces landed on top of the Pro podium after eight stages of racing in Madeira. In the women's race, Isabeau Courdurier took her third win of the season, putting close to a minute into nearest rival, Noga Korem. Martin Maes also won his third straight race of 2019, by a lick over 30 seconds over local Portuguese lad, Jose Borges.
Isabeau shares some thoughts on the Madeira race over the weekend.
Martin talks about his focus for the weekend in Madeira.
While racing was intense on the dry, blown out track and there were interesting equipment choices — like Maes running a hybrid wheel setup of 29 front and 27.5 rear — it brought up something else I found fascinating. There's a trend beginning to form on the results sheet of the Enduro World Series. In 2013 when the EWS debuted there were two racers who dominated the podium; Jérôme Clementz and Tracy Moseley.
Moseley continued her dominance throughout 2014 and 2015 and won 71% of the events she entered during the three years she raced. Her worst result was second place. And the trend appears to be repeating itself in the women's field. After Tracy retired, Cécile Ravanel took over as the dominant racer. From 2016–2018, Ravanel won everything aside from two events. Those were a second to Tracy when she returned for the 2016 Wicklow stop, and a second to Isabeau in 2017. Before Tracy's retirement, Cécile showed she had the pace for the top step. She beat Tracy at the Whistler stop in 2014, and was consistently in the medals elsewhere with a slew of second and third place finishes.
Cécile's winning rate since she started taking series crowns is an astonishing 91% but an injury during the 2018/19 off-season has forced her to take a break. It's too early to know what will happen when things wrap up in Finale, Italy, this year, but my crystal ball says Isabeau Courdurier's current form and rankings lead will be hard to beat. Like Cécile, Isabeau has shown she can win against the best, beating Ravanel at the 2017 stop in Tasmania. Isabeau hasn't finished off the podium since Finale in 2015.
Cécile will be back racing as soon as she can and despite the severity of her injury—a broken neck at the C5 and C6—she'll still be wicked fast. She has confessed to loving winning and not being bored by her dominance leaving me to question when, rather than if, she'll win again. If Cécile's winning form returns before 2022, or Isabeau is beat by another competitor, the trend dies.
The women's field has been dominated by a select few who've consistently shown strong results before starting to take scalps. Keep an eye on Noga Korem in the future…
In the men's category, dominance has a shorter shelf life. After Jérôme won the opening season, the sophomore year of 2014 went to Jared Graves. But it was his teammate, Richie Rude who took over in 2015—marking the start of a different trend. With the first two years seeing two different winners, Richie successfully won consecutive championship titles in 2015 and 2016. A shoulder injury in the 2014/15 off-season kept Jared from the races and he missed the first three rounds as well as the fifth. In 2016 his results were inconsistent; he won in Finale but also placed 155th at round three in Wicklow. He hasn't been a major threat since.
Richie showed complete domination during his time as champion but suddenly didn't seem capable of putting a race together. At that time Sam Hill had done a few races and was starting to show potential. After finishing second at his first two EWS events, he won his third in Valberg, France. In 2017 he made the EWS his full-time focus and took wins all over the globe. For 2018 he continued his winning form and secured a second consecutive championship title, following Richie's footsteps. Now three rounds into 2019, Sam is struggling—like Richie before him—to find winning form.
Martin Maes is positioned well for the 2019 championship title. His 2018 season finished with impressive performances in both World Cup Downhill and Enduro World Series events. Bringing that momentum into 2019 has placed him on a different planet. But well before 2018, Martin showed the promise of brilliance. He raced his first season as a junior but jumped up to the pro category the following season, despite still having a season of junior eligibility left. Martin wanted the challenge and while it beat him down a few times, it's paying off now.
At just 22, Martin is showing the maturity with his racing that normally takes years, or even a lifetime, to develop. Of the 19 stages he's raced in 2019, Martin has won 14 including all three of the "Queen Stages"—worth an extra 40 points toward his season's overall tally. With wins worth 500 points and the extra 40 points for Queen Stage wins, Maes has a solid lead of 380 points over Florian Nicolai. Isabeau is in a similarly stable position, also winning all the Queen Stages in addition to each round. That gives her a 420 point buffer over Noga Korem.
Racers now have more than a month break before they're back between the tape in Val Di Fassa, Italy. While we'll have to wait and see what happens, it would be foolish to bet against either Martin or Isabeau continuing their winning streaks. Can they go the full pull and continue all season? Until they have some sort of mishap, expect to see them continue their ultra consistent, high-speed antics.