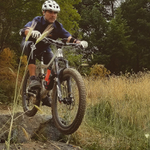 Posts: 2200
Joined: Sept. 10, 2012
I'm sorry. It's not always about you. 
My post was a general comment on the fact getting financial advice on a mountain bike forum is kind of funny and people should verify information with a subject matter expert. If I wanted to comment on something you posted I would have quoted it. You'll note I did not and I did not comment on anything about home business expenses in particular. 
I don't know why you are itching for an argument, but I am not interested.