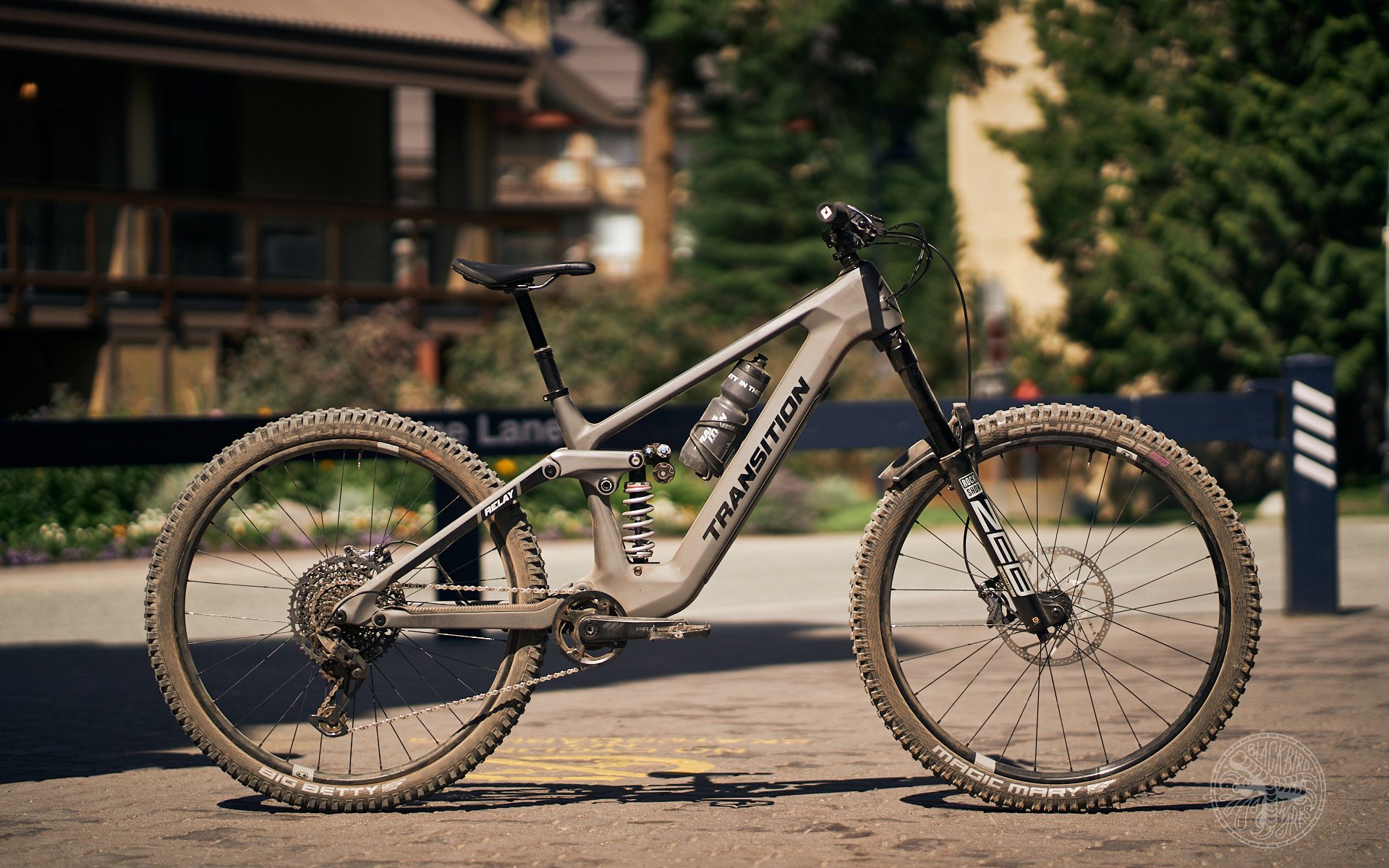 ASSORTED RANDOMS FROM THE VILLAGE
Stuff We Saw at Crankworx Part II
Five Ten Freerider Breast Cancer Edition Freerider Pro Canvas
Five Ten brand and product manager Luke Hontz has been steering the brand through over a decade of success, but he admits that it shocked him that this one came to life. Luke's mum is a breast cancer survivor, and he wanted to do something to honour her and others afflicted with it. He worked with Five Ten athlete Veronique Sandler who came up with the design, held his breath and presented it to the higher ups. They loved it. That was surprise #1. Surprise #2 came when other departments within the adidas umbrella heard about the project and decided to create BCA (Breast Cancer Awareness) editions of their own. Adidas outdoor brand Terrex created Agravic and Freehiker trail shoes - both big sellers - but the major coup was the announcement that there will also be a BCA version of the brand's #2 selling shoe: the Adidas Ultraboost.
The adidas BCA collection will be launching in late September 2022 online and at certain retailers throughout October, which is Breast Cancer Awareness month.
Five Ten will donate a portion of sales from each pair sold to the National Breast Cancer Foundation in North America and the U.K.'s Breast Cancer Now. We'll have a little more about them as the date approaches.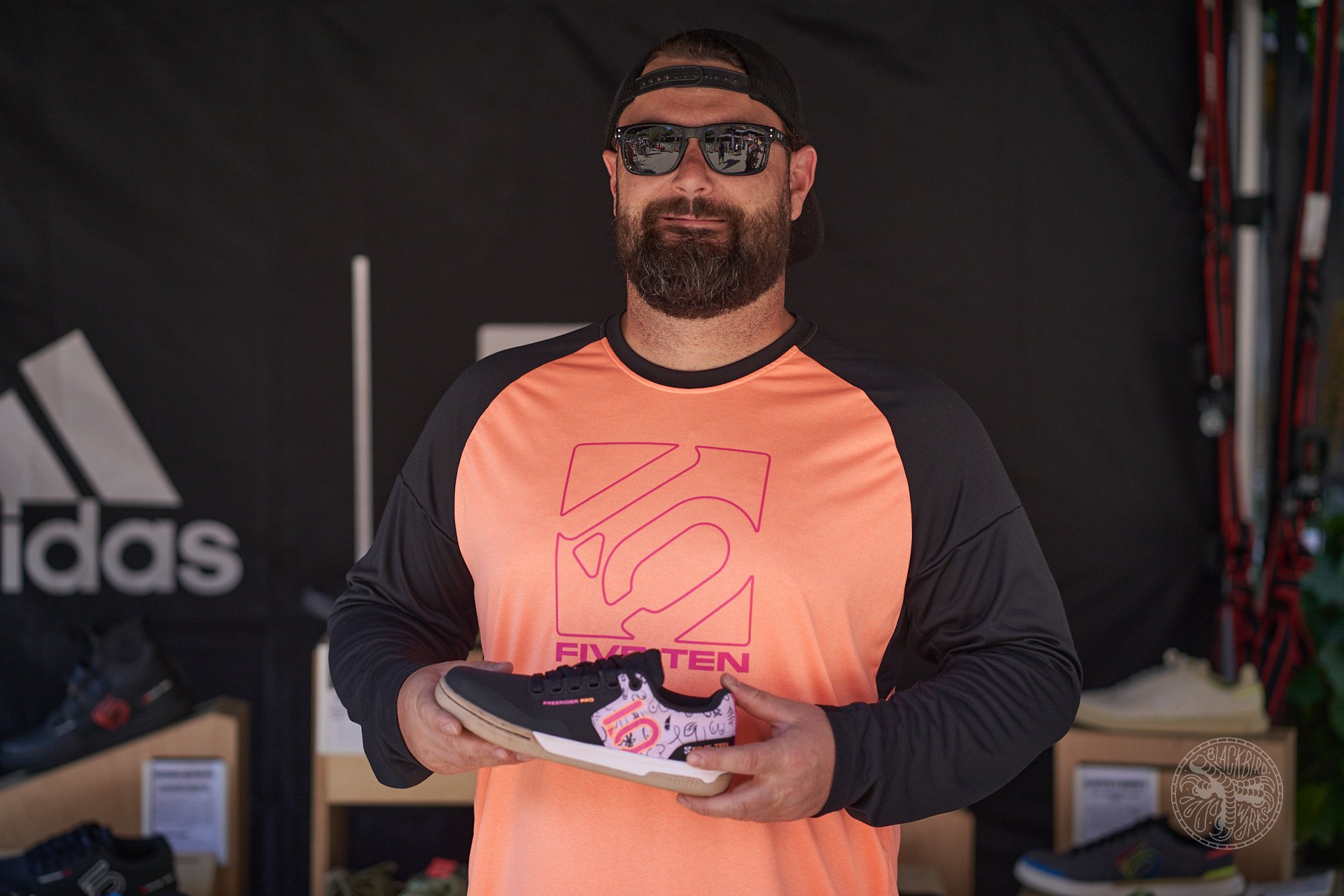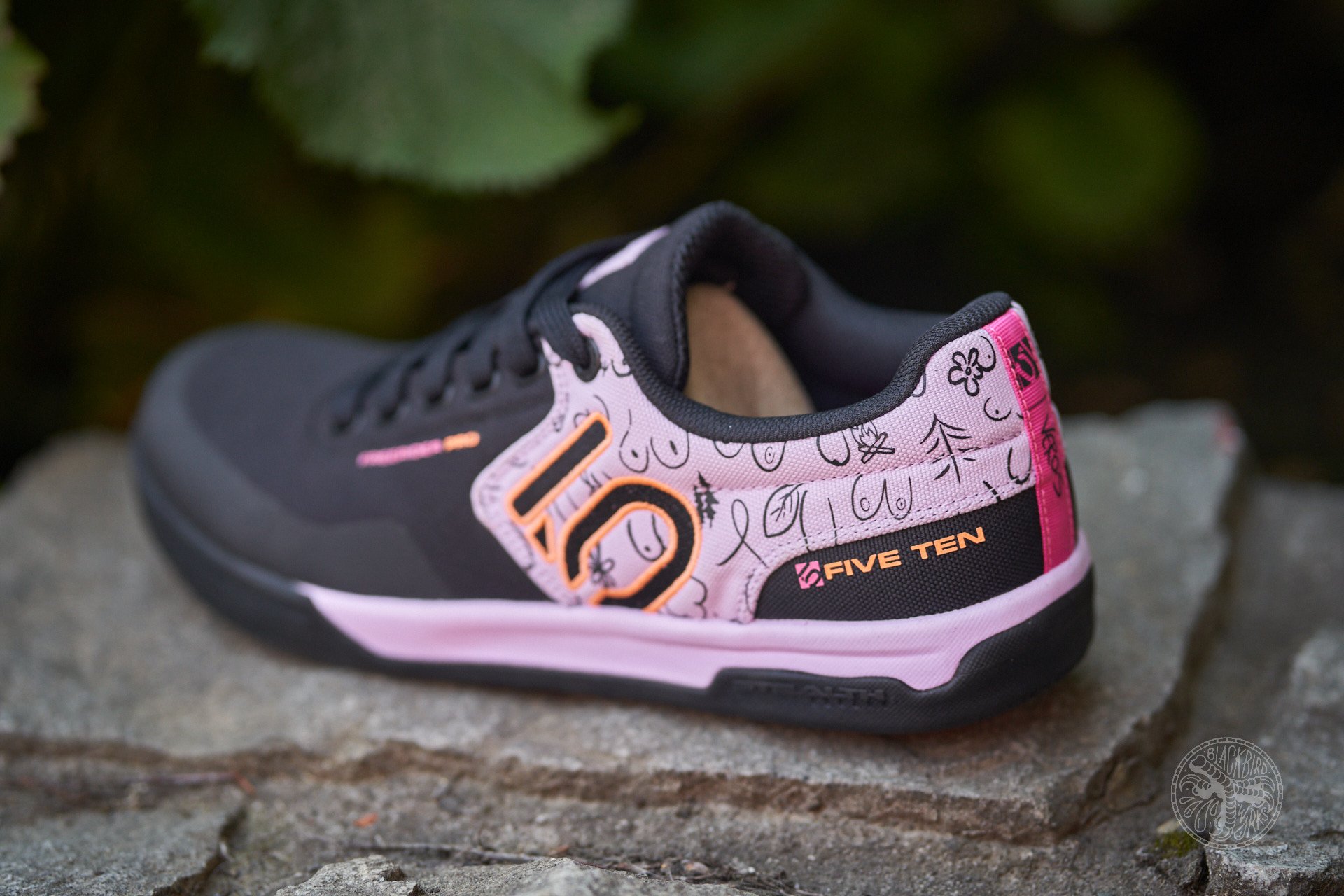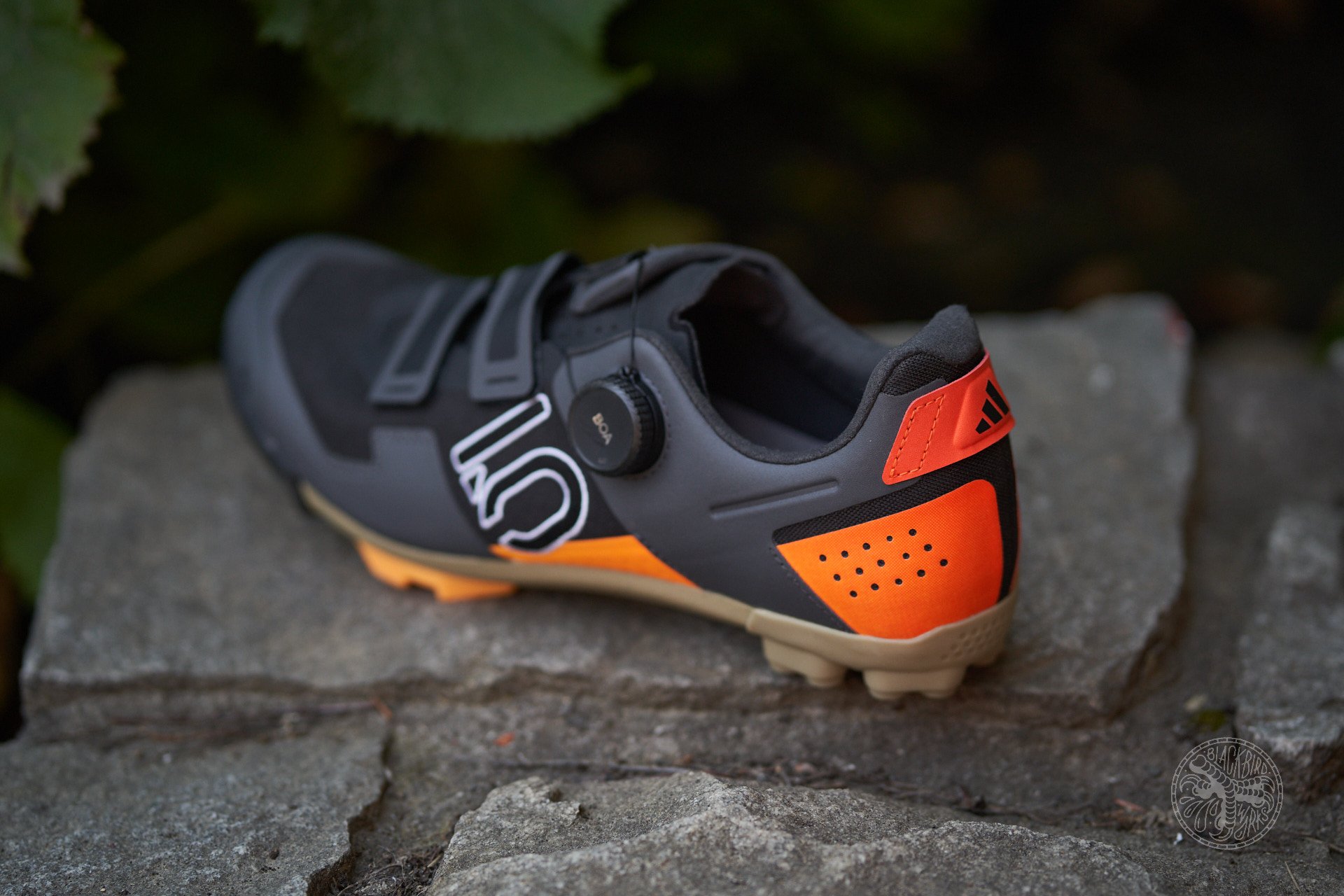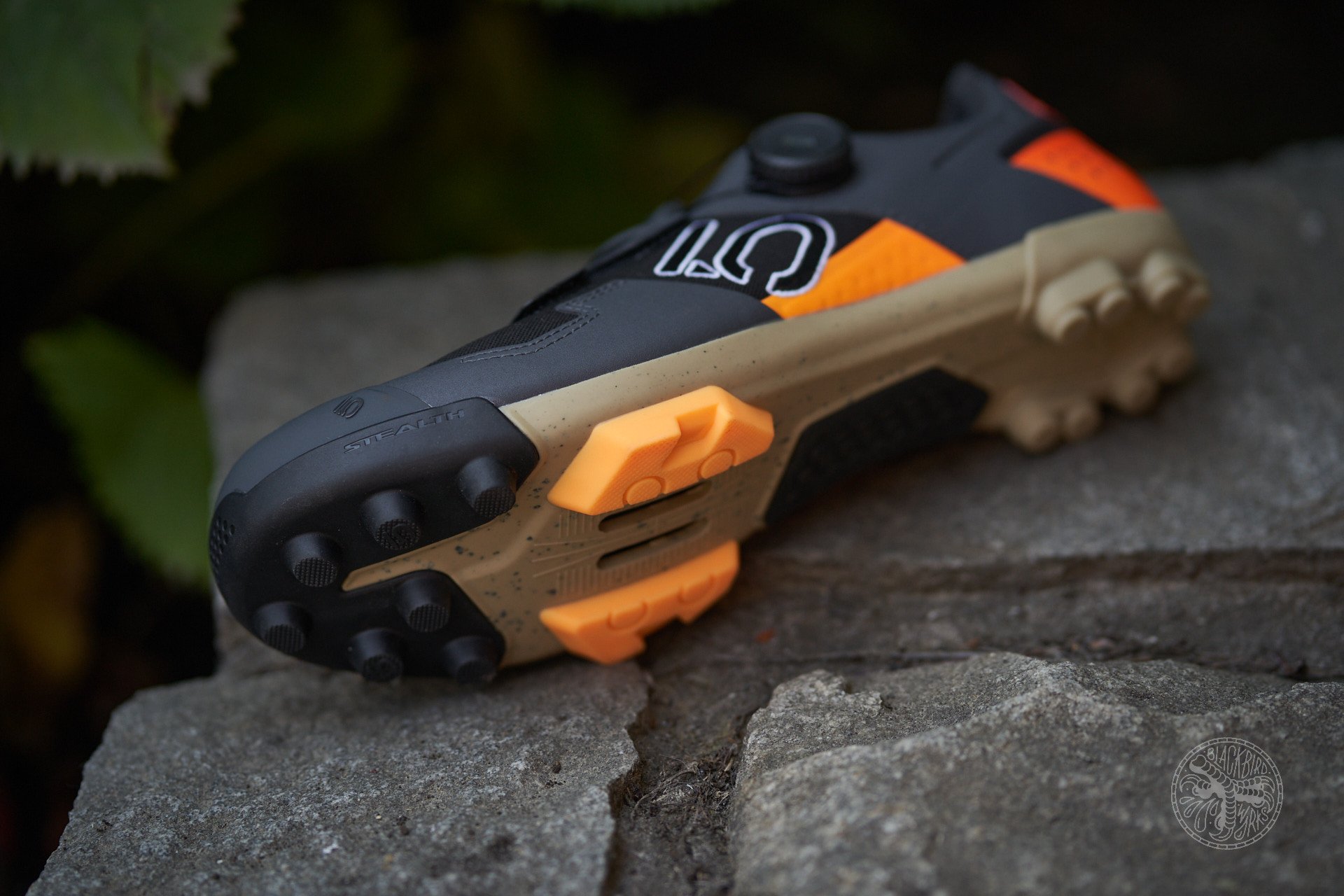 Transition Relay
When Transition announced the Relay e-bike, it was a bit of a gamble. First, because availability was still a long way off - about 10 months or so. And second, because the new Relay - when it does arrive - will come in a lot of different configurations: six sizes, two frames: carbon or aluminum, and while it won't may not SKUs, buyers will be able to choose between 160 and 170mm of travel and dual 29 or mullet setup. Oh, and two colourways.
A big part of the oomph behind the Relay lies in Transition's belief in the Fazua Ride60 system. If you haven't heard of Fazua already, you will in the near future - their drive system is designed around the premise that by removing the battery (and in some systems in the past, the motor), you can save a ton of weight and get two bikes in one: e-bike when you need it, regular mountain bike when you want it. Ride60 is also a system that uses a lighter 430wh battery and smaller 60nm motor for a less powerful combination that weighs less, minimizing the power and range difference between it and a heavier, more powerful e-bike. We're at an interesting confluence of factors right now with e-bikes in terms of weight and power, and progress should be rapid in the next five years.
In theory, Ride60's flexibility is awesome, but it's taken a while to get to this point. Anyway, Transition feels Fazua Ride60 is ready to shine, and the Relay allows you to remove the battery (in seconds, w/out tools) and ride away with no friction and minimal added weight vs a meat-powered bike. Having given it a quick spin, I can also say the the motor is exceptionally quiet, and the interface has some unique options as well, compared to the power delivery modes of Shimano or Bosch.
Lots more to this and we're looking forward to getting one in for review.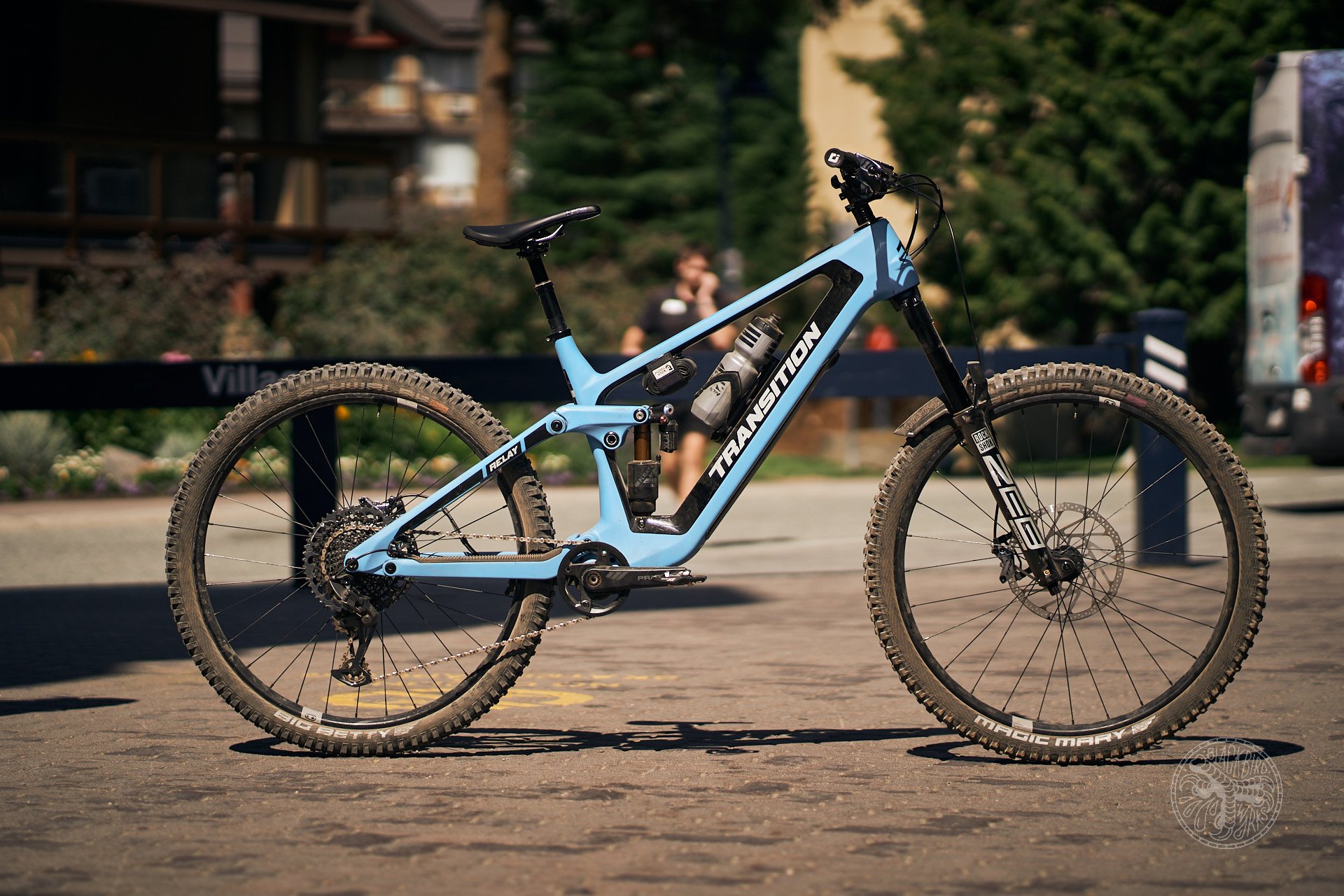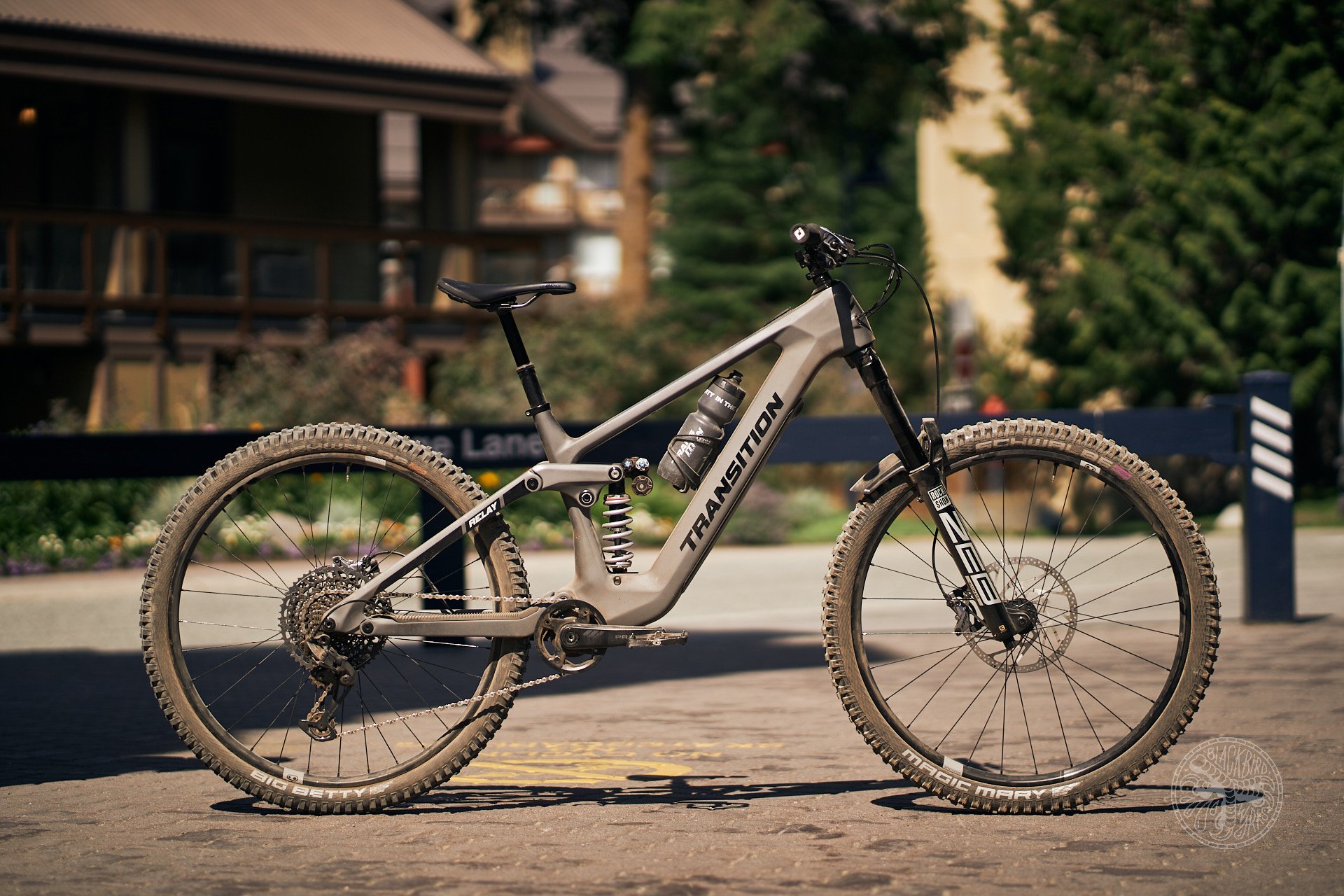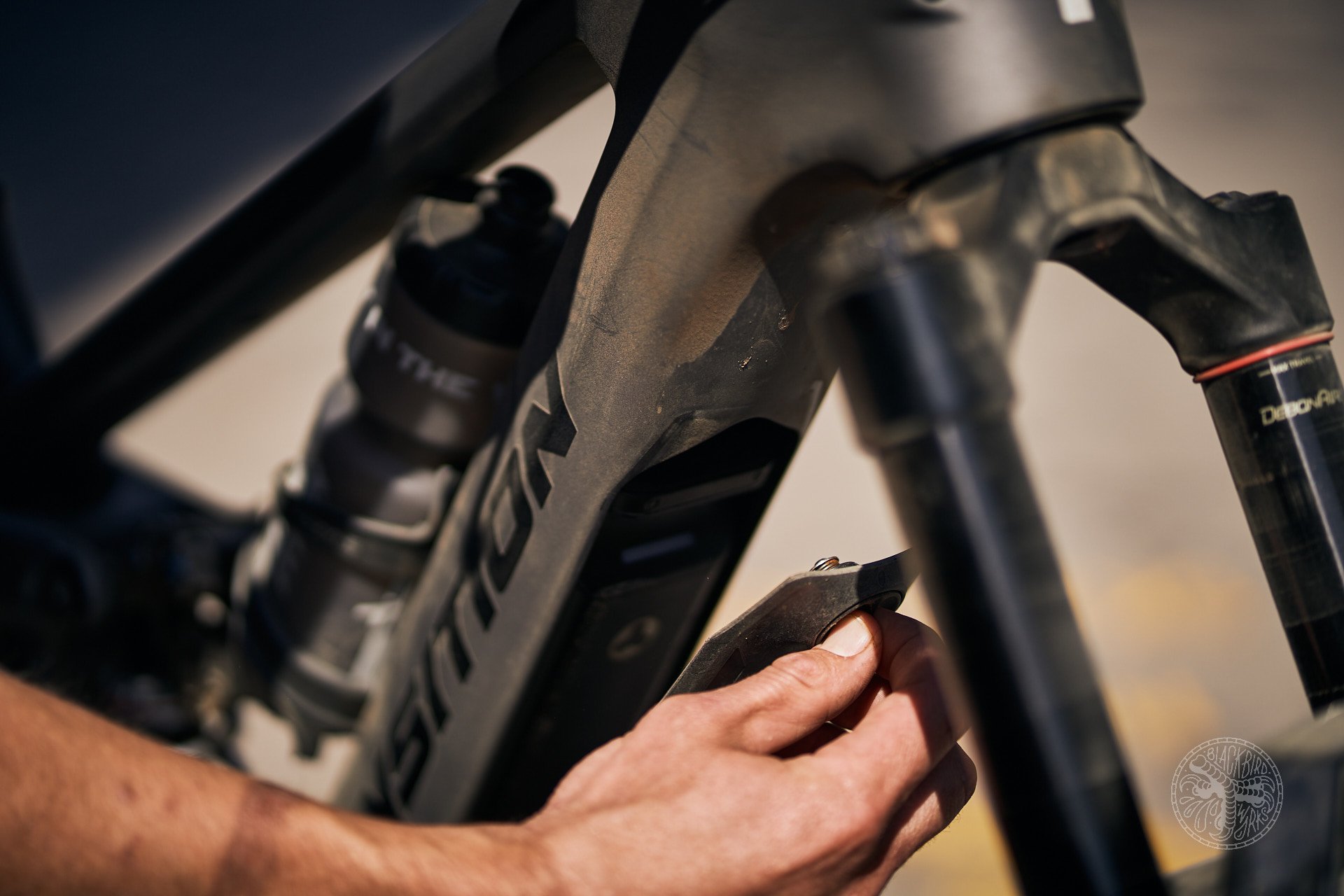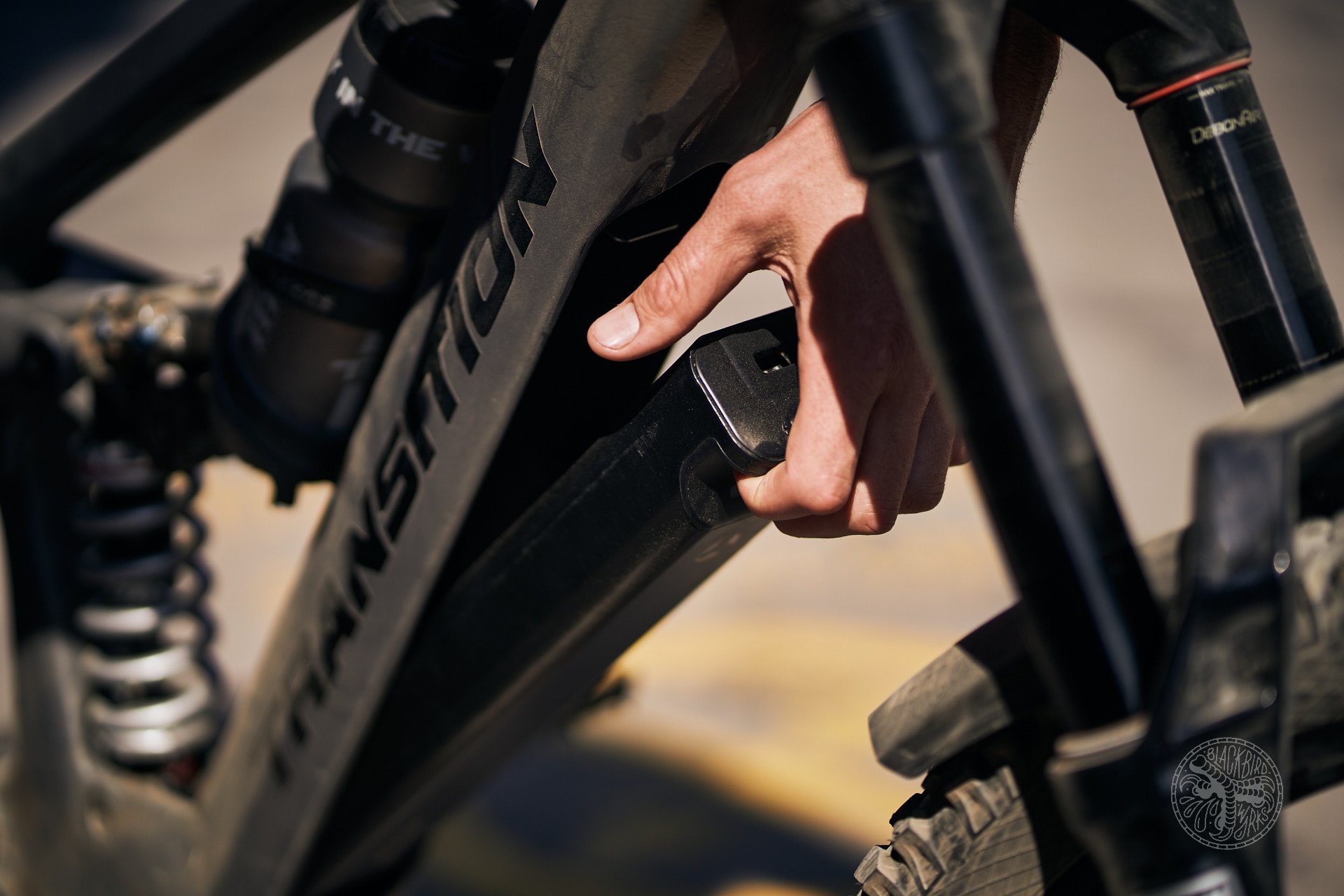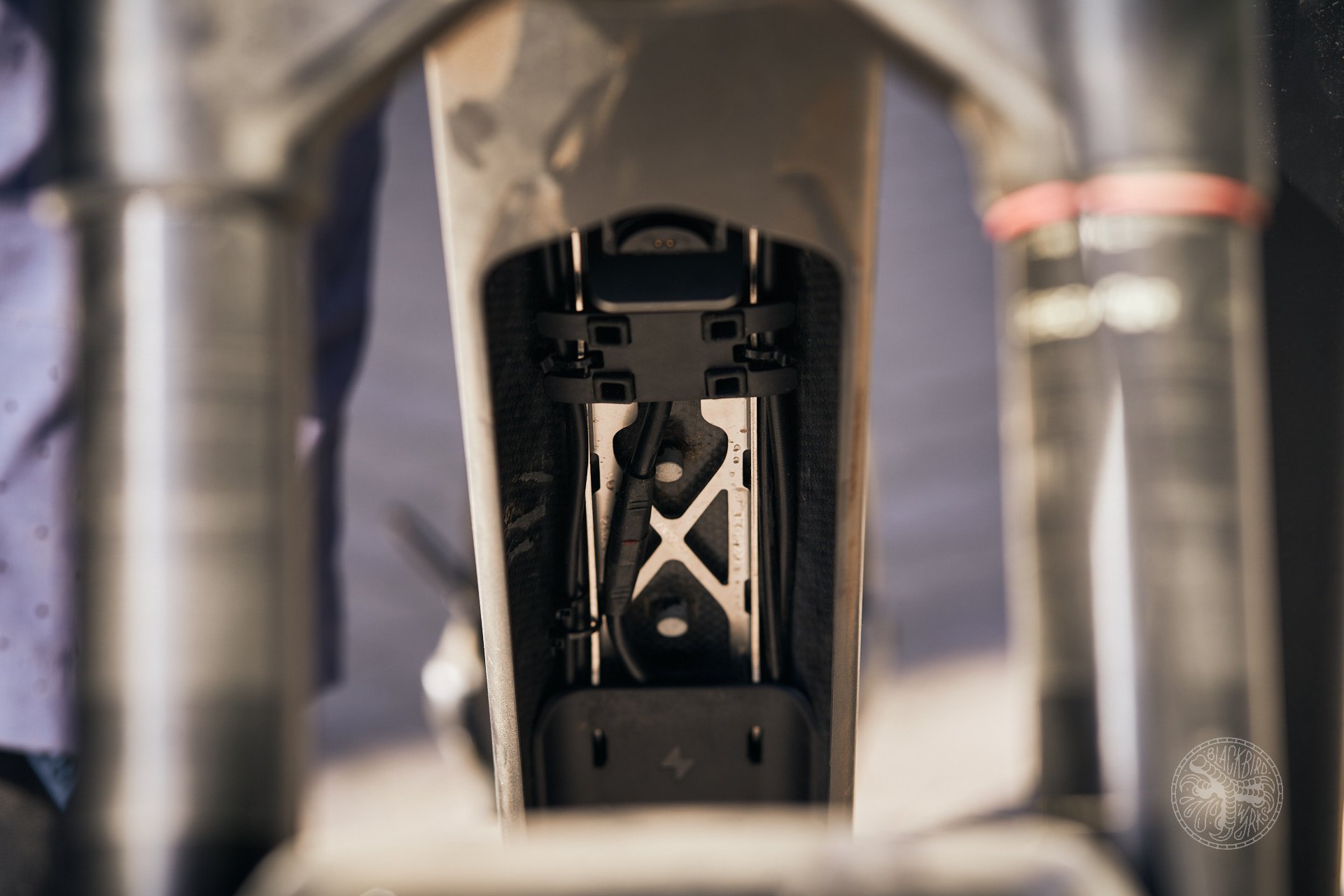 Yakima EXO System and RoadShower
Yakima was displaying their EXO system that turns your hitch into a modular rack system on a very sweet Defender that just may make an appearance in an upcoming Pistons & Pivots feature. We've seen EXO before but not up close, and the configuration options are very interesting. Yakima was also displaying the RoadShower, which is a bougie version of the ol' black PVC pipe attached to the truck bed rack version, but with some neat features like a thermometer, easy hose attachments so you can add a shower (in addition to the included spray nozzle) and the ability to hook up any Schrader-compatible pump to pressurize your water to 40psi so you can have a hot pressurized shower, or hose off your bike, dog, or mouthy kids.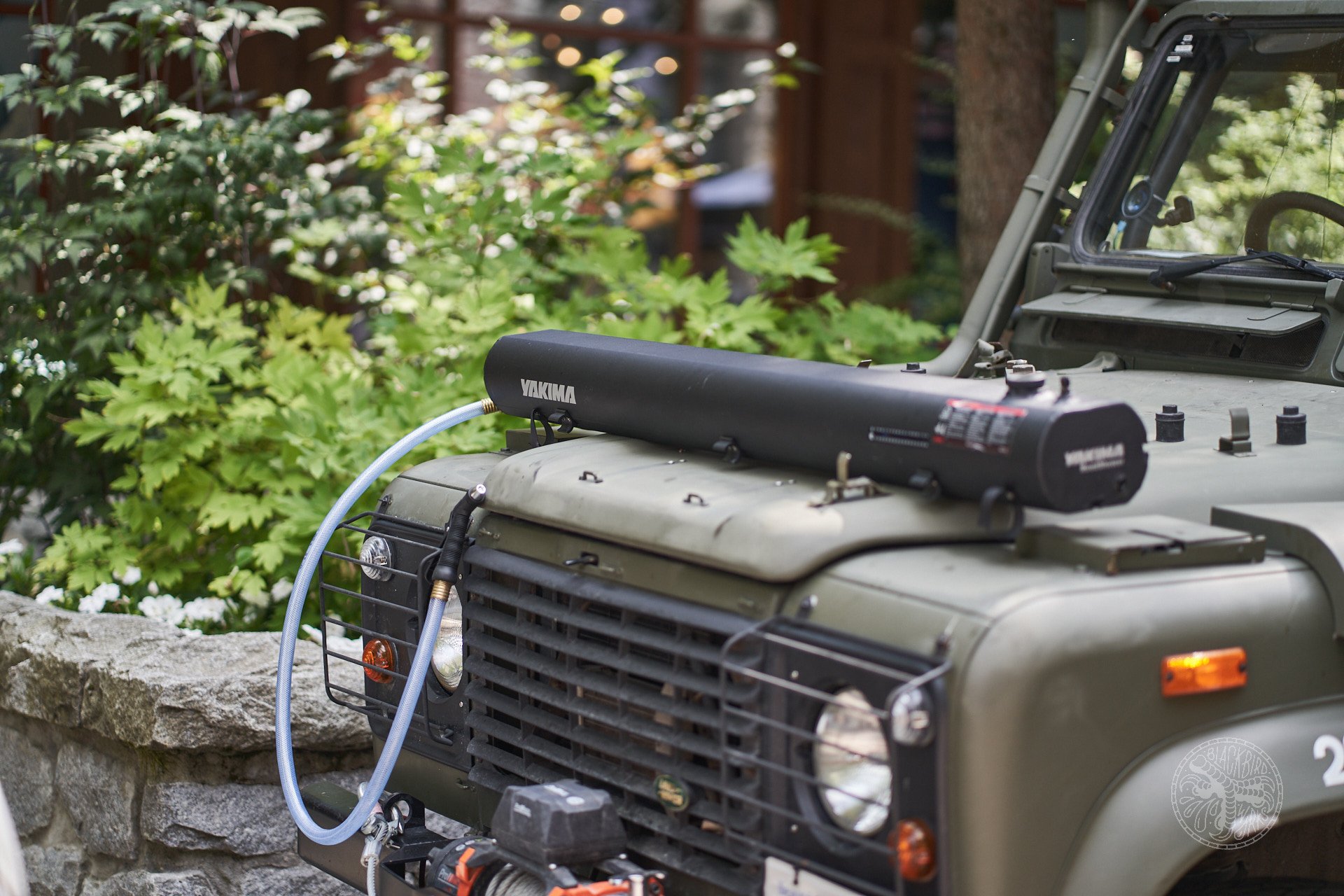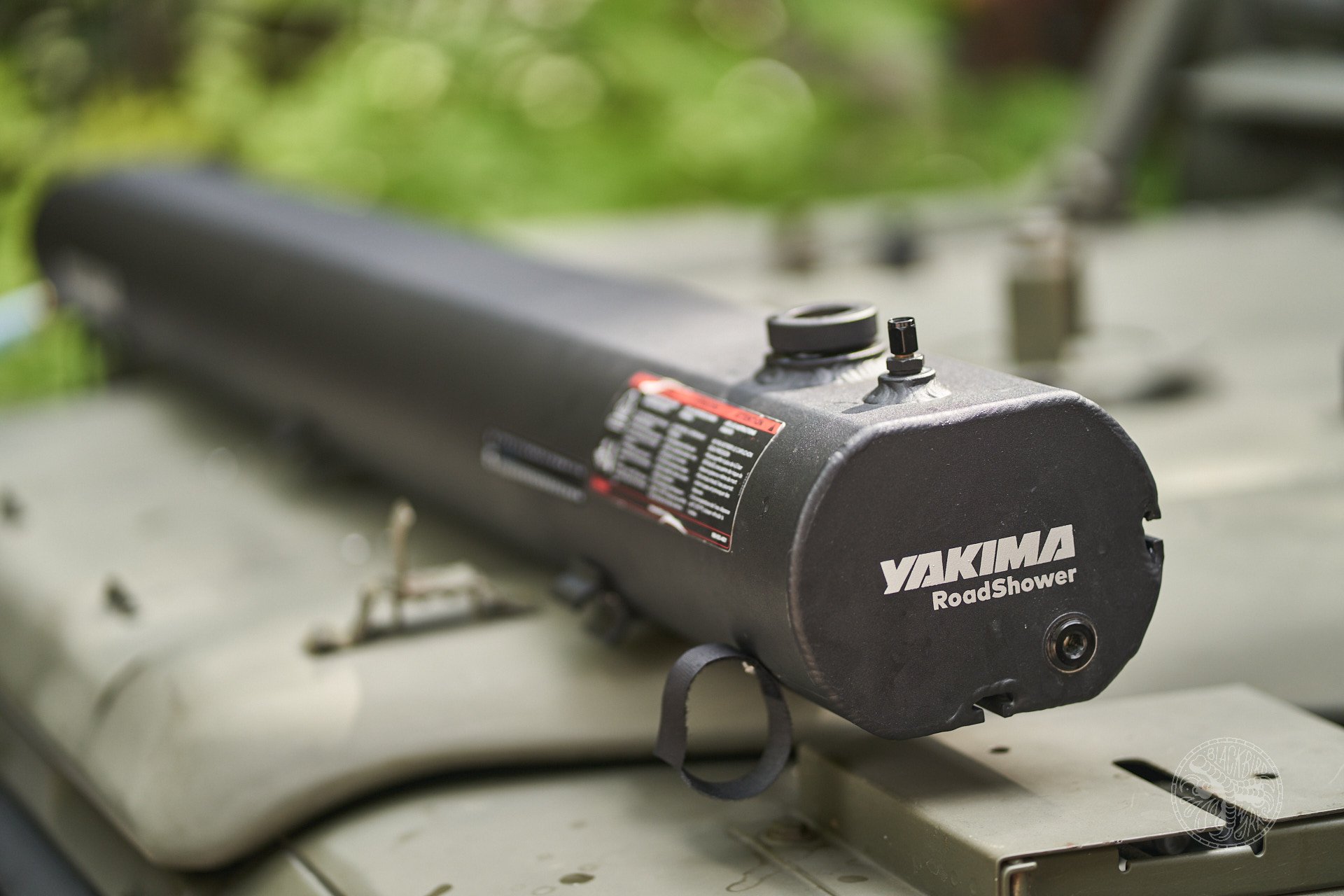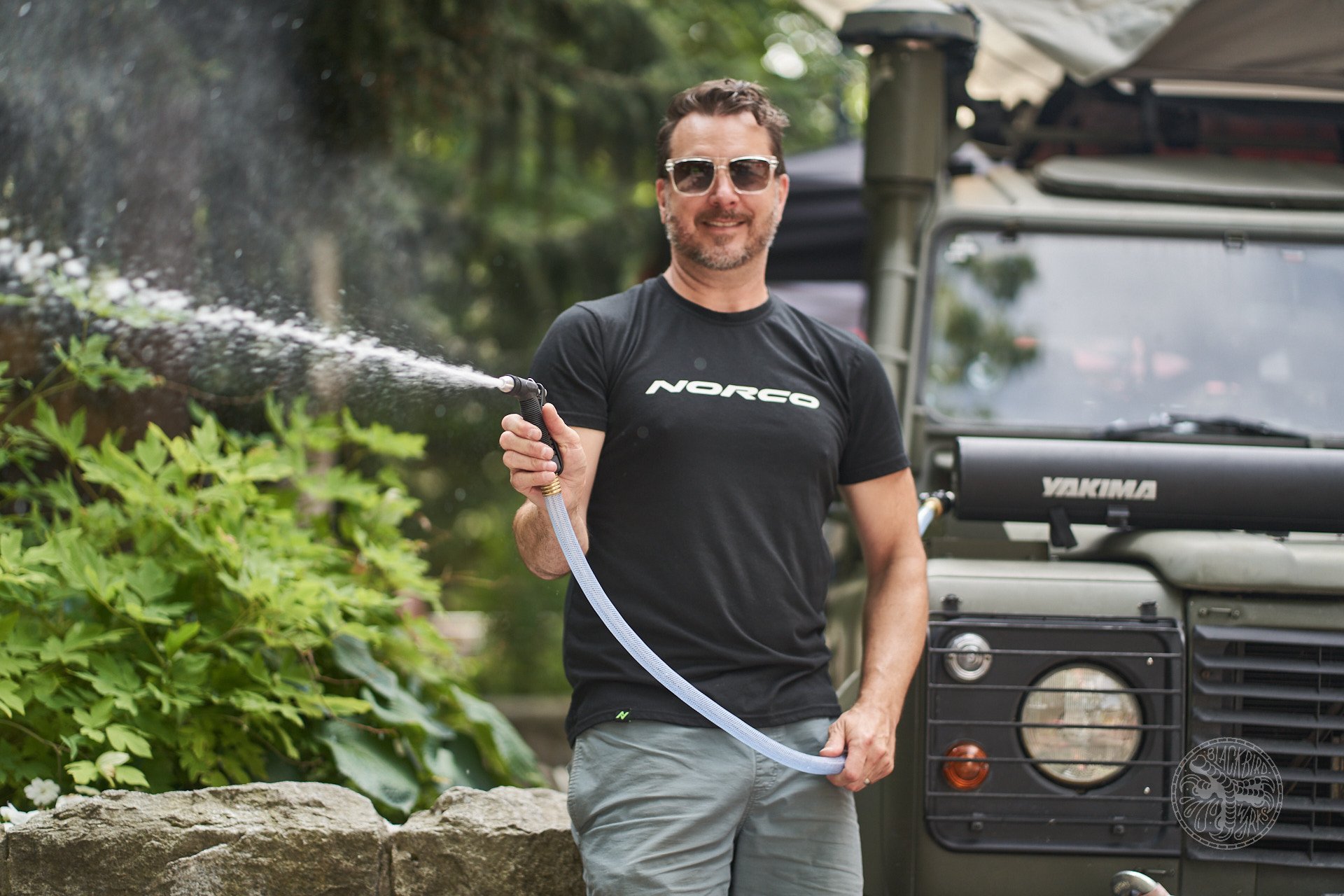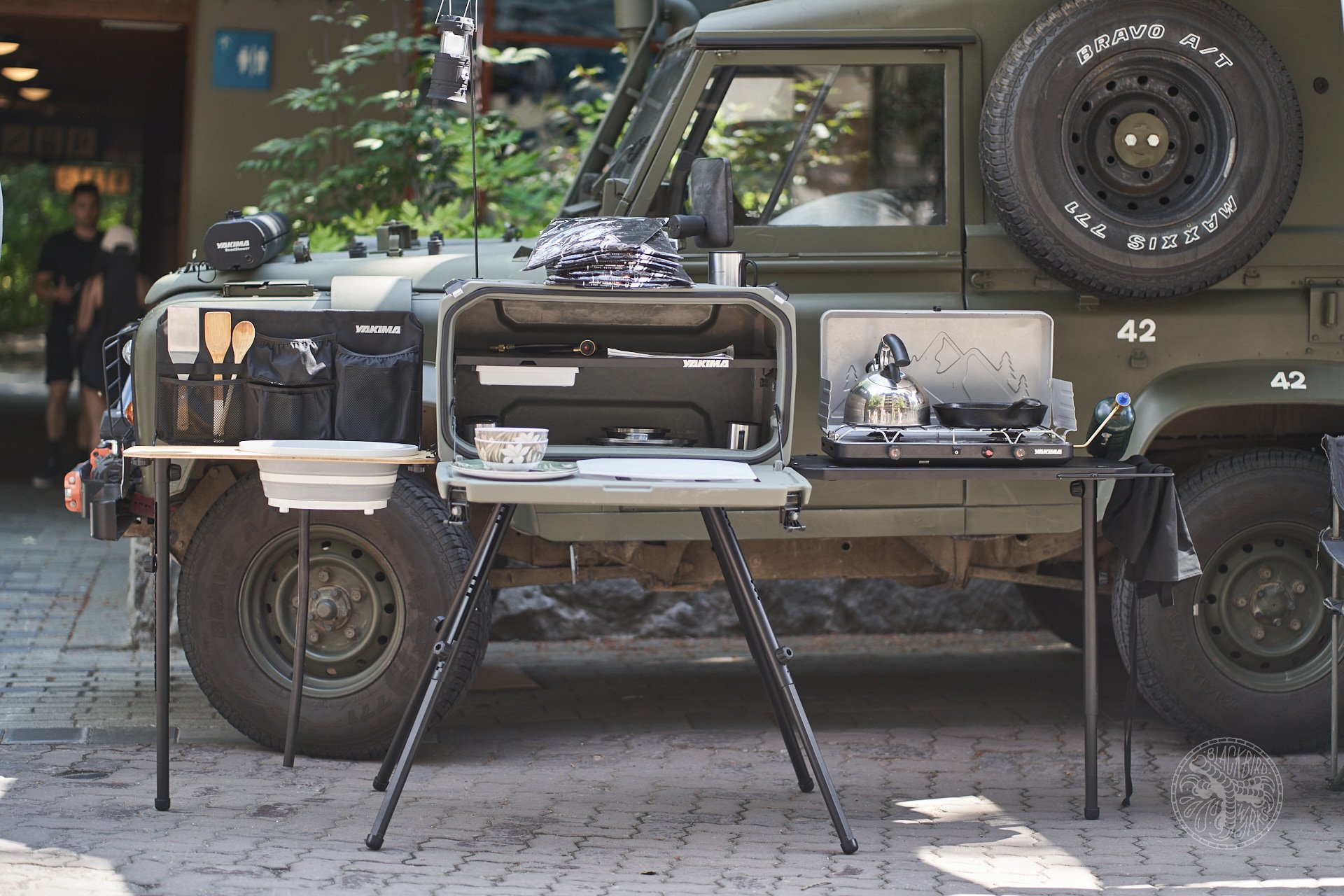 Cascade Components
We took a deeper look into Cascade Components links on one of our test bikes last year here. The Seattle-based company produces suspension links for major and minor brands in house. They claim an increase in suspension performance with their custom links and while that is up to the individual's needs from their bikes, we can't deny they are beautifully machined in a rainbow of awesome colours. While purple is a classic with the 90s crowd, gold and blue always catches the eye on the right kind of build.
At Crankworx, Cascade had a small spot tucked away from the glaring eyes of the bike manufacturers. They had their new spherical eyelets for Fox DHX2 coil shocks. These shocks are not happy under side-loading frames and spherical bushing eyelets can help reduce the binding on the teeny shafts. They also had the V2 version of their Code Calipers on display. Now with more material where needed, they fixed some of the flexing issues the V1 calipers had. Rome wasn't built in a day, we appreciate companies taking their time revising products.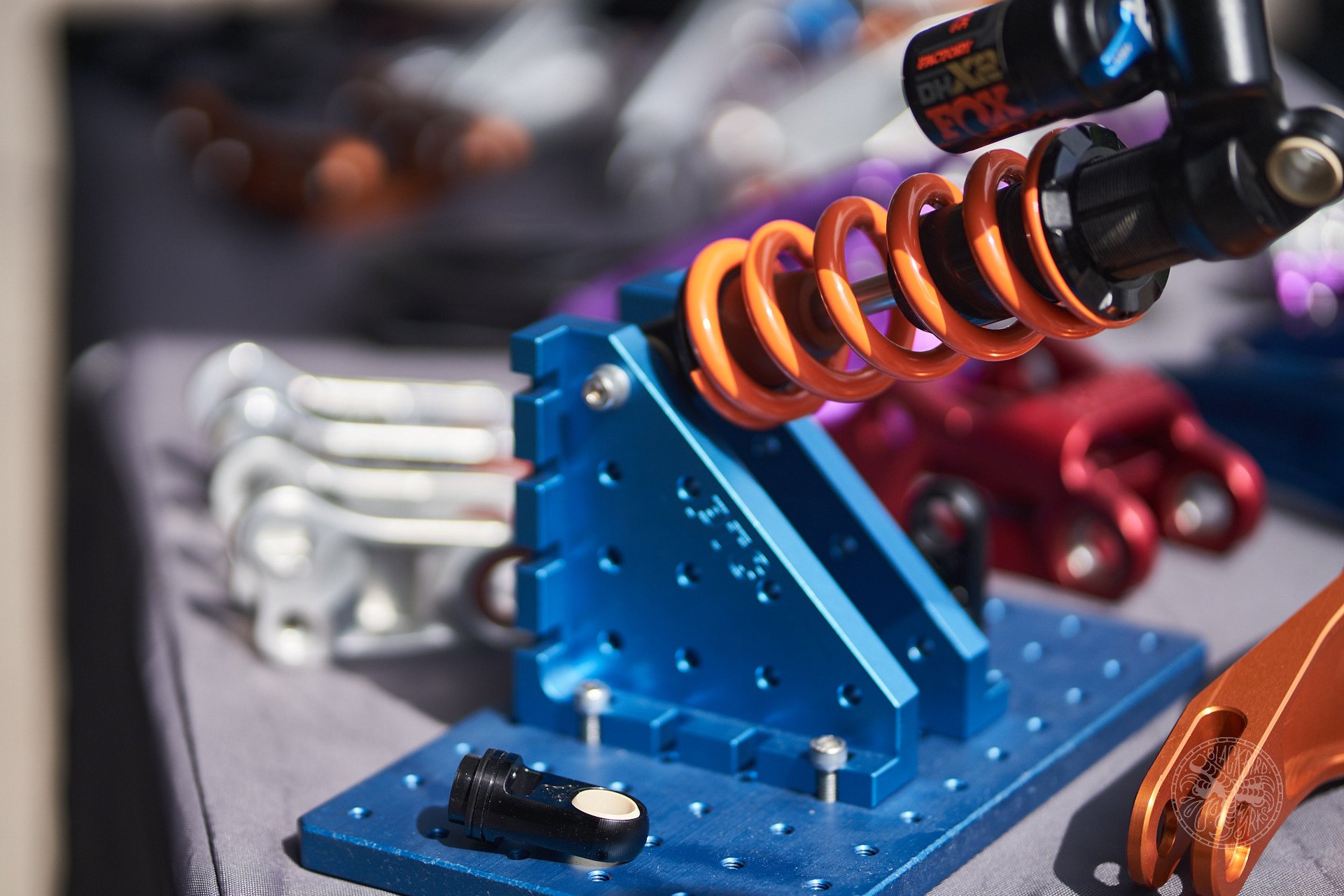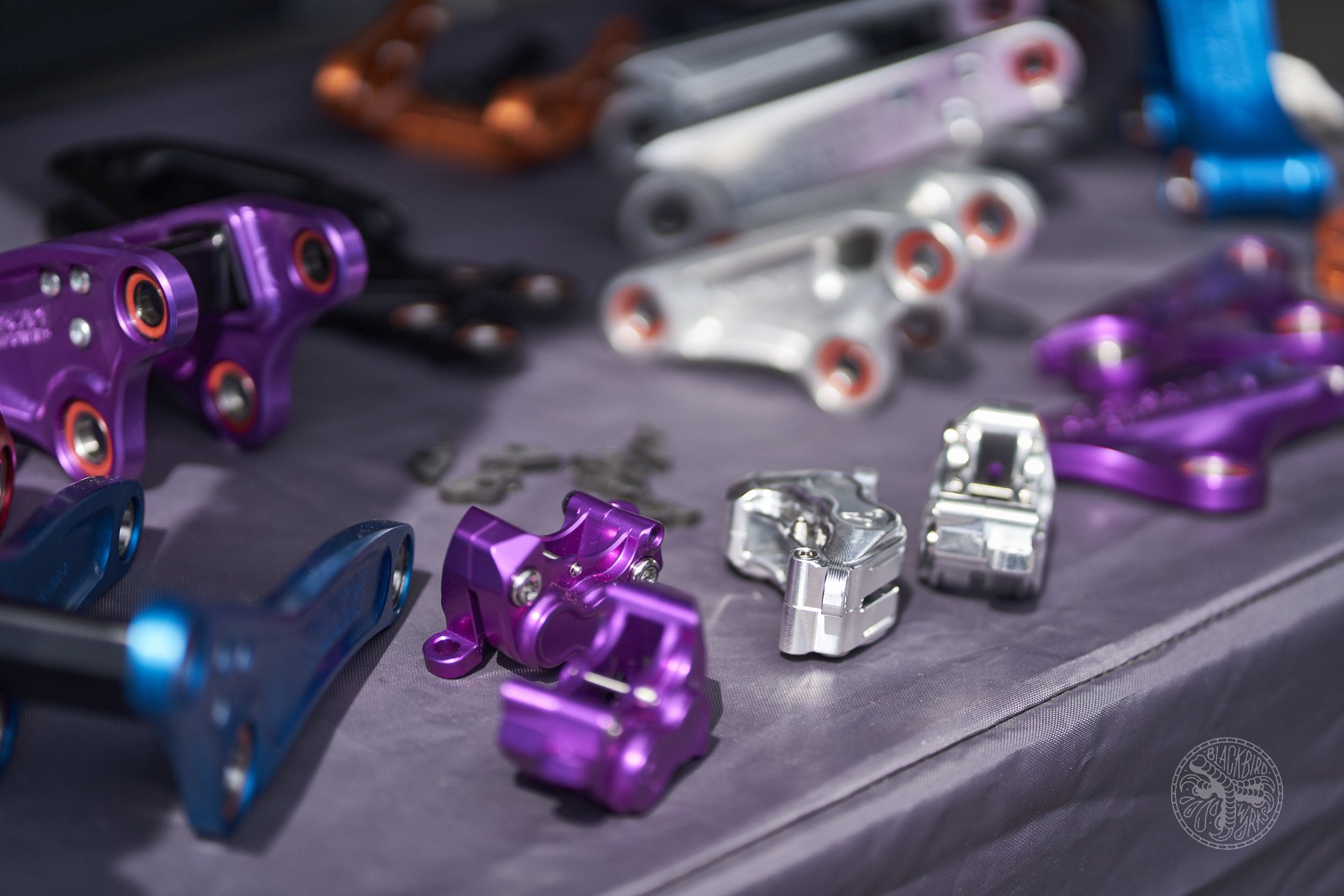 Etnies
Etnies had a few shoes and some upcoming apparel on display at Crankworx. Mainly a skate shoe brand for many of our youth, they are set on making purpose-built shoes for mountain biking, whether it be slopestyle, DJ or all mountain.
On display they had their Emil Johansson signature shoe that will be available soon. Also clipless shoes for aggressive downhill and all mountain riding. While the clipless shoe has a full length shank to provide stiffness through the sole, the flat pedal shoes support a 3/4 length shank to allow flexibility near the toe of the shoe for a better hiking and walking experience.