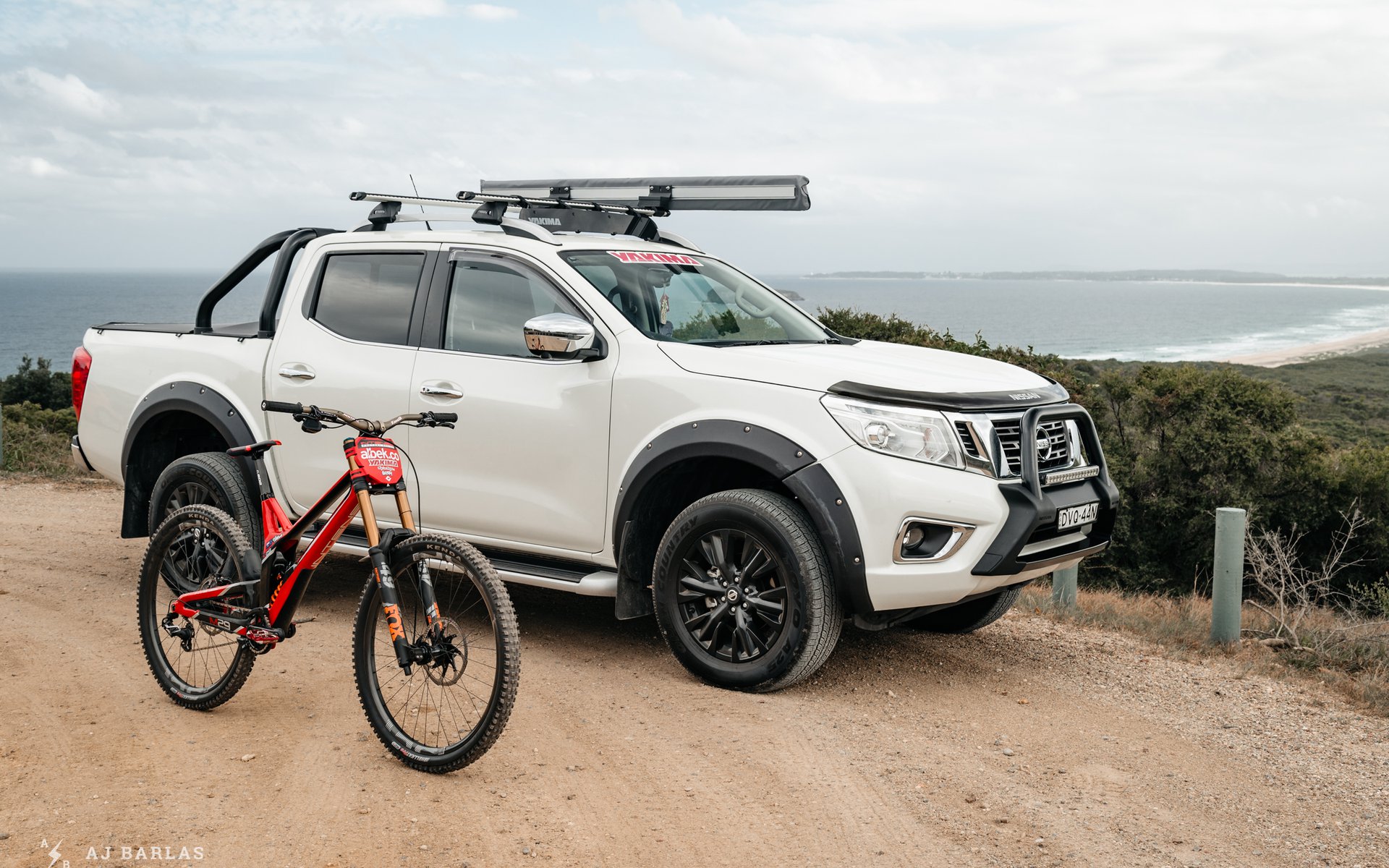 Pistons & Pivots
Jack Moir's Turbo Diesel Nissan Navara & Intense M29
Vehicles in Australia have for decades drawn many similarities to those in the U.K. and Europe. While that is changing, with more North American influence than ever before, the Nissan Navara doesn't follow this trend. Neither does World Cup downhiller, Jack Moir.
One trend that's slowly changing, depending on who you speak with down under, is the term used to refer to vehicles like the Nissan Navara. In North America, this would be referred to as a truck but in Australia, it's called a ute. Short for utility vehicle. Aussies don't call them trucks because that term is reserved for much larger… erm, trucks.
Jack's a no-fuss guy who strikes me as someone that enjoys life to the fullest and appreciates everything he has. He focuses on what's functional and useful rather than getting caught up in what's trendy. It's a trait that's quite clear with his bikes, which have for as long as I've known him featured a different stance to many other tall riders. It's what works for him so he runs it. His car is similar in a number of aspects.
Jack's 2018 Nissan Navara ST-X Ute
Where many younger ute owners in Australia throw on a set of muds or large all-terrain tires, Jack opted to keep a regular, more road-friendly tire. There are also some added accessories typically not seen in North America; the pull-out Yakima awning in particular (though these are gaining momentum). His ute has a lot of add-ons, thanks in large part to his partnership with Nissan Australia. You read that right, Jack inked a deal and the Navara is part of the package – not bad at all. And while it's loaded, the ute is sensibly finished with each accessory either useful in day to day driving, or adding an element of safety.
The Navara ST-X is a 2.3L Twin Turbo Diesel. Turbo diesel utes are a dime a dozen Down Under, but that may change. The price of diesel fuel in Aus. can be more than regular petrol and the vehicles are more expensive as well.

I started working with Nissan last year, and am stoked on the Nav. – Jack Moir
Vehicles like Jack's Navara fit into a market segment that will continue seeing support from Asia. The popularity of light commercial diesels as fleet vehicles means turbo diesel utes won't disappear anytime soon. Jack went with a ute because of its practicality; it fits well with his lifestyle and the accessories he's added build on this. Easily tossing stuff in the back is a benefit he enjoys and with the Navara's coil-over suspension at all four corners, he finds it really comfortable on the rough shuttle roads he uses. He also makes use of the 4WD capabilities on his wave hunting missions, which often mean driving on the beaches to score a secret bank to himself.
Jack's 2019 Nissan Navara ST-X Specs
Dual Cab
Brand new off the lot thanks to a partnership with Nissan Australia
Upgraded 18-inch alloys from Nissan
Toyo Open Country A25 tires
Added factory accessories include; nudge bar, light bar, sports bar, weather protection, side steps, tub liner, sun-roof and Yakima racks and a retractable awning
~19,000 km at the time of shoot (March 2019)
It's accompanied Jack down to Victoria to visit Dean Lucas, Thredbo to race and up to the mid-north coast of N.S.W. on surf trips.

I do a bit of beach driving at night in the summer so its good to be able to see a bit further ahead. I reckon if you rigged up a few light bars you could have a night time shorey sesh, haha." – Jack Moir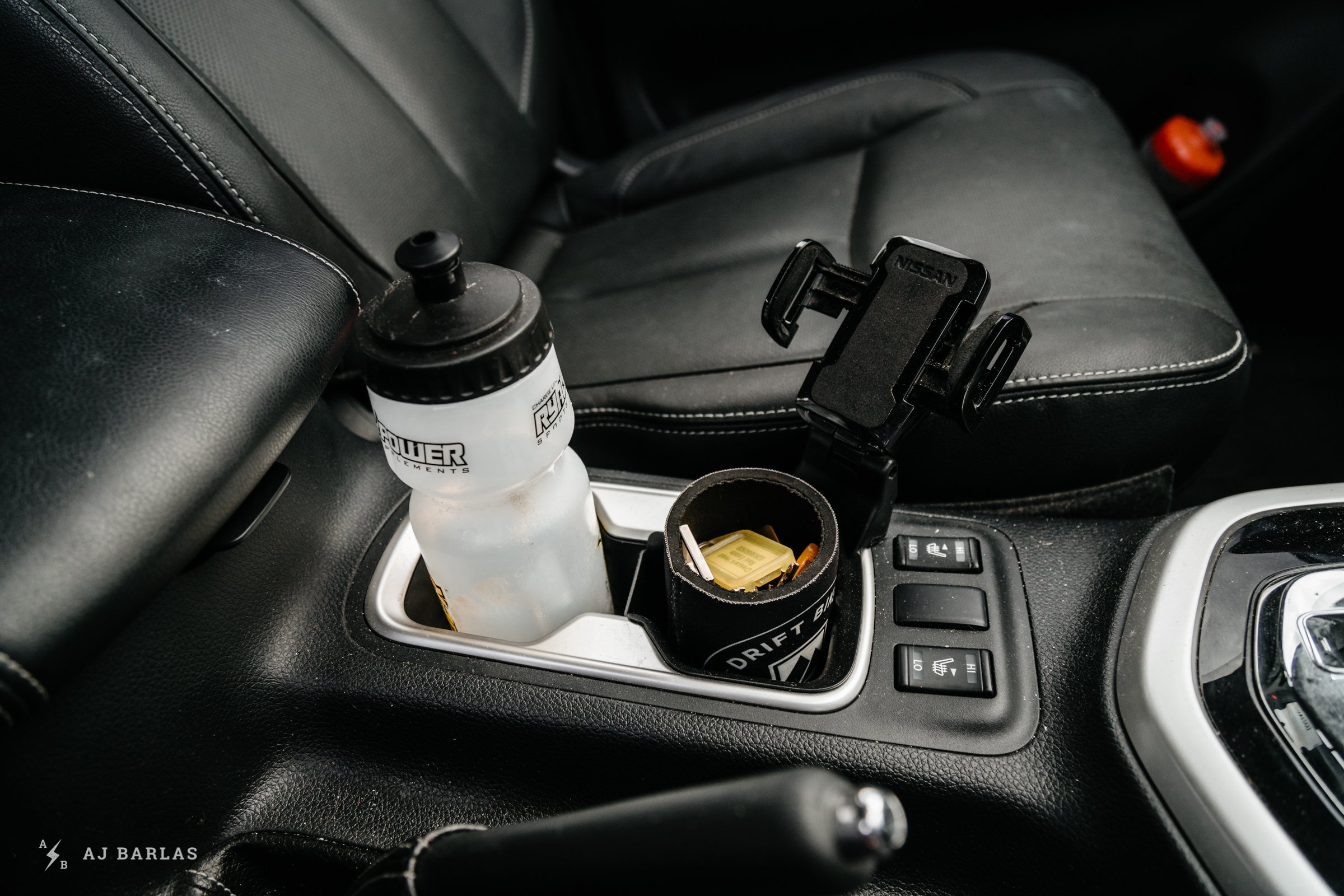 Jack's 2019 Intense Factory Racing M29
When I met with Jack, he had a bunch of stuff on his bike that was, at the time, prototype. The 223mm TRP rotors and DH7 drivetrain have since been seen by the public after a season of racing on the World Cup circuit and by now there are likely new prototype bits on the bike.
Jack sustained a pretty solid concussion at team camp in California prior to our get together and was still suffering some minor effects of that incident. And although he was instrumental in the development of the M29, other than the frame Jack was on an entirely new bike. Different parts and a change this big can take some getting used to and with time limited by the injury, things took a bit longer.
Jack's IFR M29 Specs.
Size XL
Fox 49 fork and DHX2 Shock
Kenda Hellkat 2.6 front tire and 2.4 rear.
Renthal bar and stem. 40mm rise bar w/ 10mm ti-springs spacers under the stem
TRP G-Spec DHR Brakes w/ 223mm rotors front and rear
TRP DH7 Drivetrain
ODI Elite Pro Grips
e*thirteen LG1r carbon cranks and LG1 chainguide
e*thirteen LG1r DH Wheels

I run the oversize 223 rotors for a little extra bite on the brakes, I feel these are key when riding a 29-inch wheel. There's just a little bit more pull through with the bigger wheel, so using a bigger rotor gives the brakes more grab. – Jack Moir

My M29 build is completely different from the last few years. Literally every single component has changed on it, except for the e-13 chain guide. I'm running a coil shock, as I feel like they have a better feeling and more traction off the top, although I hear the fox air shock works pretty good in this bike, so keen to try that. – Jack Moir
When I first met Jack in 2017, he was driving an older Nissan Navara similarly built to his new one featured here. While the number of accessories may seem excessive to people outside Australia, they're useful for Jack's way of living. Hanging out day and night at the beach, checking the surf via a maze of dirt roads, shuttle laps for training and road trips up and down the east coast of Australia put each of the vehicle add-ons to good use. He's similarly pragmatic about his bike setup. More braking power with the bigger wheels – and for a big lad – makes heaps of sense. His tire choice, bar height, and rear shock settings all add up to a match for him. Whether they look good or not doesn't matter; if it works, he'll run it.
He's also got a Nissan Pulsar as a derby beater so he gets on well with Nissan vehicles. To have that turn into a partnership is something most of us can only dream of. A few more water bottles wouldn't go astray though… ;D