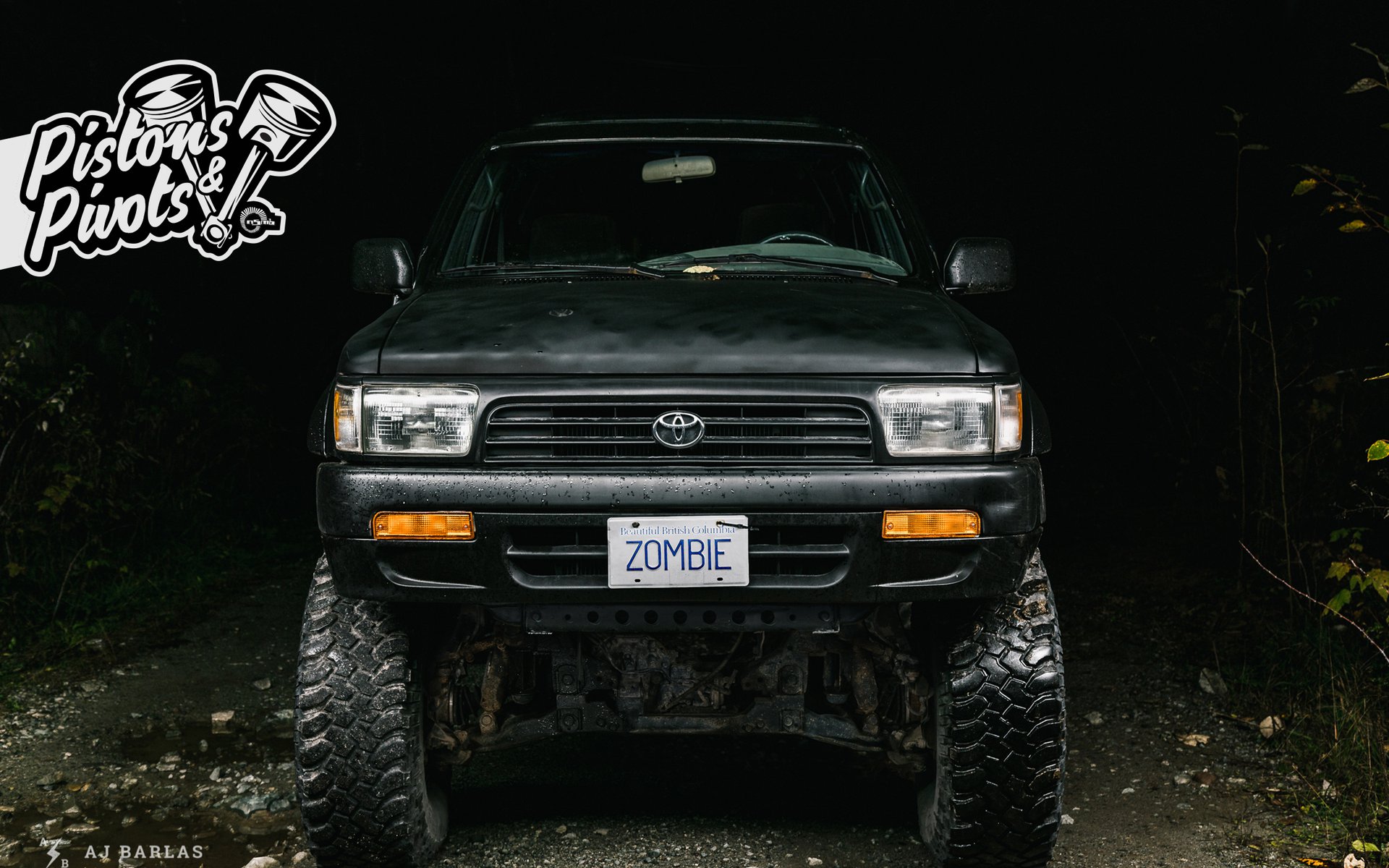 PISTONS & PIVOTS
Owen Foster's Character Rich Toyota 4Runner & Chromag Surface
Owen Foster is part of the OneUp Components team based in Squamish B.C. He joined in July 2016 as the second employee. Living above the office, his 'commute' was regularly completed in socks. You may not know his name, but if you've ridden in Squamish, there's a good chance your tires rolled over Owen's handy work. He's an unassuming, genuine and low-key guy, passionate about bikes or anything else that he's into. That passion is clear in his bike builds but leaves you wondering, what does he drive?
"Zombie" – Owen's Toyota 4Runner SR5 V6
Owen's current vehicle of choice is polarizing. It's about as backwoods, gun toting, hillbilly hick as it gets, but he's got his reasons. The '95 4Runner SR5 is a head turner and possibly for the wrong reason but for Owen, it's all about access. He'd owned a couple of late 80's 4Runners "a lifetime ago" and has always had a soft spot for them. Owen is a keen explorer and wanted something capable with high clearance to take him on his backroad scouting missions. Zombie clearly fits the bill perfectly.
Zombie's Specs
'95 Toyota 4Runner SR5 with moonroof/sunroof
Purchased as is with exception to the rattle can paint job
Alloy 15-inch rims painted with rubberized bed liner
35 x 12.5 BF Goodrich Mud Terrain tires with 15psi rear and 20psi front
Mudflaps are a single semi-truck mudflap split in two and custom mounted
180,000 kms and "terrible on gas"
It accompanied Owen on two BCBR tours around Discovery Channel, and up to Pemby
Custom made hitch fabrication in place of bumper
Reworked gearing to compensate for the mega tires
Rattle can matte black spray paint

A lot of the modern 4x4 models look like jellybeans but 20 years ago they were the best looking vehicles out there. – Owen Foster

Until recently I had no commute (as in shoes optional). I now have about a 10km zip across town when I'm not bike commuting. Its way overkill and I often get WTF looks from soccer moms in their Porsche SUVs. It's good fun. – Owen Foster
Owen's Custom Chromag Surface, "Sheena"
Like a lot of Sea to Sky riders, Owen has a couple of bikes. Sheena, his custom built and painted Chromag Surface is what he considers his forever bike. Sheena sees the most action during the winter months but isn't left gathering dust through the warmer months. The bike is a Chromag Surface with a custom paint job and completely custom build that includes some really unique parts. From the Terrene tires to the MRP Ribbon fork and "Shigura" brakes, the parts have each been carefully selected to meet Owen's demands.


Sheena's Specs
Medium Chromag Surface (435mm reach)
Custom painted Apple Red fade to Black Sparkle
Custom cursive Chromag logo usually found on their softgoods
MRP Ribbon fork
Chromag touchpoints
We Are One Agent rims laced to red I9 Torch hubs with Sapim Race spokes and red nipples (thanks Dustin!)
Shimano XTR cranks and derailleur
11/47 OneUp'd XT Cassette (18 and 47 OneUp sprockets)
OneUp Dropper seatpost
Terrene Chunk Tough 29 x 2.6 tires w/ Huck Norris DH in the rear

The focus of my obsession was the most unique and top spec. bike from small companies who I think are great. – Owen Foster

One neat—and financially dangerous—thing about building up a Made in Canada Chromag (Surface, Samurai, Primer, Nice Dreams) is the option of custom paint. – Owen Foster
Owen's selection of vehicles is perfectly suited to his needs. His 4Runner may look as redneck as a souped-up ride-on lawn mower but for Owen, it serves a purpose. It's enabled him to get out and explore the backroads around home, accessing areas that a nicer, or more regular model 4x4 may struggle with. Sheena is a better representation of Owen's personality and may be one of the most well put together bikes I've seen with my own eyes. The attention to detail is amazing and the versatility of the bike has it serving various duties in his quiver.

---