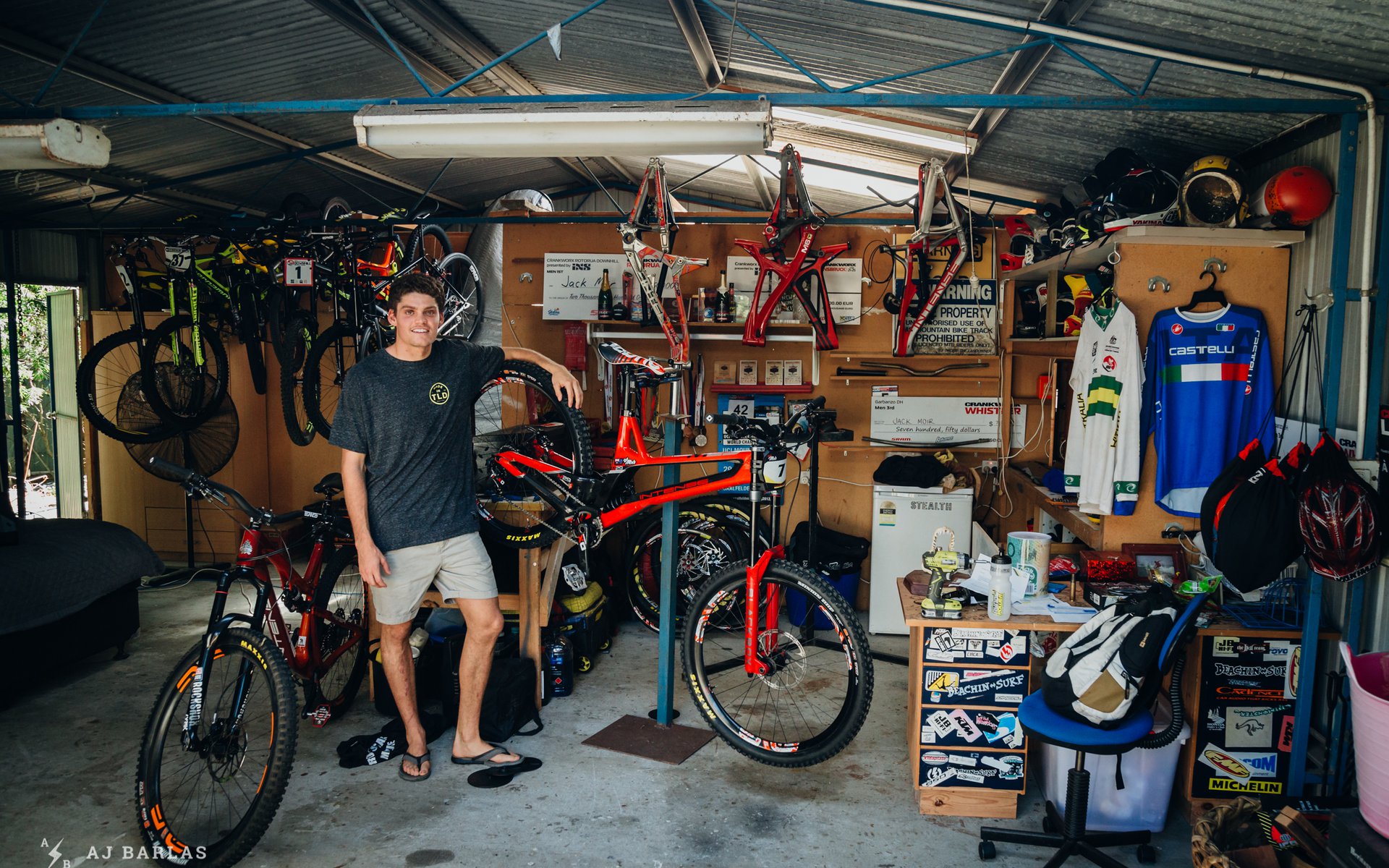 Interview
Jack Moir – Sliding Into the Limelight
In 2017, Australian Jack Moir became a name common in any and all DH World Cup coverage. But what seemed like a sudden arrival at the sharp end of the results sheet was actually a delayed appearance. Jack had a couple of good results prior to 2017 but a season riddled with injuries in 2015 kept his speed and skill a little out of the World Cup limelight.
Since then he's steadily been a contender and in 2017 was sitting fifth in the world all of the way through until a tough weekend in Val di Sole saw him drop to seventh overall. Heading into the 2018 season, and the day after he arrived home from team camp in California, I caught up with Jack to chat about his rise through the results, his goals and preparation for 2018, and his part in the development of the Intense M29.   


So, Jack, 2017 was a bit of a breakout year for you. What do you attribute the results and success too?
I think it was more of a build up from the year before. I mean, I had a good season and then had a good off-season of training and came into that with a bit of confidence, and just carried that through. But the year before that (2015) I was out for a whole year with an injury. So it was like… it kind of stalled my progress for a year and you know, I guess…


It made it look like you popped onto the scene but you didn't really.

Yeah, the year before that I had a couple of top 10 results on the Bergamont and then the year after that I had the whole year where I just kind of disappeared off the scene. So then I had a bit of a build up year,`and then made it through to last year with a bit of confidence and some good training, which I think is basically why I had a good year.


Was your training that you were doing the same as this off-season? Were you working with Muddy (Graeme Mudd, formerly of Trek Factory Racing) then?
Nah, I was doing everything pretty much myself – I had a bit of help off my teammate, Nick (Nesteroff) for like gym programs and stuff, but I've always kind of done my own thing. So yeah, I thought this year I need to get a bit of help with that stuff and try and capitalize on that. And I know Muddy's real good in the gym, so he and Urban Base Fitness are helping me out with prep for this year.


Yeah. What were your goals going into 2017?
Um, coming into last year I wanted to be consistently top ten and obviously try to get onto the podium. So I was pretty happy with how it turned out. I think I got in the top ten most rounds except for Andorra where I crashed and Lenzerheide, where I got eleventh. So yeah, I was pretty happy with that and I got on the podium in Fort William and then fourth at Cairns, which would've been a podium at a World Cup. 

You just missed it at Worlds.
Yeah. 
Have those goals changed at all for 2018?

Yeah. Kinda want to chop that in half and be a consistent top five guy this year, that's the plan. Try to get on a few more podiums and yeah… Last year I was fifth overall the whole season and then coming into Val di Sole I slipped back to seventh, so that was a bit disappointing but hopefully I can try to stay in the top five the whole year this year.


Are you pretty happy to see a couple of new venues in 2018?
Yeah, it's definitely good to mix it up and go to new places. I mean, Croatia seems like a pretty cool place – hopefully the track's good. Heard mixed reviews on it so I guess we'll wait and see.

When Miranda (Miller) and Finn (Iles) went it seemed like it was pretty awesome…
Yeah. I mean, I've heard that it's got a big street section and it's like, pretty tight with rock walls the whole way down it. But then yeah, those guys went out there and did some testing and said that it was pretty good, so, hopefully it isn't too bad


Do you like to keep an open mind with that sort of stuff or do you let that get to you a little bit? What other people are saying?
Nah, that's the worst thing you can do aye. 

[Laughter]

Yeah.
Yeah. I try to stay positive about it and it's the same track for everyone, you can't do anything about it. You just race it and yeah. Like, Leogang is one of my most hated tracks but I still try to have fun there. I actually have fun riding there, it's just a real hard track to race for how fast… like, the times are so tight you just can't make a mistake.


What's your favorite track you've raced on so far?
Uh, Mont Sainte Anne's my favorite. It was my first World Cup, so I was just frothin' there from the very start. Its just so fast and it's got some cool wood sections as well. Mainly, yeah, just how fast you're going down the ski field the whole time.


Yeah right. What is it about Sainte Anne that seems to be a kickoff for a lot of Aussies?
I don't know aye? I mean, it's not like anything we've got back here.



The racers want some techie sections like that so you can do different lines and make up sections. But I think that's… that doesn't mean make it real hard and dangerous.
What do you like in a track? I guess it's like, speed and rough…
Yeah I like that but I also like techie hard sections, they're the sections that separate people. Yeah. Say you go to Leogang and it's all pretty straightforward then the times are super tight and that makes for good racing and spectating but it's good to have some real hard technical wood sections mixed in with some fast wide open stuff. So you do have exciting bits where people can do crazy lines and make up time and stuff. 


Some risk-taking?
Yeah, just like… I think people get mixed up with that and having a dangerous track. The racers want a section where you can take risks and go faster, but that doesn't mean it has to be real sketch and dangerous.


Right, yeah. What's it look like? Would you say the one in Cairns is, like… is that rock garden the limit or?
Nah, Cairns… Cairns' rock garden is a real funny one because in the dry it's like the easiest thing you'll ever do. You just roll down it fine. But in the wet it's that clay, when it gets on it, it's like riding on ice. In 2014, when we were there, I managed to make it through most goes in the wet but I think that's because it was raining the whole time – it washes the mud off – but 2016 when we went back there and it was real clay'y for a couple of days… I'd just come off my collarbone injury, so I was like, being real cautious and I was just sitting in there watching… I seen like, one guy in the top practice make it through.


No way! 
Everyone else was making it halfway down and just bailing or going over the bars… In the wet, it's just pretty sketchy aye. I'm so glad it didn't rain this year.


Who was that one guy, do you remember?
Um, Keegan Wright.


No way.
Yeah, just a wild man swinging off it through there. But yeah, all the other top guys are like, yeah, stalling up in there. That's probably the hardest section we've had to race. Fort William had a tricky wood section last year, but…


Yeah, the bog…
Yeah, I mean that section was like, if you didn't try to attack that too hard and just back off a bit, I thought it was all good to get through, but in Cairns, you can't just back off. 


You gotta go.
Yeah, you gotta carry the momentum and then if you carry the momentum and just get a bit unlucky then, you can get hurt.


So, you're not a stranger to sliding around. Why are you so comfortable drifting through sections that most people are super hesitant to even break loose in?
Uh, I dunno. I guess that's kind of my style, I just like sliding on the bike. It's probably something to do with watching Sam and Rennie and all those guys when I was growing up…


Kovarik…
Yeah, Karver… Just drifting everywhere.



There's always room for improvement for everything, but it's also easy to sit on the sidelines and say, oh well they're doing this, they're doing that. I'm pretty happy with how it is now.

Do you feel there's room for improvement in the World Cup tracks, venues? Anything else?
Yeah, I mean there's always room for improvement for everything, but it's also easy to sit on the sidelines and say, oh well they're doing this, they're doing that. I'm pretty happy with how it is now. But yeah, they could definitely have a few fresh tracks at some places. I mean… 


Even if it's the same venue? 
Yeah, same venue, just some fresh sections. Sometimes they do, they put fresh sections in and everyone loves it. That's what you want, just fresh sections. It brings out fresh roots and dirt and it's good for spectating as well if you're not just watching the same track year after year.


Yeah, yeah. Totally agree with that. So you're prep for 2018. You've been pretty unstoppable at the Aussie series this year, are you ready for the season or is there work to do yet?
Uhh, there's definitely still a bit of work to do. I've done a couple of the nationals. I've kind of just being cruising a bit aye. I strained my oblique training with Muddy. I sorta came out of doing nothing in the off-season and then straight into the gym pretty hard. I haven't done too much in the gym in the past, so I don't think my body was ready for it and I just did a movement wrong. So that's been kind of messing with my training for the last four to five weeks. I'll obviously still do nationals (champs) and I just went over to team camp in Cali. I can still ride and everything, but it's just kind of stopping me hitting the gym and getting strong so I'm just waiting for that to heal up before I can fully get stuck into it.


How have you been preparing and keeping your speed up?
Um, I dunno, just riding I guess…


Yeah, you don't do any drills or anything like that. 
Nah, I try to have fun and… It's hard to tell right now when you haven't been racing all the World Cup riders because the level in Australia is a lot different to when you get over to the World Cup. So I don't really know until the first World Cup if I'm on par or not but I guess I just keep punching out runs and try to have fun on the bike. It's good, when I went over to California and rode with the boys, Deano and Charlie, it kind of gives you a bit of a gauge of how fast you are because I know they're up there as well. Yeah, sometimes it's hard to tell if you're fast or not.


How much of your off-season is spent on the DH bike compared to other bikes?
None.

[Laughter]

You don't really spend any time on it?
Nah. Literally, when I get home from Worlds to January or so… what's that? Three, four months. I just don't really touch a bike. That was a bit different this year because we've been trying to develop that M29 prototype and get it ready for production, so I did a fair bit of riding on that in the off-season, which I normally don't do. But yeah, normally I just come home, surf and chill out, and then I'm real keen to ride again the next year. I find I just get burnt out.


Yeah, its good to be able to switch off.
Yeah. Some people just race and ride and train the whole way through and I don't know how they do it, but I suppose everyone's different.


Rumour has it Minnaar does the same. He goes home and doesn't think about bikes…

Yeah, it doesn't surprise me, aye. But I know people like Troy, like, I see him in the gym and punching runs and going to state rounds and stuff… I'm like, how do you do that? That's just what works for him. 



This is kind of a fun one. If the waves are firing and it's a key training day, do you:
Ignore and miss the waves focusing on the priority of training
Squeeze in the training and the waves
Bail on the training for a day in favour of being blown out of some heaving pits?

Uhhhh, I've done all of those, hey. [Laughter] I'm guilty of all of those. I think um, I used to just try to get it all done. Go for a surf, then the gym and then my sprints or whatever, 'cause normally, like, that's the day – if I go for a surf it'll be on one of those days, I wouldn't go on one of my riding days so… I just end up getting worn out if I do that aye. Especially, if I go out for a good surf and it's firing – that's three hours of just paddling, like, you can't move anymore and then you try to go to the gym and then like, it's just – you just get wrecked. 
So sometimes I've just done the old, um, you know… I'll just use this as my gym session. That's what I used to do. I kind of don't really do that anymore because it's all getting a bit more serious now. But, yeah, I'd probably just miss it and wait for the weekend, unless it was real good. I mean that's a good workout when you're paddling in big waves for three hours. You get sore legs and sore upper body, like it, it's a bloody mission. So it just depends how good it is really.
Weekends I normally have downhill days, so I can go for an early surf. So if it was pumping during the week and I did that? I'd probably just push one of my training days to the weekend. 


You recently had a good tumble at team camp. What happened?
On the last day of testing, I just had a massive over the bars on probably one of the fastest sections of the track. It was real muddy all week and so I was hitting this one rock and it had a dirt lip over it and you're probably coming into it at about 50, 60k an hour and sort of scrubbing off it. And then this last lap I did, I slid into it and just hit it and got bucked over the bars – just a massive over the bars. And then I was all good, I was just winded, I landed on my shoulder and ribs and stuff. So that's still pretty sore.
But yeah, I walked back up to it and had a look and all the dirt had sorta washed away from the lip. So I'd just like, drifted into this square edge rock and it just hooked up and kicked me real weird. So its kind of annoying. 


29-inch wheels… The Intense team was one of only a few teams to stick with the 29-inch wheels in 2017. How have you found the new bike?
Yeah, I think that's because Jeff and the team designed the bike from scratch – like, a whole 29-inch bike. Whereas heaps of people tried to, maybe bodge up their 27.5 bikes with a longer swingarm or something and it doesn't really work. So I think you'll find more teams coming back in with a go at the 29er this year, but yeah, I was really stoked with our bike last year. It just seemed to fit me a bit better and all the suspension, everything worked a bit better than the M16. Yeah, there's really no negatives to it.

Have you had a lot of input into it, in its development?
Yeah, we've had… so I've had three? Three or four alloy prototypes and then the carbon prototype and now we're on the production models. I had the first prototype in team camp (2017) but we only got to ride it for a day because it was only ready on the last day. Then I got the second prototype for Fort William – just before that. (I) Did Fort William, Leogang, Les Gets Crankworx, Innsbruck Crankworx, Lenzerheide and Andorra – I did that all on that one frame. 

So that was kind of like the base and then we ended up making… Jeff loaded me up a new one for Mont Sainte Anne and we ended up making it a bit longer because I had an offset headset in the main proto to make it longer and there were just a few little tweaks to make the new one at Sainte Anne feel and ride a bit better and then that led to the carbon one in Val di Sole, which… That was probably the hardest race for me, trying to get on a new bike at Val di Sole, because it was relatively the same but I think they played with the kinematics. The linkage made it a bit softer off the top and stuff like that. It was super light compared to my alloy proto, so it was really hard to tune and get used to the bike while trying to practice for a World Cup. You do, what, five runs on Friday, two runs on Saturday and then two runs before racing on Sunday and normally those runs are trying to get your lines and you just get the track dialled. So we were trying different shock tunes and shim stacks and stuff every lap, so it's super hard to get used to that, but once I sort of had a bit more time on it and got to Cairns it was just, yeah, way better. 
So there were three mules, basically?
Yeah. Well just for me and then Dean, his bikes were a bit shorter than mine, so he had a couple as well. He had one for Fort William and then one for Mont Sainte Anne, There's a couple of pretty crazy stories with that. 
With Dean's one?
With both of them, just like trying to race on prototype bikes can get pretty gnarly at times, aye.
[Laughter]

We did a podcast with Vital when we were in Cali and I think Jeff, um, talked about those stories a bit if you're interested in hearing them.


Do you feel that your height makes a 29-inch wheeled bike more necessary or are you more of the thought of like, whatever works for ya?
Yeah, I reckon it's more to do with just having a bike that fits me really. Like, I rode the Carbine 29er a couple years before that and that just felt comfortable. When I got on the 29er it didn't feel any different in tight stuff for me because I was already riding a bike that was that long, that it didn't really affect that, so it was just all… it just felt like it was all positives. But yeah, I definitely… like, even I sometimes buzz my ass on the tire, like on a steep section, and I've got some long legs. So I would imagine if you are smaller, it'd be harder. 


Yeah. What do you think about the chatter of there being a need for a cap on bike mods and wheel sizes and all that at World Cups?
I don't know. It's kind of like, how far do you take it but then it's also like, well if it's faster I can run it. That's what we're trying to do. But I mean, with wheel size, I don't know how you could possibly go that much bigger and still have eight inches of travel, it's hard enough now to make that work without buzzing on your seattube. So, yeah. I don't know. I try to stay out of that stuff.


You say that you reckon we'll see more two-nines on the DH circuit this year…
Yeah. I think just, everyone else has had… Because Intense and Santa Cruz were kind of at the forefront of bringing that to the race circuits. I think everyone's had a year to sort of catch up now and realized like… I think even some of the teams that went back might try it again, with a few tweaks. But I guess we'll wait and see.





I look at photos now when I was on the M16 and I'm like, that doesn't look right.
Were you guys developing the bike in 2016, I guess it would've been?
Nah, not at all. I was telling Jeff at like the end of 2016, because that was the first year I rode an EWS. I did an EWS on my Carbine and I was in La Thuile in Italy and it was super steep, rooty and kinda like 10-minute Val di Sole runs and the 29er just… there were so many things I noticed. I was hooking up on off cambers and just when you go to put the brakes on in a real steep section there's way more tire on the ground and it pulls you up better. And I just noticed heaps of things like that and I was like, we need a 29er downhill bike and he was like, yeah, I think we're working on something this off-season. So we're like, sick, and then that's when we went to team camp (2017). It just kind of got pushed back a bit and then it was only ready on the last day but we had a 275 version of the same, like the M29. So he had a 275 and a 29 version and we rode both of them and did timed runs and I think, yeah, me Deano and Charlie all went faster on the 27. 


Oh yeah?
But it was a track that was super tight and it wasn't a track where a 29er would be an advantage and the 29er was less than a second slower. So we were like, yeah, ok. I was more comfortable on the 29er and then when he sent my one home I took it to some of the local tracks and I was fast in rougher shit – I was like, yeah, this is way better, but it was more, for me, just a comfort thing too – just being on a bike that feels like it fits you. I look at photos now when I was on the M16 and I'm like, that doesn't look right.


Do you think that if the M16 was just longer, that it would've worked for ya?

Yeah, well I ended up having an XL M16, which was pretty much the size I'd pick on a 27 bike. I went a bit shorter than that for the 29er, in reach terms, I think that the bigger wheels make the bike feel a lot bigger as well. So I think yeah, I had a nice good-sized 27. Most companies don't have bikes that big, so there are some pretty tall guys on the World Cup with bikes a lot shorter than mine. So I wasn't like in a bad position, but just, yeah, way more comfortable.  
---