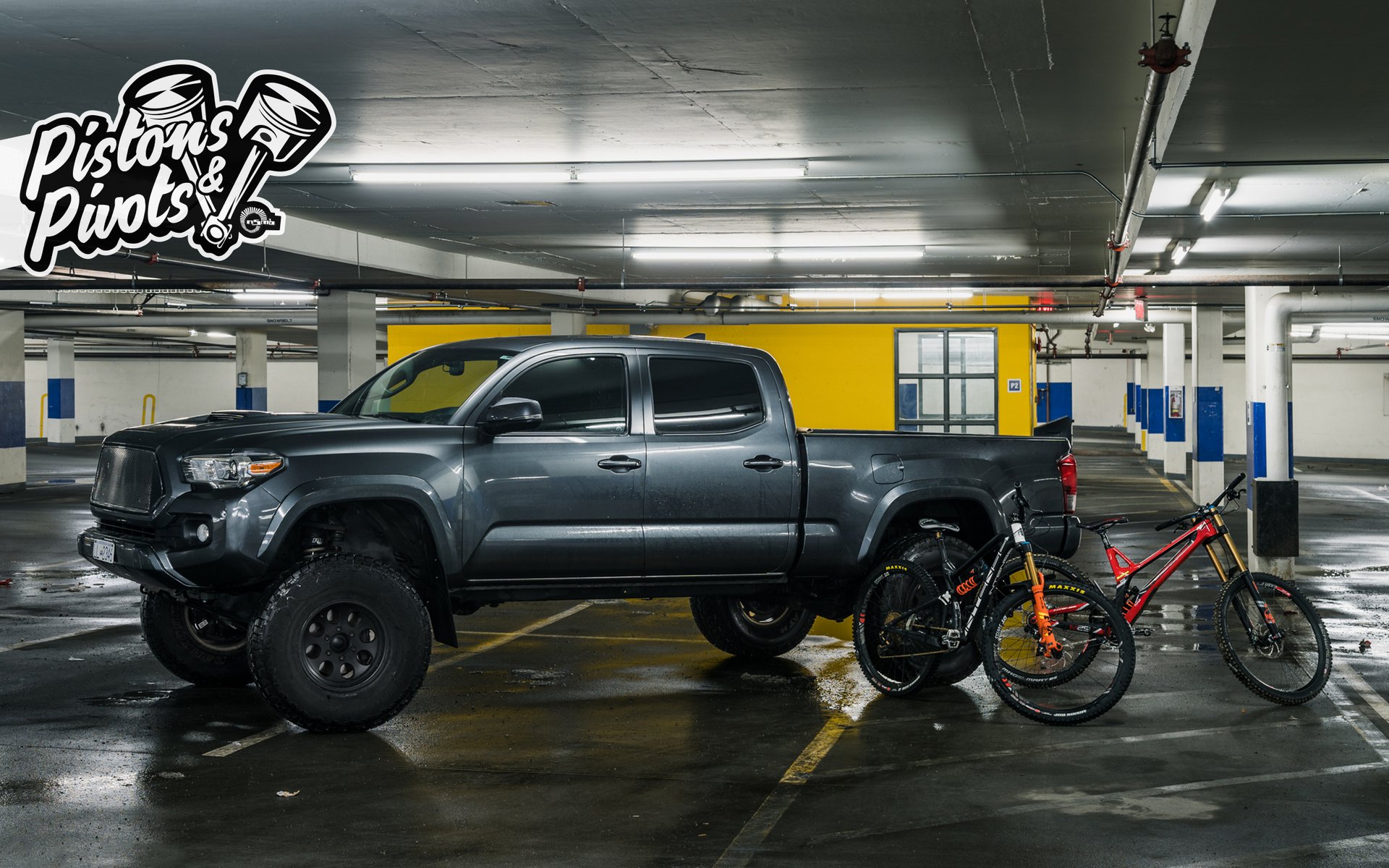 Pistons & Pivots
Claire Buchar's Lifted Toyota Tacoma & Intense Bikes
Claire Buchar is a name that many keen mountain bikers will be familiar with. Born and raised on the West Coast of Canada, Buchar spent a few years chasing results as a World Cup Downhill racer. While she no longer races around the globe, she still takes part in local events. Her partner in crime is none-other than Aussie drift king, Chris Kovarik and together they coach and support young up-and-coming racers.
Claire's a soft-spoken, charming person. Open to the ideas of others and willing to listen. She's been through some shit over the years and situations like the car crash she was involved in during the 2012/13 off-season have helped shape how she treats her mind and body today.
"The Truck" – Claire (and Chris Kovarik's) 2017 Double Cab Toyota Tacoma
If you didn't know Claire, or the fact that her partner is Chris "Karver" Kovarik, her vehicle of choice would make absolutely no sense at all. Especially based on the above intro. While the lifted Tacoma serves a purpose for Claire as her daily driver, and she thoroughly enjoys the clearance, Kovarik's influence is clear. Then again, while Claire is quiet and respectful, she definitely has a lethal side too. Claire is still one of the fastest and most talented female riders around, especially on her home trails of the Whistler Bike Park. However, she does a great job of disguising her laser focus and fiery side.
Claire's 2017 Toyota Tacoma Specs
2017 Toyota Tacoma Double Cab
Purchased brand new off the lot, but has since seen a transformation
16 x 8 Baja alloy rims
35-inch Hankook Dynapro ATM tires
6-inch BDS Coil Over lift kit (installed by North Shore Off-Road in Vancouver, Canada)
Custom cut mud flaps front and rear
39,325 kms at time of shoot (February 2019)
It's accompanied the Kovarik's as their race team truck all over B.C.

The clearance is amazing, especially when we have record snowfall in December and the plow berms you into your driveway. This winter, I basically plowed us out of our driveway on several occasions. – Claire Buchar

We needed something that was professional and reliable so we could travel to events and do our job. Something that would go off-road in all four seasons, carry a lot of bikes and pull a trailer. But also something that wasn't too big and cumbersome to rip around in and that wasn't too hard on fuel. – Claire Buchar
Claire's Kitted Out Gravity Sleds
Being an ex-World Cup DH racer, Claire's bikes of choice shouldn't come as a surprise. Herself and Chris are fortunate enough to continue working with Intense Cycles and Claire has been riding one of the brand new M29 DH bikes since last year. For trail slaying duties she reaches for the Carbine, equipped with a Fox DHX2 coil. Kovarik Racing is supported by e*thirteen, Magura, Fox Suspension and Chromag, and the bikes are equipped with a range of parts from those brands.
Intense M29 Specs.
Size large (Claire is 5'11")
Fox 49 fork
Chromag touchpoints: BZA bars and stem. Palmskin grips, Lynx DT saddle and Dolomite post
Magura MT7 brakes
DT EX511 wheels but Claire will be running e*thirteen wheels in 2019
SRAM X0DH drivetrain
e*thirteen LG1r carbon cranks and LG1 chainguide
STFU chain damper
Schwalbe Magic Mary rubber "because Maxxis in 29" for DH wasn't easily available around here at the time."

The Magura MT7's are great for me on this bike because they have more stopping power on top of their modulation. Perfect for the steeper, faster and more aggressive terrain that this bike shines on.– Claire Buchar
Intense Carbine Specs.
Size medium
Fox 36 RC2 fork
Chromag touchpoints: BZA bars and stem. Palmskin grips, Lynx DT saddle and Dolomite post
Magura MT5 brakes
DT XM1501 wheels but Claire will be running e*thirteen wheels in 2019
SRAM XX1 Eagle drivetrain
e*thirteen TRSr carbon cranks and LG1 chainguide
STFU chain damper
Maxxis DHF front and DHR rear combo.

It (the coil shock) gives me more small bump sensitivity and that translates to traction. It also doesn't heat up as fast and, while it isn't as tuneable as the Float, it's simpler and that suits me just fine. – Claire Buchar
Claire may be soft spoken and kind, but she obviously has a side that wants to rip trails apart. Her bikes are both aggressively built weapons, set up to destroy anything that comes her way. In similar fashion, the Tacoma is ready for action, whether towing the team trailer to races or providing clearance to get by obstacles on the way to the trailhead.
Making the winter in Whistler easier to deal with is an added bonus.