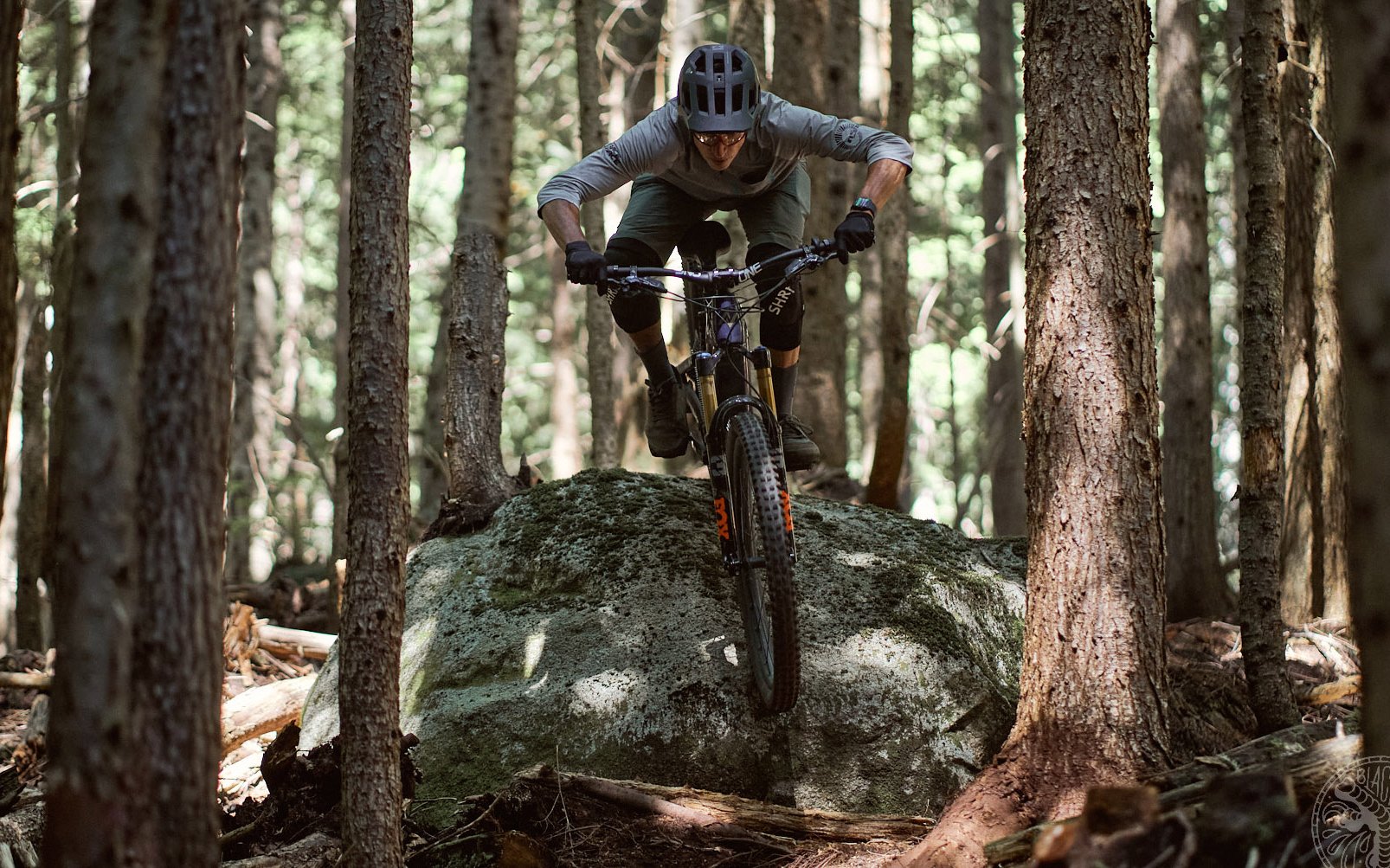 REVIEW
OneUp Carbon E-Bar
Only For E
E-bike-specific parts and accessories are becoming all the rage. You can get obvious eMTB products like cranks, wheels, and suspension but there are some less obvious ones that may seem a little silly. Wade Simmons' Godfather's Garage has produced a lube for electric mountain bikes, which might seem a little suspect at first, but there is no question that e-drivetrains take more of a beating and a lube that is a little more viscous and tenacious makes good sense. There is also sealant made for eMTBs as well as tires and even apparel, which all sound like a marketing play to me, but there are some solid reasons for designing a handlebar for high voltage adventuring which brings us to the OneUp Carbon E-Bar.
The wires on most Shimano Steps-equipped bikes travel through the frame from the motor at the bottom bracket and then emerge at the headtube. From there they span a short distance to the handlebar-mounted display. A separate wire emerges from the display and travels to the controller, which allows you to adjust the boost level with your thumb, that is generally mounted next to the non-drive side grip. This wire can be supported with zip ties, tape, or clips but it remains vulnerable. Unlike hiding cables or brake lines, tucking away wires is more than an aesthetic consideration. If you crash and damage the wire to your controller, you may be stuck a long way from home on a heavy bike that's not enthusiastic about being pedalled without assistance. OneUp's bar is designed to cleverly route the controller wire up through the bottom of the middle of the bar, out to the grip internally, where it emerges in a channel under your grip before doubling back to meet the switch. It was the first internal routing adventure I was looking forward to tackling.
Drilling holes in an aluminum bar would be insanity because the integrity of the structure depends on the continuity of the tube. A hole would inevitably cause the bar to fail under load. With carbon fibre, the lay up can be designed to compensate for holes so strength isn't compromised. In fact, the bar "passes the stringent Zedler E-MTB Advanced Plus standard and the international DH standard (ASTM Cat. 5 Downhill)."
Anyone who has spent a lot of time riding a heavy, full-power eMTB on challenging technical terrain will attest that it can be punishing to your upper body, wrists, hands and forearms. I have a friend who sold his eMTB because it was too hard on this shoulder. When I began testing the Norco Sight VLT, this effect was more pronounced than usual. It didn't take me long to realize that the culprit was the Deity Skywire 35mm carbon bar. I swapped it out for an old favourite 750 mm (uncut) aluminum Bontrager bar from the days when bars didn't all come 800 mm long stock. If a bar hits the sweet spot in terms of strength and stiffness for a 220-pound rider at 800 mm it's often too stiff for a smaller rider once it's cut to 750 mm (for example), decreasing the leverage that can be applied by the rider. Everything felt significantly better once I swapped in the Bontrager bar and my enjoyment of the bike began in earnest.
Install
Before I installed the OneUp Carbon E-Bar I ran into a snag. The internal routing depends on a stem that allows the bottom of the centre of the bar to be exposed, as the OneUp stem does. OneUp didn't provide a stem to go along with testing the bar but I could have removed one from another bike. That became a moot point when I checked the length of the wire and discovered it was far too short. I had been hoping to use my magnetic routing tool to pull the wire through the bar but that's going to have to wait until I can track down a replacement wire that is at least 650 mm long, 150 mm or so longer than the stock wire. And that's assuming your controller has a removable wire. If not you'll have to purchase a new controller and a new wire.
After that it was a conventional install but since the bar's compliance depends upon aligning the flattened section to the angle of the forces coming through the front wheel, it should be rotated based on the bike's head angle. OneUp's mounting guide has indicators so you can easily choose the right position based on your bike's geometry.
OneUp Carbon E-Bar Specs
800mm Wide / 35mm Diameter / 8° Backsweep / 5° Upsweep
Stealth Routing: Wire ports & grooves for remote
Colour: Black. Decal Kits: Red, Green, Blue, Orange, Gold, Matte Bronze, Black, Purple, Oil Slick and White
Strength: Zedler E-MTB Advanced Plus and ASTM Cat. 5 Downhill
Minimum Trim width: 740mm
Weight: 238g
Price: 189 CAD / 149 USD with free shipping worldwide
Does it Comply?
I have ridden OneUp's first carbon handlebar, which was designed for un-assisted bikes, but I wasn't impressed initially. As it turned out, I hadn't read the effing manual and used OneUp's indicator to rotate the bar to the correct point. Like the Carbon E-Bar, the layup was designed to be compliant along the plane where forces are transferred from the ground to your hands (roughly vertical) but to resist torsional forces. I placed the bar at the wrong angle and as a result I found the bar to actually be a little too stiff. Once I got the rotation right I noticed the added compliance immediately.
OneUp declares, without providing evidence to my knowledge, that their bar is the most compliant eMTB-rated handlebar there is. In fact they declare it's 20% more forgiving than the competition. This bar had a tougher act to follow however, considering it was replacing my goldilocks aluminum Bontrager. I'd say Goldilocks has been replaced however because OneUp's feel is brilliant. I went for a big challenging ride in slippery conditions for its debut and it exceeded my expectations and felt both a little more compliant and more precise than the Bonty bar. Without considering the impact of the bar at the time, I found myself easily choosing lines that required a lot of accuracy with a high success rate. I can't say this was entirely due to the bar but I'd guess it was at least a contributing factor.
Provisos
Having to find a new and longer controller wire during the never-ending supply chain gong show isn't ideal, but thus far the feel of the bar has almost made me forget about concealing the wire. You'll also likely have to add the price of a OneUp stem to your purchase ( 110 CAD/90 USD) but other stems with two piece faceplates should work as well.
The final consideration is that this is not a one-size-fits-all eMTB solution in terms of concealing and protecting your controller wire. It won't work with the Bosch Purion, Rocky Mountain, or Specialized remotes but there are more compatibility notes which you should take note of as well.
Verdict
My takeaway is that the OneUp Carbon E-Bar is a very comfortable but robust feeling solution for holding onto your eMTB that enhances my ride experience.
The OneUp Carbon E-Bar will lighten your wallet by 190 CAD / 150 USD.