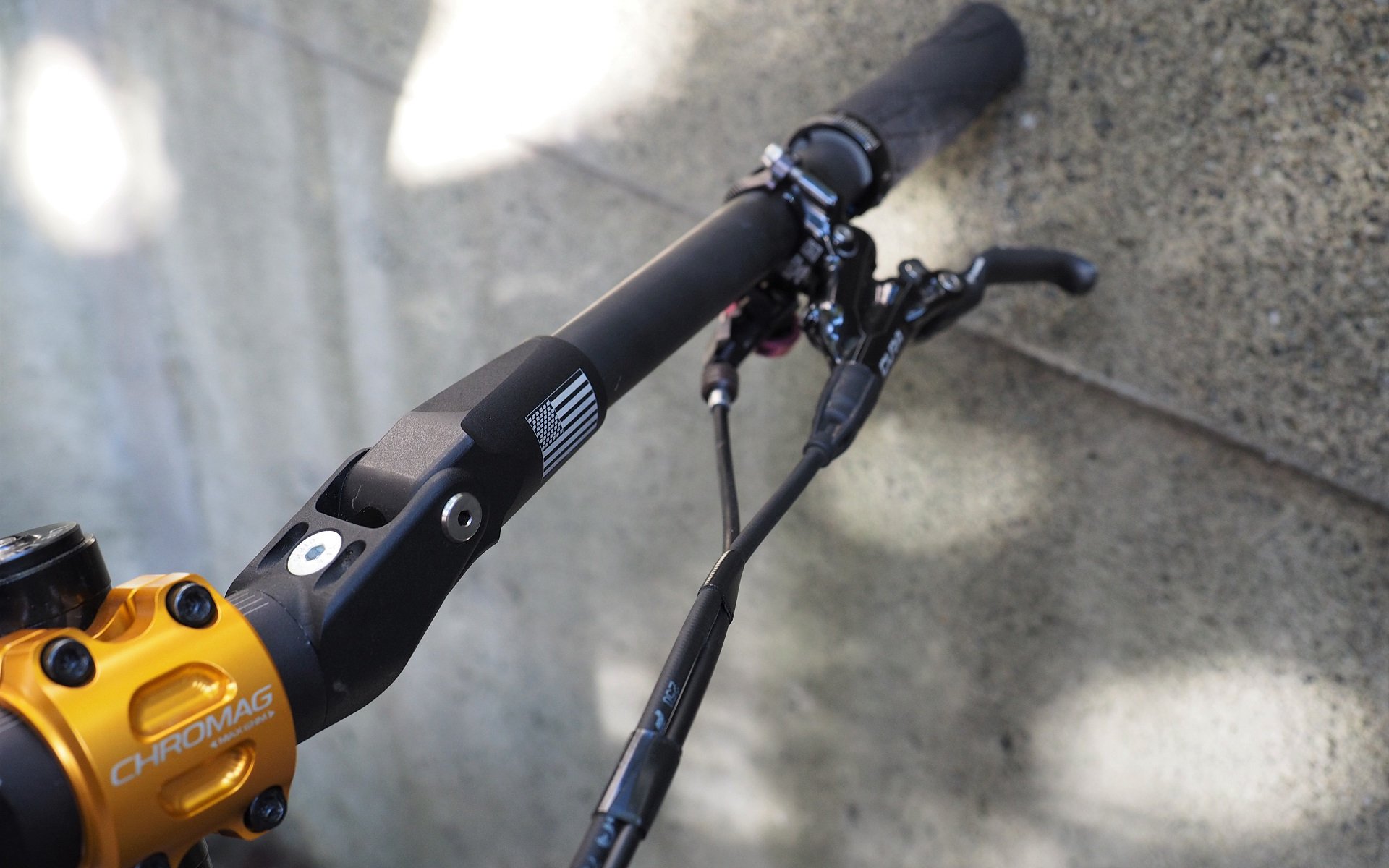 FIRST IMPRESSIONS
Fasst Flexx Enduro Handlebar
Fasst Flexx
There will be a percentage of folks clicking on this article just to make comments about Girvin Flex Stems from the 90s or to express their fear of a mechanically assembled handlebar because one time they snapped a ten-year-old 25.4 carbon XC-bar. I've already heard it all on the trail in the brief period I've been riding the new 12° backsweep version of Fasst Flexx's mountain bike bars. I say keep an open mind, don't reflexively be the person pushing rim brakes, fixed seat posts, front derailleurs, and decade-old geometry but take some time to roll the concept around.
These Fasst Flexx Enduro bars come uncut at 800mm and they're available in an 8° backsweep or the 12° backsweep I'm testing. They're made in Washington County, Utah, with 7075 aluminum linkage assembly, titanium pivot hardware, and the handles themselves are bonded in USA Made UD carbon fiber. These are not intended as a suspension replacement but rather as a complementary component that adds damping at my hands, helping take the edge off of rough tracks without changing the feel of the bike.
There's nothing really new here as Fasst Co is a Powersports company and they have been making similar products for "abuse reduction" on dirt bikes and ATVs for years. The concept is straight forward in that bars can pivot in the same load path as a suspension fork but they're aggressively stiff in the fore-aft steering plane. Part of my long term review process will be looking at the service interval in which the bars stay tight.
The exact travel the bars deliver depends on the length they're run at (there's also an 810mm wide DH version) so for clarity we can call it 5° of vertical movement. In terms of bar geometry that takes me from a 5° upsweep to flat. I'm currently running the hard elastomers, which Fasst says are ideal for my weight, and the fact the bar makes a notable difference riding, but goes unnoticed at the same time, backs this up.
In the name of science, I'll also try running a softer set of elastomers that are included as part of this test and for my full review I'll demonstrate an elastomer swap; all you need are hex keys and some blue Loctite. I'll also confirm the 440gram weight claim although I have doubts that many people seeking this solution really care.
One unique first impression I wanted to note is the tolerance of the carbon handles, which I think speaks to the general quality of this product. I like to leave my controls, particularly my brake levers, a bit loose so they can move in a crash. It's saved me plenty of cash, and plenty of rides on greasy Shore days, over the years.
On a lot of handlebars, I find the tolerancing is such that as my levers rotate around the bar there will be tight-spots and loose-spots. The bonded-in handles of the Fasst Flexx are completely uniform and it's no problem to get a perfect tension where my brake levers don't move unless if I purposely shift them or I hit something but at the same time I could turn those levers 360° around the bar if I wanted to with no change in clamping tension. That's maybe a bit deep-nerd, but this is that sort of product.
The Use Case
Fasst claims their bars deliver abuse reduction. That will be mostly felt in elbows, wrists, and hands which is to say less arm pump, perceivable vibration damping, and a generally more comfortable experience on the bike. They back that up with a 30-day money-back guarantee, genuinely helpful customer service, and a range of four different rates for both the compression and rebound elastomers.
As with a lot of kit that I've tested, I think there are plenty of riders out there seeking products that will make them more comfortable on their bikes whether it's to ride more often or to ride for longer, or just to ride period. The Flexx bars may not provide a net benefit to every rider once cost, weight, and complexity is factored in; however, as our activity matures and there are an increasing number of older shredders blasting technical trails I won't be surprised if they start showing up on more and more bikes.
Now there's a counter-argument that buying a top-end suspension fork, or servicing the one you've been abusing, will increase comfort but also add wheel traction, support, and sophisticated damping to the equation. At 425 USD it's approaching any number of fork upgrade products like custom damper tunes, Avalanche Racing dampers, coil conversion kits and so on.
Personally, I don't see the Flexx as being an either-or product. Their average customer will likely ride a good suspension fork, and keep said fork serviced, rather than put all their faith in a handlebar. It does make the most difference on a bike with a more basic suspension fork however and I would have loved to try it on the 1000 USD Rocky Growler 20.
For the purpose of my review, I'll be riding the Flexx bar in four general scenarios and I've committed to the work of swapping it regularly between bikes so I'm on it nearly every ride with some normal bars control rides in between. I've been running it regularly on a basic 160mm suspension fork, a sophisticated 160mm suspension fork, a rigid fork, and I'll also be running it with a 100mm Shore-XC suspension fork setup.
Other than chopping the bars down 1cm per side, to a 780mm total width, I haven't done anything other than a boatload of swapping controls. It's actually really bizarre that there aren't any cosmetic wear marks on the carbon handles as the Formula, Hayes, TRP, and Magura brakes I've clamped on them have all been in different positions.
I haven't met anyone running Fasst Flexx bars in the wild, however, I've had a healthy mix of on-trail skepticism and very positive online conversations with riders that swear by them, making them one of the most interesting products I've had the opportunity to review. The Fasst folks are eager to answer questions and have a 30-day guarantee, and the Flexx bar absolutely makes a difference. Anyone seeking to manage ride-ruining upper-limb pain might want to get in touch with them.
I'll be back in the future with a longevity update, some opinionating about the use of elastomers in this application, and a more fully developed sense of this 425 USD suspension handlebar.