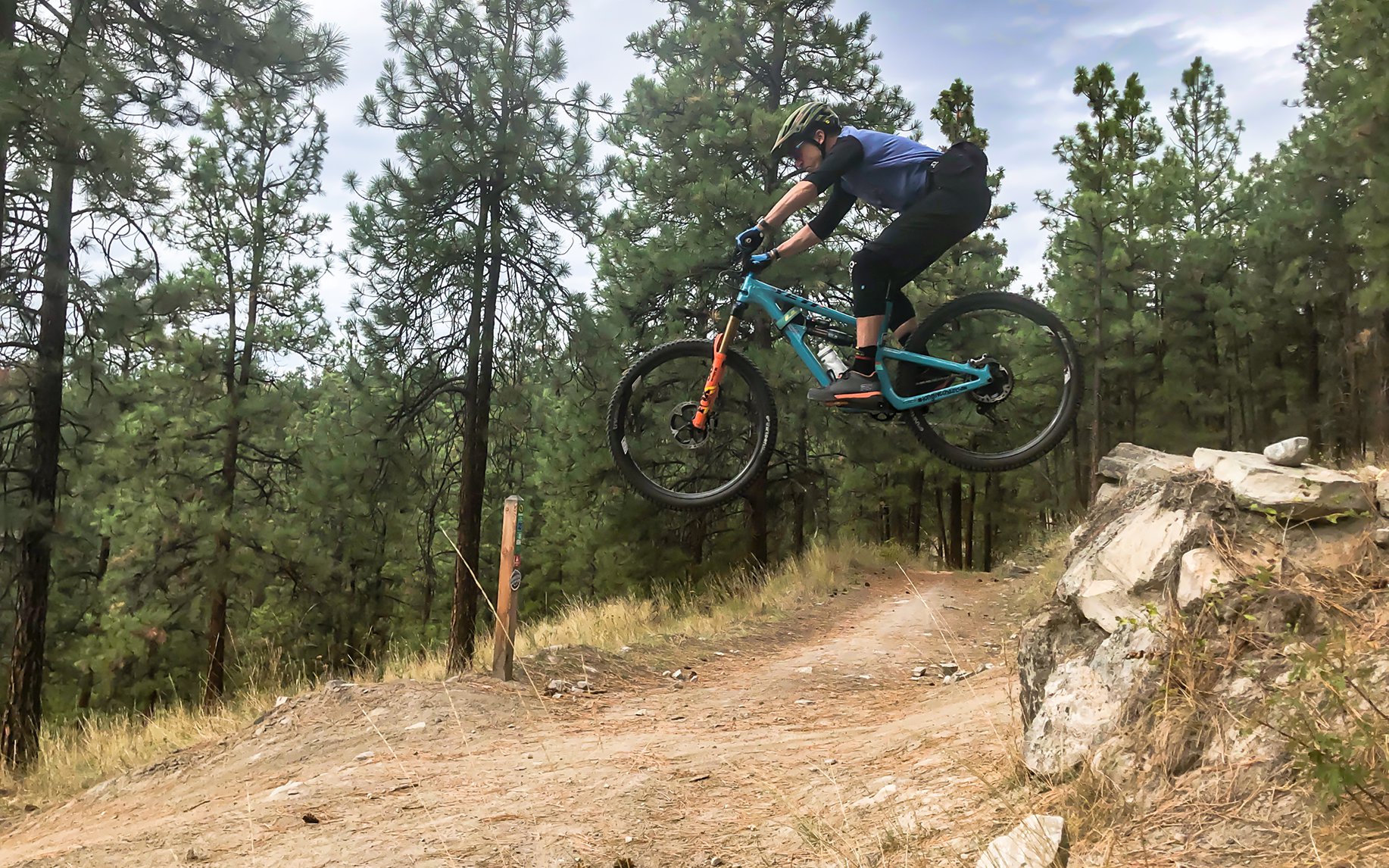 Test Platform Verdicts
150 days on Shimano XTR, OneUp, WeAreOne, E13, Yeti...
Instead of writing 15 articles about the components I've been riding since the spring (when I haven't been on a test bike), I'm going to do a big data dump. It's tough to write a standalone article about a saddle or a bottle cage on its own without torturing all but the most gearnerdly among you.
---
OneUp Bar, Grips and EDC Stem
A sturdy stem that looks good and holds everything together is all I ask for, and OneUp's EDC stem satisfies those criteria admirably. If you are so inclined, it will also hold your EDC tool without the need to thread your steerer. This is thanks to a clever wedge that preloads the headset from the bottom of the stem (see image below). A bonus for me was that because I wasn't using the EDC tool I was able to remove the conical wedge and lower my stem a few millimetres.
The bars are also interesting. The flattened shape is aimed at improving vertical compliance for carbon bars which are notoriously stiff. But for me they didn't feel special for the first couple of months. As it turns out this was the result of user error.
I have always rolled my bars back so that the grip and control surface is flat rather than swept up slightly as they are intended. It likely started out as an aesthetic decision or perhaps I was taught that way assembling bikes. Whatever the reason it was a fail in this case because the bar is designed around a particular alignment with a 5º upsweep. If it is rotated from this clearly marked point, the benefit of the shape is minimized, and it's even possibly this alignment makes the bar stiffer than a conventional round shape. When I rolled the bar forward so that the flattened structure was parallel to the ground, I immediately felt compliance improve. I was riding in the Silver Star Bike Park at the time and 2500 vertical accompanied by some modest braking bumps (the park was in amazing shape) made the difference extremely clear. My comfort on the next run improved dramatically. I can't say that I would feel the same improvement over another bar (back to back on the way) but I can say that the design works when properly implemented.
OneUp's grips are nice and thin and they feature cut outs to provide more cushioning and grip, particularly at the end of the bar. The bottom has ridges that parallel the handlebar to help your fingers get more purchase while the top is knurled. I am a big fan of these with one proviso; in very warm weather they ends of the grips can twist to a degree that I initially found disconcerting. Once I got used to it, I didn't notice any decrease in performance or confidence but when they twisted the first time I didn't like it. In the end this wasn't a negative for me and it actually encouraged braaping. Sam Richards from OneUp told me the issue has already being addressed by minimizing the cut out of hard plastic inner structure at the end of the grip.
---
Shimano XTR 9120 (Enduro) Brakes
These may be the best brakes I have used. I haven't had to re-bleed once, the bite point is consistent, lever feel is light and positive, heat management has been perfect and I haven't yet gone through a set of pads despite a lot of riding. And I've never once wanted for more power with a 200/180 rotor combo.
Pad wear is significant as expected considering how many long descents I've ridden, particularly up front, but performance hasn't suffered at all. Many other brakes stop performing at 70% pad wear or so (30% remaining) which often annoys me. SRAM recommends swapping pads when there is 2.5mm remaining because performance begins to suffer after that, but not here. I haven't noticed any performance loss at less than 1.5mm.
Lever feel is improved by bracing the lever body against the handlebar. This is a simple thing that makes a big difference because it virtually eliminates flex. Feel is a tricky balance because of the finicky relationship between positive return and light and consistent pull. Shimano has mastered this here and it makes feathering easy in precarious moments when grip is tenuous. The light action and high power mean that even in heavy breaking situations, the finger force required is remarkably low. This greatly improves control and reduces fatigue. Only Hayes new Dominion A4s have action that is light enough to be in the ballpark.
Considering the riding I have done in bike parks and some very long and sustained descents, it would be normal to have experienced some sort of performance issue due to heat or contamination but I have had no issues at all. These are keepers.
---
OneUp 210mm Dropper Post
I honestly had no interest in a 210mm dropper, despite having almost 3 inches of post extending beyond the collar once it was installed. I was sure that 170 was my limit and my first rides confirmed it; I kept wiping my ass with my rear tire, something that only happens at inopportune moments. I typed, 'install spacers to reduce travel' on my to do list but long before it got to the top, I stopped bum scraping. This wasn't a conscious adjustment by any means and I was surprised when my body figured it out without any effort on my part.
And the inevitable happened when I went back to bikes with 170mm droppers; they felt too short. Not unrideable but not ideal either. There are times when 210 is too much drop, like when I want to pedal seated because of fatigue, but in those instances I simply raise the post a little until things get rowdy again.
Dropper function has been great. There is very little play at the saddle and the drop and return are smooth. Return is on the fast side but that I like it that way for such a long drop. Since new there has been moderate lube on the stanchion, which is how the post is designed. If things get dry and sticky, lubing the post is easy. Simply unscrew the top and add some grease to the upper bushing and you are dropping smoothly once again.
OneUp uses a custom cartridge rather than the industry standard Wintek, because it allows for a shorter overall length. If your cartridge was to fail, a replacement can be had for 80 CAD/60 USD. In fact OneUp sells pretty much all the parts that may cause your dropper to fail in the future so you should be able to keep it running as long as you like.
---
Shimano XTR 9100 Dropper Lever
My current favourite dropper actuator is the PNW Loam Lever. The shape is great and it rolls on bearings for extra smoothness. The XTR lever isn't as smooth or free of resistance, and I don't like the position quite as much, but it's very good indeed. The position is a little tight to the grip, more in the position of the XTR trigger than the upshift trigger, and it isn't quite as natural to reach for at first. I was also using some grips with inboard flanges at one point and the lever is so close to the grip that I had to trim the flange. Now that I have gotten used to the positioning it has become intuitive and it works so well I see no reason to swap it out, not even for a Loam Lever.
---
Shimano XTR 9100 Drivetrain
My initial impressions of the new XTR 10-51 were very positive. After a season's hard use there haven't been any hiccups at all and my feelings have an even more golden glow. I haven't had to adjust cable tension or limit screws, everything just keeps working. And I'm talking about working exceptionally well. It seems this drivetrain is less finicky than SRAM's Eagle, which, although also excellent, seems to require an occasional tweak to keep things ticking along.
Downshifts under load, with some moderate clutching, are sometimes so smooth they are almost silent, because no teeth get skipped. The lever push is so light, the result of a redesigned clutch mechanism, that it encourages shifting in situations where I'd normally suffer through until a less beastly moment.
Early on the trigger seemed a bit clunky, requiring too much effort to engage. I was told by Shimano reps that this may be an early production issue and indeed the replacement shifter is significantly better. Hyperglide+ is supposed to aid these upshifts but I have yet to note a performance difference. Perhaps if I was racing or riding less technical and higher speed trails I'd be able to experience the chain being guided more effectively to a smaller cog, but in my use, while upshifts are very smooth, I can't notice HG+ improving my life at all.
Chain retention, possibly because of the new extended inner link plate design combined with a narrow/wide chainring, has been similarly flawless. Despite rocky and rough terrain, crashes and hard use in general, the chain has never left the chainring, without a guide of any sort. I've been able to rotate and nudge all the levers into the perfect position (with the slight exception of the dropper release) while only having two clamps on my bars for a very tidy cockpit. Some of the best news about my longer term impressions of the XTR 9100 drivetrain is that virtually all of the innovations here have already trickled down to XT and SLX, so you needn't break the bank to experience this exceptional performance. I was unable to discern between XT and XTR on my rides on the former in Bellingham.
The rear hub was initially a disappointment after becoming enamoured with the now discontinued "Scylence" free hub I rode in Crested Butte, but things have changed. Nick Murdick, Shimano's MTB product manager, told me that in his experience the regular free hub starts off singing when first freewheeling and then becomes very quiet after a few seconds. Early on my rear hub didn't seem to stifle itself but now it that it's broken in the whine ends, and it happens very quickly indeed. It's not totally silent in my workshop but it's quiet enough to seem silent on the trail.
---
Shimano XTR 9100 Cranks
I only recently received the long-delayed XTR cranks and I can report they installed beautifully. Gone is the pinch bolt and dustcap design retained by XT and below in favour of a design that echoes RaceFace's Cinch system. The non-drive crank installs with an 8mm Allen and then a reverse threaded plastic spacer can be hand tightened to remove any gap that remains between crank and bottom bracket. The reverse thread means that a pinch bolt, like RaceFace uses, should be unnecessary. The cranks are now self extracting using the same 8mm bolt and the result is a much better system in terms of tools needed and simplicity. The direct mount chainring interface clamps down with a locking that fits a conventional outboard bottom bracket tool. Cranks, less bottom bracket, weigh 511g vs 631g for XT.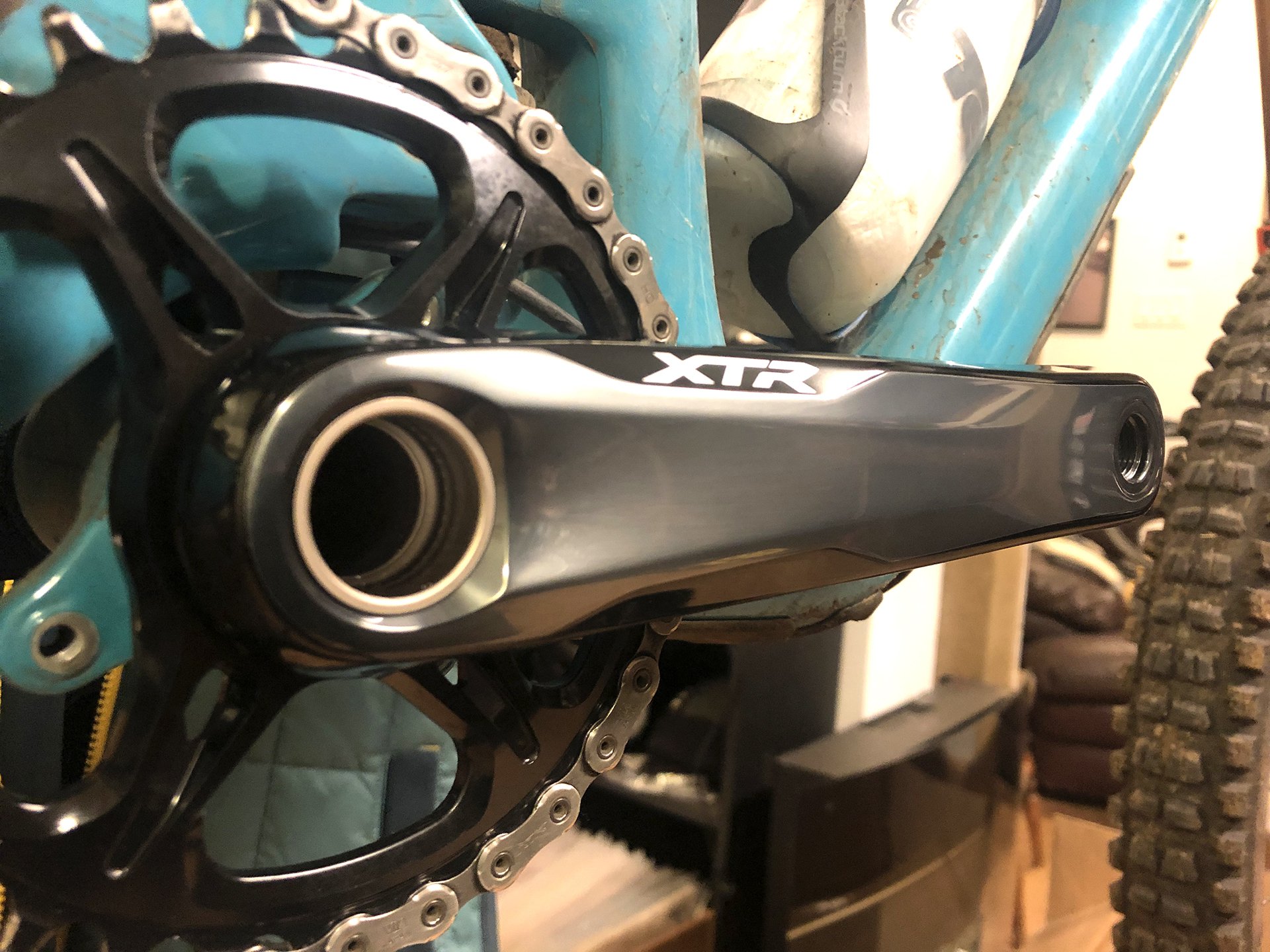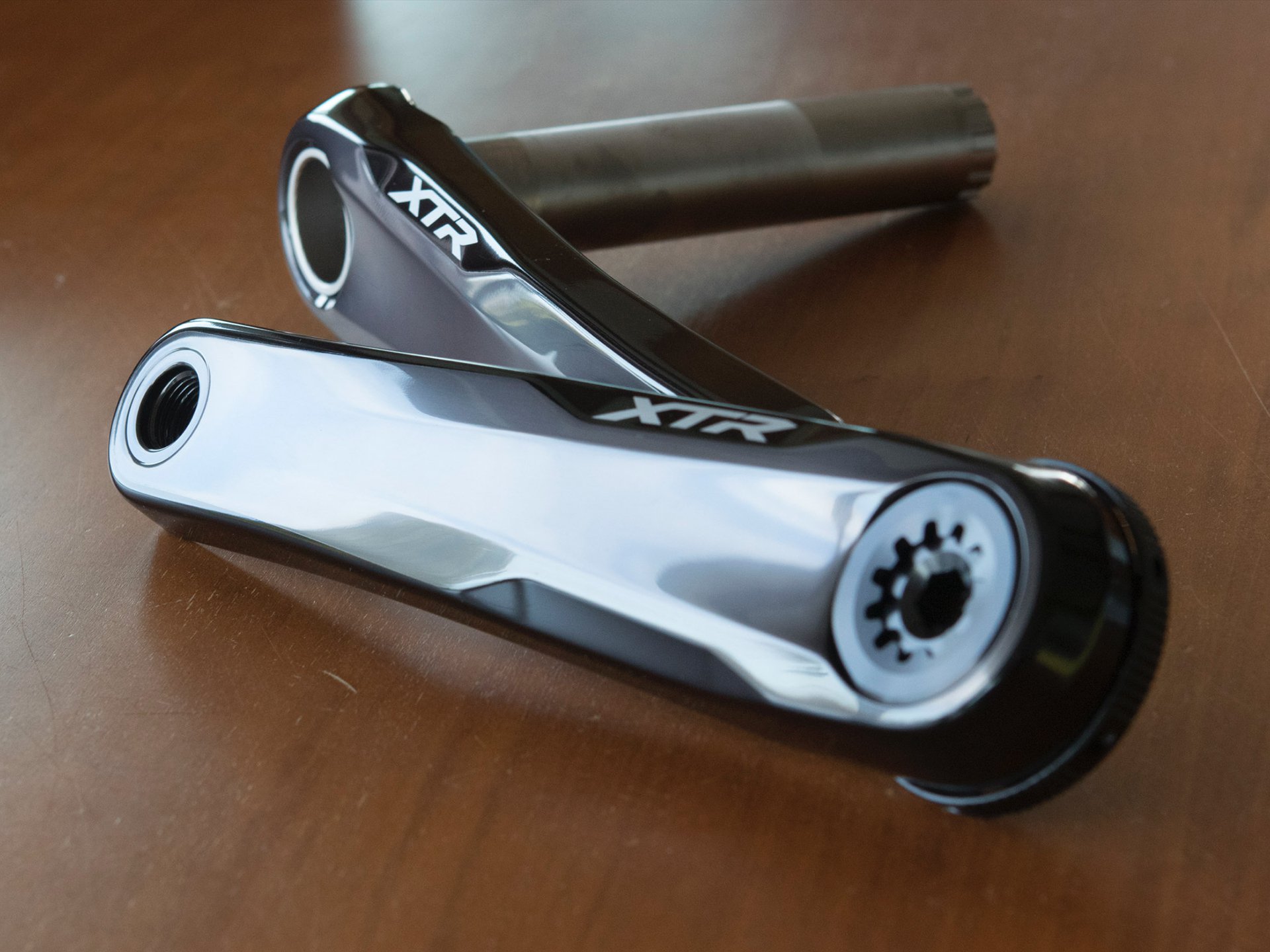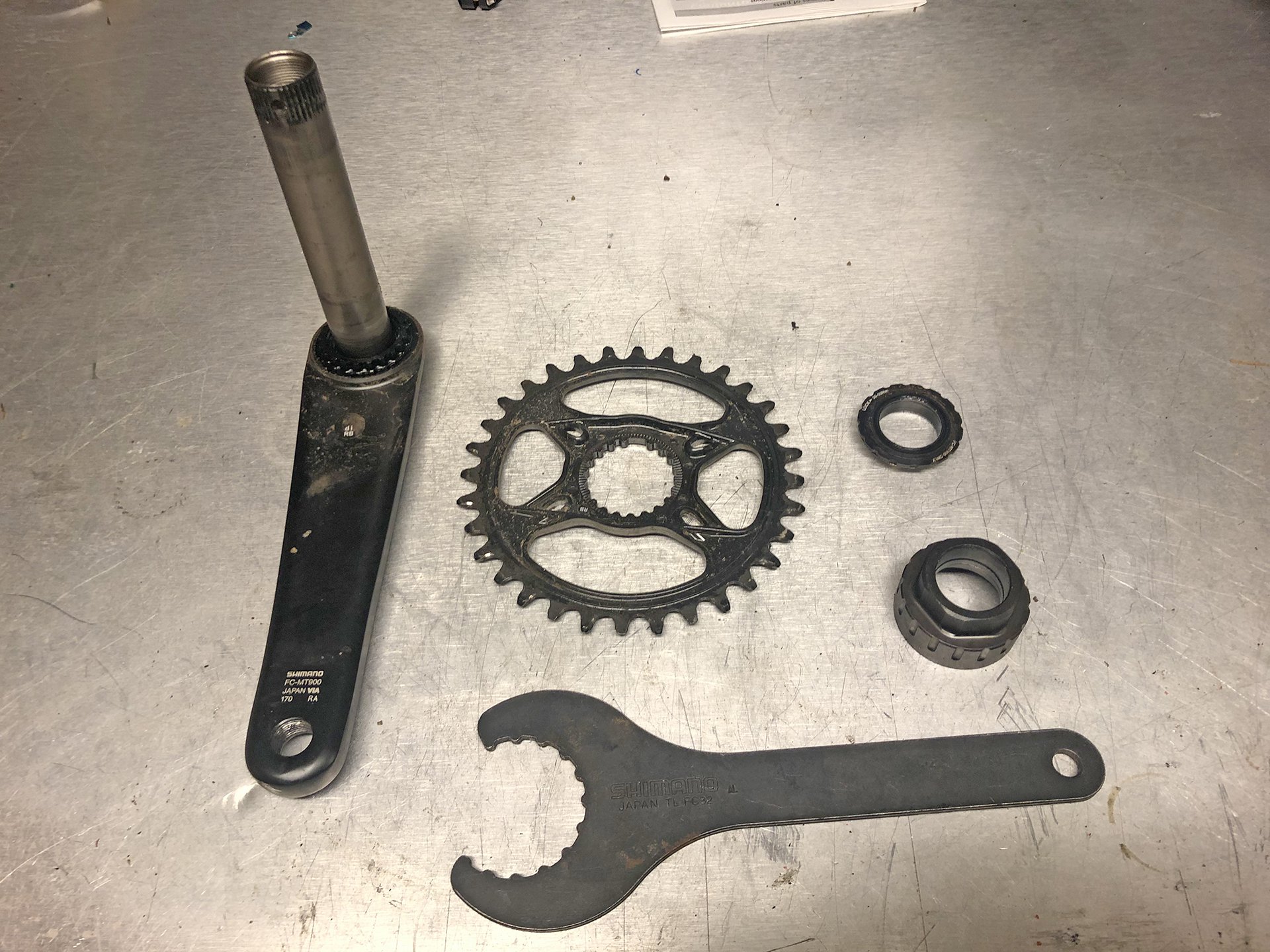 The low Q factor of these cranks has made me realize that I really appreciate a low Q factor. Intuitiively I assumed wider spaced feet would mean increased stability and confidence, but for me that hasn't been the case. Having my feet closer together allows me to angulate my knees in tandem more easily and at greater angles, which I didn't expect, and the bonus is that this makes for a more efficient pedalling position.
---
WeAreOne Faction Wheels w/XTR 9100 Hubs
I decided on Faction rims for a couple of reasons, despite the bike and trails I ride surpassing the intended use profile. I'm not very heavy at 165 lbs or so and it's been some time since I've smashed a rim and while the riding I do here on the Shore is often rough, speeds are generally low so rim damage is infrequent for many of us. To me it makes sense to try a lighter rim that I would be more likely to break so I can give an honest estimation of strength and durability. And finally, we hadn't tested these rims.
This has me on a set of wheels that weighs 1630 grams, including rim strips and valves (740g front and 890g rear) and with only a 27mm internal width. As luck would have it I've had a few opportunities to kick the shit out of these and they feel and appear to be undamaged. The video below was also embedded in my E13 tire review, for obvious reasons, and if you turn the sound on you'll get a sense of how hard I hit the Faction rim. I was off my line and realized I was going to miss the landing completely so I grabbed just enough brake to land on the wedge, with my front wheel barely catching enough of the rungs to keep me upright.
I was shocked to not flat and even more shocked to have a rideable and indeed undamaged (at least to the naked eye - and this was several months ago now) rim. In fact it wasn't even out of true. I wouldn't have been surprised to break a much burlier rim so this was impressive.
The faction has nice feel on the trail and hasn't ever felt overly harsh, but back to back testing is on the way so we'll have more feedback for you there in a month or so.
Performance of the Mircospline hub has been excellent. I'll break them open and overhaul them to see how they look after some crap weather riding, but front and rear are very smooth at the axle right now. You can't order XTR hubs directly from WeAreOne but you can get a Faction wheel set with Industry 9 Hydra hubs for 1875 CAD or ~ 1400 USD as part of the Revolution wheel series. Wheels from the Movement series start at 1275 CAD or ~ 960 USD.
---
Some SB150 Frame Details
Early on with this test platform frame I had a noise that I never heard on the original SB150 tester I rode earlier this year. It was a metal on metal binding noise that occurred during rear wheel impacts. It seemed to be more pronounced when the rear wheel was unweighted. I did some poking around and checked some things, but then it mostly went away on its own. I removed the rear axle catch bolt and the derailleur hanger subsequently and re-applied grease and thread locker in the appropriate places and, as you'll see, I have overhauled the Switch Infinity linear bearing. I heard a muted variation of the noise once on my last ride. I think. For the most part the bike rides very quietly now.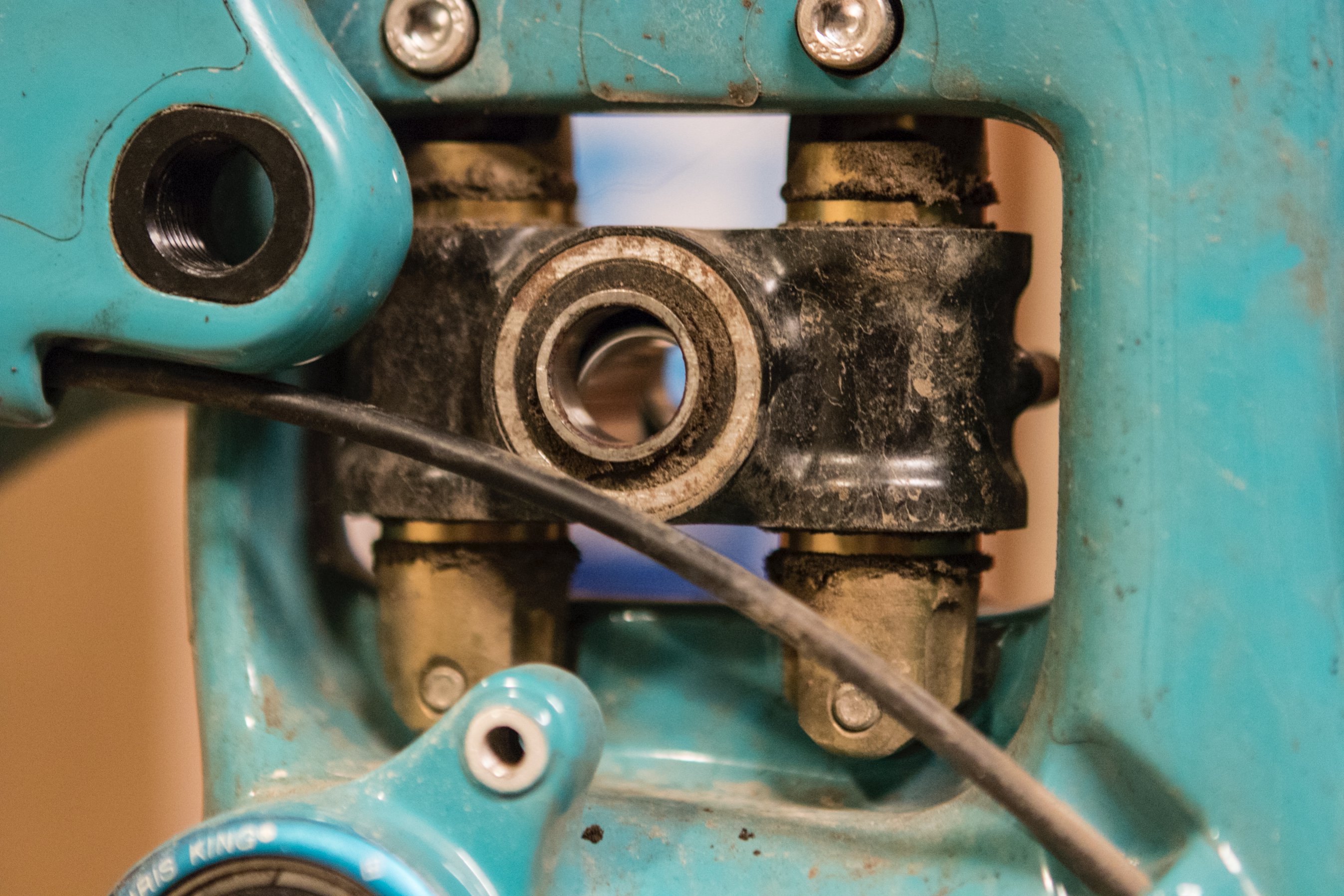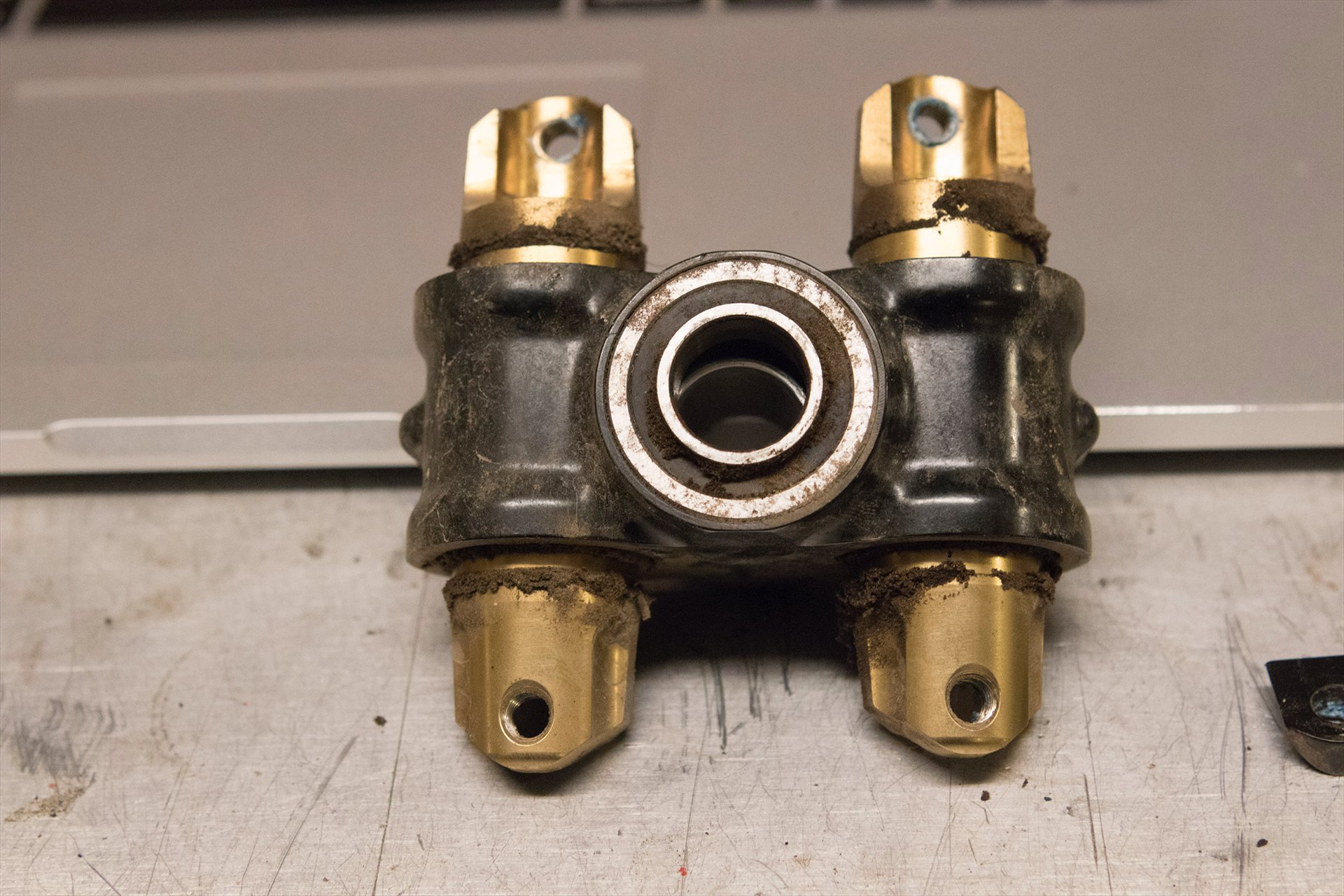 After having issues with minor wear on theSB150 test bike, likely due to a lack of maintenance on my part, I decided to have a good look at the linear bearing on this frame after a summer of mostly dry riding. Things were a little mucky after some recent rain rides, but once I cleaned and inspected everything it looked great. There are signs of discolouration inside the carrier, but the stanchions are perfect.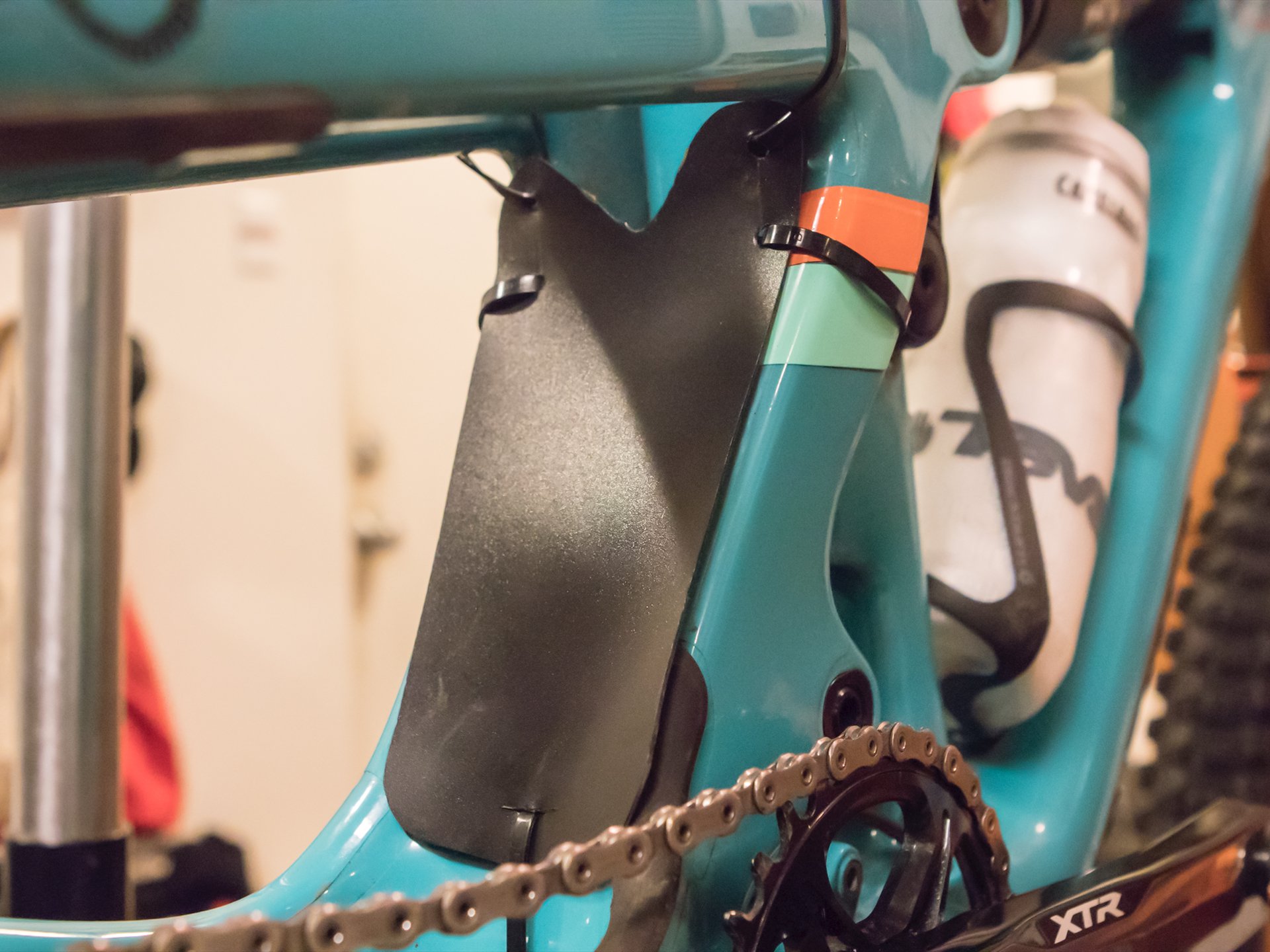 Because of my earlier issues, I wanted to fashion a fender to protect the Switch Infinity linear bearing. I took inspiration from one of our commenters who displayed one under my article about the tester. His design sat between the vertical members of swingarm and was attached to the main frame using zip ties. I decided to instead attach to the swingers for a little more coverage and more robust mounting. I may adopt Speeder's approach in time because I'm not happy with the zip ties being visible, although I don't have to worry about the finish on my frame getting wrecked because of RideWrap.
---
RideWrap
This custom frame protection solution has been a homerun. It has prevented scrapes in a few spots and minimized damage in others and undoubtedly protected areas I haven't even noticed. I was even able to try out the self-healing function and it works great. A flap was peeled up after a crash and all I did was push the plastic down into the hole and leave the bike in the sun. When I came back the flap had partially adhered to the surrounding material. I haven't experienced any peeling in exposed spots and the film still looks beautiful – and much of the credit goes to Andy at bikeroom who did a stellar install.
My favourite things about RideWrap are being able to clean the bike without worrying about damaging the bike's finish and having peace of mind when it's in the back of a truck loaded by mouth-breathing barbarians (aka my friends). If you missed my article on the RideWrap install process, check it out here.
---
Other Details
I continue to be impressed by the SB150. The sizing and geometry are bang on for me and the suspension is amazing. The bike's most remarkable trait however is its versatility. You'd think a bike with a 170mm fork would be grouchy and slow in janky terrain but instead it's remarkably nimble, without any penalty to pay on rough high speed sections. It can take a hit, (although it's not as cushy dropping to flat as a Santa Cruz Bronson) corner like like a border collie wearing spikes and it's stable and inspiring in the air. It's as at home on Grannies, an old school tech line on Mount Fromme, as it is riding Earth Circus in Whistler's Creekside zone.
Next up I'll be swapping bars (WeAreOne's Da package bar and stem) and wheels (e*thirteen) but it likely won't be long before most everything is replaced on this workhorse test platform. If you have any suggestions about product you'd like to see us try please let us know below.