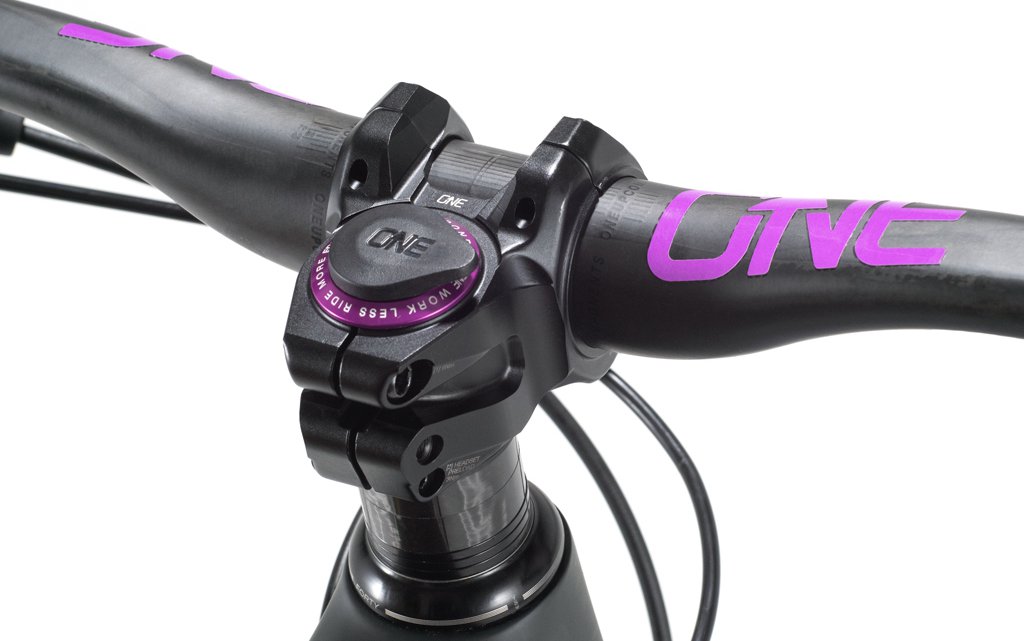 New Gear Out of Squamish
OneUp Releases Full Cockpit & Dropper Post Lengths Covering 100–210mm
It's become quite common to see a selection of new products from the depths of the Squamish wilderness when Sea Otter rolls around. Reason being is OneUp Components has, for the last few years, chosen the spring event to release their latest and greatest. If you've been paying attention you also may have noticed that with each passing year, the depth of their product range increases.
OneUp Components Cockpit
For 2019, OneUp has delved into the world of steering. New for the brand is a carbon handlebar, stem and grips. As with most products OneUp develops, these aren't any run of the mill parts either. Rather, they attempt to tackle problems faced by riders with other products in this category.

OneUp Carbon Handlebar
Another unique attribute that OneUp has begun to do is spending less time working on clever product names. Their new carbon handlebar is labelled… You guessed it, the Carbon Handlebar. However, this is where the simple approach ends. OneUp is hell-bent on solving problems and like most of their products, the new handlebar is different.
Features
Material: Carbon
Width: 800mm
Rise: 20mm (220g), 35mm (225g)
Geometry: 8-degree back, 5-degree up
MSRP: 138 USD

The bar is only offered in a 35mm clamp diameter and carbon is the material of choice. They've focused on the ability to shape carbon and its response, seeking a 35mm carbon bar that incorporates the best ride qualities from both a 31.8mm and 35mm diameter bar. They say that "if you actually care about bar compliance, then you don't make a round 35mm diameter bar." 35mm handlebars have earned a bit of a bad reputation since their development and OneUp believes that what they've done is the right way to do it.
To achieve this, they've created a uniquely shaped bar that utilizes the 35mm clamp diameter but keeps the length of this portion to a minimum. The 35mm diameter quickly changes to a squashed oval shape. This runs through the transition, or bend, before settling to the regular 22.2mm diameter to the ends. They confess that despite finding their bar 21% more vertically compliant than popular carbon, 35mm handlebars, geometry is still king.

"We wanted to make the best feeling bar possible, something that would let us ride harder, for longer. – OneUp Components"
They've gone with the popular 5-degree backsweep and an 8-degree upsweep. Not all bars with this geometry will feel the same though. Without riding them, I can't speak to how they feel but it's a solid starting point. Bar width is 800mm and they come with clearly marked measurements for riders running a narrower width. For rise options, they're available in either 20mm or 35mm and will cost 138 USD
OneUp EDC Stem
The new EDC Stem is designed to work with the EDC steerer tube tool. Not everyone wants to tap threads into their steerer and this new stem allows you to run the tool without doing so. It also works without the preload kit as a regular stem, for those that already have a tapped steerer or riders that like the look of the stem but don't run an EDC tool.
Features:
Length: 35mm (157g), 50mm (173g)
Diameter: 35mm
Rise: Zero degrees
MSRP: 115 USD (w/ preload kit) / 85 USD (w/o preload kit)

Another interesting feature to the stem is the ability to adjust the preload of your headset without loosening off the stem. It includes an extra bolt around the steerer—three bolts total—allowing for the preload adjustment. The stem will only be available in a 35mm clamp diameter and two lengths; 35mm and 50mm.


OneUp Grips
Polishing off the cockpit in full OneUp wouldn't be complete without grips. Their first foray into this world doesn't skimp on features either. The grips feature a diamond knurled texture but additionally, there are 'sawtooth finger ramps' for extra hold. The rubber compound is a big differentiator and OneUp has used a 20A compound to provide what they claim as ultimate traction.
Features:
Single side clamp design
Diameter: 30mm
Length: 136mm
Surface: Diamond Knurled texture w/ sawtooth finger ramps
Rubber: 20A compound
Colours: Black, Green, Red, Blue, Orange and Purple
MSRP: 25 USD

Similar to most new grip designs, the OneUp Grips feature a single side clamp. Rubber encompasses the end of the bar, leaving a soft, padded area providing comfort to the edges. The core of the grip is also cut out, leaving heaps of rubber directly contacting the bars. This should provide more comfort. Diameter is on the smaller side at 30mm and length is a bit shorter too, though should provide enough room. They measure 136mm.

OneUp Components Updated Dropper Post
OneUp first released a dropper post last year during Sea Otter. Twelve months later they've already come forward with updates. It seems they're obsessed with stack height and this one is even shorter. They've also added more sizes, including a whopping 210mm option. Internals have been updated as well and the cartridge is user replaceable. The post is now available in four stock sizes; 120mm, 150mm, 180mm, and the 210 mentioned, but their clever system allows for a further 10, or 20mm of adjustment. That means the 120mm post can be run as short as 100mm. This gives the OneUp post a very wide selection of lengths.
Features:
Sealed cartridge internals
Updated aluminum remote
Cable actuated
Travel adjust shims provide shortening by 10 or 20mm increments
User replaceable cartridge for 60 USD
Two-year warranty
Weight: (30.9) 120mm – 435g / 150mm – 480g / 180mm – 525g / 210mm – 570g
MSRP: 120, 150mm: 199 USD / 180, 210mm: 205 USD

OneUp claims their 150mm length dropper's total length is 420mm, including the actuator. Also, the 180mm option is said to have an overall length shorter than most companies 170mm options and is shorter than some brands 150mm posts. If true, this gives OneUp a great advantage in a lot of situations where seat post insertion becomes a problem. The stack height is also claimed as the shortest available, measuring 183mm for the same 150mm length post.

Internally OneUp has added a new bushing with more overlap to improve durability. OneUp tells us the new post is 20g lighter and that you'd have to spend twice as much to get a lighter post. The updated lever features the same profile and position but is now built with aluminum and can be integrated with a number of different manufacturers brake levers for a clutter-free setup.
Many of the items released here aren't yet available. Jump over to the OneUp website for more information. There you can sign up for their availability alert should you be hankering for any of these new parts.
---