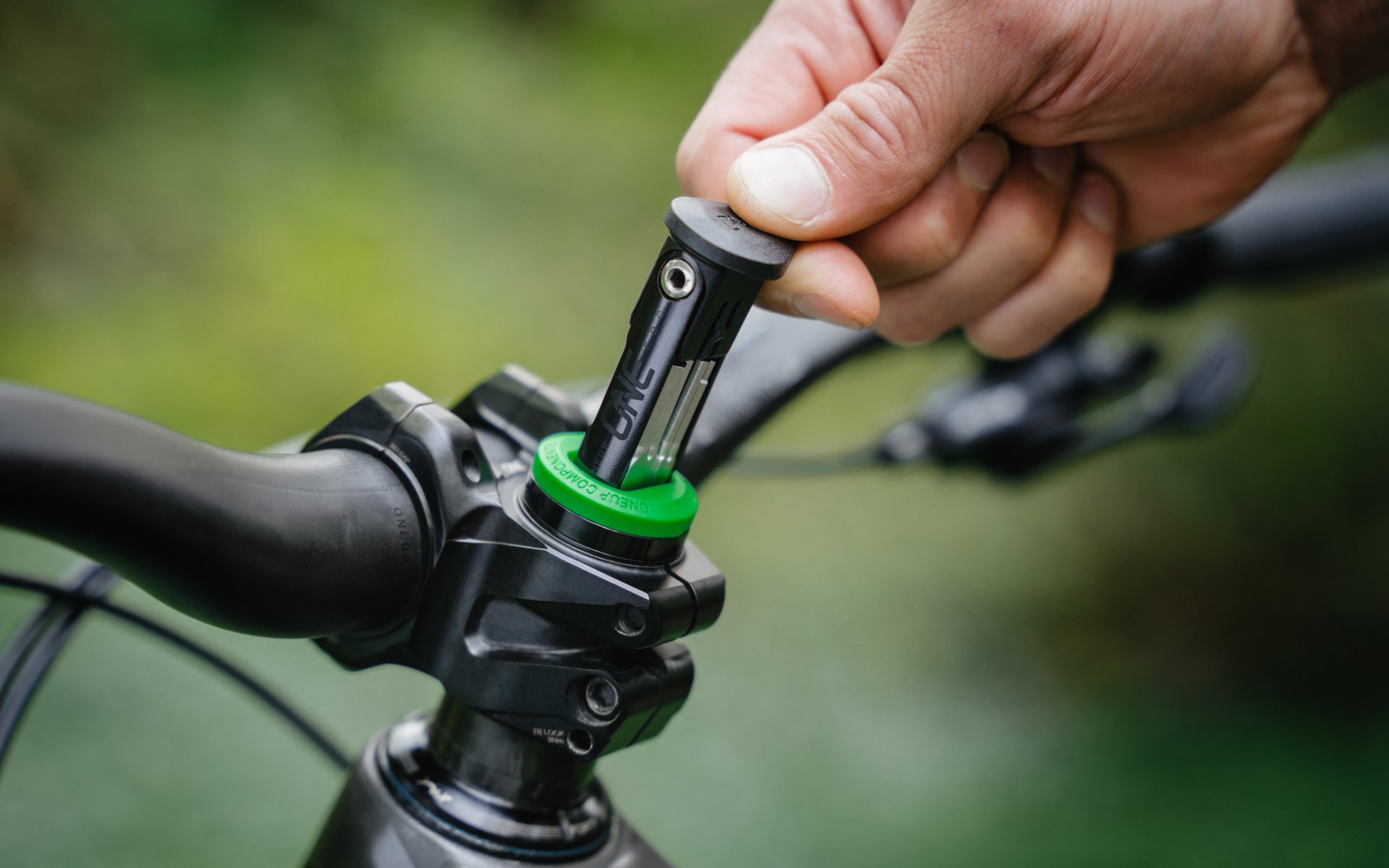 PRODCT LAUNCH
OneUp Components Introduces EDC Lite Multi-Tool
In 2017 OneUp caused a mini sensation when they aimed their engineering and clever design skills towards the tool market. The EDC tool helped usher in the trend towards well-designed solutions for getting some of a rider's essentials out of their bags and onto their bikes, adding speed and convenience to mid-ride fixes while lightening packs or helping riders ditch them altogether.
We are big fans of the original OneUp EDC Tool, but there were issues for some riders: you needed to tap your steerer tube to run the original tool, voiding your warranty. The second version eliminated the need to tap the steerer but wasn't 100% flawless and would sometimes come loose mid-ride. The new Lite looks like a worthy successor - or alternative - to the original, depending on your needs. We've got a few EDC Lites on hand and will report back shortly on installation and use. For now, OneUp's official release, below, will fill you in on all the details.
---
OneUp Components EDC Lite
EDC Lite is a 9 function Multi-Tool which contains your most used tools and is designed to live inside your stem/steerer tube.
Never get stuck without a Multi-Tool on a ride ever again.
MSRP $40, €40, £35, $53 CAD
9 Functions:
⬢ 2, 2.5, 3, 4, 5, 6, 8mm
⁕ T25 Torx
▬ Flat Head Screwdriver
EDC Lite is easy to install in 5 mins without removing your star nut or threading your steerer tube. Your headset is still preloaded using your star nut in the traditional way.
EDC Lite adds just 75g to your bike weight and is perfect for carrying a tool on almost any bike with a star nut. See compatibility page for full details.
No need to remove your star nut or thread your steerer tube.
Light weight (Adds just 75g to your bike)
Available in 7 colours (Black, Red, Blue, Green, Orange, Purple, Turq)
Colour matched to OneUp Composite Pedals, Grips and Handlebar Decals.
Run a single Multi Tool on all your bikes (extra carriers are $15 USD each)
The EDC Lite Kit includes the 9-function multi- tool and everything you need to install and store it in your stem/steerer tube.
INSTALL
To install EDC Lite, you set your star nut 70mm deeper into your steerer tube using the provided setter bolt. Then replace your top cap with the EDC Lite Carrier, which is essentially a deep dished top cap with room for your tool.
Full instructions for the are here: https://can.oneupcomponents.com/pages/edc-lite-install-instructions
The OneUp EDC Lite is available now at www.oneupcomponents.com
WORK LESS, RIDE MORE