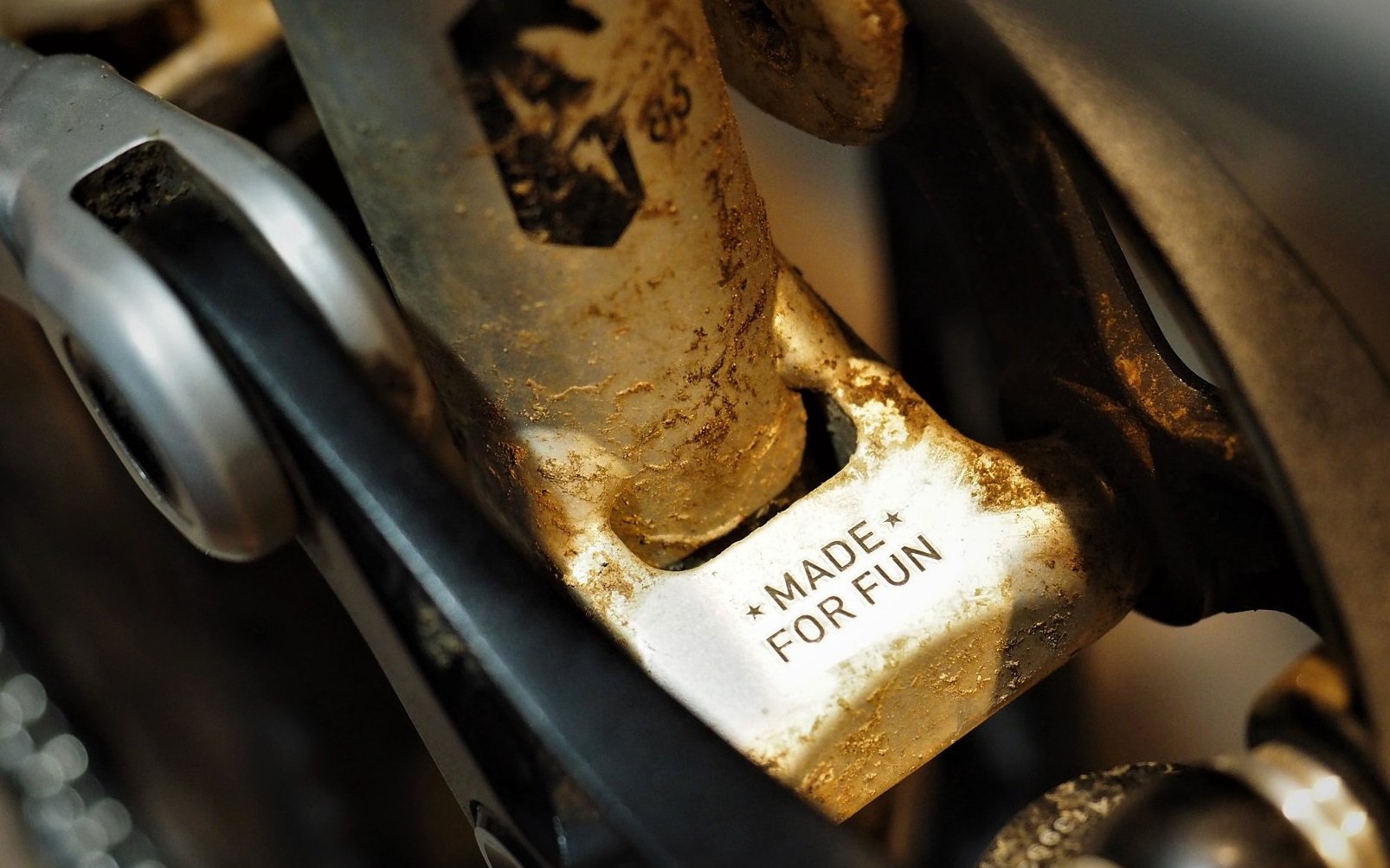 EDITORIAL
Tools To Make Mountain Biking Fun
"When you're serious about having fun, it's not much fun at all!" - Calvin
Tools You Own
It's only early afternoon but already it's primevally dark in the trees. I'm slouched comfortably on my favourite bike, a collaboration between Waltworks and Toxik Harald that makes me smile every time I look at it. My WTB Koda saddle provides the perfect amount of padding for my leathery undercarriage and my one un-clipped foot rests against a cedar stump a hundred years older than I am. I'm surrounded by ferns and moss of the brightest greens.
I'm hurting bad, my lungs feel full of tar and my legs are leaden but it's a crisp winter day and I've already run into a handful of folks I know. I find myself in a friendly debate about a mutual friend who's no longer having fun mountain biking.
Sad.
I've seen plenty of riders lose their sh*t over the years and I know more than a few folks who've quit mountain biking because their easy love turned into obsessive loathing but that's never going to be me. I keep it fun, keep it interesting, and keep it light. "No Garmin, No Rules" as my friend Terry would say. I also keep it nostalgic and whether it's going to my secret place when I'm deep in the pain cave, remembering fallen soldiers long quit, or recalling solid advice, part of keeping things fresh is the history of passion I have for riding.
I have nothing but great rides but sometimes I need to rely on a few tools to maintain that frame of mind. You probably already have similar ones and the great news is that backward compatibility is not an issue. If you're having a hard time maintaining a smile out on the trails then put them in your pocket and pull them out anytime a ride starts going sideways.
Solid Gold
My friend Sean straddles his bike. The year is 1999. It's a new-to-him Schwinn 4-Banger. Orange. Hayes Champagne disc brakes. Easily the nicest rig in our crew. He's sporting a cotton t-shirt, half shell, and a pair of full-length Roach leg pads. He's ready to let fly. Or, well actually...
The trail is called Woodlot Gold and Sean's at the peak of the very first feature. It's a big looping overpass that's a cross between the PNE Coaster and a Hotwheels track. Having ridden from up and around on a spiraling ladder bridge he's left with three options. A steep wooden exit with the rungs spaced such that it actually resembles a ladder, a four-to-five foot drop to a flat landing, or a larger launch with a slight transition.
I've skipped all the three options and I'm down around the corner trying to build up the courage to pedal my bike across the massive trestle-bridge ladder span. The rungs are spaced wide enough for my size-43 shoes to fit easily between any two, so it's literally safer to ride. Our other friend Ryan lacks that cautious little voice in his head and he's already hit all three exits. He's standing at the bottom shouting up words of 'encouragement'.
Big surprise, the 'encouragement' isn't helping. Sean's got a long fuse but when he finally snaps there's a ruthless silence. He steps off his bike, grabs it by the rear wheel, spins himself around, and sends that beautiful assembly of aluminum, carbon, magnesium, and steel flying in Ryan's direction.
It sails through the air in the slow motion and when gravity finally gets a firm grip it bounces back up half the height it was tossed from, lands on its wheels, and rolls forward coming to rest serenely against a tree as if someone had purposely leaned it there. The seat rails have both punched straight through the top of the saddle. Otherwise, the bike is as new.
Ryan turns to me and, with an impressive sang-froid, announces: "I don't think Seany-D is having any fun." I have to agree but I don't get it. Ride it or don't, but just ignore the background noise - internal or external. There's no point in getting down over trail sections left unridden. They'll be there tomorrow. Or they won't.

Anytime I find myself walking around a greasy skinny, skipping a steep drop-in, or otherwise choosing a more sanitized option, I think briefly about Sean and how many great adventures he's missed over the years because he didn't skip one sketchy wooden stunt.
I can always look at it again tomorrow.
My Secret Place
Many years ago I was riding in the snow on some moto-trails in a network called McNutt. I was using a pair of Speedplay Frog pedals which uniquely had an elastomer clip-in mechanism as part of the cleat rather than the pedal. I'd been walking up a steep fire road in the snow for a while but finally, it had turned downhill enough to jump on the bike and get some snow surfing going.
At the bottom of the descent, there was a dip before the rocky road headed back up into the trees. It was a deep pit filled with water and, other than the thin coating of ice on top, said water was still barely in a liquid form. Halfway across I hit a rock and stalled. Despite my most herculean attempts I couldn't convince the f***ing elastomers to compress enough to let my shoes release from those pedals.
I'd love to say I Ryan-Leeched that sh*t but I neither managed to rear wheel hop or yoga myself out of the situation. Instead, I fell over sideways into two-feet of ice water where I managed, with some effort, to not drown before one of my buddies could help haul my soaked ass out. I set about shivering violently and we continued to push our bikes up to our favourite McNutt trail 'The Chute'.
Whether I'm underdressed on the coldest, wettest, gloomiest days or hurting hard from an unplanned meeting with the ground, or experiencing a rare bought of bad company, I just go back to that moment in time. I can feel my ice-cold saturated chamois against my Flite saddle, hear the pluft, pluft, pluft, of my soaked Dickies slapping my legs, and I can feel the sandy embrace of the tiny vinyl seat in the back of my friend's sister's Mazda B-Series truck as the heater whined violently trying to bring some feeling back to my toes.
When I go to my secret place on a ride nothing can phase me mentally and it's easy to pop back out when the conditions or company improves.
Do You See It?
Crashing both sucks and is inevitable. That's mountain biking. But, before I roll into anything sketchy I can always hear my friend Al's voice in my head.
I'm sitting at the top of the log-ride exit to 7th Secret for the first time. Left foot clipped-in, right foot resting on the log, and both hands on the bar of my Balfa Minuteman. I take a deep breath. I'm doomed.
I look around and meet eyes with my new friend Alan. He smiles and says "do you see yourself at the end of that log?" to which I can only reply with a long sigh. "If you don't see yourself at the end then give it a pass. When you're ready for it you'll know."
But what if I'm never ready?
"It will be there."
Aspects of my bike handling still progress every year and some of that comes from pushing my own boundaries, but if I can't visualize myself exiting a section of trail with the rubber side down, then I know I don't have the confidence to hit it. It's not that I don't ride over my head. I crash plenty thanks. The difference is if I'm not confident dropping in I know I'm going to crash, whereas when my form and brake control are on point it's a lot less likely.

I'm probably over-cautious by nature, but having the confidence to know when it's time to walk is a tool that has helped keep riding fun for me. News flash, when you get to the coffee shop/pub no one really cares who was first or rode the most gnarly sh*t. Mountain biking is for fun.
And there you have it. My tools for suffering and survival that ultimately keep it light.
---
How do you make sure the fun doesn't get too serious?