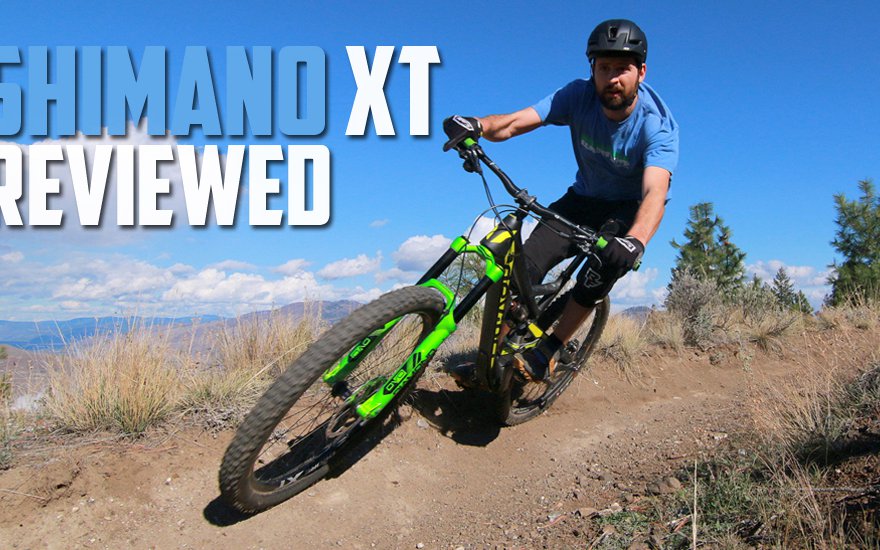 Review: Shimano Deore XT
Dave's test rig is a Devinci Spartan with a full XT build (including wheels and pedals), Rock Shox Monarch Debonair Plus rear shock and a DVO Diamond up front. Review on the frame and fork coming soon.
I don't think it is an exaggeration to say that without Deore XT, we probably wouldn't be here. For years and years, Shimano, largely through Deore XT, has been at the forefront of value, performance and durability. They haven't always gotten it right, and you could argue that they've missed the boat a few times recently, but Deore XT has always just sort of been there, with little to complain about, since 1983.
Really, this is the benchmark. All drivetrains either work better or worse than Deore XT. They cost more or they cost less. It almost doesn't matter how good/bad this stuff is, because we're going to have to reset the goalposts either way.
To put it another way, Shimano Deore XT is boring. It's vanilla. It's Ralph Nader. We don't think about these things very much, but we're lucky to have them around. Other than for the 2000 US Presidential Election.

Drivetrain
Cranks
I've built a number of City bikes up over the last few years, and I've actually come to really dig the "old Sugino" style of crank. Simple and classy. These cranks bring that back by eliminating the faux-industrial vibe of yore. They're clean and look a bit like XT crank from the 90's, which is probably how an XT crank should look. There are fancier cranks. There are stiffer cranks. There are lighter cranks. But these are fine. You don't notice them, and I think that is exactly what you want from a Shimano crank.
My only real issue is with the new bolt circle, which is ridiculous. Why hold on to a diameter limiting bolted chainring, but develop a new standard so that nothing is compatible? This makes no sense.
Price is CAD $193 / $122 USD  without chainring or bottom bracket.
Clean and Simple, if you ignore the new bolt standard and complicated chainring.
Chainring
There is a lot of debate on the longevity and effectiveness of narrow/wide chainrings. Some people are giving up and mounting chainguides. So, it's interesting that Shimano has found their own route to single ring chain retention. I questioned the complicated nature of having a chainring built out of multiple parts and materials, but if that is what it takes to keep the weight down and provide steel teeth, I guess I'm on board. The enlarged teeth seem to do their thing retention wise, as I never dropped a chain (but isn't that statement in just about every bike/drivetrain test these days?). That new bolt circle standard means that not many people are going to care, though, as you'll need a matching crank to take advantage. And an MSRP of CAD $86 / $52 USD will make replacement a bit of a financial burden (especially compared to the ultra cheap albeit heavier SRAM GX stamped steel rings).
(Note: Shimano just released a new version of their XTR and XT chainring tooth profile, coming sometime this summer. Preliminary look here).
Don't call them narrow-wide, they're just big teeth.
Chain
It caused the forces to transfer from the cranks to the cassette and it didn't break. 11-Speed Shimano chains run from CAD $41 / $29 USD all the way up to CAD $70 / $42 USD, depending on how fancy you want to get.
Rear Derailleur/Shifter
The good is that the shifting is clean, light and precise. The chain just moves where you want it, when you want it, with a minimum of fuss.
The derailleur is everything you would expect. It's trim and slim, but stands up fine to the inevitable knocks and bangs. The clutch does what a clutch is supposed to do, and is adjustable if you feel like you need more/less retention (decreasing retention gives a lighter shifter action). I didn't touch it, though.
The shifty bits.
The shifter is where the conversation gets a bit complicated. Shimano went and did a nice job taking the thumb paddle up market. It's got pretty little dimples and the action is great. It's too bad that the trigger doesn't keep pace. The trigger is plasticky and kind of crappy, in appearance, feel and action. There's a tremendous amount of free play in it before the shift actually starts. It just feels cheap and unbecoming of something of the caliber of Deore XT. And it doesn't need to be this way. SRAM cranks out a bunch of shifters with plastic triggers. They feel much more confident and substantial and there is no float. It's just better, if you ask me.
This was a large enough issue for me that I wandered around Vancouver shifting bikes on showrooms that are equipped with XT, just to make sure this was consistent across the board. It was. I also re-visited the last generation XT on one of my personal bikes. There's definitely some float, but not nearly as much. And even though the trigger is plastic, I like the feel of it a bit better.
The offending lever is poking out between the bar and the brake lever.
Could the problem be that they're trying to get too fancy? I don't really care about being able to shift down the cassette in multiple cogs. And I guess it is nice that you can either 'pull' or 'push' the trigger to execute a shift, but I think I would prefer it if it just went in one direction and did it well (it's slightly better as a 'push' lever, and most terrible as a 'pull' lever, which is ironic seeing as 'pull' is the Shimano bread and butter). And yes, I tried a few other shifters. They all feel similar.
I know this might sound trivial, but this is your tactile interaction with this equipment. It provides an unpleasant little reminder to you dozens and dozens of times each ride. I will note that you might not care about this, as no other review that I have seen has mentioned it, but it is definitely something that I noticed. It's not a deal-breaker, but I'd be really happy if they changed the way this lever works.
The Rear Derailleur is CAD $134 / $83 USD  while the shifter is CAD $81 / $50 USD. Don't worry, that includes the schnazzy gear indicator.
Cassette
The cassette looks like a standard XT cassette with a chainring tacked on to the back. The good is that it is relatively cheap, fits on the standard cassette body that we know and love, and helps provide the precise Shimano shifting that we all have come to expect. Even at the top of the cassette, where some of the jumps are quite large, the shifts are quick and consistent. Don't back-pedal in the largest cog though, as your chain will immediately jump off and find its way to the middle of the cassette. This might differ depending on the chainline of the bike, but seems like a fairly common problem with an 11-speed setup.
Ignore the dinner plate tacked on to the back and it's a pretty standard cassette.
The bad is that it weighs a tonne. 430 grams, which is more than even the SRAM rivet convention that is the GX cassette (at 393 grams). But, if you want to run 11 speed and not swap out a driver body, this is probably your answer. The cost is CAD $150 / $90 USD for the 11-42. There's also a bit of a range hit compared to the SRAM 10-42, but the recent introduction of an 11-46 brings it oh so close. It will be interesting to see if the price stays the same.
Brakes
We talk about benchmarks, but XT brakes go beyond that. "Ubiquitous" maybe? XT brakes are everywhere. This new model is already out there on a tonne of bikes, and are probably the component you are most likely to come in contact with yourself.
The unchanged caliper and disc and non-finned pads which are totally unduro.
The caliper is identical to the last generation, save for the finish. The master cylinder sees what I would call minor tweaks as opposed to major revisions. It has been slimmed down substantially, the geometry has been tweaked, and the lever itself has received a similar add-some-bumps makeover to the thumb lever on the shifter. It retains the slightly annoying release button/safety catch, in lieu of a second bolt to hold the lever in place.
The ensleekened clamp master cylinder.
Performance wise, people seem to be falling into two camps. One claims these brakes offer better modulation. The other admits that they can't feel a difference. I think I fall into the latter. These brakes performed exactly as I would have expected from a pair of Shimano XT brakes: They modulate smoothly and provide more than enough power to bring your all mountain bicycle to a stop (and look a whole lot better while doing it, compared to the last generation). They probably deserve a review of their own, but we're dragging on a bit so we'll leave it there because thousands of words have already been written about how great XT brakes are and I don't feel like I can offer much in the way of elaboration.
Price is CAD $171 / $ 115-119 USD per wheel, but I'm not sure if that gets you a rotor (it doesn't – rotors are CAD $55 / $34 USD – Ed).
Pedals
These pedals were a re-introduction to clipless for me, after at least a dozen years away. Luckily, the very consistent entry and exit made the transition fairly painless. During the testing period, I also spent some time on the last generation XT Trail pedal. They look very similar, but I always found the new generation significantly easier to clip into. Whatever Shimano did, it worked for me. CAD $144 / $ USD for the pair. I'll also highlight that I had no problems clipping in with the rusty cleats that were last changed sometime shortly after the dawn of the new millenium.
One of two pedals.
Wheels
There are many great things going for this wheelset. The hubs are decidedly un-Shimano-like, with a healthyish "buzz" and straight pull spokes. The rims, although a bit skinny, are offset to alleviate some dish. And of course, they are tubeless compatible, although I was hoping Shimano would have engineered a more impressive sealing mechanism than a strip of rim tape.
Perhaps a bit hidden, but you can see the profound offset to the rim.
In a world of boutique wheels, there is nothing that really sets these wheels apart. They're not particularly cheap, at an MSRP of CAD $910 / $554 USD. They're not carbon. They're nothing terribly fancy. Weights are nowhere to be found, and I'm not about to kill a tubeless set-up to find out.
Speaking of which, I did have some issues with tubeless set-up with Continental tires. The rear gave up pretty quickly, but has been trouble free since switching over to a Specialized tire. But the front continues to leak out every orifice like grandpa after an inexpensive Chinese food buffet.
The front wheel, pumped fresh full of air.
Most importantly, the wheels have spun true throughout the length of the test. I worried about the 28 spoke count, but it hasn't been a problem. They weren't subjected to any bike park days (and I'd be a bit worried to do so) or anything, but they do seem to be built rather well.
I have to be honest that I'm a little bit confused by these wheels. They have added a few touches to set these hubs apart from the stand-alone hubs (more buzz, straight pull spokes), but getting something fancier than a standard Shimano hub is one of the primary reasons people spend $900+ on a wheelset. The lack of boost compatibility, the skinny width, the lack of carbon and the cup and cone bearings (no matter how proven they are) probably all need to be addressed if Shimano is serious about moving serious numbers of wheels. It's pretty easy to build a nice handbuilt wheelset on Shimano hubs for a lot less than $900.
Rear hub detail – You can also sort of see how the large cog is worked into the system.
The Conclusion
In a very understated way, Shimano has finally made a real impact on the single ring, 11-speed game. All of these parts are priced well (save for the wheels, maybe) and offer great performance. The main negative is going to be the weight and reduced range of the cassette. You'll have to judge for yourself how much that is worth to you, but I think many people are going to be just fine with that trade-off. Other than that, it's really down to personal preference over shifting styles. I know I harped on for quite a while about the shifter, but have a feel for yourself as it's probably a question of personal preference.
There's not many sure things in mountain biking, but lucky for us, Shimano Deore XT remains on the list.
---
Deore XT is 33 years old. How many pieces of it have you had on your bikes over the years?