NEWS
News Roundup - Week of November 4th, 2021
Bold Launch the All-New 2022 Linkin
The BOLD LINKIN is the pinnacle of innovation, focused on technical and esthetic details to emphasize its industry leading innovation and design. Created by passionate bikers and engineered for those wanting a high-end experience of technology and design.
Years of experience in development, frame building and manufacturing inspires us to question and redefine the rules of existing technology concepts. Integration has always been a key feature on our bikes and the search for non-conventional ideas to push the boundaries of technology in order to create bikes that are designed to elevate the riders experience.
With the goal to create the best ride quality in combination with a clean, integrated design, we have discarded the principles of classic full-suspension frame design, and redefined the traditional linkage systems to suit our frame's kinematics and suspension characteristics by integrating the rear suspension into the frame design.
Progressive geometry in combination with the innovative Internal Suspension Technology brings the perfect mix of balance and control to the LINKIN. The shock is mounted in the lowest possible position inside the front triangle thanks to this design. This central and low mounting point for the shock, rocker link and pivot, but also the bottle cage lead to a very low center of mass, giving superb handling capabilities.
The new LINKIN comes in 4 different versions and 2 framesets: LINKIN 135 ULTIMATE (8.499 €), LINKIN 150 ULTIMATE (10.999 €), LINKIN 135 PRO (5.999 €), LINKIN 150 PRO (6.999 €), LINKIN frameset in BLACK or WHITE (4.999 €).
The 2022 LINKIN will be available by the beginning of 2022. Pricing might vary according to currency, please reach out to your local BOLD contact for further information.
Canyon Presents the 2022 Carbon Neuron Range
Exploring new places and new trails, just hopping on your bike and venturing into the unknown: that is what "the great escape" is all about. Break the routine and just enjoy nature, Or take on that big adventure in the mountains. The great escape is whatever you want it to be, With Canyon's versatile trail and touring bike Neuron, mountain bikers are all set for the next adventure.
For the coming model year, Canyon now presents four new carbon models with updated components: The Neuron CF 8 as unisex and -specific components, the Neuron CF 9, and the Neuron CF 9 SL that tips the scales at an impressive 12.9 kg (size M). The suspension travel on all four models is 140 mm up front and 130 mm at the rear. In terms of wheel diameter, the German engineers go by rider height and frame size. This is what allows Canyon to achieve consistent handling and feel across all frame sizes. To be specific, smaller Neuron bikes up to size S come with 27.5-inch wheels, while sizes M and up are exclusively available with 29-inch wheels. And what would a modern full suspension trail bike like the 2022 Neuron be without a dropper post? The ability to lower the saddle on the go allows more freedom of movement, improving control on technical terrain.
In terms of components, Canyon once again manages to offer outstanding value for money. The Neuron CF 8 and Neuron CF 8 WMN form the basis of the carbon leagues with high-grade carbon frames and impeccable components, including FOX 34 Float Performance forks and FOX Float Performance DPS dampers, reliable Shimano SLX 1x12 drivetrain and powerful SLX brakes all at a price point of just 2,999*. The bullet-proof DT Swiss XM 1700 alloy wheelset completes an impressive trail package, ready for the next big adventure.
Next up is the Neuron CF 9. Coming in at 3,999, this do-it-all trail bike offers several upgrades compared to the base model. While the rear suspension also uses the FOX Float Performance DPS damper, the front end features the FOX 34 Float Performance Elite for even better traction and control. A full Shimano XT groupset offers crisp 1x12 shifting precision and four-piston brake calipers for maximum stopping power on the trails. Lighter wheels improve acceleration and dynamic ride feel. The DT Swiss XMC 1700 carbon wheels with trail-proven Schwalbe tyres are a prime example.
Those with a taste for the finer things in life should take a look at the Neuron CF 9 SL, as pictured above, with a 4,799 wish list for a dream build: Outstanding FOX Factory suspension, wireless SRAM GX AXS shifting, dependable SRAM Code RSC brakes with 180 mm rotors, and rugged DT Swiss XMC 1501 carbon wheels. The cockpit is made up of a Race Face Turbine stem and Race Face Next carbon handlebars in 740 or 760 mm width depending on frame size.
The new Neuron CF models are perfect for adventurers and trail riders looking for a versatile do-it-all bike for anything ranging from quick after-work trail sessions to multi-day tours and extended mountain adventures and their very own -fledged trail expedition. The -friendly do-it-all MTB, positioned between the still versatile but more robust and downhilloriented Spectral and the race-ready lightweight climbing machine Lux. The new Neuron Models are available from 04 November 2021, exclusively at canyon.com.
Reserve Announce the New Fillmore Tubeless Valve
New rubber on your rig may elicit fantastic dreams of drifting corners, cutting berms and hooking up at crucial moments, but the sheer thought of getting those new tubeless tires mounted, inflated and seated can cloud those dreams with dread. The reality is that as mountain bike technology has evolved exponentially year after year, that silly little Presta valve you've been cursing has held steadfast for nearly a century. A CENTURY!?!?!
Until today.
Reserve is rewriting the future of tubeless tire systems with the introduction of Fillmore, a completely new take on tubeless valves. This new, high volume design allows triple the airflow, while its revolutionary self-clearing poppet eliminates clogged valves. Finally, its threaded cap allows you to back-off and air down to the perfect tire pressure with micro-adjustable precision.
Features
High Flow: 3 X airflow makes seating and inflating tires a snap
No Clog: Eliminates clogging and busts through dry sealant
Micro-Adjust: Airs down to the perfectly dialed tire pressure
Direct-Inject: Coreless design for no-fuss injection of sealant
Compatible with Presta pump heads and most sealant injectors, Fillmore is backward-compatible with whatever you got, and forward-thinking in every way. Made for mountain, gravel and 'cross rims up to 28mm deep, Fillmore is one of those upgrades you don't know you need until you try it.
So, what are you waiting for? Get that new rubber mounted up, drop in and find out what you've been missing!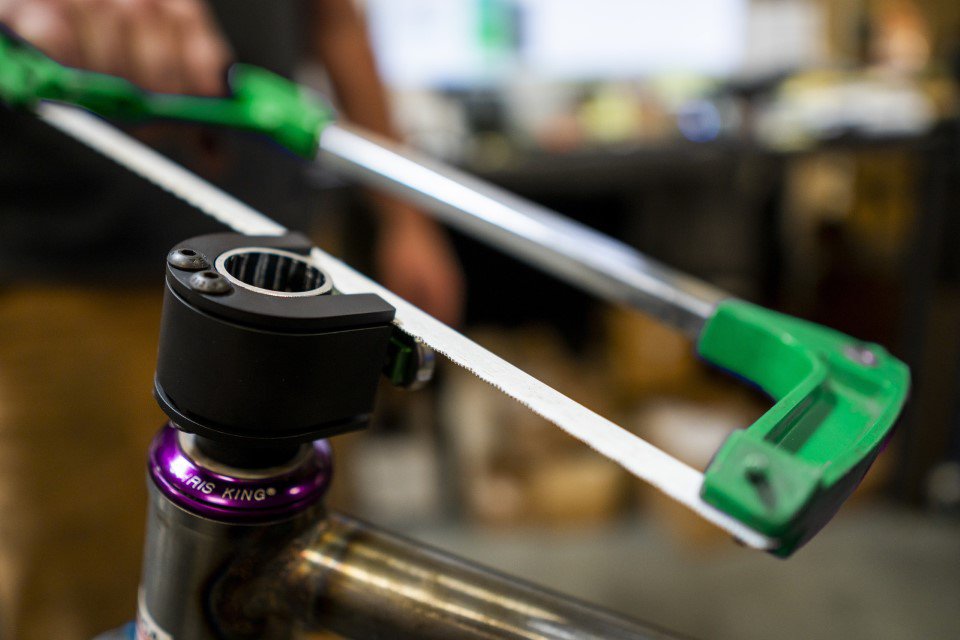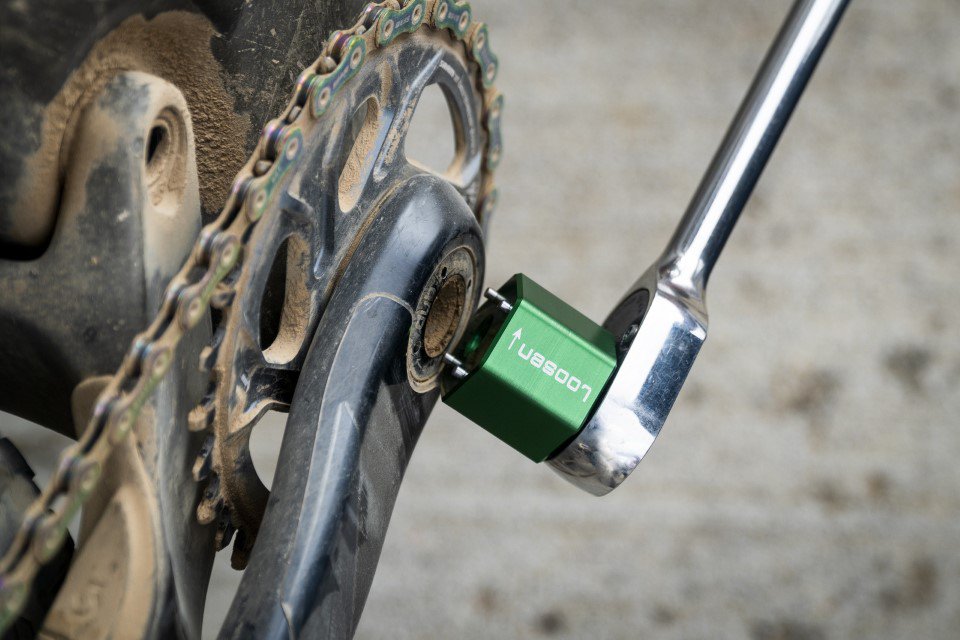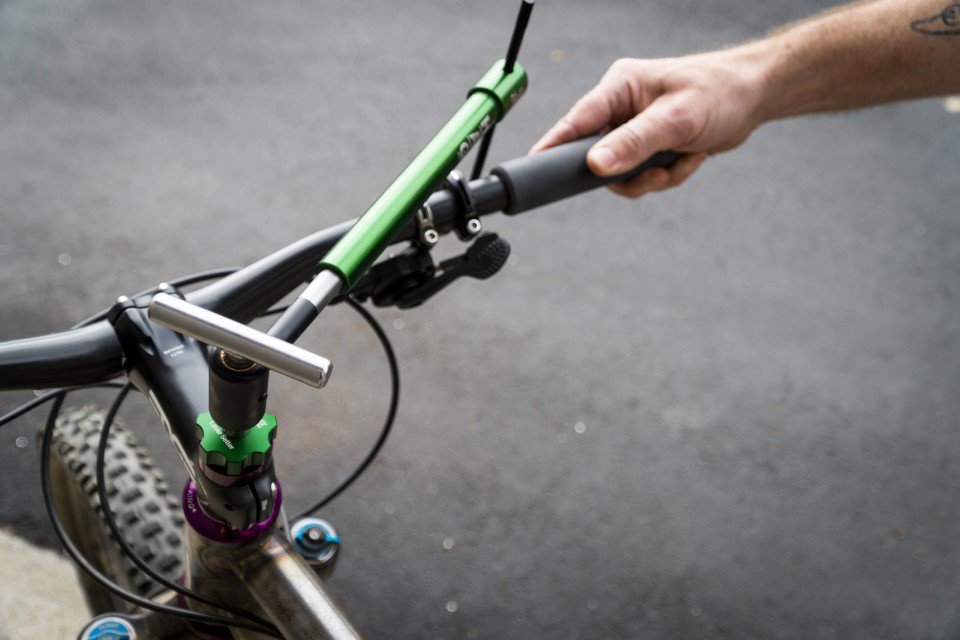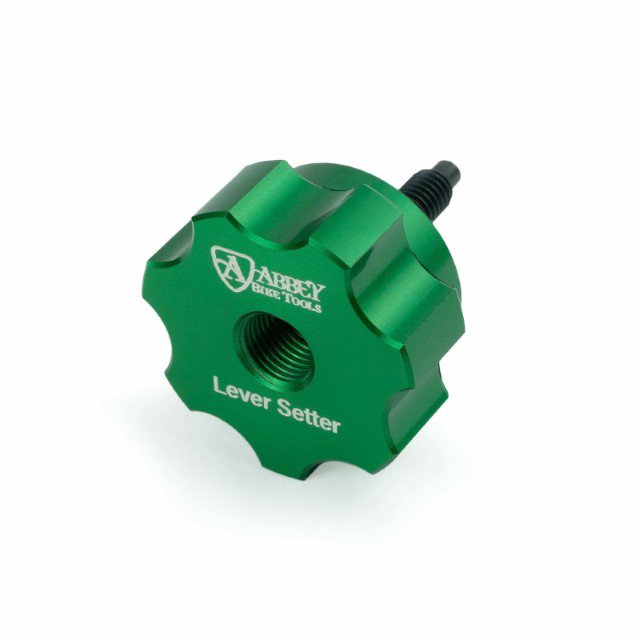 Abbey Bike Tools Introduce Three Brand New Tools
As a 100% domestic manufacture we've had a smoother trail than many over the last year. Giant ships blocking canals don't really do anything but make us laugh. Even though we're moving through lots of product we've still managed to squeak out a little bit of time to come up with some new tools because who doesn't love new tool day! We've got three all-new tools to share with you today and all of them are actually in stock. Yeah that's right, we actually have tools to sell you. 
Saw Guide - $100 USD
First up is a new steer tube saw guide we worked on with the fine folks at Allied Cycle Works. Lead engineer at Allied, Sam Pickman called us up early this year to solve a problem, trimming steer tubes that have cables running through them. Normal guides don't do this very well since they need to slide over the end of the steer tube. This makes trimming that last 5mm of steer tube off after you're sure the bike is where you want it pretty difficult. Solving this problem isn't hard, you just make the guide a U instead of an O shape, but why stop there? We also addressed the squareness of the cut some other guides struggle with by narrowing the compatibility to 1 and 1.125-inch steer tubes and machining the body of the clamp out of one chunk of steel. This ensures the guide holds onto the steer tube more securely and gives the blade a better chance of making a square cut.
DUB Crank Dust Cap Tool - $30 USD
Next is another collaboration with our industry friends at SRAM. This little tool isn't complicated, but it works so well where other tools tend to struggle. It's a little socket for DUB dust caps. You don't have to mess with these that often but when you do, few other things work well. These sockets feature a 3/8-inch square drive. They use four hardened pins to engage all the holes in the dust caps. They're also marked to remind you that these parts use a right-hand thread, so you don't struggle to get them off and then realize you were actually tightening them. 
Lever Setter - $35 USD
The third tool to join the lineup is our "Lever Setter" another bike fit related tool to compliment our fit kit. Fit tools are a funny category, one group of people sees no point in them because their body just isn't that picky. The other side thinks they're paramount to their happiness on the bike. This little tool allows you to use our Hanger Alignment Guage (HAG) to compare your lever position from one side to the other making sure they are at the same height and rotation to each other. Simply replace the headset top cap with the lever setter, bolt the HAG in and use the indicator to compare the levers side to side. Compatible with drop and flat bar shifters and brake levers.
CushCore Now Standard On Select Rocky Mountain Bikes
It wasn't that long ago that things like a dropper post or tubeless tires and wheels were considered "controversial" accessories. Now, virtually every decent mountain bike comes standard with a dropper post and tubeless wheel set. For 2022, Rocky Mountain Bikes and CushCore are introducing the next generation of innovation by offering CushCore tire inserts installed on select models.
Since 2018, the Rocky Mountain Race Face Enduro Team has been racing with CushCore. Riders like Jesse Melamed have been "in the know" that CushCore is a must-have performance advantage and have not raced without it for the past four years. Proven to work between the tape, CushCore is now standard equipment so anyone can ride with total confidence.
"I found the consistency in cornering was so nice, it just dug in, the knobs dug in, and I felt my corner would just stay on its arc. Obviously, the impact protection on the front is nice, but it also helps the suspension, it damps a lot of the little things. We are hitting things so fast that one impact can ruin your run, so for me, why wouldn't I run CushCore?" – Jesse Melamed
2022 Rocky Mountain Bikes equipped with Cush Core
Altitude Carbon 90 Rally Edition
Altitude Powerplay Carbon 90 Rally Edition
Altitude Powerplay Carbon 70
Altitude Powerplay Alloy 70
For more information on Rocky Mountain bike's equipped with CushCore, please visit www.bikes.com
Park Tool Opens Applications for Community Tool Grants
The application period opened Monday for Park Tool 2022 Community Tool Grants. The period remains open until Dec. 31. Now in its seventh year, the Park Tool Community Tool Grant has so far donated over $90,000 worth of tools to organizations throughout the world.
Park Tool will award grants consisting of bicycle tools and repair stands to ten nonprofit organizations or community groups, to help them continue to make a difference in their community. Each of the ten grant recipients will receive over $1,800 in Park Tool products.
In addition, one exceptional program will receive the President's Choice Award, which will provide them with an additional $1,000 to spend on more tools and repair equipment.
"The bicycle can be many things to many people — transportation, exercise, just plain fun — and it's a machine that most people can learn to fix and maintain. If you have a bike, and you know how to fix it, that's an empowering feeling. With the explosion of interest in cycling that's happened over the past year and a half, we feel it's more important than ever to support the organizations that are using bikes to do good in their communities," said Eric Hawkins, Park Tool president and owner.