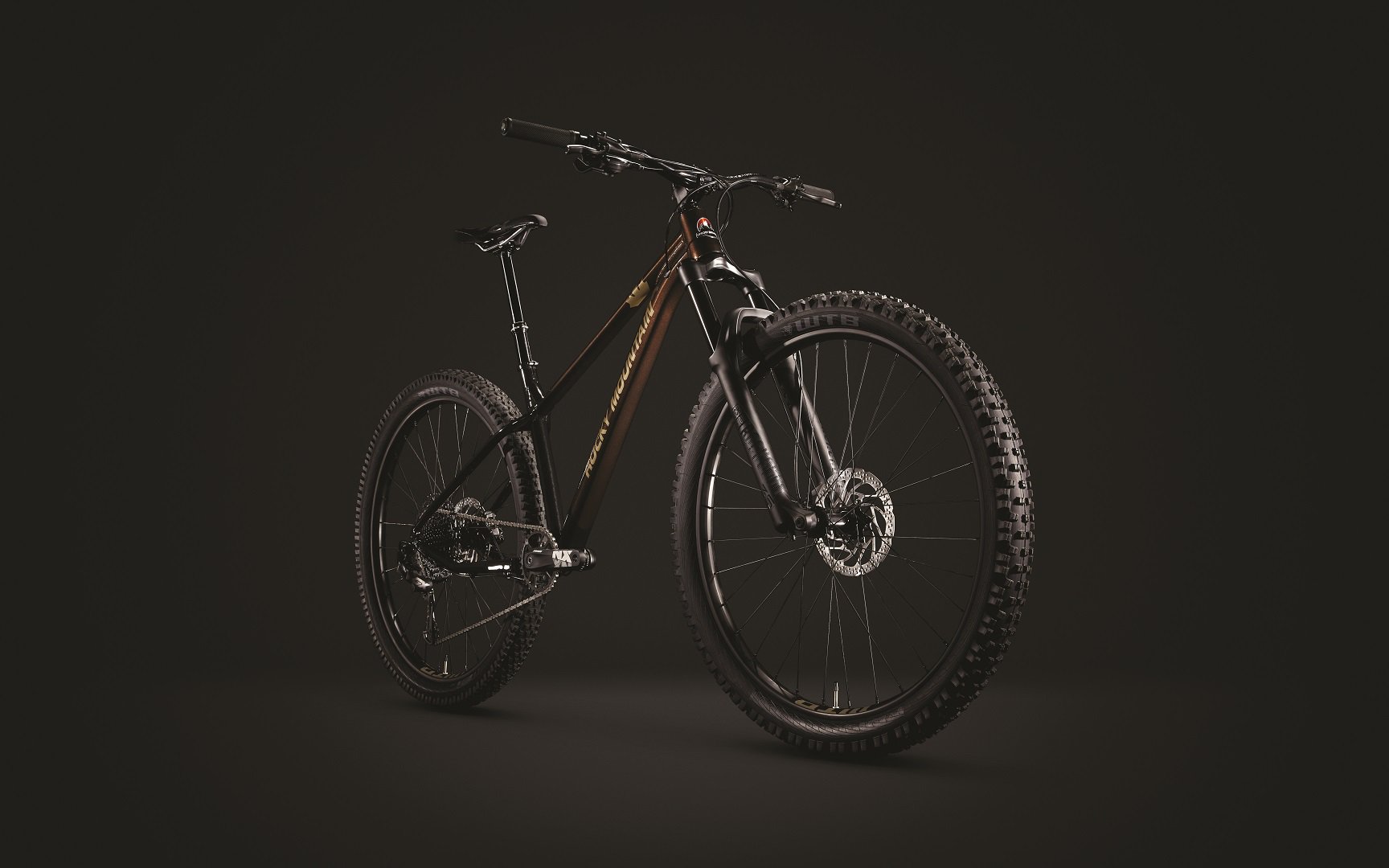 RELEASE | EDITORIAL
The 2020 Rocky Mountain Growler Series
Slayer VS Growler
Rocky Mountain's 2020 Slayer is the talk of their fresh lineup. Carbon or aluminum frame, this big mountain bike sports 170mm travel with 29" wheels or 180mm with 27.5" wheels and yet I know a couple of folks talking about picking one up as a quiver killer. Apparently the thing can pedal.
The 29er Slayer is casting a long shadow over plenty of competitor's big wheel bikes that were until just recently considered to be long travel machines. At the same time, Rocky's new full-on freeride option is media-bombing the most relevant new rig in their lineup.
The quietly released, 2020 Growler 20, 40, and 50 hardtails, starting at 1000 USD, are at least as deserving of the spotlight.
That Geo Chart!
Despite the soft release, the 2020 Growler has some loud updates including a great looking frame that is now shared by all three price levels. Even the thousand U.S. dollar Growler 20* has a thru-axle Boost 148 back end, 64° head tube angle, and a healthy 1237mm wheelbase in size large.
* twelve fitty north of 49
Speaking of healthy sizing, the XL has a 500mm Reach, 636mm Stack, 1271mm wheelbase, and an effective top tube length of 670mm with a 75° seat tube angle. It's not bleeding edge massive but it's not a half-size too small like the previous Growler bikes.
Tires, etc.
One of the most exciting spec updates from 2019 to 2020 is Rocky Mountain's serious infusion of rubber. The Growler 40 and 50 bikes get a WTB Vigilante TCS Light | High Grip tire up front and a WTB Trail Boss G2 TCS Light | Fast Rolling tire in the rear. Both are 29 x 2.6. I'd personally prefer the tires to sport WTB's Heavy Duty dual-ply casing, at least out back, but the reinforced sidewalls on the Light tires are a great compromise for the intended purpose of the bikes. This is seriously excellent rubber on bikes that sell for 1600 and 1900 USD, respectively.
The Growler 20 rolls on more basic WTB Trail Boss G2 tires, also in 29 x 2.6, which is an obvious nod to the more aggressive geometry compared to last year's bike and a big improvement in rubber. I'd still budget for a High Grip Vigilante up front if you're riding anywhere it gets greasy.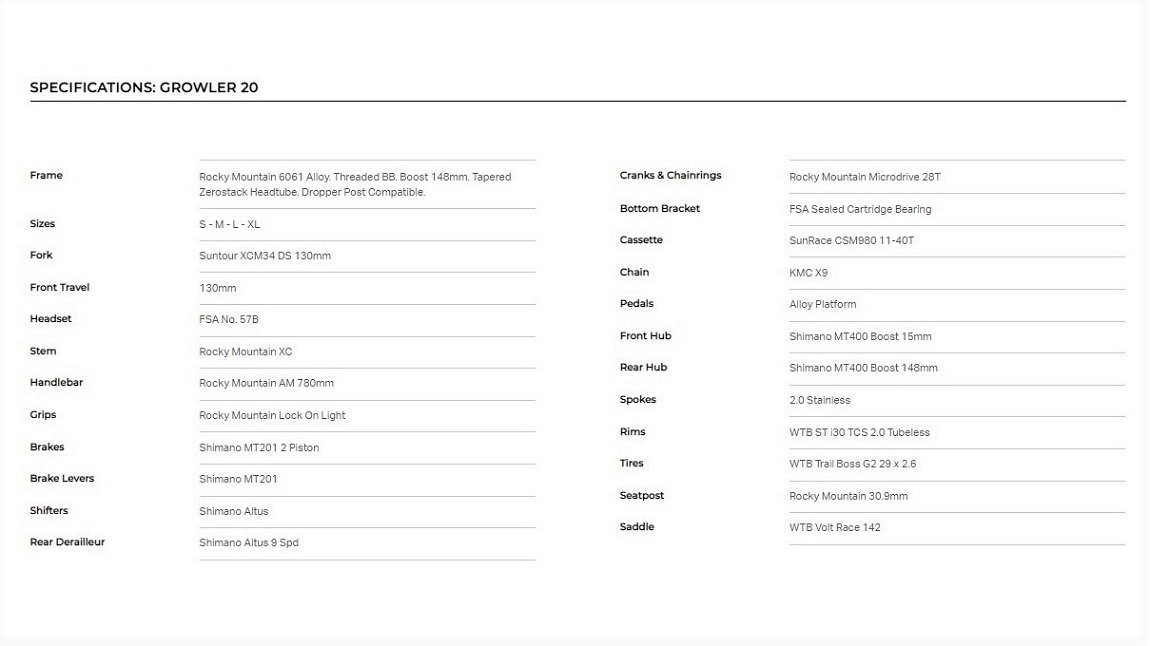 I've run both 2.6" and 2.8" rubber from WTB and I'd have preferred to see i35 rims on the full line of bikes for better tire support. The i30 spec allows the option of running narrower rubber but considering these are aluminum hardtails, I'd be surprised if anyone who tries a 2.6" tire with proper pressures is going to want to go narrower out back.
For 2019 the Growler 40 was the sweet spot in the lineup but this year I can make strong arguments to go down to the Growler 20 and spend the difference on a few upgrades or to spend up to the Growler 50 and savour the four-piston front brake, upgraded drivetrain, and arguably better suspension fork.

For whatever reason, it doesn't seem possible for companies to spec a SRAM Eagle drivetrain without a SRAM crankset and my one beef with the Growler 40 spec comes in the form of the SRAM SX Powerspline crank setup. It's hard to blame Rocky Mountain here as going with a more expensive crankset, like the DUB version of the SX crankset on the Growler 50, would have meant cutting back somewhere else. In my experience, the Powerspline system is utter crap to the extent that the Shimano-style crankset on the 600 USD less expensive Growler 20 is actually a big upgrade.* Anyone riding the Growler 40 to the potential of its geometry will find themselves replacing this crankset because of the hard to source and quick to fail bottom bracket, the advent of awful and unsolvable creaking noises, or the arms simply falling off while riding.**
*Read: "Actually worth buying a replacement BB or chainring for when the time comes."
**Note - we have not verified whether or not the Powerspline system has been reworked or improved very recently
With that complaint out of the way, the frame is the heart of all three models of the 2020 Growler and it looks to be absolutely worthy of upgrades. Compared to the outlay to get into similarly progressive geometry from other manufacturers all three models of the Growler look to be a bargain. The big rubber negates any ride difference between a beefy Boost steel frame and Rocky's aluminum build so the only reason I wouldn't choose a Growler as my personal hardtail is the lack of sliding dropouts.*
*For singlespeedability

When I previously reviewed the 2019 Growler 40 I said:

"Rocky Mountain has the ability to mule bikes right here in North Vancouver and a stable of folks that rip on them. And they are not afraid to push different ideas. They have a great bike now and I think they have the recipe to own this category and price with the Growler series if they want to."
Challenge accepted? I haven't ridden the new bikes so I can only go off my past experiences and a geometry chart but I can't think of a bike with more potential to shred at 1000 USD/1250 CAD than the 2020 Growler 20. Compared to other aggressive hardtails on the market, the Growler 50 looks to deliver outstanding geometry, good spec, and perfectly suited rubber for a very solid value.
Even more than the 2019 Growlers did, the 2020 versions look to deserve a spot on any rider's short list of mountain bikes in the 1000-2000 USD price range. For more information the bikes are up at Rocky Mountain.