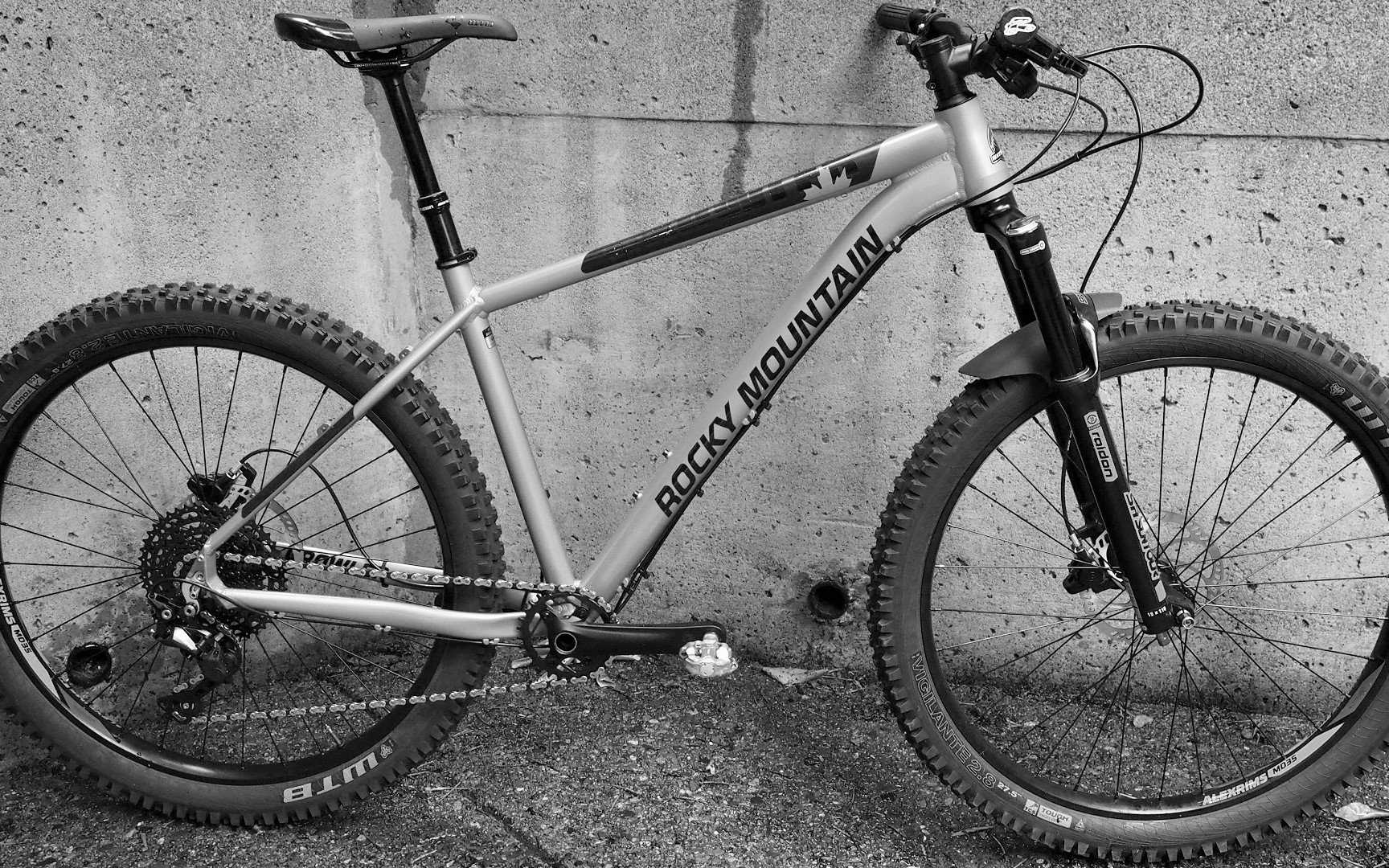 REVIEW
Rocky Mountain Growler 40 - Budget Review
Growler 40 - BC Edition
The Rocky Mountain Growler 40 has all the bones of a great entry level mountain bike. The aluminum frame, fork, and wheels are designed around the very flexible 27+ platform.* The 34mm stanchion SR Suntour fork is basic and easy to service but also has enough chassis stiffness and performance that I can put it out of my mind and just ride the bike.
A smart mix of a SunRace 11-46t cassette and Deore 1x drivetrain, with a clutch rear derailleur, provide a wide gear range that's easily tuned for errands, gravel, light trail, or climbing technical singletrack by swapping out a single four-bolt chainring. The Shimano MT400 brakes are excellent after a rotor swap.
When it comes to local mountain bicycling, the Growler 40 isn't perfect out of the box. At the same time I asked it to do things which I'd guess are on the edge of Rocky Mountain's design goals for a bike model that will be beaten raw by Groms and ridden on gravel trails by their grandparents.
*XS is 26+
I built the bike, including upgraded tires and rotors, and proceeded straight to pedaling the Growler up the No Quarter climb on Fromme. On my first ride down I hit the same trails I usually ride on test bikes that cost many times its price. It took a bit longer than normal, a few DH sections were notably hairier, I walked a couple of features, and I was smiling at the bottom.
This bike costs 1360 USD | 1550 CAD. It's pretty amazing.
Awesomized
To make the most out of the 67° head tube angled trail hardtail, I dropped the fork lowers, upgradedthe brake rotors, threw on some aggressive meat and dialled in the bar height. There's a full article on my awesomization-process here. The one other addition I'd have loved to make happen is a 150mm dropper post, or a quick release seat collar for that extra bit of drop when trails get hairy.
It's not the universally comfortable WTB Koda but I'll guess that the most folks purchasing this bike will be quite happy with the stock WTB Volt.
For tires I'm running 27x2.8" WTB Vigilante rubber with the Tough Casing sidewalls. The key to enjoying a Plus setup - 26+, 27+, or 29+ - is not to skimp on sidewall support. Out back is the Fast Rolling version and up front is the High Grip version, which is a great way to min-max wear and grip even on greasy winter days.
After the first ride I bolt on a pair of well-worn Renthal Ultra-Tacky lock-on grips for some extra comfort and traction without the effort of gluing grips on a test bike. After a couple of weeks on the MT400s, with upgraded rotors, I threw on a set of budget Magura MT Sport brakes to test.
This is as good as this Growler is going to get for me. Sure, there are (much) more expensive tires and I could install a fork that costs as much as the bike but pumping in that kind of cash would be missing the point. Although, a Works Components -2° Angleset is only 100 USD. Ha. That's how it begins.
VS. Chameleon
Unlike the rest of the Rocky Mountain lineup, which has largely shed their reputations for making small bikes, the Growler fits on the tiny size. For serious trail riding this is a definite size-up situation and I'll guess whenever the next redesign happens this size large Chameleon will have the seat tube length of the medium and the top tube length of the XL.
This point on sizing was really brought home by the back-to-back testing I did with the Santa Cruz Carbon Chameleon, which has a very similar fit but is a size medium. Santa Cruz is another company slowly shedding their reputation for undersized bikes but the Chameleon is by no measure gigantic.
This test period encompasses a lot of back-to-back days on the Chameleon and the Growler and with the pedaling positions dialed on both bikes they're incredibly similar on the trail right down to the I-wish-it-was-a-bit-slacker head tube angle.
A fair test? Maybe not. The Growler 40 is laughably heavier,* was setup with significantly more aggressive tires in a smaller wheel size for much of the test period, and it's over 4x less expensive. Shimano Deore isn't winning any short-term shifting battles against GX Eagle.
I did ride with the same folks on both bikes and while I was slower on the climbs the ride order was similar on the descents and my smile was just as large. The Growler also gets points for the press-in headset cups because if I was taking the long-term Growler Challenge this thing would be getting a Works Components Angleset right away.
*Especially the wheels.
The Growler Challenge
Yes, it's more of a struggle on the climb compared to a 5700 USD Carbon Chameleon and the 10spd Shimano Deore shifting is sluggish compared to Eagle. The SR Suntour Raidon fork tries it's damnedest but can't compete with forks that cost almost as much as the Growler. The sizing needs a tweak and the do-it-all geometry is a bit small-and-steep for aggressive local terrain.
Longer, lower, slacker - no one is going to mistake the Growler 40 for an XC race bike, so why not slack the head angle out a bit more? A sagged HTA of say 65° the handling isn't going to be negatively affected for usage that isn't aggressive - the customers who don't think about bike geometry - but it's really going to serve the ripper on a budget.
Rocky Mountain delivers a hell of a lot of bike at this price and I have a plan to eke out a bit more performance without spending a dollar more - the Growler Challenge.
Here's the strategy;, put one of Rocky Mountain's brilliant local design guys on a Growler 40 for six months and the next generation of this bike will be sporting more Reach, a slacker HTA*, more standover, a 150mm Manic** dropper post, more aggressive tires (maybe not Vigilante-aggressive), and non-resin rotors - which may mean a switch to Tektro brakes at this price point and I'm totally good with that.
Would I take the Growler Challenge? Hell yes. With the changes noted above I'd shelve my other bikes for half a year, single speed the Growler with a tensioner off the bottom bracket and ride the crap out of it with a giant smile on my face. Combined with the great looking paint and a price tag under 2k CAD including great tires and tax? Yes please.
*My theory on hardtail HTA is the sagged number should at minimum equal the static number on a full suspension bike for the same application. Minimum.
**The Manic is a great choice for spec and the best post and remote combo/$ on the market, I'd just like a 150mm instead of a 125mm.
Grom Me
The Growler 40 is a great beginner trail bike that's worthy of upgrades in terms of stretching the purchase price out through a few layers of advancement before potentially throwing down the big dollars on a high performance rig. After that with the right tires it will make a great back up bike when your high-end machine is busted or for pedaling down the street to pick up a case of beer.
The Growler 40 is a perfect grom bike. I keep hearing and reading about how great kids/teens have it these days in terms of the high end machines that are available to them. Ha. If I had a tween or teenager who was into mountain biking they'd be riding a right-sized Growler.
It's not just about the price being right, or the Growler being a fantastic bike to learn on. It's also a relatively cheap machine to maintain and an awesome platform to learn bike maintenance. The brakes are easy to bleed, the fork is very simple to clean and service, the hubs are basic cup-and-cone Shimano units, the cable routing is sane, and it has an external bottom bracket.
With some parental guidance or a couple lessons from a friendly local wrench during the quiet season this is a bike that any mountain biker can easily maintain on their own and I think that's beautiful.
Pedaling Makes Perfect
Pounding down rough trails I really appreciate the long 440mm rear center and being able to air down the WTB rubber for traction and comfort. The Alex MD35 rims are not light but have proven surprisingly durable and I haven't burped a tire yet.
When it's forced to eat a lot of compressions or gets punched hard the 130mm Suntour Raidon fork is loud - both the damper and air spring - compared to top-end suspension. I don't notice the noise at all if I'm charging and the chassis is plenty stiff, so when I hear the fork I know to let off the brakes.
Buy it as is for light trail or gravel riding, or upgrade the rubber and hit real mountain bike trails - the Growler 40 is a lot of bike for 1360 USD | 1550 CAD. Either way, my key advice is to work with your local dealer to get the right size, regardless of what the sticker says. I'd choose a size up that fits with a 40-60mm stem.
I'm a big fan of hardtails and Plus tires, with proper sidewall support, so the Growler 40 arrived with a few boxes ticked already and overall, I'm very impressed with the bike. Before I had even sat down to write this I'd recommended it to a handful of friends for their kids' new rigs (from XS to XL) and also to a few adults I know looking to get into the sport.
Rocky Mountain has the ability to mule bikes right here in North Vancouver and a stable of folks that rip on them. And they are not afraid to push different ideas. They have a great bike now and I think they have the recipe to own this category and price with the Growler series if they want to.