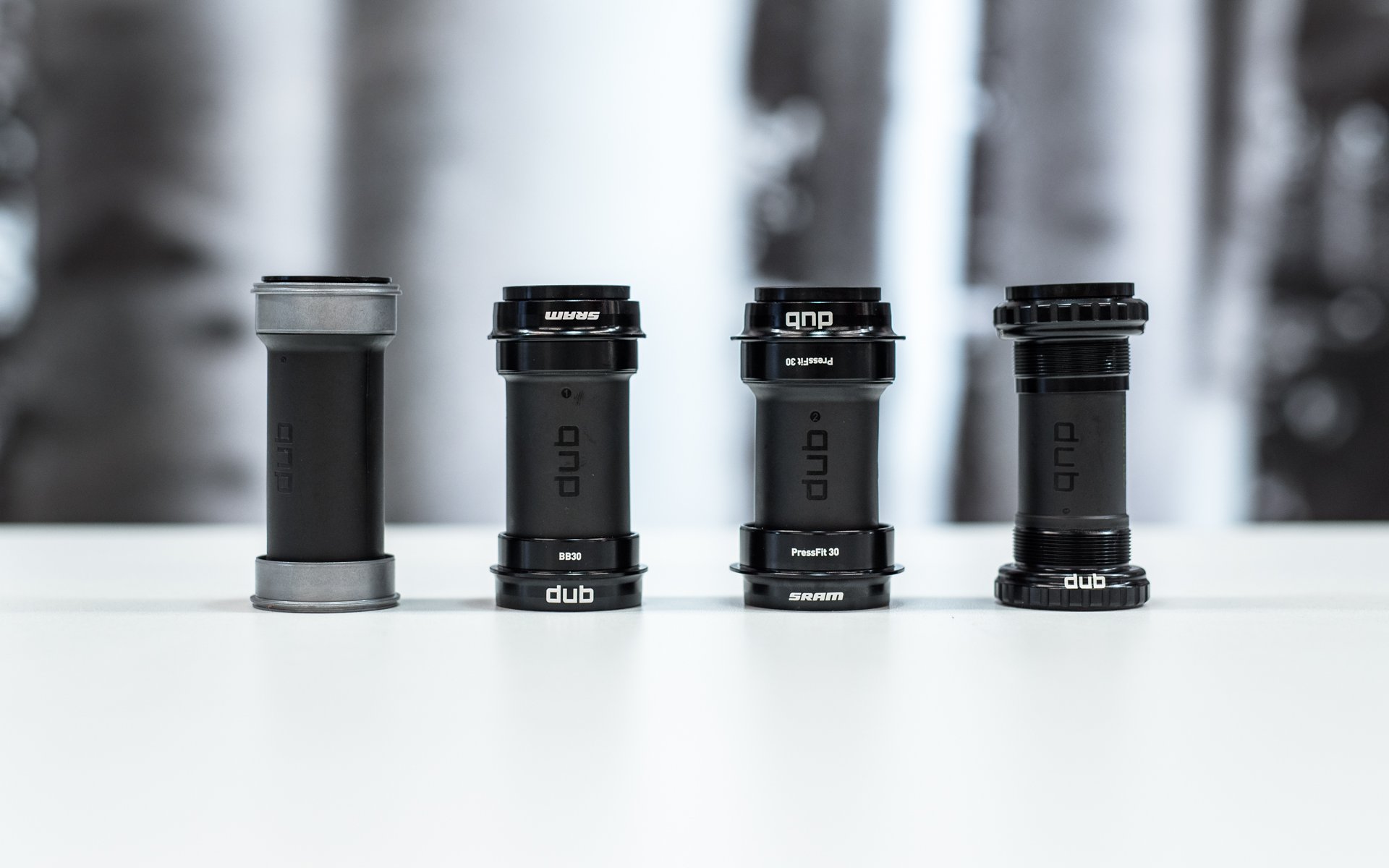 Editorial
Standard Issues
"Have you seen this new f***ing DUB bullsh*t from SRAM?"
Well, it's not really new. I mean, that sh*t storm sort of blew over a couple of months ago. And it was a silly thing to get all vitriolic about, to begin with.
"Yeah, but f*** them, I'll never buy SRAM cranks now."
Okay, I have a couple of general thoughts on this, next round's on you by the way, but one specific question first. Haven't you done a custom spec for every bike you've bought since the 90's?
"Well yes but..."
And, haven't you put a set of Race Face cranks on Every Single One of those bikes?
"Well yes..."
So when exactly were you planning to buy an SRAM crankset anyways?
"...    "
I've got 29 problems...
...and DUB ain't one. 
"But, what about needing new tools!"
What new tools? Pressfit is Pressfit. For BSA, DUB uses the same BB installation tool as the original Zipp VumaQuad which was the first crankset to combine a 30mm alloy spindle with BSA bottom bracket compatibility. 
That's the same tool that Race Face and Rotor use to install their BSA 30mm BB as well and really if anyone is a jerk here it's all the companies that came up with their own BSA 30mm tool standards after that. I'd say more but here's a photo from the Friar that perfectly sums up the sheer ridiculousness of BSA 30mm bottom brackets. 
I don't know why SRAM released the 28.99mm bottom bracket (BB) standard* at a time of year when the weather is absolutely sh*t for a large percentage of bike nerds. I mean, what response do you expect from a bunch of dirt junkies months deep in withdrawal?For that matter why make such big deal out of it, to begin with? There is nothing sexy about marketing a new BB standard. How about a quiet rollout with awesome spare parts support?
Anyways, back to the pub. 
*No, it's not a de facto standard, but it's not like there was one anyways. It certainly qualifies as a new technical standard. 
"Yeah, but no one asked for DUB. There's nothing wrong with the 30mm and 24mm standards."
Actually, I'm sure there were more than a few weighted requests that resulted in DUB since SRAM has been pushing Eagle systems as crate drivetrains. Any brand using the PF92 bottom bracket standard was forced to buy GXP cranksets in a world that accepts Shimano or 30mm. I think Trek, Giant, Kona, Rocky Mountain, and a plethora of other brands probably asked for reliable PF92 bottom bracket paired with a lighter alloy spindle. 
Besides, given that the vast majority of DUB cranksets will be sold OE, what if the BB reliability is actually WAY better? I'm trying not to be a cynical prick but SRAM bottom brackets aren't exactly appreciated when it comes to reliability and their cranks come on a lot of performance mountain bikes. The net benefit could be great. 
The vast majority of riders won't care what's pressed in their frame as long as their local shop has them in stock. And please, don't start with the burden of shops maintaining an inventory of four additional SKUs. They add more derailleur hangers to their system in a month. 
"Okay, well what if there is an initial shortage of BB inventory and riders are stuck without being able to replace a blown DUB BB?"
It wouldn't be fair to bet you that an aftermarket option will exist before then. Why don't we place odds on how many manufacturers out of Enduro, Wheels Manufacturing, Praxis, Hope, Chris King, and White Industries have a replacement option ready by Sea Otter? Hell, if I was Race Face I'd be selling a $10 sleeve kit to make my current Cinch PF92/30mm bottom brackets DUB compatible next week. 
DUB cranks are going to come on half the mountain bikes over 3500 USD next year. In addition to the cheddar being made off bottom bracket sales, I'd bet the likes of Wolftooth, OneUp, and Blackspire are ready to pump out more SRAM-compatible aftermarket chainrings too. Especially since so many product managers seem to think that we all want a 34t ring with our Eagle drivetrain. 
"Wait, so why do I care about DUB?"
A better question is why does anyone care about DUB? Other than the person buying a complete bike, with a PF92 bottom bracket, who may get a better life out of their BB. GXP and 30mm cranksets will be supported with aftermarket bottom brackets effectively forever and I'd be surprised if DUB actually affects a single bike or crankset purchasing decision (for or against). 
You haven't ridden in sunshine since September and it's currently snowing again. Nerd raging about bicycle sh*t has replaced the time you normally spend riding or pondering potential upgrades when parts are breaking, wearing out, or looking less shiny. But, there are WAY bigger bicycle boondoggles to be mad about. 
Do you want to talk about chainstays that are too long (or too short), seat angles that are too slack (or too steep), companies making their reach numbers look more impressive by shortening Stack heights, the practical 34.9 seat post standard dying on the vine, why 35mm handlebars are stupid, how a true DH tire delivers the benefits of Plus sizing without clearance or compatibility issues for the same weight, discuss mineral oil vs DOT fluid for brakes, or do you want to tell me again about why 157mm hub spacing is better?
"Well what about grips then... Renthal Super Tacky Push-On or Sensus Swayze push-on?"