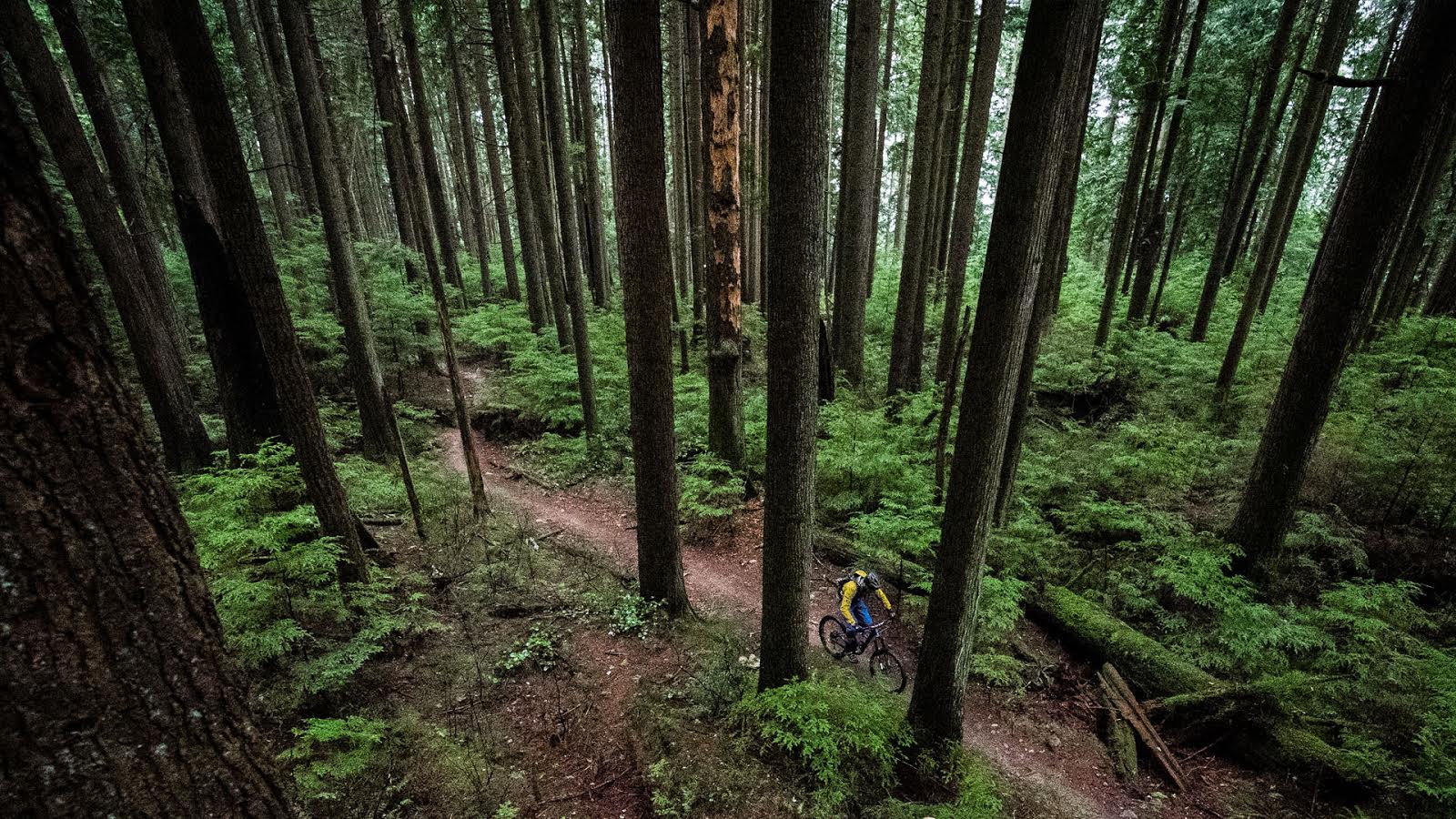 2015 Trek Slash 9.8 Long Term Review
We've done the dual reviewer thing a few times, and it's tricky. There is a vast array of variables to consider when you test a bike; rider skill and experience (including bikes you've ridden recently or been exposed to), terrain, that burrito you had for lunch etc., can all come into play. When you add a second rider you've doubled those variables which inevitably leads to divergent opinions. That's not necessarily a bad thing, and it highlights the fact that what works or doesn't for the reviewer may not apply to you.
In this case we have a couple of riders who are about the same size at a little over 6′ and about the same weight at just under 200 lbs, and they both happen to be engineers by training. But they ride a little differently. Jon loves to climb, he's fast and fit and if there's a race happening he just might throw his hat in the ring, and he usually rides clipped in but spends time on flats in the winter. Dave wouldn't say he loves to climb, I've never known him to race and he rides flats. Jon is an early adopter who upgrades bikes and parts frequently. Dave's something of a luddite who's pretty content with what is currently in the garage, and who scoffs at change for the sake of change.
Our first reviewer for the bike, Jeremy Schaab who wrote up the First Impressions, took a hard fall during the early part of the test and was put on injured reserve, when Jon took over, who warmed the bike up for Dave who took care of the home stretch. Now I'll hand it off to the reviewers.
---
Reviewer 1 – Jon Harris
Most of the bikes we've been testing recently have been of the 6″ travel variety. And most of those have been shod with 'tweener wheels, a couple with wagon ones. As much as one may think they all ride in a similar manner that couldn't be further from the truth.
The primary fuel in this segment right now is Enduro racing, and the bikes are a response to what the racers are asking for. Some manufacturers have approached this by taking a trail bike and giving it longer legs, others have come from the other direction and taken their descending biased machines and tightened them up. Throw into the mix the matter of the long, low and slack new school geometry and this is a segment with a broad scope of bikes. What we have then is a confusing marketplace for bikes that, on paper, should be similar, with the exception of how a rear shock is activated.
Trek has been playing in this segment for a while starting with the original Remedy, initially being a bike that shipped with a 160mm fork paired with a 150mm rear end. I rode a 2008 vintage Remedy for two solid seasons and loved the way it rode. As the Remedy was taken down a peg or two to be more trail oreiented the Slash has now stepped into the role of the 160mm travel machine.
The Trek Slash 9.8 cuts quite a different silhouette to others in the market with sleek slim lines that are backed up on the scale. 28.5lbs dressed with pedals isn't bad for a bike that can easily lose weight. Looking beyond its super model lines, the bike is ready to rumble with a Pike up front and a Monarch Plus with the Debonair can at the back. Disc rotors match the bike's intent with 203mm up front and 180mm at the rear of Shimano's finest ice tech clamped by an XT set up, one of my personal favourites.
Bontrager wheels and tires are not necessarily a bad thing, with a nice wide asymmetric rim profile, straight pull spokes and seemingly sturdy sidewalls to the tires. The bar is a not-wide-enough-for-me carbon pipe at 750mm clamped by a short stem also from Bontrager. A home brand it may be but Bontrager gear is well thought out and nicely designed stuff.
For some the stock bar will be just fine and is a nice bar with good sweep and rise, pretty light too, but I swapped it out after a few rides. The wheels didn't do too well under us. Jeremy put a pretty decent flat spot in the rear wheel and the front had a good wobble in it from a crash. The rear flat spot wasn't easily trued out but the front was recoverable. The tires are okay for rear use, rolling nicely and being quite progressive as you tip them onto the edge. I'd switch in something more aggressive on the front as they just don't have the shoulder to lean on hard. Otherwise everything was very good to me.
I started my riding on the Slash after 6 days straight of riding a Santa Cruz Nomad on the Shore and feeling pretty fruity about my re-found ninja riding skills. The angles on first flush looked familiar; 65 degree head angle sounds good for the slack/low mode and although the top tube felt shorter than the Nomad I thought that once pointed down the 160mm of travel would see me right. I consulted the Trek suspension setup tool online, put the rear shock to around 220psi as recommended and headed out.
It was not a good first ride. I felt like a newbie just off of training wheels, second guessing myself on lines that I'd ridden days before with wild abandon. The Slash has a higher bottom bracket than the Nomad and I was reminded that head angle isn't the only metric to pay attention to. With the sag sitting at about 30% the Slash felt top heavy and that I was sat on top of it. It didn't help that I decided to head out with the standard bar and with some spacers still under the stem, magnifying that tippy feeling. After that introduction and I retreated to lick my wounds and reflect on why.
First the bar was swapped to a 780mm width and the stem was slammed to try and match the bar height on the Nomad, the hope being that wider and lower would get some weight over the front wheel with extra stability. Life got a little better but still that sense of the bike being totally planted off drops and in turns wasn't there; it felt like the high bottom bracket was still throwing my mojo off. It was so distracting that mid ride, and without a shock pump, I decided to just let a blip of air out of the rear shock to try and get the bike to sit down in its travel a little more.
Better. Definitely better. When I got back to the bunker I checked the sag of the rear shock and I was at about 40% seated. That's quite a bit. Maybe I threw the stem down too low? I don't think I did as the front end of the bike felt better with the stem slammed and I was getting better feedback about what the tire was doing. So dropping the shock pressure to get the back end of the bike to sit lower was just trying to balance that out. The effect of this was that I lost some of the response that the Slash might give to being picked up and put onto a different line of choice. A downside for sure as I like to have that option in a bike.
The Slash is a conflicted soul. It wants to be the big brash aggressive enduro bike but in my experience it doesn't compete with the big guns in this category right now, the Nomad and the Reign being two examples. I wanted to dump the bike into a rooty rocky mess and see how the bike copes with it on my first ride and while I came away from it unscathed, I wasn't buoyed with much desire to ride the Slash raggedly.
The Slash seems to approach the enduro bike conundrum from the long legged trail bike side. Set up as such it climbs well and the high bottom bracket obviously gives good clearance for avoiding the clash of pedal with rock. The ABP system gives the Slash good traction under power and with the shock thrown into the firmest of compression modes avoids wallow and bob. It has the legs to back you up on big technical descents but while it sits into its sag readily and has good suppleness off the top of the stroke, it doesn't seem to give its big hit travel up easily. Ridden at a moderate pace it does feel responsive and sporty.
It's when you want to ride with absolute abandon and have a good hoon on the bike that it lagged for me. Where I was looking for creative lines and goading myself into doubling sections on the Nomad or even my own Enduro 29, I was just riding the Slash, picking my lines with care and making sure I have my speed in check. The bike didn't inspire me to try new lines and be creative on the trail. It is perfectly capable and I can ride technical trails and sections on it, but I have to be more on my game.
The combination of a higher bottom bracket and a top tube that feels shorter, prevents from feeling one with the bike. The care required when moving your weight between the front and rear tires is different when a bike handles in this way, while bikes with more spacious feeling cockpits are more forgiving.
Could you make the Slash ride better with some choice modifications? It's a good question to ask and maybe worth taking a closer look at what the likes of Leov, Mosley and Wildhaber are riding, who are all riding the Remedy 29er for their racing needs, a bike with a larger axle to bottom bracket drop. An offset shock bush top and bottom could help drop the bottom bracket, or maybe a shorter eye-to-eye shock. I don't think that an angle adjustment at the headset is whats needed. That is a lot of what if's out of the box though. Too many for me, which is a shame as the bike seems like a good deal at CDN $6,399 and USD $5769 .
I really wanted to like this bike, purely on looks alone and the fact that I had such a good relationship with my Remedy years ago. Sadly after riding some of its competition the Slash and I didn't gel. It is a testament to how quickly this genre of bike will develop that the Trek Slash 9.8 already feels like it needs a geometry update. Maybe if I went to a larger frame and tried some offset shock bushes I'd be happier but then why would I when I can buy a Nomad or Reign and go and rag on those bikes straight from the store?
---
Reviewer Two – Dave Tolnai
First Impressions
The very first impression this Trek imparts is that it has been engineered to within an inch of its life, and acronymed beyond that. Trek are absolute geniuses at the marketing of engineering. Just look at the bottom of the "features" tab on this page. ABP. Full Floater. EVO. E2. OCLV.  Mino Link. BB95. It's a veritable safari of technical sounding jargon. And I don't think they mind if you're totally confused by all of it.
Underneath all that, there is a simple double diamond shape with a humongous number of bends, cutouts, holes and/or threads in interesting places. Your $6400 is helping at least a few engineers pay for their student loans. But it does pay off. This bike is clean and light. Everything seems to be in the right place. It is a very polished looking bike.
All the parts on the bike worked well, which you'd expect at this price. The XT brakes are always solid. You will struggle to complain about the SRAM X1 drivetrain. Other than that, I can't comment too much. The wheels, tires and handlebar all had turned into non-stock parts by the time I saw the bike.
One thing really bugged me though…for a largish bike, the Reverb on this bike does not have enough travel. I see a few companies specc'ing 150mm travel droppers on their larger bikes and Trek really needs to start following this trend. There's no point in the thing if I have to bust out an Allen key at the top of each climb. Which is probably why I noticed it more than on other bikes. Why no QR? You can't steal the thing very easily with the hose routed through the frame.
Suspension
A constant theme out there in the ether, is that this is a hard bike to set up, but once you figure it out, it's a very nice ride. This came from testers, bike shop employees and other randoms. I pooh poohed these people, and then proceeded to struggle through a long period of set-up issues. Every ride I fiddled with air pressures, struggling to sleep with all the numbers running through my brain. Every ride I would add more air to the rear and take a bit out of the front. It took a long time to get to the right spot.  The interesting thing is that Trek actually has a really good setup calculator. The recommendations there (85 front, 240 rear) didn't end up being too far off. I just didn't believe them.
The suspension has a noticeable rising rate, and the leverage ratio is highish. Coupled with the Monarch Plus Debonair shock (which the Trek engineers say requires an extra 20 or so psi over a comparable non-Debonair shock), the result is a requirement for a very high amount of air pressure. Around 250ish psi for me. My Fox shock pump refused to deal with this pressure and my cheap-o Axiom had me fearing for my life each time I needed an adjustment. Close your eyes, turn to the side and try to keep your face as far out of the way as possible. I would also note that you need fairly substantial changes in air pressure to feel a difference. 5 psi is hardly noticeable, so don't feel too nervous about largish jumps in pressure when you're trying to figure things out.
At the correct pressure, the rear end feels very soft in the initial stages of travel but ramps up appreciably, with occasional bottoming occurring at acceptable moments. One can't complain about any sort of "initial stroke harshness" and it took me a little while to get used to this feeling. As Pete pointed out in his recent article, you can adjust the volume of the Debonair air can with rubber rings that can be provided by Rock Shox, which would allow you to tune this somewhat. If I was to be on the bike for longer, I would probably try to flatten the curve out a bit and run slightly higher pressure. Regardless, the Debonair system does seem to do what is promised. But for many, this will be the holy trinity of plushness, good pedaling performance and bottom out resistance.
The fork was also a source of frustration. I initially ran the Rock Shox recommended 105 psi. At this pressure, the fork 'feels' right, but it was a struggle to use all the travel. So I started to lower the pressure. Lower. Lower. Lower. It wasn't until I got down to the 75 psi that I started to use all of the travel. At this pressure, the fork feels quite soft off the top and I would prefer stiffer initial travel with a more linear/less progressive feel. If there were bottom out tokens to take out, I would have done so, but the DPA system is not easily adjustable like the Solo Air. In speaking with others, people are running pressures all over the map. It's quite confusing. All that and I really only used the travel adjust feature a few times to see what it was about. If it were my personal bike, I would hope for a solo air instead.
And I can't do a Trek review without talking about ABP. ABP has been bugging me for years. Every time somebody says "it isolates braking forces" I want to drink a bunch of beer and pass out on my couch.  "Isolation of braking forces" makes it sound like they disappear into bicycle fantasy land.
So what does it actually do?
What ABP actually does is decouple pedalling characteristics from braking characteristics. Decouples, not isolates. Essentially, what you have is a bike that pedals like a single pivot/simple linkage (due to the rear axle being mounted directly to the chainstay) and that brakes like a horst link (due to the rear brake being attached to the seat stay). That is what is meant by "decoupling". Trek is able to separate the two actions (somewhat) and tune them specifically. The forces haven't gone anywhere, they just work a bit differently.
Trek, or Trek marketing, of course has more to say about this. "Caliper rotation" is the big one, and they explain that here. I'm embarrassed to admit that I plotted a whole bunch of bikes out, measured all the angles and was prepared to hurl eggs on the faces of the Trek engineers with my findings.
Instead, I got:
"Ya…we're not really too worried about the caliper rotation stuff. That's mostly our marketing guys."
Something along those lines. I'd had a beer or two and been in the sun all day.
On to the ride.
Going up
I am the furthest thing from an excited climber of mountain bikes. But this bike gives me nothing to complain about. It's light, pedals well, and despite the long travel and slack angles, handles well at uphill speeds. I would imagine that some of this is a matter of perspective and if I jumped on a modern XC race bike I'd be less excited. But for a bike that borders on approaching DH levels of travel, it's impressive stuff.
Going down
Coming off a shorter travel bike with snappy angles, this bike required a different mindset. It feels best blasting over things, rather than around them. It likes speed and doesn't mind a bit of aggression. It felt best if I tried to ride the crap out of it, and if I wasn't putting some effort into riding the bike, the trail just sort of disappeared under my wheels into a non-memorable beige mush. My happiest times were at speed, running things over (rocks and stuff…not plants or animals), not worrying too much about exactly where my wheels were going.
And while this bike feels best at the limits, I never felt super encouraged to get there. Some bikes want you to go faster and make you feel really good about yourself once you arrive. This bike left me, at times, feeling a step behind. Like I was watching a really funny movie in a foreign language, only understanding the occasional joke.
Conclusion
A weird thing happens when you battle the set-up on a bike for so long. You get used to not being super happy. And then one day, like a frog in a pot of boiling water, you realize there's nothing left to fix. Once I reached that point, I found a capable bike with an impressive rear end that was happy to climb just about anywhere, but on the way down sometimes left me feeling my limitations rather than pushing them.
I think this can still be the right bike for some people. If your days are a steady mix of shuttles, climbs and bike park days, this could be your baby. With its climbing ability, it seems possible that you could spend your days climbing up to trails that this bike will totally overwhelm. If you aren't super aggressive and if your trails don't constantly require this level of travel, it might be worth looking at some other options.
---
For more details on the spec and pricing check out Jeremy's First Impressions piece.
---
Have you ridden the Slash?