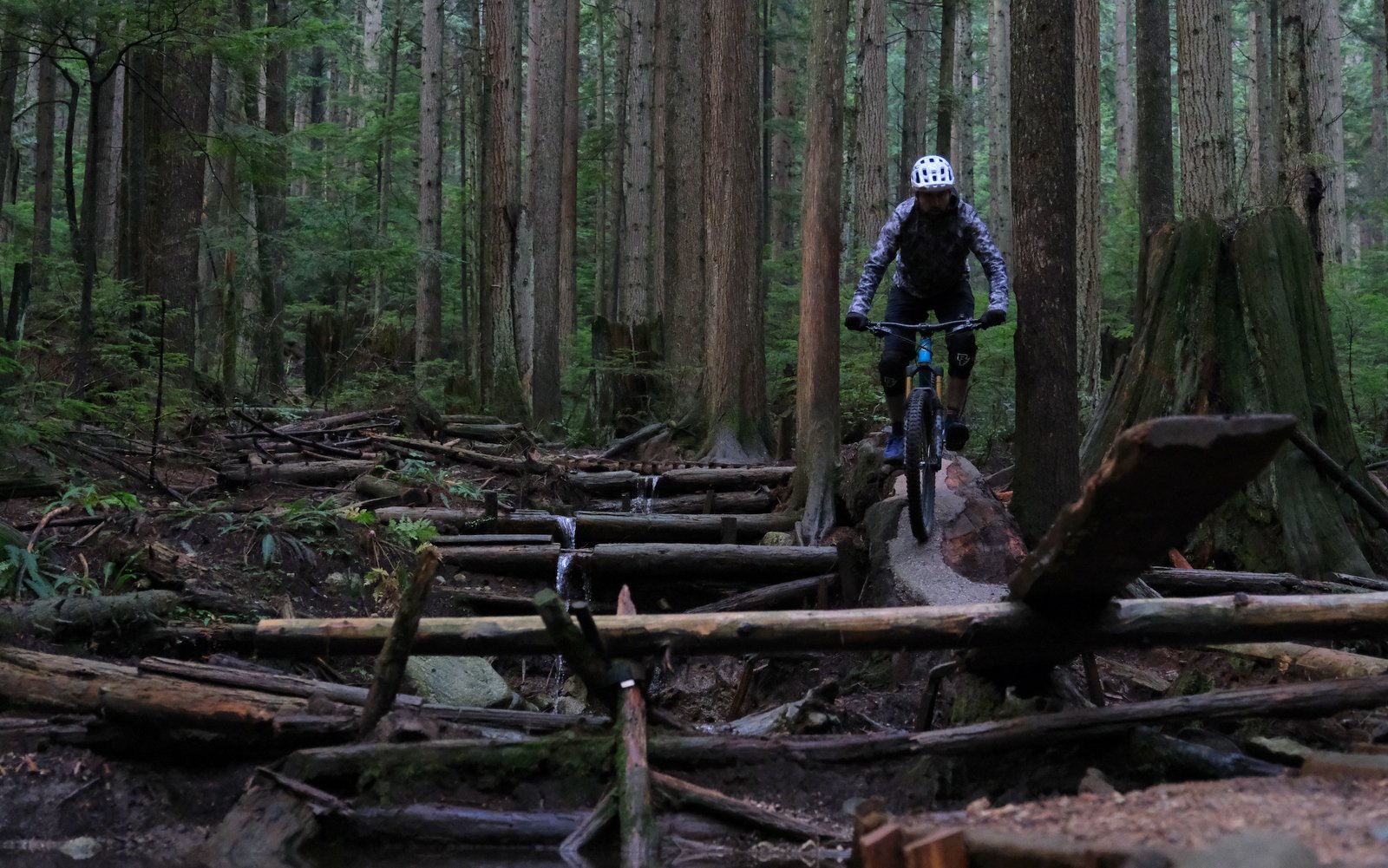 REVIEW
POC Helmets: Tectal Race Spin and Axion Spin
When my truck got broken into a month or so back, I vowed to turn lemons into lemonade, and I used it as a shameless opportunity to score some free shit. In the end, I might even come out ahead! Other than having to pick broken glass out of things for several weeks, and having to deal with the sketchiest auto glass shop in all of South Vancouver.
One of the things that I lost was the helmet that I had fairly consistently been turning to over the last few months. It didn't fit all that well, but it had a number of features that I quite enjoyed. It just did its job and got out of the way.
So, I've managed to turn that one ill-fitting helmet into two POC helmets (the Tectal Race Spin and the Axion Spin). Let's see how that works out.
Helmet #1 - Tectal Race Spin
We'll start with the Tectal Race Spin. This isn't a new helmet for POC, and has been around for a little while in one form or another. It's priced at 280 CAD and 240 USD, and is available in 3 sizes (XS-S, M-L, XL-XXL). It comes with most of the features you would expect at this price: Super solid adjustable visor held in place with hardware, Enduro approved goggle strap, fancy head protection technology, etc. It also comes with a few you wouldn't expect: a RECCO reflector and an "aramid bridge system for improved structural integrity." Advanced technology is great, but what really stands out for me on this helmet is how well POC has done all of the standard helmet type things.
Let's start with the straps. This is how every helmet should have their straps, with the attachment point at the bottom of the helmet, and a plastic gizmo dealing with how things flow around your ears. I can imagine there's some poor guy out there with weird ears that this system won't work with (poor Prince Charles!), but for the rest of us, I think this is the simplest and most effective way to keep a helmet on your head. One interesting thing about the straps, though. They're made of a really thin material that is quite slippery. The adjustment buckle moves very easily on the strap. This can be helped somewhat by adjusting the band on the helmet strap right down to the bottom of the buckle, but the buckle still tightens and loosens very easily, especially if you pull on the actual buckle. I never had it loosen up while riding, but I always seemed to need to tighten it up at the start of a ride. Just something to think about.
Next, we move on to the padding and the fit gizmo at the back of the helmet. The helmet, as mentioned, comes equipped with POC's (soon to be discontinued) Spin technology and all of these things work as a system. The frame for the fit gizmo wraps all the way around your head. The pads are attached either directly to the fit gizmo frame or to the shell of the helmet. And the Spin technology is embedded right into the pads (and works similarly to MIPS according to POC, without the need for an extra plastic piece between your head and your helmet). This all leads to a helmet that fits really, really well. Of course, this will depend on your head shape, but by putting so few things between your head and the helmet shell, this helmet starts with a leg up.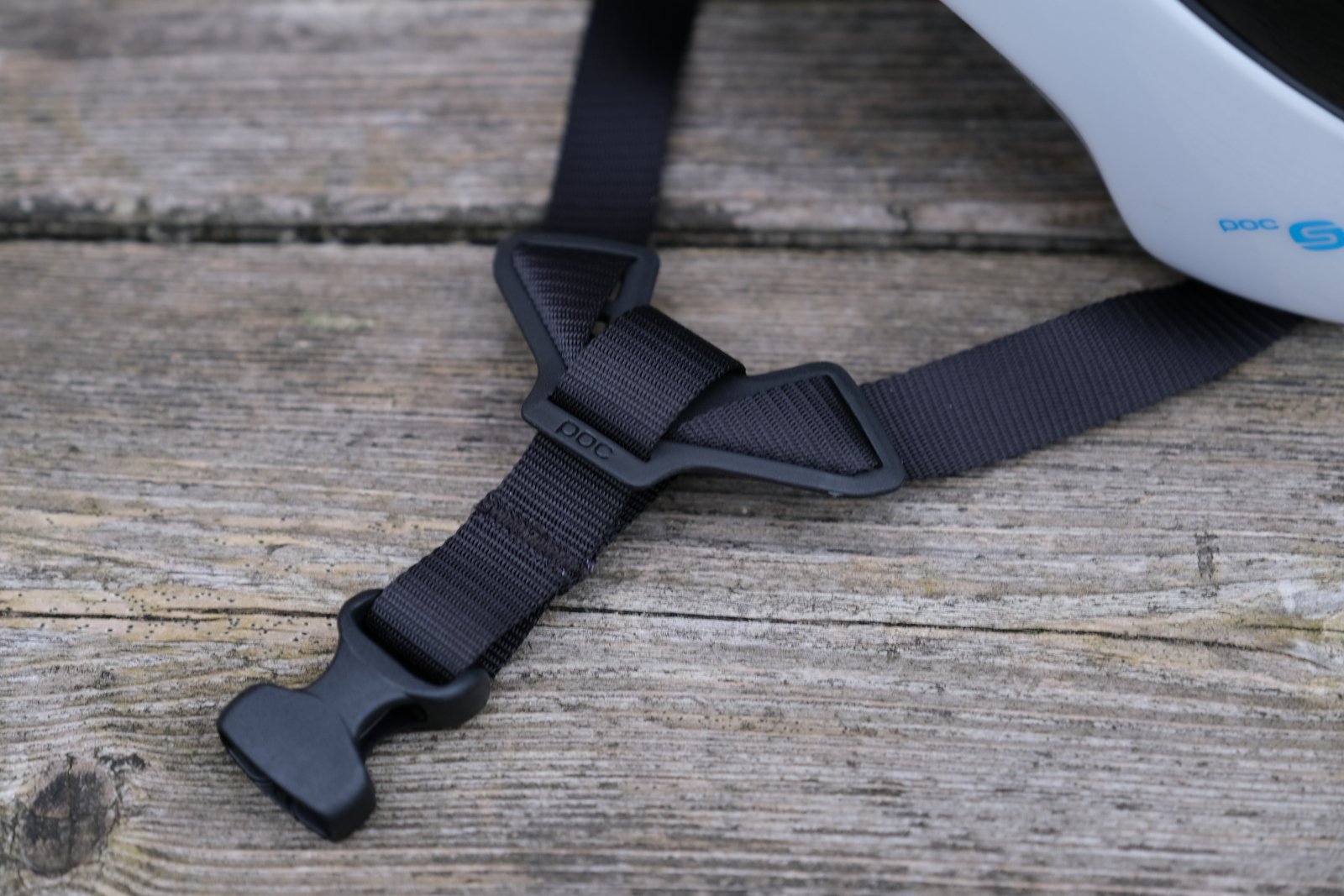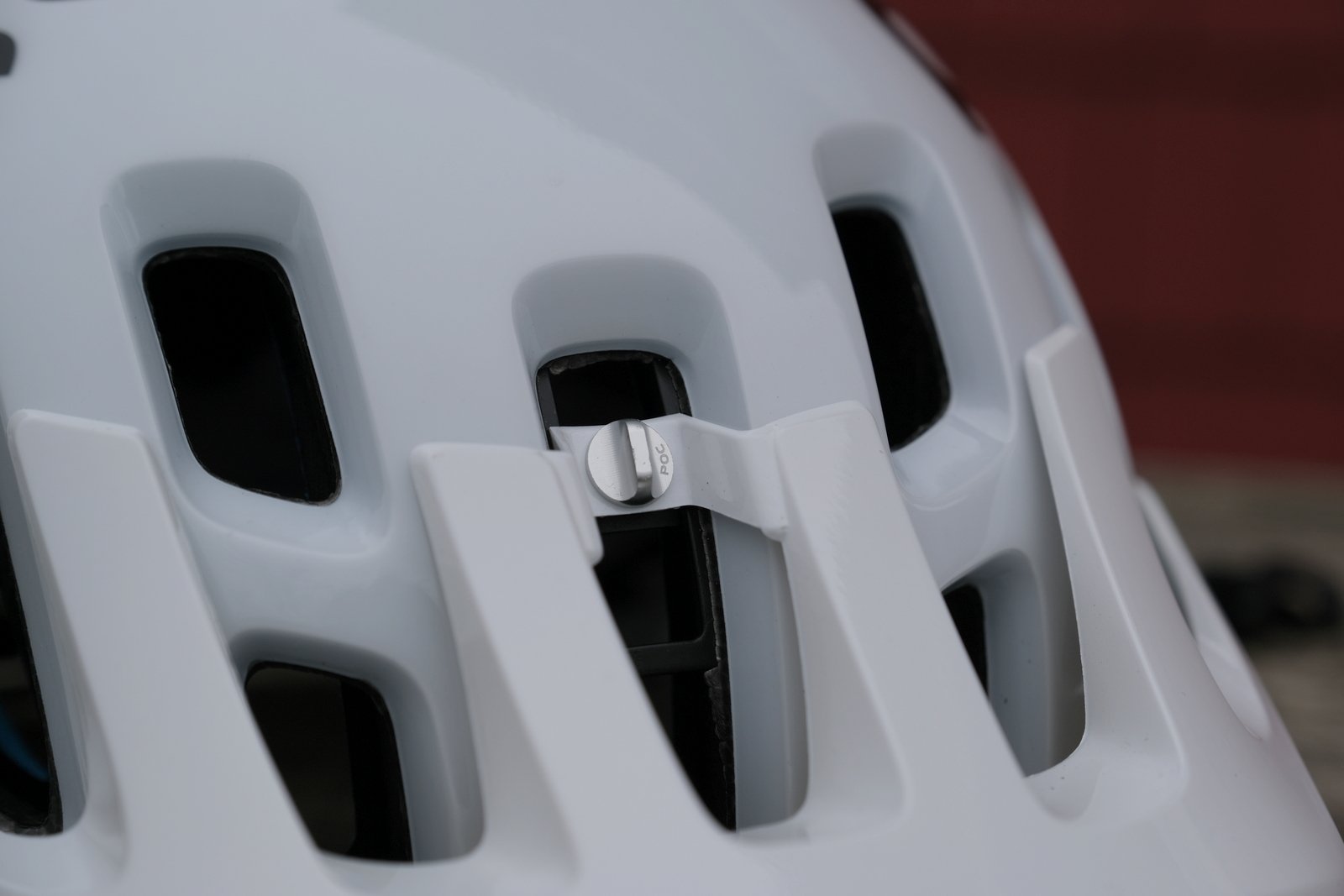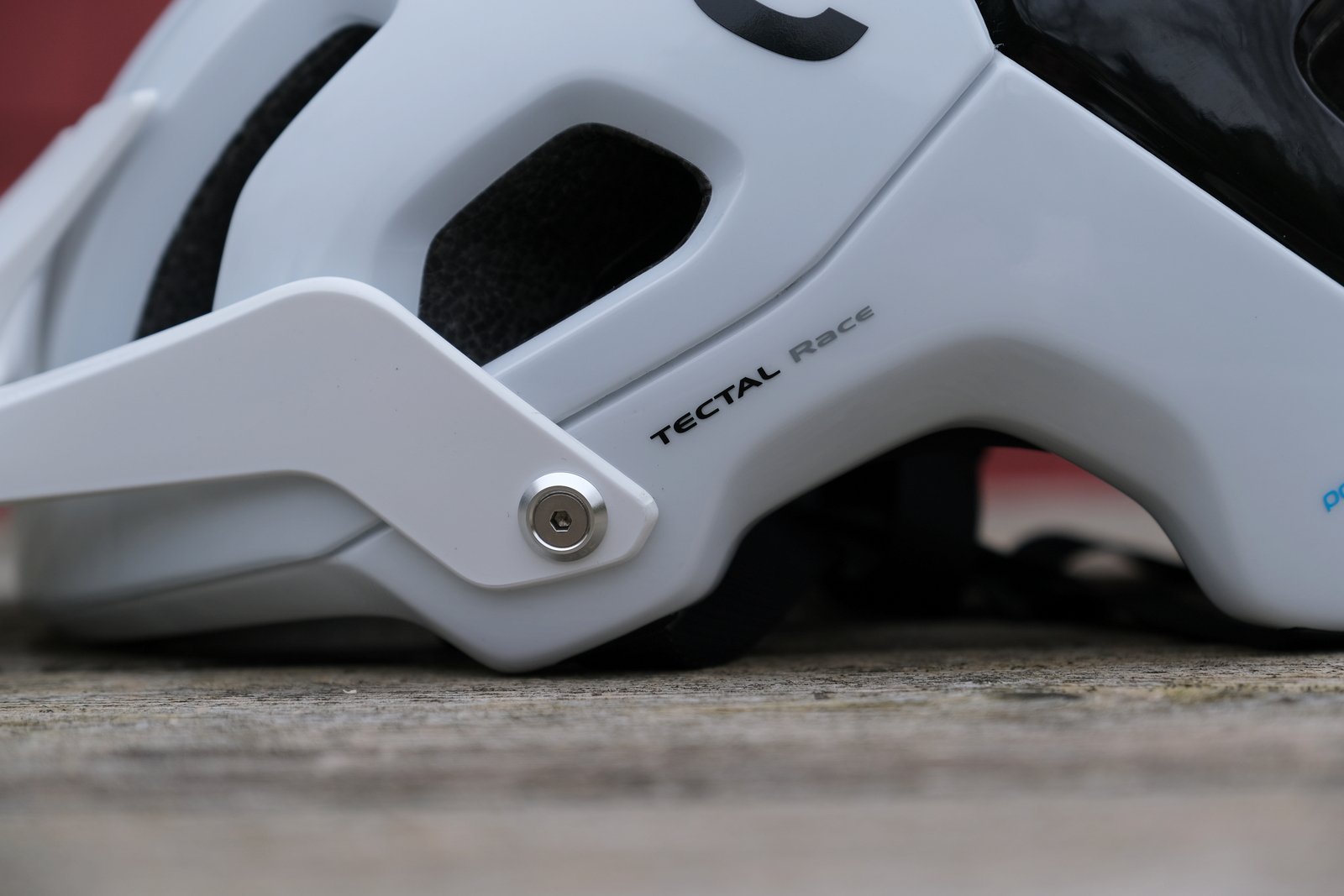 I'll keep harping on about this, but there is barely any space between my head and the shell of the helmet, and the fit gizmo at the back of the helmet is really just for fine tuning. This helmet feels like it surrounds your head. Indeed, I found that in putting it on and taking it off, it was better to subtly rotate it onto my head, rather than slam it straight down. This was with the fit gizmo adjusted as high on the helmet as possible. If you wanted, you could adjust it further down and really get crazy.
Moving on to peripheral items. The visor does exactly what you need it to do. It's solid and has a large range of adjustment. The only challenge is that the center adjustment screw is recessed into the front vent, and it's a bit finicky to loosen and tighten. I don't move my visor around very much so this is no big deal. Lastly, the goggle strap. I never used this, but it's there, if you need it. I could see this being a good candidate for a goggled half shell, as it's a super solid platform that should deal fairly well with the pull of a goggle strap.
So summarize, this is a really great helmet, jammed with features. Not only that, it seems like POC has put this technology to good effect, and this helmet fits well with minimum gaps to the shell as a result (for my head, anyhow). If only it came with a different strap material, it would be quite close to perfect.
Tectal Race Spin Weights XS-S: 337g M-L: 368g XL-XXL: 390g

I can imagine there's some poor guy out there with weird ears that this system won't work with (poor Prince Charles!)
A note on packaging
A lot of times, when things wind up on Uncle Dave's doorstep, they're in what's known as "less than new" condition. Somebody will have worn it/fondled it/discarded it, and the packaging is but a poof of smoke in somebody's memory. So, I'm not totally familiar with current trends in helmet packaging.
However, if memory serves...don't most helmets show up in a cardboard box with a cutout on the front so that you stand at a distance in the showroom and gaze in on the wonder of the helmet? Is the cutout itself maybe not a teensy bit over the top? I mean, we don't need a cutout on our shoe boxes. We're generally pretty confident that things won't change all that much from the time we take possession of the box until we arrive at home.
But POC ups this nonsense, and includes not just a cutout, but a plastic window! A giant plastic window, in on an inanimate object. And they wrap the helmet in foam. Swedish minimalism it is not. And I'm going to call them out for this. Your helmet box does not need a window and I'm confident that this is a place where we could reduce our plastic consumption, just a teensy, tiny bit. Because it makes that box pretty much unrecyclable, unless you spend a good amount of time separating the plastic piece from the rest of the box. As well, if you just put the helmet in the helmet bag that the helmet comes with, you wouldn't have a need to wrap said helmet in foam.
It's very silly.
Helmet #2 - Axion Spin
The Axion is a new helmet from POC with a much lower price tag than the Tectal (CAD$170 and US$150). While it's much cheaper than the Tectal, it has most of the things that make the Tectal great. It keeps the spin technology and the great fit, but does away with the RECCO reflector, goggle strap and aramid reinforcement. It also swaps in a hardware free visor that adjusts using a snap system, rather than hardware. This does away with the need to adjust a finicky piece of hardware (like on the Tectal), and replaces it with brute force. It has 4 clicks of adjustment, and one of them will probably work for you.
The Axion has a similar strap as the Tectal (which is great), and even manages to one up its pricier brother. The strap on the Axion is much thicker (about the same as you would expect to see on most helmets). As a result, it doesn't move around like the one on the Tectal. Once you've adjusted it, it stays put and only moves if you really want it to.
The Axion has the same wrap around fit and padding system as the Tectal, which once again provides for great fit and minimal shell gaps. However, the Axion uses a different dial system in the back, on the fit gizmo, and, unfortunately, this one is not as good as the Tectal. For the first few rides, no matter what I did, the fit system would not stay tight. It would loosen off when I put the helmet on, and loosen off again if I tightened it up once the helmet was on my head.
There was a distinct lack of clicks when I tightened the dial up, and it felt like this was probably the root cause of the problem. I decided to crack in to the system and have a look, and my suspicions were confirmed. The outer teeth shown on the photo below are what is supposed to keep the fit system in place, but you can see that the inner gear wheel is barely making contact with the outer teeth, so there's nothing to hold it in place. I put the system back together and tightened it down as much as I could. This helped, as there was increased friction to keep things from moving, but it was never as solid as the one on the Tectal. As a result, I've mostly been using it as a commuting helmet, as I don't have faith in it staying in place on a mountain bike ride.
I will note that my helmet has a giant "Sample: Not for Resale" decal on the inside. It is possible that this issue is something to do with it being a sample. I reached out to our contact at POC but haven't heard back. It will be easy to check if it's still an issue on the helmets that make it to stores. Just give the dial on the back a few spins, and if there's a solid click, you're good to go.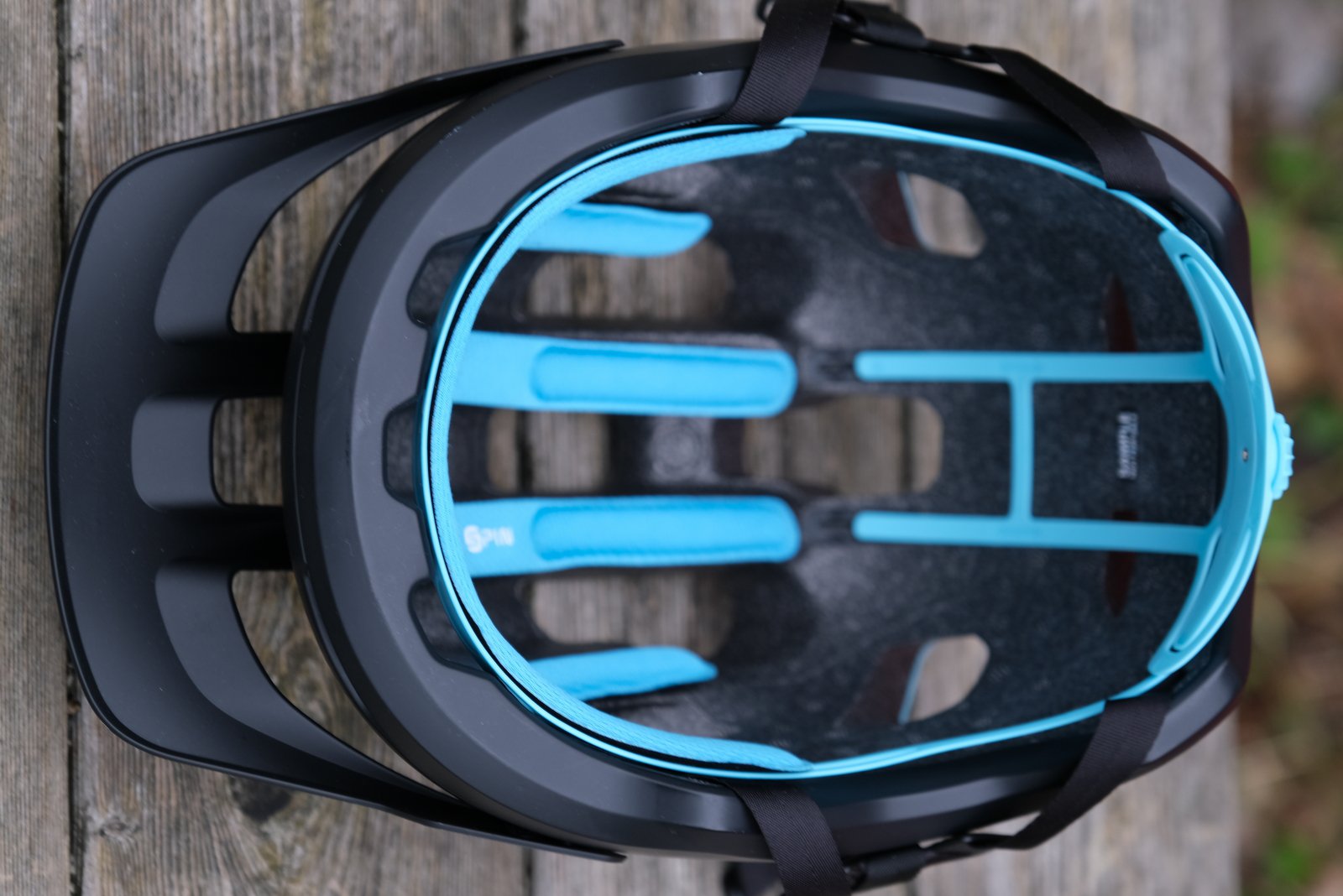 Which brings up another interesting point...this helmet was announced in the summer, but still hasn't made it onto POC's website. The only information I can find online is from the stories announcing its launch. Since then, POC has announced a new partnership with MIPS, so I'm wondering if they're just going to phase this helmet out before they bother launching it? Or fit it with a new MIPS system?
If they do, I hope that they keep all of the great things that this helmet has going for it (low price, great fit) and fix this one glaring issue. The non-clicky fit gizmo is the only thing holding this helmet back from being a really great lower cost helmet option. The M/L size of the Axion Race Spin weighs 305g.
Here's the link for more on the Tectal Race Spin. (no sign of the Axion on the POC site)