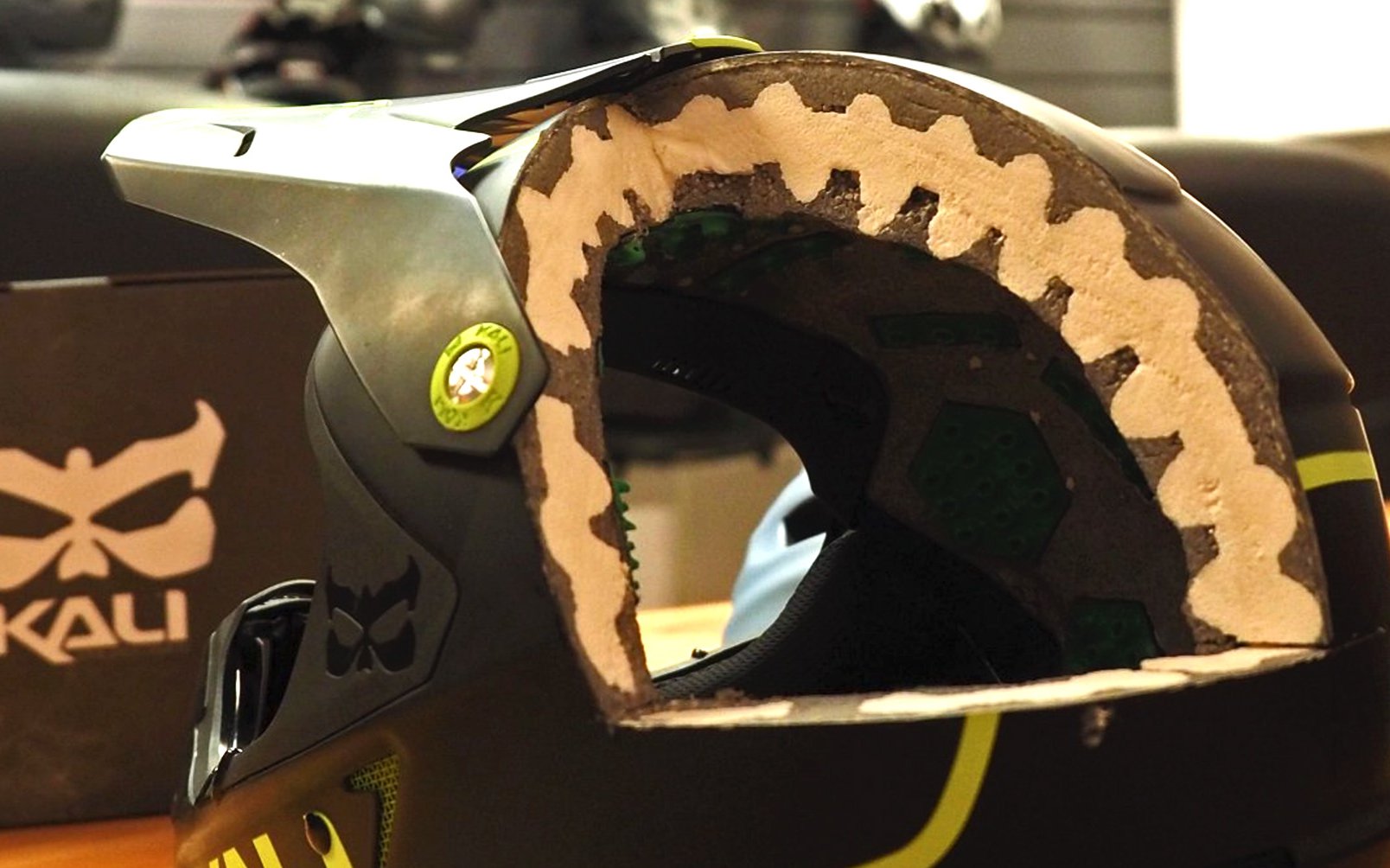 EDITORIAL
Bike Helmets Are Too Hard (with Kali's Brad Waldron)
"Philosophy vs Engineering"
With a self-deprecating laugh and knowing smile, Kali's Brad Waldron is quick to note, "sure, I drink my own Koolaid." We're an hour into a rambling discussion on everything bike helmet and Brad is explaining the tao of Kali Protectives.
An aerospace engineer ("actually, I mostly broke stuff in a lab") turned bike industry composites engineer ("actually, I mostly broke stuff in a lab") turned helmet designer ("actually, I mostly broke stuff in a lab"), turned chief-of-everything at Kali my interpretation of our conversation really boils down to this simple doctrine:
Bicycle helmets are too hard to most-effectively dissipate energy.
Rotational forces deliver the "knock out punch" that creates many cycling brain injuries.

Experimenting with new ideas is the key to delivering the safest products.
Always be smashing stuff in the lab.
On paper that seems pretty simple. Helmets are too hard? Use softer foam! Rotational forces are the primary issue? Throw some money at MIPS! There's a plethora of new research in traumatic brain injuries coming from both sports and military data and there are established bicycle helmet standards to test against. Easy peasy.
The big reveal; implementing these new philosophies is not that simple. Also totally unsurprising; rider expectations for cool (looking & venting) lids are the biggest engineering barrier to overcome.
"Make It & Break It"
Brad and the crew at Kali have a reputation for trying new things. This covers ideas conceived in-house, adapting technologies from other applications, and new research or ideas pitched to the company by researchers. Whether it's the "green stuff"* developed at Imperial College dissipating energy inside Kali's top end lids, different in-molding techniques allowing for thinner shells, or tuning foam density; that means testing. A lot of testing. On the motorsports side, for example, Kali has full-face helmets with a jigsaw-puzzle of seven different foam densities. How do you decide how to lay up those layers? Apparently dropping an anvil on a container load of helmets isn't just therapeutic and fun - it's essential.
*The same as the "blue stuff" making up Leatt's 360° Turbines
In addition to being his background, it's pretty obvious that Brad loves smashing stuff in a lab. The main issue he says comes down to different testing philosophies delivering a variety of results for the same experimental technology. Kali overcomes this by using four different testing labs. Testing happens in the real world as well. Kali's crash replacement program is obviously beneficial to consumers, but it's also an excellent way for Kali to determine the on-trail or pavement effectiveness of recently incorporated concepts.
"MIPS Absolutely Works"
That all sounds great but let's talk about something juicy. Hey Brad, what do you think of MIPS? The boring answer is that, "MIPS absolutely works" and also deserves the lion's share of credit for getting riders and helmet companies thinking about rotational forces. As in the boxing ring, our brain rotating as part of a crash is often what delivers the "knock out punch" as it were. There are different ways to address the dissipation of rotational energy and Brad is obviously most excited about the ArmourGel used in Kali and Leatt helmets.
One potential concern about the MIPS slip-plane system is that thin plastic shell inside the helmet could prevent the helmet foam from crushing. Brad is quick to point out that this could easily be taken into account as part of helmet design but I've tried on enough non-MIPS helmets and their, tighter fitting, MIPS-equipped twins to notice that most helmets with MIPS weren't redesigned for the integrated low-friction-layer insert.
Still, should I feel justified in spending a few extra bucks for a MIPS helmet over the non-MIPS equivalent? Absolutely, according to Brad.
"Cooler Helmets Mean Harder Foam"
I'm going to jump in front of Brad here and ask two questions:
Have you seen a helmet that appeared undamaged after a crash that resulted in a concussion?

Have you noticed a helmet promotion that seemed to present style as the most critical element ?

Let's discuss.
No matter the application, every rider wants a cooler lid. I'm of course talking about maximum passive and active venting and also looking wicked in my colour-matched kit and fanny pack. In order for that sweet ultra-high-end road lid to be more air than shell while passing government standard, harder foam must be used. The same is true for the crazy shapes on some of the best looking DH and Enduro lids. Without naming companies, in Brad's experience, if a helmet doesn't pass those tests it's entirely possible to "just firm up the foam" until it does. To the layman the tests these helmets are passing are the only comparative safety metric that we have.
"Safety Is Not An Upgrade"
And just like that, I'm back to a product triangle; cheap, vented, safe, pick two. The closer a helmet looks to the bucket you see kids (hopefully) wearing at the local skate park, the easier it is to cheaply incorporate low-density foam. For example, Kali's Viva bucket is 50 USD and their only bicycle helmet that incorporates the same multi-density triangular shaped EPS foam as their 450 USD Shiva DOT moto lid. Just looking at a picture of the Viva has my eyes burning from a waterfall of sweat.
One of Kali's best selling helmets is their 100 USD Maya. At this price the lack of venting compared to some competing 'Enduro' helmets is obvious. I recognize I'm towards the sweatier end of the spectrum but I'm thinking this is a half-shell that would be getting strapped to my pack anytime I was in for a long, hot fire road climb.
Brad shrugs. In his worldview, I'm still buying helmets the old way. Essentially, I'm looking to invest in lighter weight and maximum venting rather than buying the safest helmet within my price range. His goal is to use the softest foam possible and his stretch dream is to put a low-density-layer in every helmet Kali sells.
I'm knocking on a maple table as I say this but I've only rung my bell hard a few times in years of riding and, with the one exception of trail riding in a super-light road lid, I've felt my helmets did their job. I sweat a lot and once summer hits I'm taking off the most vented lid every time I stop.
Softer foam or more venting? For me it's a tough question.