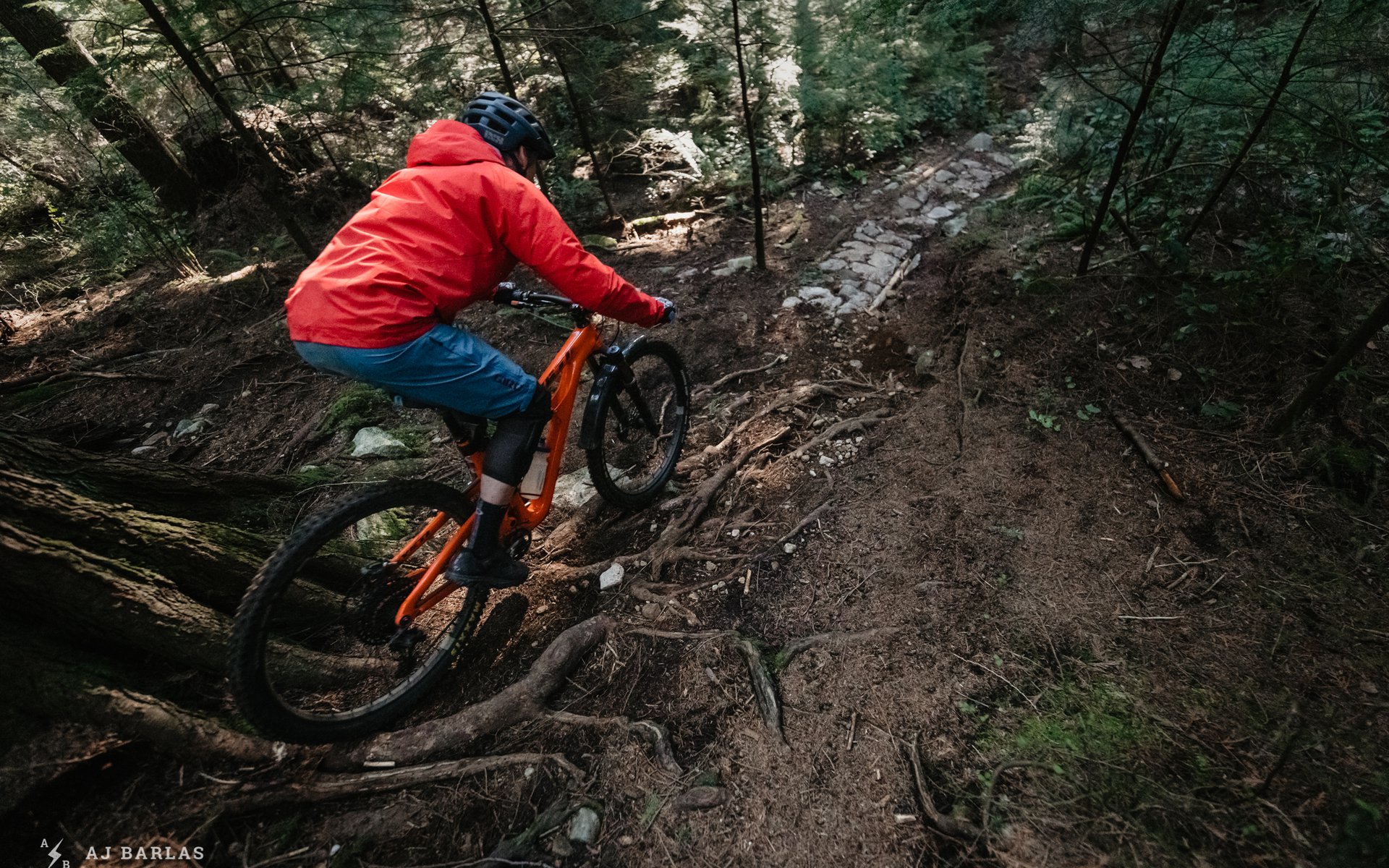 Long Term Bike Review
2019 Yeti SB150 Reviewed
The SB150 is the Yeti many riders have been waiting for; more travel, 29" wheels, a proper water bottle placement, a shorter seat mast, longer, lower, slacker, with a steeper seat angle and it comes with a lifetime warranty on the frame. The SB5.5 is a great riding bike but it lacked everything I just mentioned, and the fit in particular was a problem for those of us who have discovered the joys of longer reach with the right geometry. So it appeared that all boxes were ticked.
The truth though is when I first saw the numbers I wasn't happy. Having been pleased as a pig in poop on the SB5.5 in terms of ride and travel, I didn't want more bounce. Even for the often very challenging trails I ride here on the North Shore, where I'm often over my head, I thought the five five was up to the task with 140mm in the rear and 160 up front. I figured an extra 10mm on both ends would make the bike sluggish and I was particularly worried about the fork that is within half an inch of most dual crowns on the World Cup circuit. At the same time I didn't want to lose any travel so the 130 didn't seem like the way forward for most of my riding either. In the end I opted to test the SB150 first because it made the most sense for the North Shore, but I was torn.
My first SB150 rides were not disappointing but this wasn't a bike I managed to get sorted quickly. I'm not sure if it was my inexperience with the Fox X2 rear shock (with 3 and 6mm Allen keys needed to adjust the four damping circuits) or the extra knob twisting of the Fox 36 Factory 36 Grip 2 over the 36 FIT 4 I'd been riding recently. Whatever the reason there was no looking back once everything was sorted.
One Ride That Tells All
My ride this past Sunday encapsulates my experience on the SB150. I was to ride with my friend Morgan who, despite hitting the gym hard all winter, hadn't ridden since October, and James Wilson, a former XC and DH racer who is the fittest bastard I ride with regularly. I figured that Morgan would slow things down enough that I could survive the James experience despite my recent 9 days in Mexico during which time I had a nasty flu. We started up the Fromme fire road and before long Morgan told us he'd have to bail unless we slowed down. Rather than drop the pace, James gave Morgan his 3 dogs to literally pull his sleigh with added horsepower, like a dog food-powered e-bike. That meant James could ride faster than I wanted him to. I was red-lined for the entire climb but the quiet suspension and the excellent riding position kept me in the game, barely.. We climbed as high as we could and then, after a first burly descent, found ourselves at the top of Bitches Brew, a now mostly decommissioned line. I was feeling a little shaky after illness and travel but the 150 helped me conquer the steep and rooty line which eventually deposited us on Dreamweaver, one of the fastest trails on Fromme.
I'd be hard pressed to tell you what the sweet spot of the SB150 is because it does everything I ask of it so well, but I've noticed in particular that high speed riding, one of my weaknesses, has improved on this bike. Obstacles seem to come up more slowly because I'm more relaxed and have more control which has in turn allowed me to get more aggressive. After our speedy trip down Dreamweaver we got onto D'yer Maker, a portion of Fromme's unrelenting climbing trail, and cranked back to the fire road. The pace was again higher than I'd like but the SB150 gets the power down effectively on tech single track climbs as well. Later on I was amazed to clean a very difficult steep section - after almost two hours of riding.
Our next descent was Crippler, a janky old school trail with many obstacles to get over. This is the sort of terrain I was worried about with this bike but it pretty much laughs at old school tech. I wondered if the 170mm fork would make getting up and over logs and other features a chore but in fact it's one of the most nimble platforms I've ridden. Crippler left us at St Mary's and we again pedalled up single track to Skull, one of the steepest trails on Fromme. The 64.5º head angle combined with the 170mm fork are ideal when things tip down and I pretty much giggled all the way back to our starting point on Dempsey. There were only two moments when I would have preferred another bike. Fatter tires than what will fit in the rear of the 150 would have been helpful on Bitches Brew because of all the square edges and roots in extremely tight quarters; a little more grip and a little less pressure would have been great. The second spot was on Skull where slow, steep and awkward downhill switchbacks are frequent. More on that below.
The Ride - Down
There are bikes that seem to get you through stuff without much awareness of what's happening in the rear, which is how I perceive DW link bikes as one example, and others that allow the rider to perceive the motion of the rear wheel through its travel. For me the SB150 is the latter. The rear end is very active without much platform feeling on the way down but with no wallow either. It's nicely progressive without having a harsh ramp towards the end of the stroke and drops to flat are a treat with the combo of the Fox X2 and the 170mm Grip 2 Fox 36. Try as I might I never felt the rear end bottom despite sliding the travel indicator off the shaft several times. The bike also reacts adequately during consecutive high intensity impacts at speed, with little harshness or slowing of progress, but I feel there is more tuning to do here. This isn't a frequent condition on my rides so it's a set up element I have paid less attention to.
The SB150 thrives at speed. It picks up pace quickly, either after a couple of pedal strokes or aided by gravity, rolling smoothly over many different trail surfaces. Once it reaches terminal velocity it's easy to control, encouraging me to get a little loose - which always makes me smile.
As I mentioned earlier, despite a long wheelbase and reach, this is a nimble machine. Getting it off the ground for obstacles is easy at speed and even low speed log crossings are a breeze. It feels like a 140mm bike in those situations. Steering inputs are rewarded with accurate outputs and I find it easier than usual to nail pinpoint lines at speed or in slower tech zones. In situations where it's necessary to negotiate a very steep downhill switchback at low speed, with most weight on the fork, I'd prefer a more robust feeling frame. The Bronson for example was a master in these situations because I felt I could lean on the frame and let it do the work. While the 150 negotiates these moves adequately, It seems to require a more attentive grip on the bars, inspiring somewhat less confidence. My perception is that the difference is the frame but other differences between the bikes are a longer travel fork and a larger front wheel, which could be contributing factors.
Cornering
Making arcs with this bike is ridiculously fun. I can approach the limits of adhesion, occasionally crossing that line, with the sense that I know how the wheels are going to react. A slightly forward stance is rewarded, particularly in slower, tighter turns, and holding a line on everything from snow and muck to marbles on hardpack or loam, is as easy as tipping the bars, dipping the knees and looking toward the exit. Angling the frame down is encouraged by the very low standover, but I would have appreciated a 170mm dropper rather than the 150mm provided by the Fox Transfer. I used to be fine with a 125mm dropper but I've been addicted since riding my first 170.
Going Up
It's a bit mind boggling how well a bike with this much travel can climb. In the old days we used to pedal up Mt. Fromme on bikes like the Specialized Bighit or Demo or even the Banshee Scream. I used a sandwich of bashguards with a manual shift granny gear. We'd get to the top, younger and fitter as we were, and then have all the travel we wanted on the way down. To think that I can ride a bike now that is 10-15lbs lighter (maybe 20 compared to the Banshee) with almost as much travel that climbs better than XC bikes of the day and descends better than all of them is hard to believe. But climb she does.
Here's a shocker; I never felt the need to use the lockout. If I spent more time climbing on pavement I wouldn't object to locking things out but that rarely happens. The rear end is active and supportive, thanks to an appropriate amount of anti-squat apparently, and it feels fast and efficient.
The Switch Infinity Linear Bearing - Maintenance and Wear
Despite having ridden three Switch Infinity bikes for long periods, I'd never done any maintenance or torn down the linear bearing. I don't own a needle grease gun, and for test bikes I try to do as little maintenance as possible to mimic consumers who are similarly lax and to simulate a longer test period than is generally possible. And then I read Fox's* warning about disassembly of the mechanism - stating that injury or death may occur if it was disassembled by a schmo like me. So this schmo got to work.
The first part of the process is removing the main pivot Collet axle along with the wedge bolt and nut. This part of the process is explained very well in Yeti's excellent service manual. Once that's done, removing the device from the bike is as simple as twisting four Allen head bolts* and the rest of the process can be done without tools. Careful to ensure I placed the stanchions so I would be able to replace them in the correct sleeves, I simply slid them out of the shuttle. Yeti and Fox recommend service every 75-100 hrs for dry conditions, and 25-50 in muckier climes. I likely rode 50hrs in January alone and I've surely put well over 100 hrs on it in total, much of it on days that were either wet, snowy or a combo of the two. To say I ignored the service interval would be a vast understatement. Most of the time I sprayed off the bike with a hose, directing water directly into bearings (like the Switch Infinity) but I also went through a period without any post-ride cleaning because I was testing a new lube. I took these approaches because neither is recommended.
Once I cleaned off the muck, removed it from the bike and slid things apart, things didn't look too bad. The bearings were a little corroded externally but at first glance the stanchions looked pretty good. I didn't pop the covers off the bearings but they rotated smoothly. Upon closer inspection it became clear that one shuttle is worn and scored in a small area to the point that it is through the Kashima coat. There was similar wear inside the shuttle, but while Yeti undoubtedly will recommend replacing the shuttle under warranty, I have total confidence in the performance of the slightly worn mechanism, which was backed up by checking the movement of the swingarm after I reinstalled the piece and detached the rear shock.
*Fox Racing produces the linear bearing for Yeti
Some Spec Notes
This is a sensible spec for the most part without many surprises, aside from the increasingly rare Shimano brake/SRAM shifter combo. Both 4-pod XT brakes required a bleed midway through the test but I was adequately pleased with their performance. I generally prefer more modulation and in my experience the newest SRAM Codes have more power. I'm not a fan of the way the XT lever and the SRAM GX Eagle shifter mesh. For me there was only a narrow placement that worked adequately for my needs and once, after a crash things shifted and the shifter restricted the lever's return until I figured out what was wrong.
The SRAM bottom bracket has begun to squeak intermittently, likely a casualty of my aforementioned heavy-handed hose usage. (actually this began after I had been away for almost two weeks and after a few rides everything was back to normal). I have been using the 150 as a test platform for several sets of wheels so I don't have any new reports on the stock DT Swiss M1700 wheel set, although I dented the rear early on. The Fox Factory 36 Grip 2 fork and X2 rear shock have performed flawlessly and my report on the Eagle drivetrain is equally positive and uneventful. Although I would have preferred a 170mm drop, the Fox Transfer dropper worked extremely well and didn't require any maintenance or adjustment for the duration of the test. I didn't love the stock lever however and I replaced it with a PNW Loam Lever, which is the best I've used. The WTB Volt saddle got along well with my ass bones as well.
Yeti calls this an X01 build but that's somewhat misleading considering only the cranks and rear derailleur are X01 components. The cassette, chain and shifter are GX. I have no issue with the GX shifter or chain, and I actually prefer the feel of the GX's aluminum lever, but the GX cassette is significantly heavier and less expensive than the X01 version.
Frame Details
The Turq frame's finish has proven to be very durable despite a nasty winter of riding. I criticized the lack of downtube protection for tailgate transport, but there's hardly a mark on the paint. Beyond that Yetis generally ship* with a protective decal kit which is custom cut for the frame.
Another nice detail is the hatch near the bottom bracket to help with dropper cable installation. The chainstay protection remains intact and has done the job admirably. Water bottle space is generous, as is standover height and there is nothing about the geometry I would change.
*My tester did not include this kit
Intended Use
While this is bike is aimed at enduro racing my experience leads me to believe it's pretty damned versatile beyond that. If you are primarily a trail rider who sometimes rides challenging terrain and a bit of bike park, this might suit you just fine. If you generally ride challenging terrain and like to earn your vert, the 150 will be your huckleberry as well. If you find yourself most often on mellow, smooth low angle trails something like the SB130 or a Santa Cruz Tallboy. For my riding the 150 is just right; a great North Shore XC bike!
Wrapping Things Up
Is it starting to become clear that I have warm feelings for this beast that sometimes rides like short travel shredder? A bike that is both burly and nimble, with a fit that is better than any bike I've ridden? My awareness that gushing is unseemly for a reviewer is battling with my affection for the way the SB150 rides. This is a special bike that does many things very well. It somehow rides both large and small, morphing into a burly monster when needed and then becoming a nimble sprite when that's more appropriate. Climbing, descending, slow-speed and high-speed, this is a bike with very few weaknesses.
Yeti has however become a boutique brand with a price tag to match. The frame only option, which is only available for the higher priced Turq frame, will set you back 3800 USD with the pricy Fox X2 rear shock. The X01 model pictured here is 7599 USD. The least expensive version with the Carbon C frame is the GX model which is well spec'ed at 5199 USD. Brands like Transition, Norco and YT have parallel models which sell for significantly less. Whether it's worth the Yeti premium (which is similar to bikes from Specialized, Santa Cruz and Trek as examples) is a personal decision, but this is a bike that has me hankering to ride it whenever I'm doing something else. It's a bike that gets me on the trail more because I'm performing better and having more fun and it's tough to put a price on that.
Tester Info and Set up
Tester info for Cam McRae: Height - 183cm/6' Weight 72kg/160lbs. Home trails: Vancouver's North Shore. Preferred reach: 475-485mm. Usual bike size: Large but sometimes XL. Yeti SB150 set up. Tire pressure: 20psi front, 22psi year. Fox 36 Grip 2 Fork 70 PSI HSC 15 clicks LSC 2 clicks HSR 6 clicks LSR 9 clicks. Fox X2 rear shock: 160 PSI HSC 8 clicks LSC 6 clicks HSR 12 clicks LSR 12 clicks. (all damping adjustments measured from fully closed clockwise position)