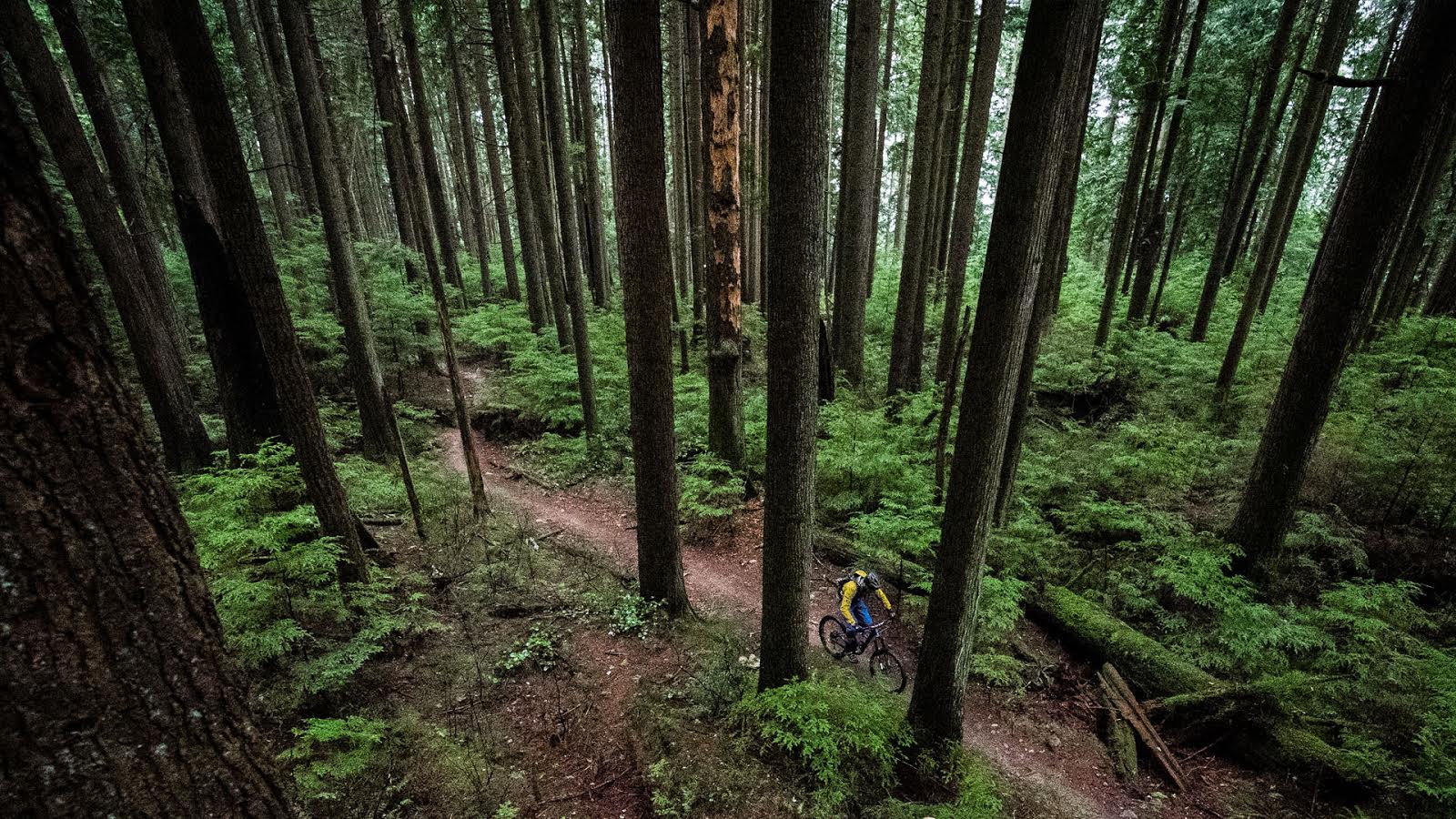 Pivot Firebird Pro – First Look
Pivot Firebird Pro
Is the 2017 Pivot Firebird Pro a harbinger for a growing number of bikes reborn from the ashes of freeride? Or is it a rare outlier in an age when mid-travel 29'er rules all outside the bike park? Unsurprisingly, opinions are varied.
The dw-link suspension makes it possible to pedal the Firebird to the top of any climb, despite 170mm of rear wheel travel. The Firebird Pro's 30lb* weight and Reynolds carbon wheels further improve the bike's willingness to climb. The geometry is inspired by the Pivot Phoenix DH bike; that should make it mud-eating-grin-fun to ride back down.
A full NSMB review of the long travel Pivot's trail mannerisms will appear in the New Year. Today I'm looking at the Firebird Pro's genetics, frame design, and components package.
The all carbon frame Firebird lineup ranges from $5,000 ($6,749 CAD) to $10,000 ($13,364 CAD). This Pro level XT/XTR 1x build sells for about $6,100 ($8,099 CAD). There's an additional $1,300 (~$1,750 CAD) for the optional Reynolds carbon wheels, which do come stock on the higher end bikes.
Freeride is Dead…
… long live Freeride. Pivot released their first generation Firebird in 2009 as a 167mm bike. In a category populated by a lot of climbable long travel rigs, its performance was not best in class and, frankly, it was ugly.
Years later, the 2017 Firebird Pro is gorgeous. The attention to detail on the frame is excellent. And this in a category where it is very difficult to stand out. Pedal-worthy long travel rigs are no longer prevalent but the competition at the high end of the market is vicious. In the world of 170mm travel carbon fiber superbikes, the Pivot is up against the likes of Specialized's Enduro 650b, Santa Cruz's Nomad, and Rocky Mountain's new Slayer. There's also a pack of aggressive slightly-shorter travel rigs like the Yeti SB6c nipping at its heels.
Firebird Frame
Savage and sexy. The heart of the Pivot Firebird Pro is the 170mm travel carbon frame that is shared with the entire Firebird range. It's all modern geometry, albeit on the conservative side, with short (430mm) chainstays, a 65-degree head tube angle, and a 46.5cm reach for the size large frame.
It's not slacker (HTA) and longer (Reach) because of the bike's dual goals. Competing long travel bikes are designed to survive the trip uphill. The Firebird is intended to be a highly proficient technical climber. I've heard that claim before about similar bikes – see every new Nomad MK3 owner in 2014 – so I'm skeptical about the no compromise, Holy Grail marketing copy.
But hell, who wouldn't want to give it a shot on the $7,400 ($10,124 CAD) package?
The amount of work that the team at Pivot put into designing this frame is obvious to any close inspection. Even riders and mechanics I know who don't love Pivot's aesthetic are full of praise for their quality.
The dw-link suspension is tuned similarly to Pivot's Phoenix DH bike with a rearward axle path for the first 1/3 of the travel. At the same time, pedaling efficiency is claimed to match their Mach 6 trail bike.
Cable Routing
At Crankworx, the first thing I noticed about the Firebird was the internal cable routing. Yes, seriously. I generally think internal routing is a gimmick. It adds unnecessary cost and complexity to frame construction. It provides for zero benefit over sane external routing. But, I have to face the fact that riders have spoken with their wallets to the point that internal routing is now the standard on almost every performance mountain bike.
Chris Cocalis and his team figured out a simple system to eliminate annoying cable rattling. Enter the Internal Port cable system. It allows for easy routing of cables, housing, and wires and holds them in such a way as to eliminate chatter.
Fox Suspension
The entire Firebird lineup is supported by Fox suspension. By spec the Pivot Firebird Pro has a mix of a Performance level Fox X2 air shock and a Fox Factory 36 Float fork with a FIT4 damper. This Firebird Pro arrived with a Factory Level X2 air shock but the only difference is the Kashima coated shock body.
The FIT4 Float 36 is a very easy fork to setup. The X2 is a much more complicated animal. Pivot provides an excellent set of base tunes as a starting point for both. I recommend starting off with their base settings and tweaking from there.
Custom Fork Valving?
The Firebird is meant to be ridden hard in bike parks and on the toughest technical trails the world over. The Float X2 shock is a premium damper that is highly tunable for terrain, preference, and rider weight.
The Fox FIT4 damped fork also performs very well out of the box; however, it has a much more limited adjustment range than the X2. Even with proper sag and a number of air spring tokens, some larger lofters may want more initial damper support. This will depend on how soft the rear end of the bike is being run.
Riders who love the performance of a RockShox Lyrik or Pike will likely also love the Fox 36 Float. As it sits, the air spring is similarly tunable via tokens. Riders who love Fox's RC2 FIT forks may prefer more support.
Heavier or more aggressive riders with the low-speed compression set near maximum will want to talk to a local Fox tuning center about their more supportive E16+ tune. It was developed by Fox Europe for beasts exploring exactly the kind of terrain the Firebird Pro is meant to ride.
Fox Transfer Dropper Post
In the name of full disclosure, through set-up or manufacturing, the Fox Transfer dropper post that arrived with the Firebird Pro was non-functional due to a pin missing from the actuator. This was quickly diagnosed and replaced with help from our friends at SuspensionWerx.
A rider buying their Pivot from a dealer would have never experienced the issue. The dealer would have noted it when building the bike. This is NSMB's first experience with the Transfer so a review of the post on the Firebird will be coming as well.
The Transfer post moves smoothly through its travel. Unlike the previous DOSS dropper from Fox, this is an infinite position, light action post. I think it's surprising that Pivot went with the 2x shifter-compatible dropper remote instead of the more ergonomic 1x shifter-style remote. There are a couple of Firebird models spec'd with front derailleurs so it may be a matter of simplifying inventory. Either way, if it was my personal bike it's one of the first items I would change.
Reynolds Carbon Wheels
This Firebird Pro has an optionally upgraded Reynolds carbon wheelset. The carbon rims are laced to Industry Nine's 6-pawl Torch hubs with an awesome 3-degree engagement. The wheels are decaled with Pivot logos to match the frame but are otherwise stock Reynolds hoops.
That means they qualify for Reynolds excellent Assurance program. I think spending an extra $1300 (USD) on a wheel upgrade for riding really aggressive terrain is easier to swallow with the optional, no-questions-asked replacement program.
Drivetrain
Shifting is handled by a Shimano XT 1x drivetrain with an XTR rear derailleur. I feel like I should say more, but Shimano XT is truly the workhorse standard group that I measure others against. Beyond that it just works. Given that the application of this bike is going to involve some trail smashing, I would rather see an XT derailleur out back. The cost difference could be put towards an upgraded crankset.
With that in mind, at first glance it's strange to see a high-end carbon bike sporting a price-point RaceFace Aeffect crankset. In its defence, the Aeffect is reasonably light, sitting within about 20grams of RaceFace's highest end Turbine aluminum crankset and the Burnaby B.C. brand bills it as being tough enough for the Firebird's application.
Digging deeper, the Aeffect is a 24mm spindle crankset. All of RaceFace's higher end alloy and carbon options now use a 30mm spindle. The Pivot's PF92 BB can house significantly larger bearings by using the smaller spindle size.
I'd say that's a well thought out spec choice.
Shark Attack
The stock gearing is 30t x 11-46t. At a significant savings over the Pro Eagle XO1 bike, I would be inclined to go with this reliable Shimano XT/XTR Pro build and run a larger front ring with a OneUp Shark cog. In the same vein as the NSMB Nomad test bike equipped with OneUp Shark, a 34t or 36t ring combined with a 11-50 cassette would be awesome on the Firebird.
I would add a chain guide and bashguard combo such as OneUp's Bash Guide or Blackspire's TrailX 1X guide.
Cockpit
Pivot knits their nice looking house brand Phoenix components together to create the cockpit. The bar is wide at 820mm to the tips. The grips are a comfy (if a bit soft) medium width endeavour with a comfy blaze of raised Pivot phoenixes for traction.
The bars have a nice sweep and graphically everything ties in with the bike. Really nothing exciting here. Just stuff that works. Well, except the WTF Padloc grips.
Padloc Grips
I have a personal aversion, bordering on nausea, for the WTB Padloc lock-on system that Pivot uses for their Phoenix grips – although the grips themselves are quite comfy – and this is a great example of why. Where some NSMB test riders are quite happy on 820mm wide bars my T-Rex ape factor maxes out at 800mm on a single speed and preferably 780mm on a bike like the Firebird Pro.
No big deal, just cut the bar down right? Except the Padloc grips require that the bar be cut at an angle either with a special guide from Park Tool or a hell of a steady hand. Am I just being whiny? Please watch this video detailing how to cut a handlebar for Padloc before calling me out. 'Unnecessary' is the word that springs to mind.
Running a non-Padloc grip requires the removal of 25mm from each side of the bar (50mm total) in order to have a flush outside perch.
Swapping a bar out isn't a big deal and I don't mean to dwell on such a small part of the Firebird Pro package. I'm simply surprised as the folks at Pivot seem very in-tune with customer feedback. It explains why Pivot includes a front derailleur option for the Firebird. I see absolutely no benefit of the Padloc system to their customers.
Thankfully component spec is what 'first look' articles are about and a handlebar will have no bearing on the ride review of the bike.
Test Write It
The Pivot Firebird Pro is an awesome looking, top-spec, long travel Enduro bike with boldly claimed climbing chops and a very reasonable 30lb weight for a size large. It's tasted North Shore dirt and early ride reviews say it goes downhill like a wicked 170mm bike that climbs much better than the competition.
The full ride review of the carbon bird is going to be a multi-rider affair looking at everything from its Shore-XC to its DH chops to test the tagline:
The Firebird is the no-compromise, Holy Grail of long travel mountain bikes – both an enduro bike that devours park runs and a technical climber that relishes huge lines and blazing descents." – Pivot Cycles
*29.94lb  for a Size Large.
---
Is the hype on point?