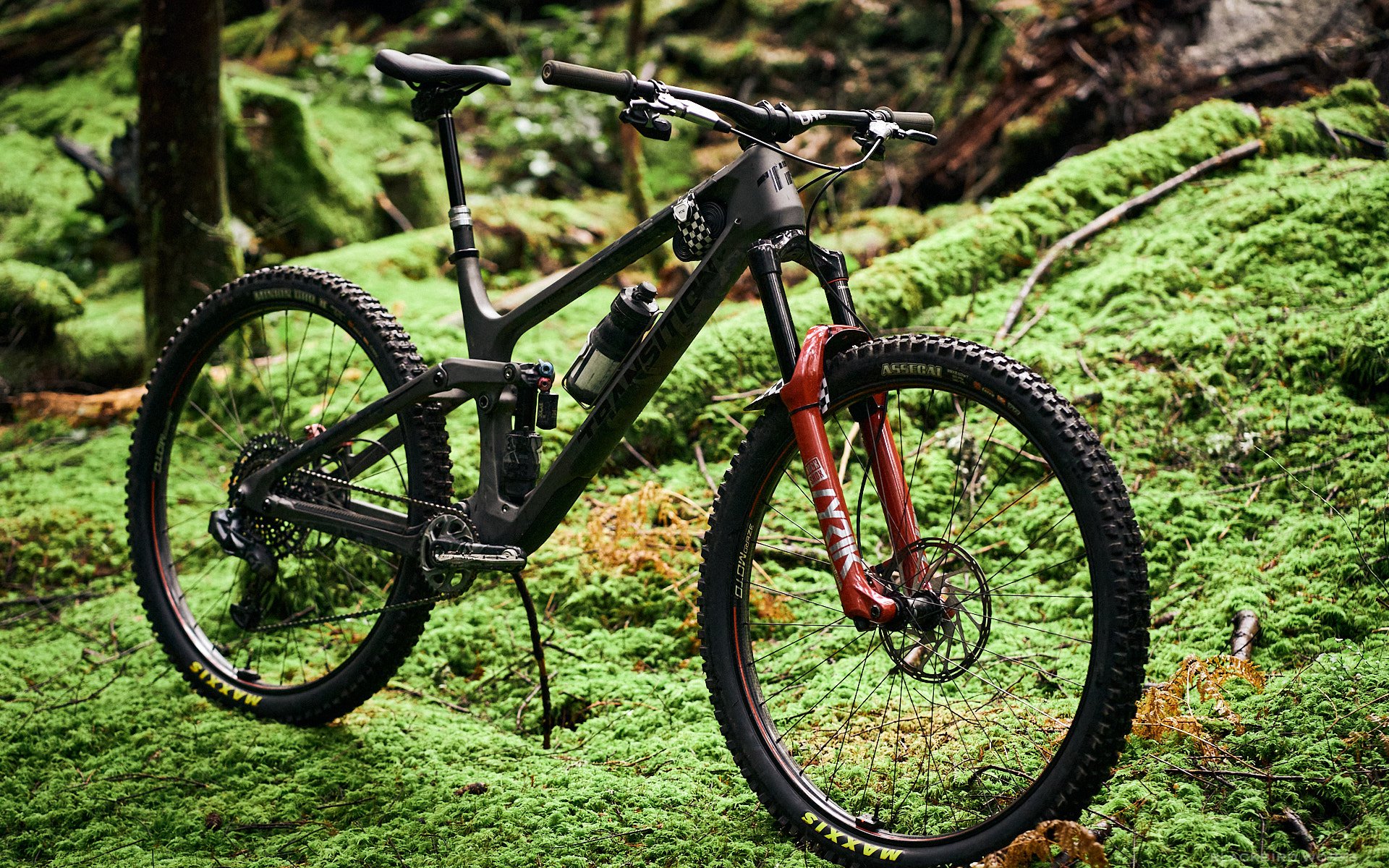 REVIEW
2021 Transition Sentinel Review
Since it was launched, the Transition Sentinel has been a bellwether for progressive trail bike geometry. The 2021 Sentinel is no exception, but in this case the trend indicates that trail bike geometry is stabilizing. I know this, because I went from the last generation Sentinel to this one, and even though I sized up from a Large to an XL, they're both clearly cut from the same cloth, and I have to say I'm a fan of the tailor.
I almost started this article off with a rant about shitty bike category labels but I trashed it because I don't think I can handle more cynicism this week. That aborted rant was probably rooted in the fact that the Transition Sentinel is either a trail bike or an enduro bike, depending on who you ask, and I think that either label is insufficient. First, because the Sentinel easily fulfills both of those categories, and second, because there is a disturbing lack of creativity in the language used to communicate all things about mountain bikes, and we can do better than describing everything as being 'fire' or using the phrase 'send it' every time we drop in (damnit). I wish we didn't need labels, but they're useful, so I'll play along and maybe write well enough one day to find the words without relying on labels so much.
At the beginning of this little experiment, the Transition Sentinel was intended to be a test bed for a bunch of SRAM products: AXS Eagle shifting, AXS Reverb Dropper post, and Zipp 3Moto carbon wheels. I loved the first iteration, but the new frame in an XL with 10mm more travel front and back made it even more suitable for the way I like to ride on the Shore: it is more stable at speed, more confidence-inspiring in the steeps, and it pedals as well as its predecessor. In general the new Sentinel is simply a fine-tuned version of the last one, and that's very good news indeed for Sentinel fans or those looking for a new 150mm bike that sheds singular labels.
There haven't been too many bike releases in the last few years that didn't involve changes to everyone's favourite triumvirate (longer, lower, slacker) but the latest Sentinel built upon a blueprint that was already snooping around for the limit. A quick glance at the geo charts of the 2019/20 Sentinel and that of the 2021 model shows some very modest tweaks - and only to certain sizes - for reach, whereas stack, seat tube angle, and head tube length all saw increases, albeit small ones. In most sizes effective top tube length actually got a tiny bit shorter. One other dimension saw changes, and that's wheelbase, which saw increases of 6-20mm, depending on frame size. So even as it seemed like Transition was slowing the pace of progression on the geometry front, they did add a bit more length to the rear center of the Sentinel, something we're seeing from other brands lately, too. It seems as though brands have two ways to figure out those limits: they'll either inch forward slowly, or at some point make a big step forward and rein it back in if they went too far. If they get it right or come close, it leaves them able to build on that big step with incremental improvements. Transition has been a geometry leader for some time, but Speed-Based Geometry (SBG) has been very successful for them, and anyone that's ridden one of their bikes in the last 3 years will be happy to tell you all about it.
I think it's necessary to point out that over the last year I've spent most of my time on two bikes: this Transition Sentinel and a Specialized Enduro. I like to joke that I ride the Enduro on Mt Seymour and the Sentinel on Fromme, but it's a dumb joke because both bikes rule on both mountains, and because it's not very funny. The Enduro is a hype beast of a bike intended to maul the nastiest terrain you can manage, and I've been riding it far more often on the trails that test my limits. Truth told, the Sentinel does not have different intentions, but if the Enduro's pedigree flirts with DH bike territory, then the Sentinel leans into the 'trail bike' end of the spectrum, but only by comparison. Damnit, there are those labels again - maybe I'm the worst offender of all, or just a hypocrite. Anyway, that's not to say the Sentinel is less capable than the Enduro when it gets steep and rough, but 20mm of frame travel and 10mm up front* does make a difference and the Enduro feels more like a DH bike, which I find to be psychologically comforting. Mitigating factor: the XL Sentinel's wheelbase is longer than an S4 Enduro (1292 vs 1274mm). No one expects that - least of all me - but it's very apparent when I load the Sentinel on a rack or hang it from a hook, not to mention on the trail. It's the longest bike I've ever ridden but it doesn't feel like it.
The Enduro is an obvious crusher of steeps and gnar, but it's also what you expect as soon as you sit on it. The Sentinel is a bit more subtle until you turn up the volume, and then you realize it's just as bad ass, but it's also more fun than the Enduro in lower angle terrain (hence my 'Fromme bike' label). It doesn't require as much speed to come alive, and despite the longer wheelbase, I found it to be slightly more agile. We're all learning that a longer rear center doesn't mean a bike will be a boat, it might simply mean more balance. You have to be aware that that rear wheel is in a slightly different place than you expect at slow speeds (up or down), but once you grow accustomed to the wider gulf between too far back and too far forward, it actually gives you the chance to experiment with different balance points and that lends itself to plowing or punching, depending on what you feel like or what the terrain gives you. If the Enduro is a brutal hammer that encourages you to bash in a nail with one perfect stroke, the Sentinel reminds you that a hammer also has a claw, so you can pull the nail out and hit it again.
*The new Sentinel was designed around a 160mm fork, but you can run a 170 - I've yet to try it but will do so and report back.
Riding Impressions - Pedaling and Climbing
You either are going to really care about how fast a bike climbs, or you aren't - I think there are more shades of grey for downhill performance. It's easier to improve your ability to climb on any bike by simply declaring war on gravity: you can either get fitter or lighter. Of course anyone can acquire new skills and learn to be quicker on the way down, but the path to downhill dominance is not as linear - it's tied more closely to a variety of factors including confidence. Feel free to disagree, but I'm happy to hurt a bit on the climb if I know the descent will make it worthwhile, and my bias towards the trails and bikes I enjoy most reflects that philosophy. That doesn't mean I'm content to suffer on a tank, just that it's easier to relax that standard rather than the other one. Thankfully the Sentinel pedals and climbs very well, it's just that I wouldn't like it any less if it didn't, because of what I'll write in the next section about how it descends.
All that isn't very illuminating, though, if you're trying to decide whether to short list this bike. Looking at the numbers, you might think it rides 'big' for me at 6'1 (185 cms) with short-ish legs and a long torso, however it feels anything but big. Perhaps it's the long rear center combined with the steep seat tube, but the XL Sentinel fits me the way you'd want a bike to fit if you had to spend 8 hours a day on it. No funky weight distribution, unexpected pressure points on hands or butt, or undue amount of time to get used to it - with one exception. For the first few rides, I found myself working harder to figure out traction on the rear wheel. I was a bit far forward to keep the front wheel weighted, which would rob the rear wheel of traction in technical sections or steep climbs. That sorted itself out naturally after a short acclimation period, but it was a new sensation, especially with the current crop of bikes that force you to get weight over the front wheel or suffer a floppy front end.
Due to the combination of my leg length and height, I found the STA to be just right for me and finding a solid pedaling position. This played itself out in technical or steep climbs as well as sedate ones and it's not always that a bike works for me equally well in both scenarios.
As much as I appreciated being able to firm up the Fox Float X2 on long or non-technical climbs, in many cases the extra traction afforded by leaving it open was preferable, especially since it didn't seem to punish my efficiency. Whether going up or down the Sentinel is pleasingly progressive but stops short of plush. Whatever a 150mm bike is 'supposed to' feel like, this felt like it: one gooey notch short of languid, in favour of supportive and responsive.
Descending
Wherever the line is for you between an emphasis on pedaling or partying, the Sentinel sits well within the latter's purview. That long wheelbase and slack head tube angle absolutely require a bit of pace to activate, but I didn't feel like I had to be going 'fast' to wring some fun out of it. I may have used the word balance already, but it's striking how much the elongated chain stays meant that the Sentinel felt settled and consistent to maneuver rather than board-like. It is neither snappy nor sluggish, but rather encourages meaningful inputs; under a firm hand it will hold the line you point it down without fuss.
Maybe some prefer the personality of a long front end and snappy chain stays - something like a mistreated mustang with mean streak - but I'm more wheels down than reach for the sky, so I am totally smitten with the Sentinel's generous helpings of traction and stability. Of course I get the wheels in the air occasionally - always altogether too briefly - and whenever I do, the Sentinel's pleasant aerial manners turn it into a "See? we got this" moment. The other told you so moments always came midway down steep chutes or in the middle of off-camber nasties, when letting the bike roll with the benefit of a little faith always resulted in arriving at the bottom with much less drama than my inner demons let me imagine. This just encourages bad behaviour, and then you're reminded that the folks at Transition all know how to dance on two wheels, so it's no wonder this thing is such a good date to bring to a trail party.
Any time I have found myself aboard the Sentinel in a section that tests my ability, it's been easily up to the task. The traction and stability I already mentioned are welcome when the trail tips downward, and in flatter sections they translate into more confidence at speed. There is a crispness to the way it handles big hits, which you can chalk up to its progressive nature, but the end of the stroke comes on like firmly applied pressure, rather than having any kind of plateau in the curve and ramping up quickly. It's a smooth progression that suits the bike's overall demeanor, which I'd call calming rather than frenetic.
Other notes
I've been doing some wheel and tire swapping lately, and it's given me a good chance to figure out some reference points. On the Sentinel, I swapped between two wheel/tire combinations: combo #1 was the Zipp 3ZERO MOTO carbon 29 wheels with Maxxis Assegai up front and DHR II in the back (both EXO+ casing and MaxxTerra compound), and combo #2 was the Enve AM30 wheels with WTB Verdict front tire and Judge in the rear (TCS Light/High Grip for the front and Tough/High Grip out back). In our fall and winter conditions the Assegai in MaxxTerra finds its limit on wet days and will break loose easily from slimy rock, where the Verdict in High Grip offers more hold (so does the new Specialized Butcher). An Assegai MaxxGrip I'm running on a different wheel is top of the heap for grip when the riding surface glistens with moisture. Even so, with a front end that isn't sporting best-in-class grip, I find the Sentinel's stable nature lets you be prepared for a bit of excitement and deal with it without too much fuss.
I'll deal with the Zipp wheels more in depth in a separate article, but I believe they contributed to me realizing that this new Sentinel is a stiffer chassis than the previous one. On occasion the last gen Sentinel would feel a bit squirrelly out back under hard loads in a corner, and I haven't had a single moment like that on the new one. Whether the longer wheelbase changed the way the wheel loads is also a question - keep in mind the wheelbase on the previous bike in L was 1247mm to the 1292 of the XL on the current bike - that's a huge difference that would account for some different feeling forces at play.
The Enve AM30 wheels are a tad firmer than the Zipps, but by no means stiff. They're the nicest Enves I've ridden in terms of feel. Hard to say if the 'ankle' flex design built into the single-walled Zipp rims provides more traction or not, but I'd say that's a testament to how well the Enves ride. Both wheel sets are terrific.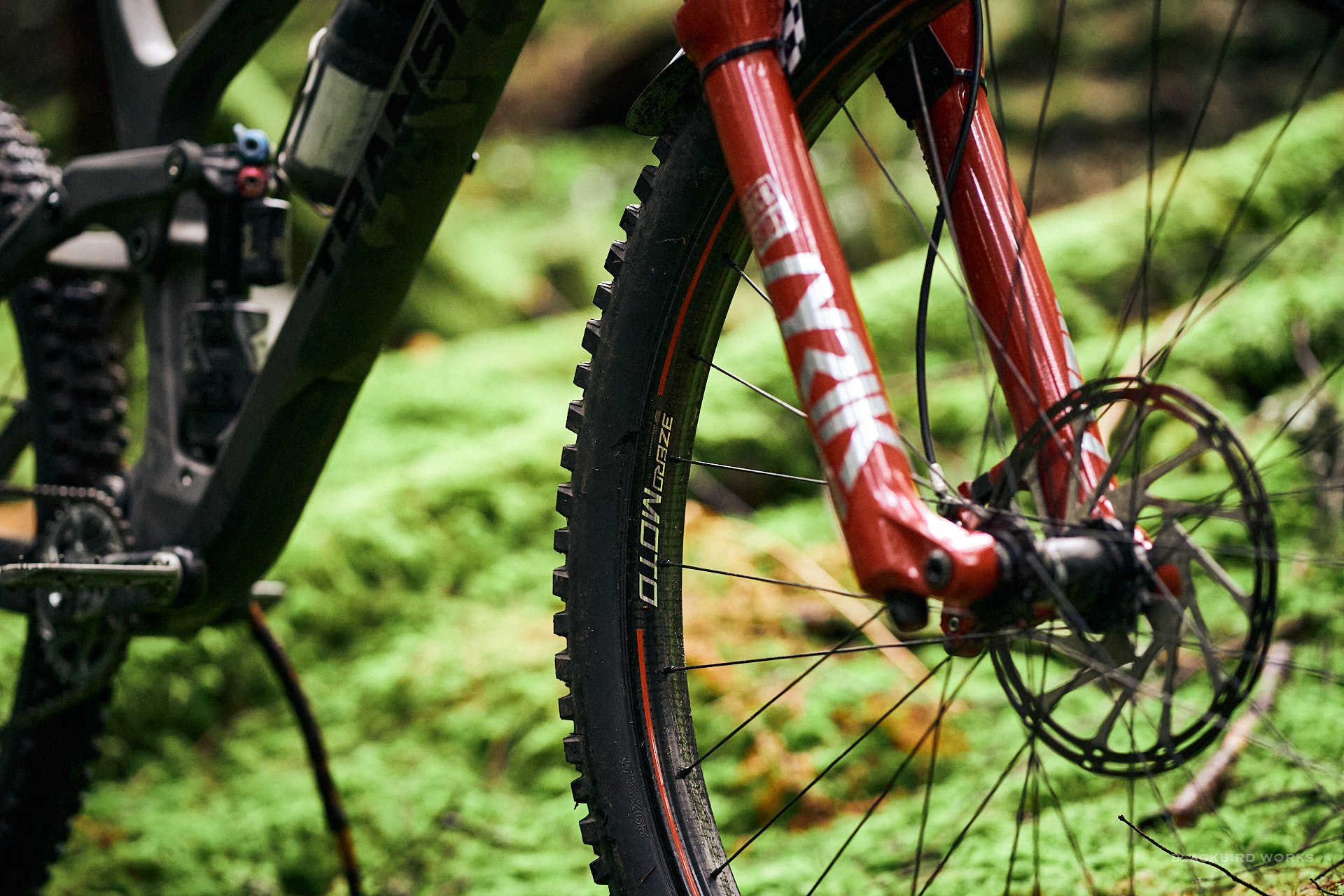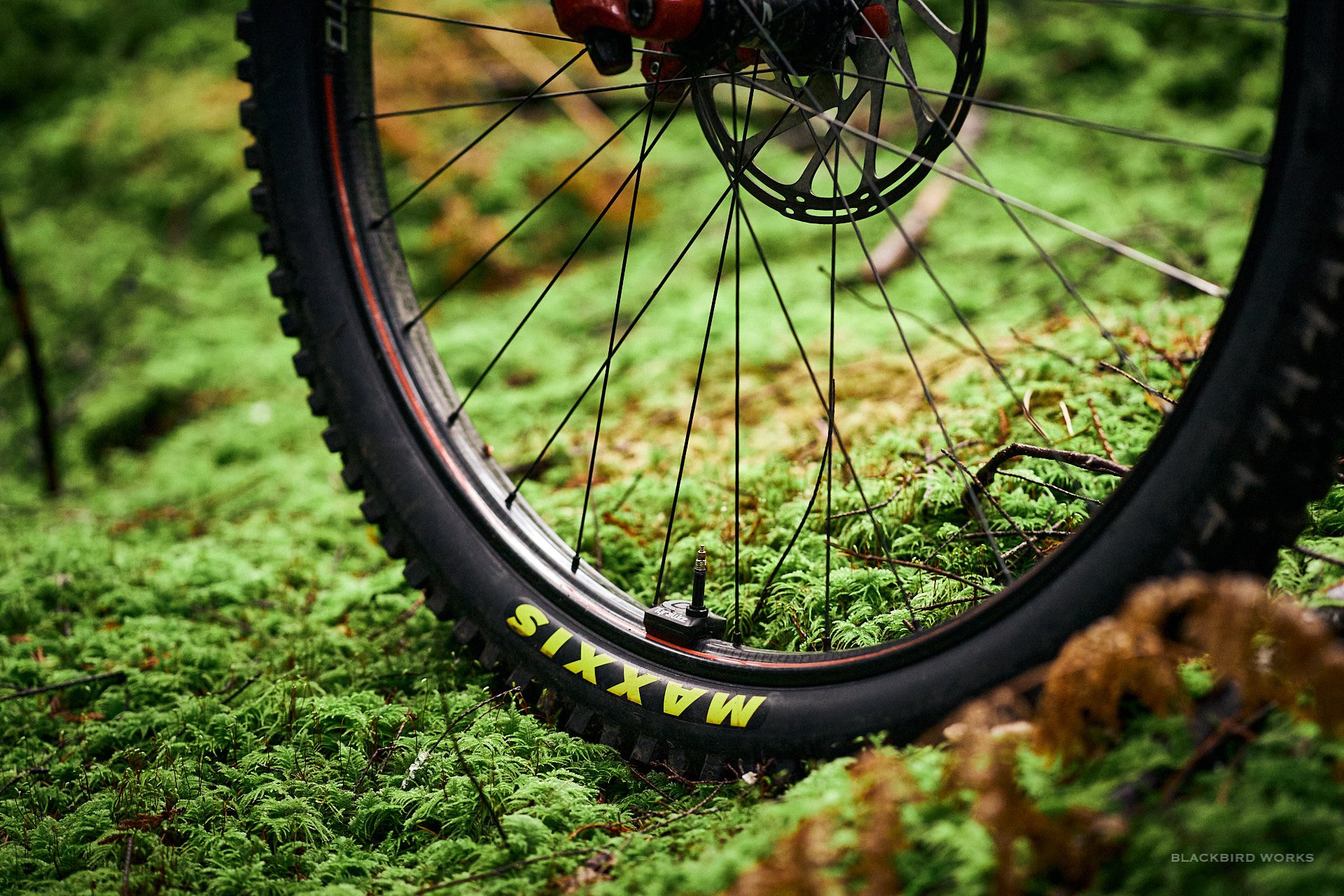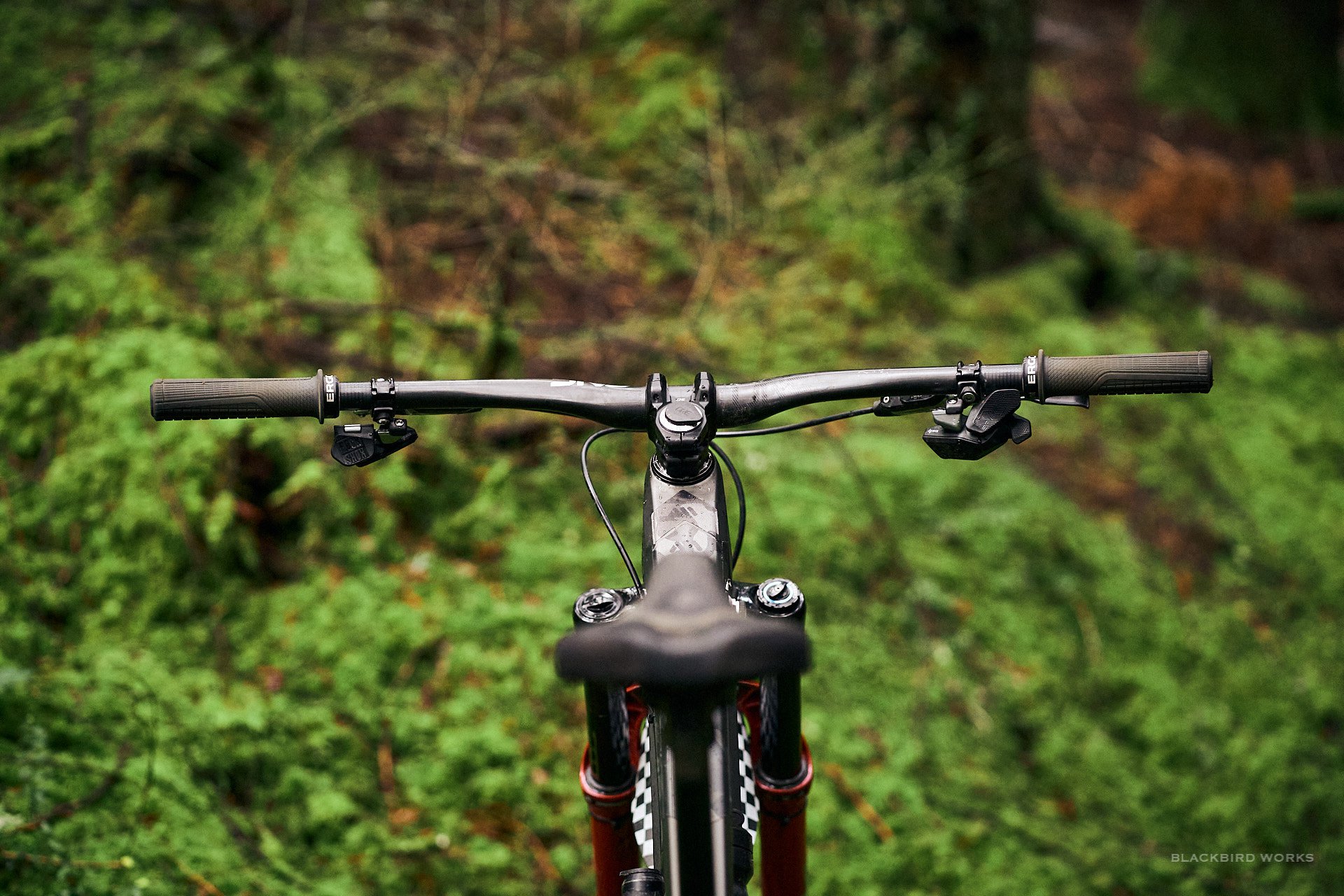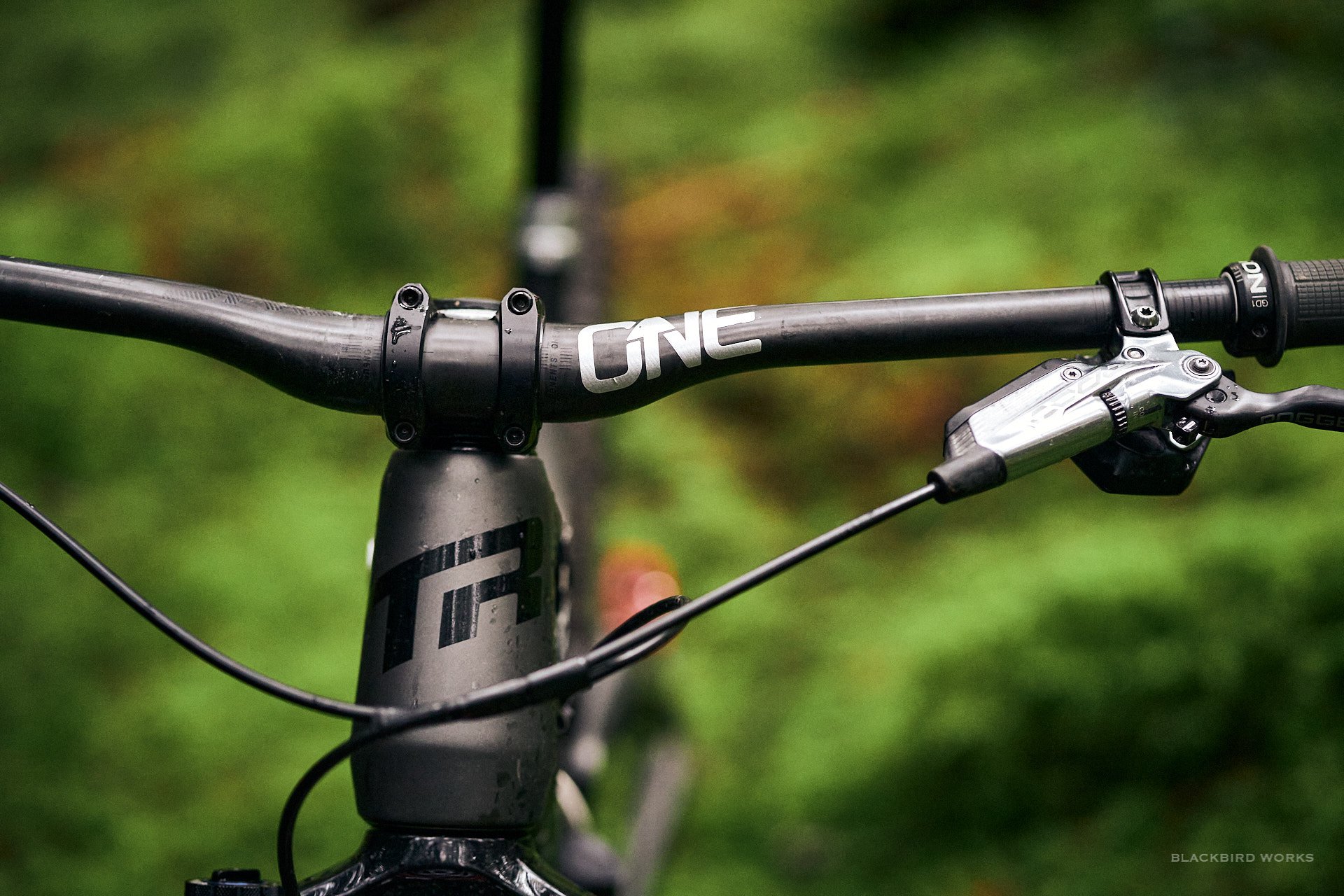 In 2020 Transition rolled out a revised warranty policy, and now all bikes from model year 2020 and on are covered for the lifetime of the frame. They also have a crash replacement policy that covers not only the original owner but secondhand owners as well. The bottom line is that they want riders to feel like they've got your back, so if you ride one of their bikes, they'll do everything they can to keep you rolling, even if your problem isn't covered by warranty. More and more manufacturers are improving the durability of their carbon designs and rolling out longer policies, but Transition's is worded in a way that lets you read between the lines of mandatory legalese and understand that they called it 'We've Got Your Back' for a reason.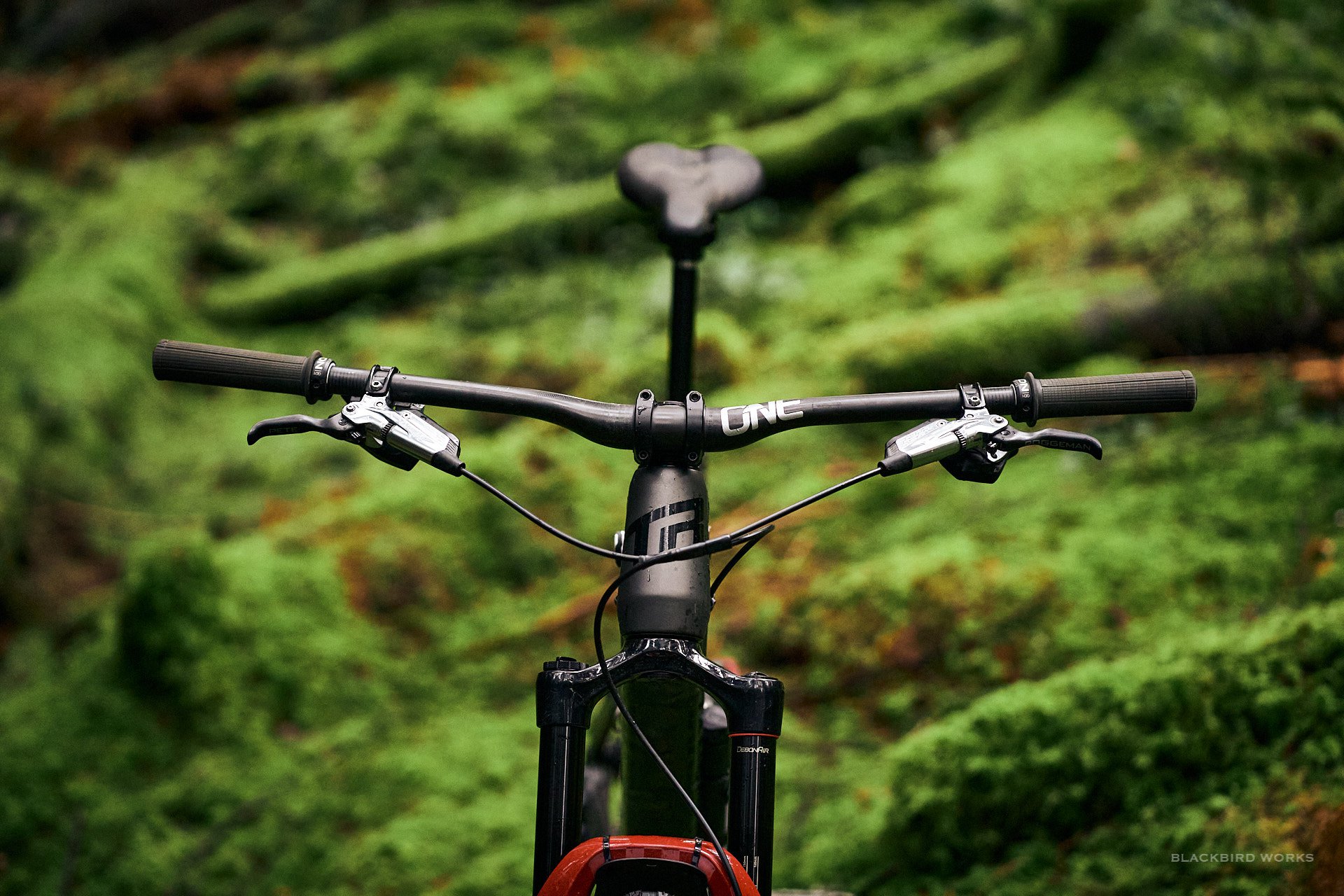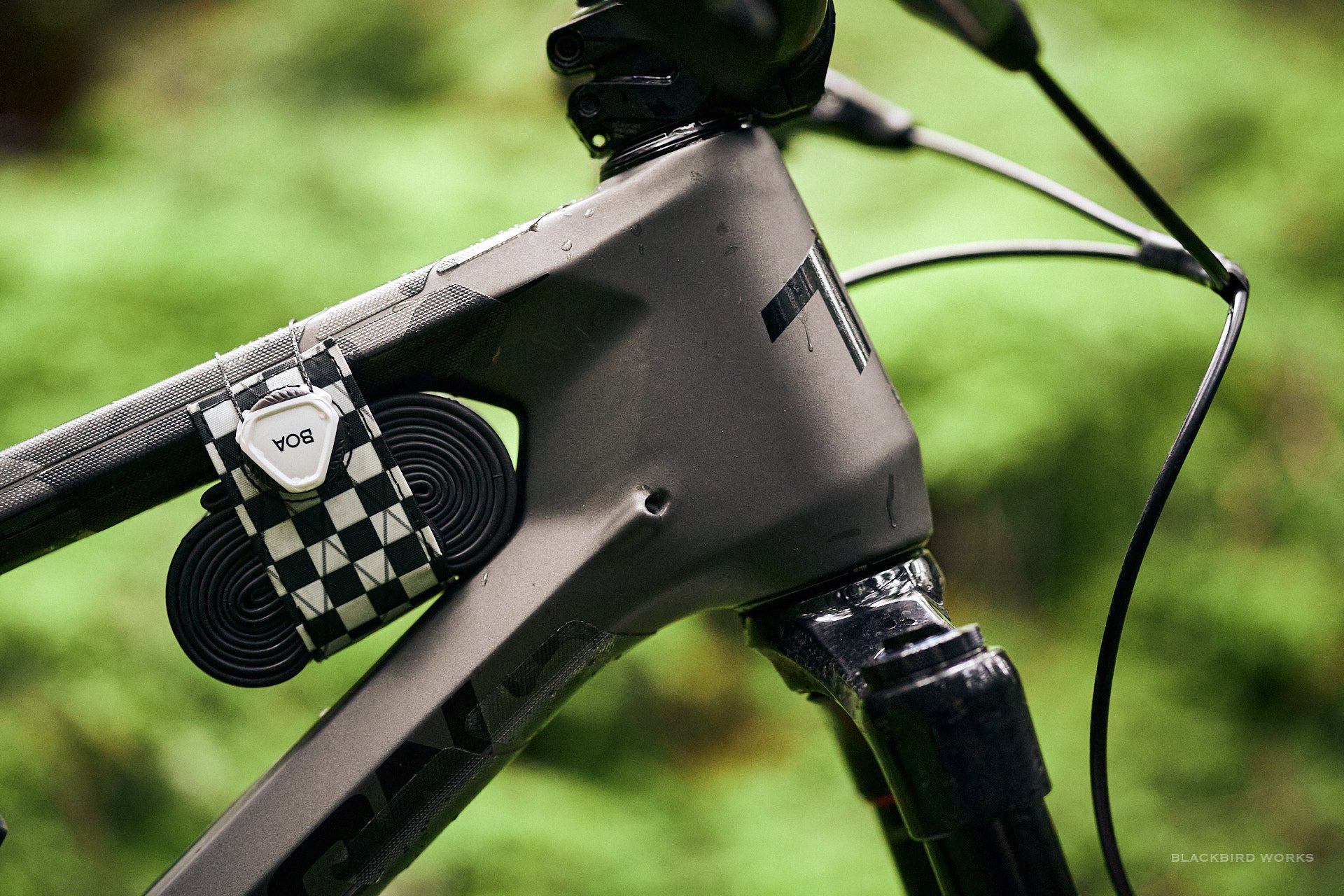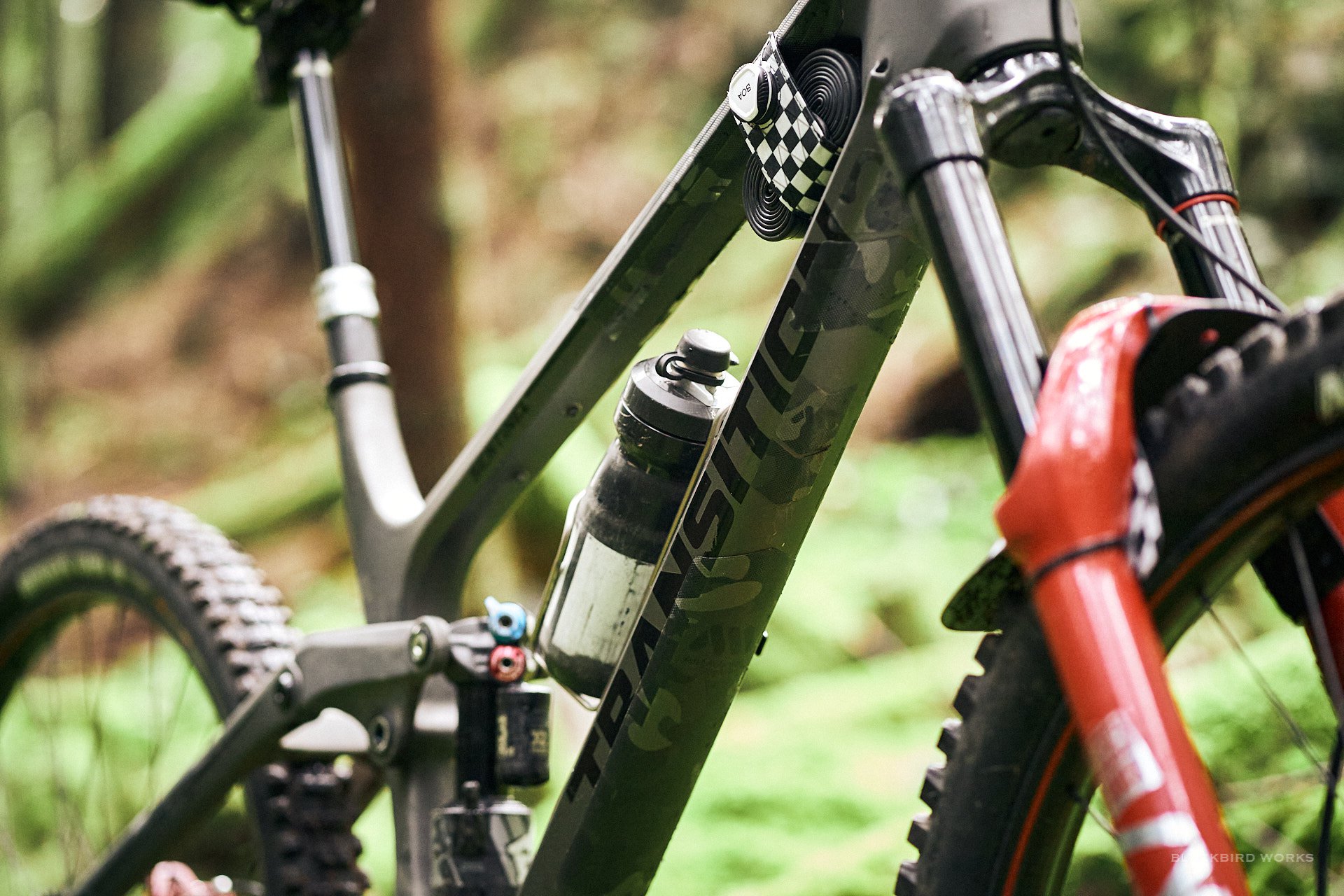 Transition Sentinel Test Bike Specs
Because this is more about the frame than the parts - and it's a one-off build - I'm not going to dissect every piece of the bike. There are some more articles to follow (long-term on the Enve AM30 and Zipp wheels) but there won't be any surprises from the build you see below. I will point out that the OneUp carbon bar is the nicest I've ever used. The vibration damping properties are subtle but apparent if you try it back to back with something else.
FRAME - Transition Sentinel Carbon 150mm travel (can be run at 140mm with a shorter stroke shock)
REAR SHOCK - Fox Float X2 Performance Elite
FORK - RockShox Lyrik Ultimate 160mm Travel/42mm Offset
HEADSET - Cane Creek 40 Series
STEM - OneUp EDC stem, 35mm
HANDLEBAR - OneUp Carbon Bar (800mm)
GRIPS - Ergon GE1
SADDLE - WTB Koda
SEATPOST - RockShox AXS Reverb 175mm (note dropper sizes on Transition builds: S: 150mm, M: 180mm, LG/XL/XXL: 210mm)
BRAKES - SRAM Code RSC
ROTORS - SRAM Centerline (200mm front and rear)
SHIFTER - SRAM X01 Eagle AXS (w/ updated rocker paddle shifter)
DERAILLEUR - SRAM X01 Eagle AXS
CASSETTE - SRAM XG 1275 (10-52t)
CHAIN - SRAM GX Eagle
CRANK - SRAM X01 Eagle Carbon DUB (30t)
WHEELSET #1: Zipp 3ZERO MOTO carbon 29 // #2 ENVE AM30 (i9 1/1 hubs)
TIRE/FRONT #1: Maxxis Assegai 3C MaxxTerra EXO+ (29.5 x 2.5) // #2 WTB Verdict 29 x 2.5 TCS Light/High Grip + Slash Guard
TIRE/REAR #1: Maxxis Minion DHRII 3C MaxxTerra EXO+ (29.5 x 2.4) // #2 WTB Judge 29 x 2.4 TCS Tough/High Grip
WEIGHT: 14 kg // 31 lbs
It's easy to understand the obsession each of us have with finding the best bike for us - but that's a different animal than the one bike that can do it all trope, and you know what? We should be ok with that. In bikes and other things, I think we can all agree that life is full of compromises and it's ok to accept the fact that one bike is going to have strengths and weaknesses. This is not simply a trail bike, and it's not just an enduro bike. It's both for some, but neither for none. It's a Sentinel, and while some bikes spend a bit of time searching for an identity, that is not the case for Transition's longest-travel 29er. There are longer travel 29ers out there, and if outright downhill performance is the only thing you care about, they may be a better choice, but it depends on how you like your millimeters to work for you. The Sentinel was never outclassed by the terrain on the North Shore, including some very steep and nasty trails that are at the edge of my ability. If you prefer a bit more responsiveness in a smooth-riding package that won't hold you back and tends to shed singular labels, the Sentinel could be the choice for you. Just act fast if you see one on a shop floor, because they're completely sold out at Transition.com.