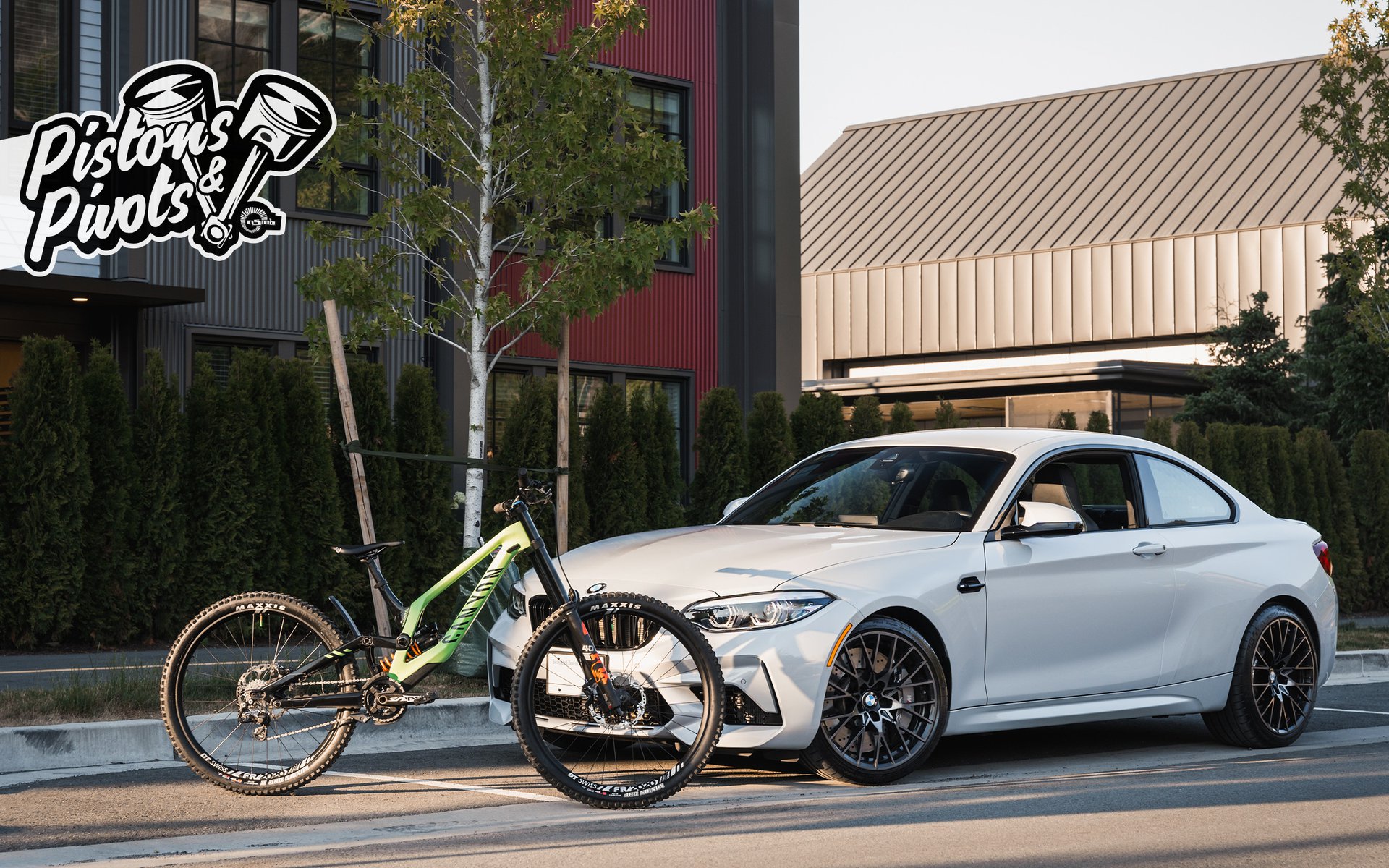 Pistons & Pivots
Genevieve Demer's "Compact & Sexy" BMW M2 & Canyon Sender MX
Presented By

Pistons and Pivots features cool vehicles with character, and a little about their owners and the bikes they ride.
If you've got a vehicle and bike that fit the series, we'd love to help you share them with a wider audience, and you can take a crack at winning some prizing from Maxxis (tires are hard to come by in the days of Covid, so Maxxis has kindly offered to pay for two trail association memberships - one for you and a friend or two for you!).
You can enter in one of two ways:
Send photos and articles to submissions@nsmb.com. Make sure to include 'Pistons and Pivots' in the subject line.
Or simply post a few vehicle and bike photos and details to Instagram and use the hashtags #pistonsandpivots and #nsmb.
We'll pick a few winning submission and feature them on the site, and the person that submitted it will earn a membership to their local trail association as well as one other (for another trail association or to share with a friend) courtesy of Maxxis.
---
Take a hyperactive young lady from Lac Beauport, Quebec and introduce her to bikes. Toss in skiing from an earlier age and it's not hard to see how Genevieve Demers ended up on Canada's West Coast, within an hour's drive of Whistler.
But there's more to Genevieve's passion for bikes and skis than simply access. Genevieve was fortunate to have school sports programs for two afternoons of the week that involved skiing in the winter and bikes in the summer. Her strong grades made it possible to take part in the programs and the passion grew from there. She remembers those sports afternoons fondly. Being able to burn some of her energy with something fun and rewarding while outside in the woods, is something we can all relate to.
Genevieve's partner introduced her to the riding at Mont Sainte Anne bike park and after that, the sport hooked its talons in firmly. Before MSA, Genevieve's favourite riding was a muddy, technical and rocky trail behind her local hill but there was no chairlift access. The experience in MSA led her to move west, settling in Squamish in 2003 rather than Whistler because the rent was more affordable. Squamish also kept her close to the city, which she also enjoys.
But how does an active gal, always outside skiing or biking get drawn to cars? For Genevieve, the first hint of an interest in cars came from watching James Bond movies and F1 races with her father. They were also fans of shows like Top Gear, all of which explain her affection for nice fast cars, and her desire to get into an Aston Martin or Ferrari someday.

"Definitely Aston Martin and Ferrari. Everything compact and sexy." – Genevieve when asked about other cars that interest her
Genevieve's "Compact & Sexy" BMW M2 Competition Coupe
Genevieve's BMW M2 Competition perfectly fits her interest in compact and sexy cars. The slender lines of the small-bodied BMW have just the right amount of edge to give the required attitude of a sports car, and it stands strong on the road, despite its relatively small size. The M2 also has more power than her previous cars, including the similar-looking M235i.
The first BMW experience came in the form of an E46 330ci that set her back $7K. Genevieve says the car was a dream to drive and she was hooked right away. Following that, the move to a BMW X5 raised her standards for interior accessories, something she's found the sport models have fallen short on. But the X5 wasn't practical for their huskys and was switched for a truck. The desire to drive something fun remained and another car was bought, while the truck was kept for transporting bikes and dogs.

"We had an E46 330ci to start. $7K, it was a dream, I was hooked right away. I had no idea, a car could behave that way but still feel safe at the same time." – Genevieve Demers
When BMW released the M235i Coupe, Genevieve couldn't resist and in 2016 she jumped into one. They were more affordable but still provided the sharper driving characteristics she wanted. Genevieve kept that BMW for four years but after a test drive in the M2 – one that involved some speed and highway off-ramps to test the handling – it was traded in. There's a fascination with BMWs beneath her cheeky grin.
Many of the previous BMWs Genevieve owned received updates to help them perform how she wanted but for the M2, everything has been left stock. Genevieve informed me that a few influential car experts she follows have suggested it may become a collector's piece in years to come, and original collector cars can be quite valuable. That also suggests that her desire to update the car may have come to an end but I wonder what would happen if something equally appealing came up? Perhaps the Tundra she shares with her partner would be swapped in favour of keeping the M2?
Genevieve's Mixed-Wheel Canyon Sender
Genevieve's interest in nice vehicles that unlock speed extends to her bikes as well. After a year away from the Whistler Bike Park in 2020, she's jumped back in but needed a new bike. After reading solid reviews, she was interested in the Canyon Sender but Genevieve didn't commit until Canyon became available in Canada. It sounds like the purchase has been a good one, with Genevieve commenting on how comfortable she immediately felt on the bike, despite a year of not riding park.
The bike has seen several updates to align it with her preferences and there are more likely to come, with room to improve the suspension to better suit her. Currently, a OneUp Carbon handlebar, Renthal 40mm stem, push-on ODI Longnecks, Maxxis Minion DHF and DHRII tires, and TRP brakes have replaced the stock parts. Genevieve is pretty excited about the bike's adjustability and after some testing, has found the reach in the middle setting perfect, with the long chainstay for the smaller 27.5 rear wheel.
Genevieve seems happy with her current car but something tells me her desire to drive an Aston or a Ferrari may one day spur things beyond the M2. That's not to say she'll buy one of those, but if the chance to drive one presents itself, Gen's not going to turn it down. It's pretty impressive how nicely a stock M2 comes together, and the sound it makes, especially after the cold start, ugh, so good. It's refreshing to meet someone in my hometown of Squamish who has a passion for cars rather than simply lifted trucks. As Gen says, the Sea To Sky highway is such a nice drive, especially when you have a car like she does.