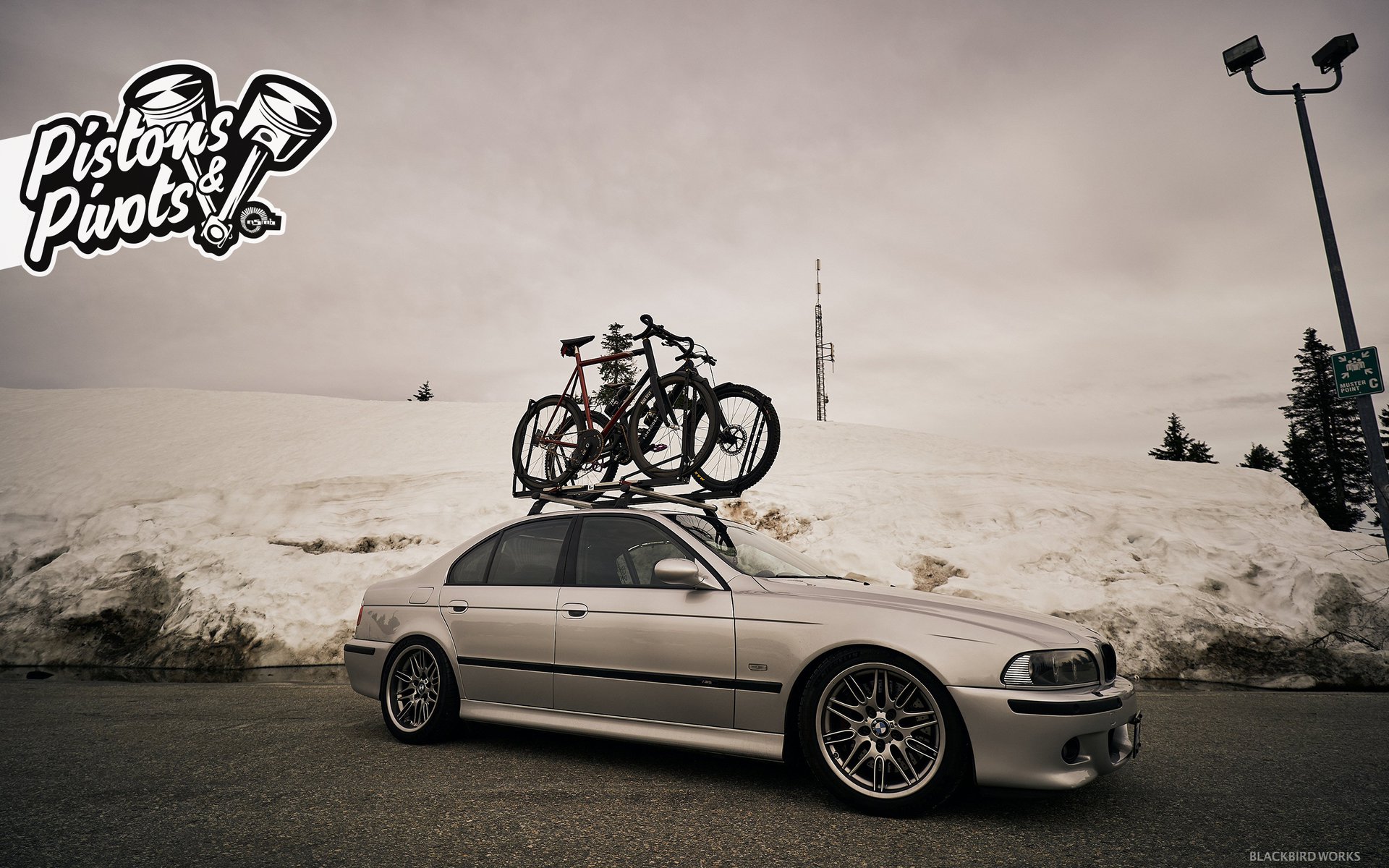 Pistons & Pivots
Konrad Kaminski's BMW E39 M5 & Forbidden Dreadnought
Presented By

Pistons and Pivots features cool vehicles with character, and a little about their owners and the bikes they ride.
If you've got a vehicle and bike that fit the series, we'd love to help you share them with a wider audience, and you can take a crack at winning some tires from Maxxis.
You can submit your photos in one of two ways:
Send photos and articles to submissions@nsmb.com. Make sure to include 'Pistons and Pivots' in the subject line.
Or simply post a few vehicle and bike photos and details to Instagram and use the hashtags #pistonsandpivots and #nsmb.
We'll pick a few winning submission and feature them on the site, and the person that submitted it will earn a membership to their local trail association as well as one other (for another trail association or to share with a friend) courtesy of Maxxis.
---
Deniz Merdano / NSMB: Hi Konrad, Tell us a little bit about yourself.
Hi! Oof, what is there to say? I'm a grown up kid who has yet to grow up. I like bikes, cars and music. I have a small but close knit group of friends that luckily all enjoy biking in some way or another. Just trying to figure out this puzzle called life.
The M5 is a stunner. How did you two meet?
The first time I saw an E39 M5 was back in high school in the BMW Films with Clive Owen, specifically the Madonna film. A V8 in a handsome sedan that can smoke tires, what's not to love? Ever since it was in my ever expanding dream car list. Fast forward many years and I'm in the automotive industry. A co-worker that became a friend, Davin, owned an M5. He kept teasing me the car until eventually the stars lined up and I bought it. He had most of the work and mods done that I would have wanted to do, it was in great condition and the price was right. Pre-covid times, it made for an awesome, fast and comfortable shuttle. 3 bikes, 2 friends and all smiles.
Do you have a history of driving fast cars?
This is my first fast car, and only my second car! My first car was a 2001 530i M-Sport which has enough oomph for a first car. I learned to drive manual in it. Bought the M5, sold the 530i. It took me a while to get used to how much more power it had. I still take it very easy as the consequences are not worth the glory.
Do you track to or planning on tracking the M5?
It hasn't been on the track yet but it will be at some point. I want to be able to see what the car can do on the track and learn the limits of both the car and myself. Since it is quite a heavy car, wear and tear is going to be pretty hard on the tires, brakes and suspension. Track days will be only every so often. I think it's also very important to be able to push the car to and beyond the limits to understand how and why things will happen. There's so much to learn and it can be easily applied to daily driving making one a much safer driver.
Konrad's BMW E39 M5 Build:
M5: (* denotes what I have done)
KW V3 coilovers*
Dinan front and rear strut braces
Turner Monoball thrust arm bushings
New factory suspension bushings throughout
Dinan adjustable sway bar on the rear
20mm spacers* on the front and 10mm on the rear
Michelin Pilot Sport 4S tires*
Stoptech Trophy ST40/ST20 big brake kit with Stoptech Aerorotors and Stoptech braided lines*
Dinan air filter and intake
Mass air flow sensor delete
Evolve Alpha-N MAF-less tune
Super Sprint headers and X-pipe
Eseinmann race exhaust
CSF Tricore aluminum radiator
Electric fan conversion
Rear differential mount reinforced and aluminum bushing
E60 shifter (acts like a short shift kit)
UUC double shear selector rod
Euro lower dash (more legroom for the passenger)
E46 M3 Competition alcantara steering wheel*
Gauge cluster with black background and new LED's
Euro headlights and tail lights
Eonon head unit*
BMW factory roof rails and 1-up roof racks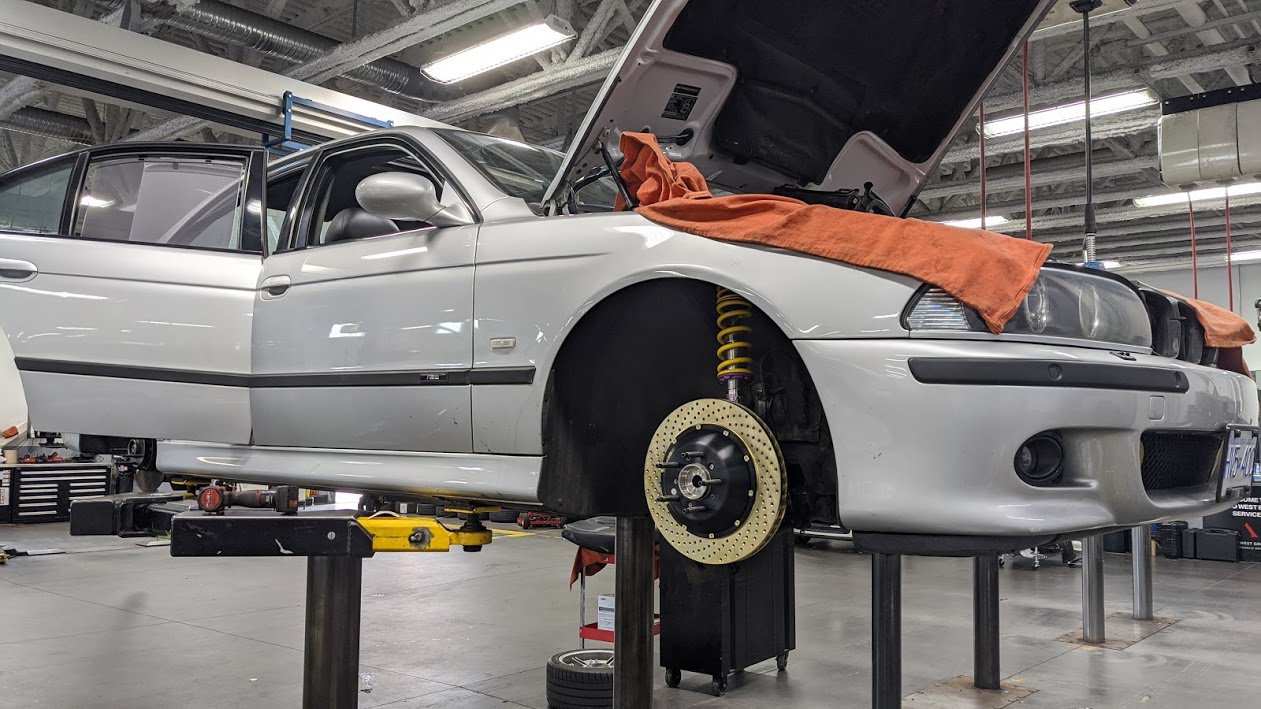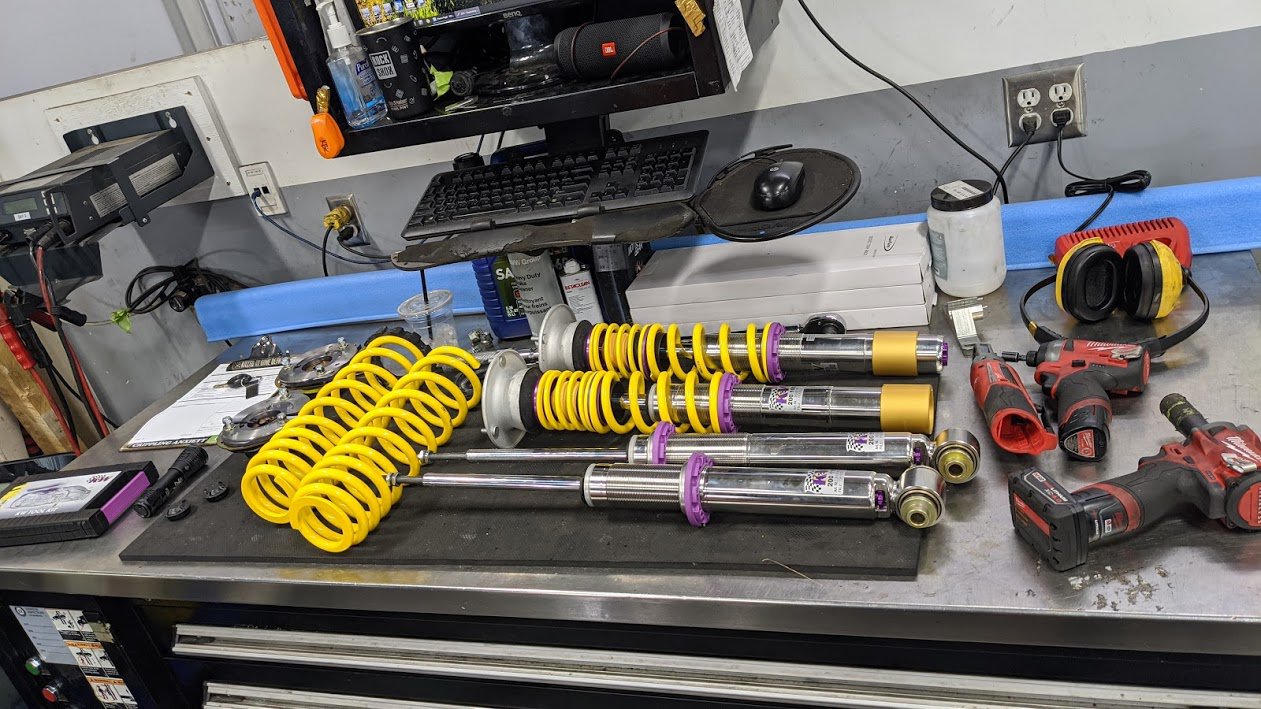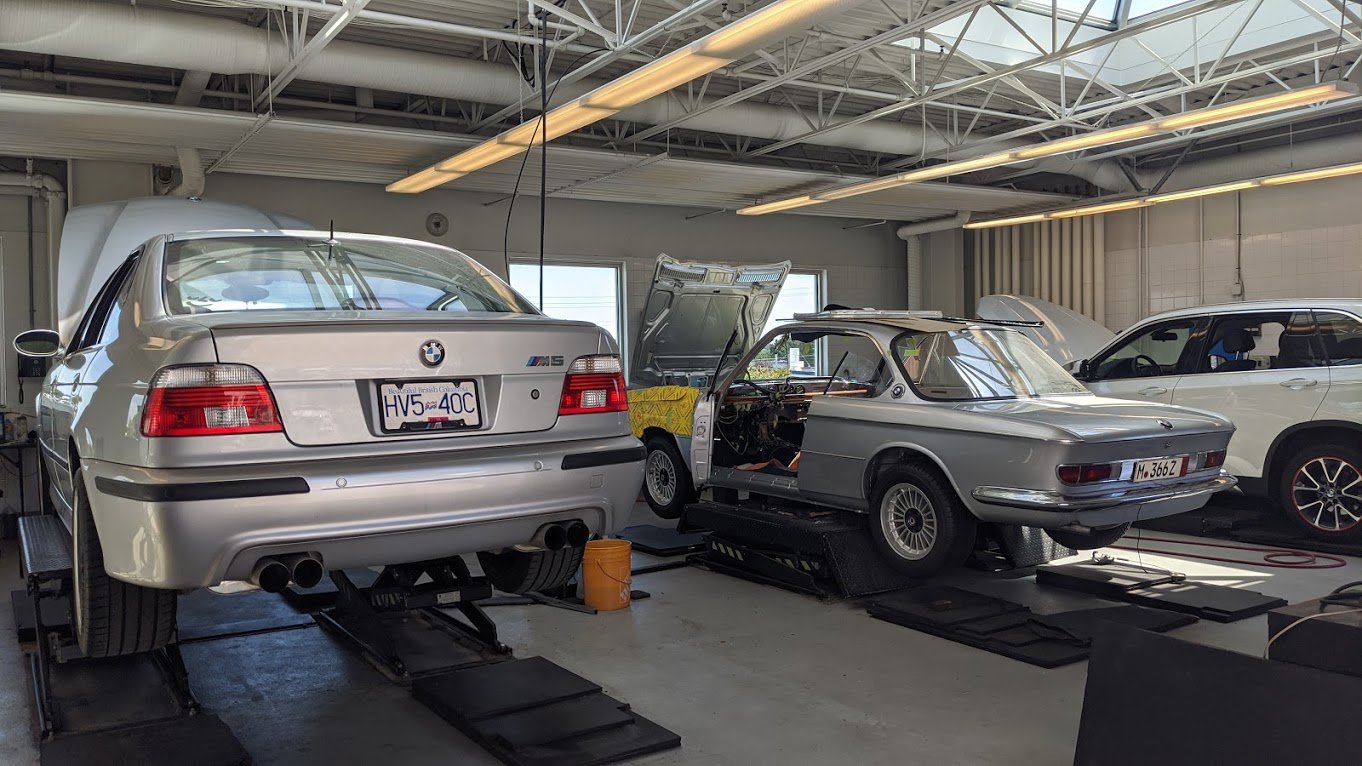 How do car and bike culture intersect for you?
Cars started when I was a baby and my mom started to buy me little toy cars. From then on it was an obsession. Collecting Hotwheels, building LEGO garages, tracks and cars, studying and reading car books, memorizing stats, video games, even writing a book report on the Dodge Viper in grade 3!

Biking is a similar story, mom got me into it. We'd regularly go for walks to the park and I'd ride jumping this and that. In high school, realising how expensive cars are, growing up in an apartment with no garage, I focused more on bikes. For my 14th birthday, mom and I split on a 2003 Norco Sasquatch and that's where it grew. Mom (there's a trend here, thanks mom!) even helped me get my first job which happened to be at the bike shop that I bought my bike. I became a mechanic and served almost 11 years. Made my closest lifelong friends through that experience.
Cars and bikes intersect for me because they are machines that I can tinker with and customize. I like the melding of personality of the owner and the machine. The act of working on them is very relaxing for me, particularly on bikes.
What bikes are in your stable?
A lot. Kelly Bedford custom build titanium fixed gear, Forbidden Dreadnought, Trek Emonda, 1992 Rocky Mountain Experience, WeThePeople Sleepless street BMX, FBM Bitchin' Camaro race BMX, NS Bikes Decade dirt jumper, Osca Japanese track bike, Santa Cruz V10 gen3 skibike. That's what is current, there's been a few more that have come and gone.
Tell us more about the Dreadnought and the Custom Fixie builds
The Dreadnought is my enduro/freeride bike. I like the way high pivot bikes felt as I previously had an Orange 223 and a Morewood Ndiza 4x. I also believe in proportionate front/rear centres. This just felt like a natural fit for me. All the parts were previously on a 2017 Trek Slash. They were upgraded over time as things needed to be changed for fit, learned that certain parts didn't quite work with me, or a deal came up. The build kit has been extremely reliable for me. Coil fork for reliability, small bump compliance, and minimal maintenance. I've kept with the 11-speed as I see no reason to spend a ton of money on a whole new drivetrain that is going to be heavier unsprung mass, a longer derailleur, all just to get a 50t cog. The 42/28 is close enough and at this point the only thing holding me back is the tires and my legs. No real modifications done on the bike yet, still figuring things out on it. A longer rear fender is in the works and I may consider removing the lower guide for a little less drag and noise.
My fixed gear is a full custom frame built by Kelly Bedford. One of my closest friends, Andrew, is friends (and old coworkers from Serotta) with Kelly. I rode fixed for a few years prior and wanted the ultimate fixed gear road killer. Big grueling climbs, long epics, fast and sharp handling through traffic, the ultimate bike. I've never sat on a bike first-time and felt instant connection and comfortable familiarity before. I can hop on it any time and just let go and be in the moment of riding.
Konrad's Forbidden Dreadnought:
Öhlins RXF36 coil fork
Push 11-6 shock
Chromag BZA 35mm rise handlebar and 35mm reach stem
Wolftooth spacers, 15mm
Hope headset
Profile BMX genuine faux alligator saddle
OneUp 210mm post
Bontrager Line Pro 30 wheels with extra springs/pawls
Maxxis Assegai EXO+ MaxxGrip
Maxxis DHRII EXO+ MaxxTerra
Rimpact inserts front and rear
Shimano XTR M9120 brakes
Magura MDR-P 220mm rotors
SRAM X1 shifter with Wolftooth adapter for IS-EV
Wolftooth dropper lever and adapter to IS-EV
SRAM X1 rear derailler
SRAM XG-1199 42t cassette
KMC X11SL chain + 3 links
Chromag 28t chainring
SRAM XO1 Eagle GXP cranks
Chromag Dagga pedals
Wolftooth accessory strap
Skingrowsback bag
Supacaz cage
OneUp pump with tool
Can you share your settings and mods for the Forbidden?
Brake levers have progressively gotten flatter as the trails have gotten steeper. I like them close to the first finger joint as it requires less strength which in turn means less hand fatigue and arm pump.
The fork is stock spring, wide open compression and rebound. The shock has been creeping closer to wide open. At the moment it is 15 clicks HSC, 14 LSC, 15 rebound. Still experimenting, learning and comparing.
Rimpact inserts front and rear as they are some of the lightest ones. EXO+ tires as I am fairly light on my bike. 18/22psi in the cold and wet, 22/25psi in the warm and dry. Line Pro 30 wheels with the extra springs and pawls to double the engagement.