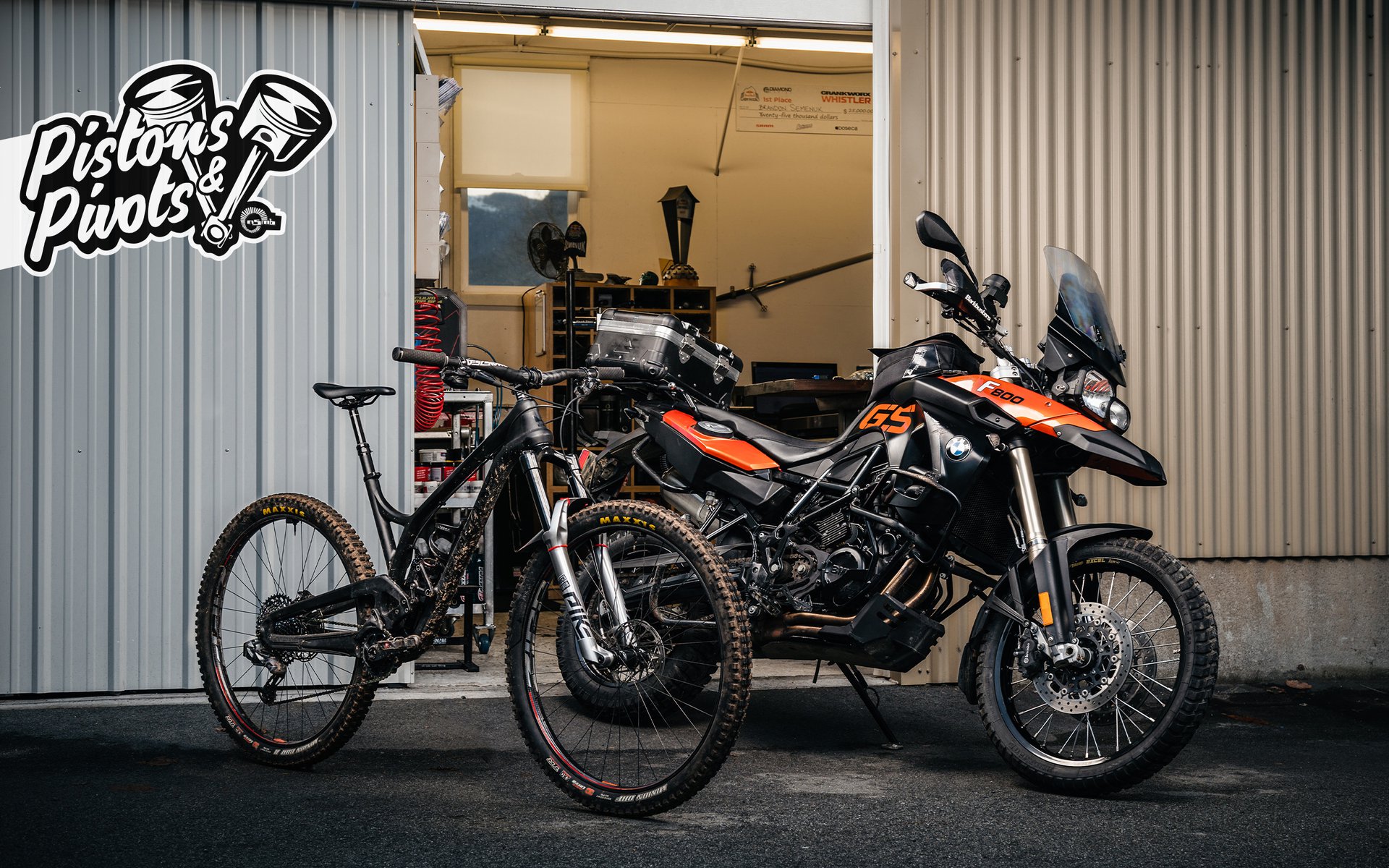 Pistons & Pivots
Shawn Cruickshanks' BMW F800GS & Evil Offering
Presented By

Pistons and Pivots is presented by Maxxis. Every second Monday, we'll present a new round of Pistons and Pivots which features cool vehicles with character, and a little about their owners and the bikes they ride.
If you've got a vehicle and bike that fit the series, we'd love to help you share them with a wider audience, and you can take a crack at winning some tires from Maxxis.
You can submit your photos in one of two ways:
Send photos and articles to submissions@nsmb.com. Make sure to include 'Pistons and Pivots' in the subject line.
Or simply post a few vehicle and bike photos and details to Instagram and use the hashtags #pistonsandpivots and #nsmb.
Once a month, we'll pick a winning submission and feature it on the site, and the person that submitted it will earn a fresh set of tires for their bike, courtesy of Maxxis. At the end of six months, we'll pick a grand prize winner, who will walk away with Maxxis rubber for the vehicle they submitted for Pistons and Pivots!
---
---
Fluid Function
Shawn Cruickshanks is the mechanical mastermind behind Fluid Function, a Squamish based RockShox/SRAM service centre going on eight years old. He's been involved with SRAM for 12 years and today he helps their marketing and race departments, which sees Shawn wrenching at Crankworx events and Rampage. He's also Brandon Semenuk's mechanic. But his start with bikes came from the roady side, and as a kid, he worked at a local shop to keep himself "in tubulars."
While Shawn got his first mountain bike in the mid-80s, a move to Whistler in the early-90s saw him trade the skinny tires for knobbiest full time. Influenced by the likes of John Tomac, the appearance of Shawn's early bikes differed greatly from his modern builds. He admits to being a massive nerd and in the early days that translated into some awkward bike setups – the sort that shouldn't have been as fun as they were. Despite what seems like an attempt to sabotage his joy on the bike, the bug stuck.
Shawn's 2011 BMW F800GS Motorbike
Like cycling, Shawn's obsession with motorbikes started at an early age. As a kid, he was fortunate to have a Honda XL 125 and he fondly remembers giving it a thrashing. His early memories include trying to keep up against friends on proper motorcross bikes. It seems Shawn has been thrashing bikes beyond their intended use since the early days, and both his BMW moto and his bicycles are regularly subjected to challenges above their weight class.
The BMW F800GS is considered an adventure bike, making it capable on either dirt roads or bitumen, but he admits while it's good at both, it does neither great. Like so many vehicles set to tread a thin line between on and off-road capabilities, the result is one hampered in both. But while this is the case, Shawn isn't afraid of long highway miles on the bike and had planned to drive it to Rampage the year he purchased it. Unfortunately, terrible weather cut the trip short.
Although Shawn originally purchased the BMW as his one do-it-all-bike, he's since obtained a 2005 Honda CRF 250X that serves most of his offroad adventure needs. But the Beemer is still the perfect toy for large single-day rides. When Shawn has time he'll head up to the Bralorne/Goldbridge and Lillooet area and will run down the Indian Arm, the Ashlu or Elaho – each closer to home.

2011 BMW F800GS Highlights
800cc motor that produces 85hp
21-inch front and 17-inch rear wheel
Rekluse inertia clutch installed
Custom exhaust
Custom bashguard for the engine
Custom adjustable windscreen from Britannia Composites
Machineart Moto Mudsling
Shawn added a device to produce richer fuel injection.

He did this to smooth out throttle response.

The bike had done 26,000km when shot
Shawn purchased it with 9,000km three years ago

I went up the Ashlu Valley in the fall a few years ago – we had just had some really big rains – and I was in a part of the valley where the left side is really steep. I was looking up – it's really nice up there, anyway, I came around a corner to discover that the road was gone – washed out. I would have been ok if I rolled into it – it wasn't that deep, maybe 3–4 feet – but I would have had a hard time getting the bike out and I was solo – would have been a long walk… So I ended up grabbing a handful of brake and washed out – engine guards did their job and the bike was intact (bent the bar a little). I broke my wrist but it was a minor break. – Shawn Cruickshanks

I use it for exploring, running around, it's a great daily driver – going anywhere on a moto feels like a little adventure. – Shawn Cruickshanks

I sometimes forget to turn the ABS off riding offroad – that can be an exciting surprise descending in dirt. With the Rekluse clutch you can lose engine braking if you have let the engine rpm drop or if you've held the clutch in for a while – just needs a little throttle blip to bring it back though. – Shawn Cruickshanks
Shawn's Evil Offering
Being involved in the bike industry, Shawn's bike history covers almost everything under the sun. More recently he spent time aboard different Trek bikes but an Evil experience excited Shawn, so he chased one down.The days of awkward setups have been replaced by some of the most dialled rigs I lay my eyes on each year. As an integral piece of the SRAMily, Shawn's bikes are often built with the best parts available from the brand. But it wouldn't surprise me to learn of a secret bike somewhere, equipped with prototype or pre-production parts that he only rides under cover of darkness.
Shawn's a fan of sure-footed short-travel bikes – much like Cam discovered in 2019, they can provide a sensational ride experience. Shawn's affinity for this type of bike isn't surprising considering his youthful adventures pushing machines into unfamiliar scenarios. His Offering came equipped with SRAM gear but Shawn added the AXS electronic drivetrain, 3Zero Moto wheels and has tinkered with the shock, as well as adding a MegNeg air can. He's torn between the Pike and the Lyrik and while the Pike has worked great, he may try a Lyrik in future.
Perhaps the most interesting part choice is the 2020 Reverb Stealth over the simplicity of the AXS Reverb. Shawn's built heaps of bikes over the years and he's happy to see cables go bye-bye because of it. But the shifting functionality is what tipped him in the direction of AXS on his bike. There's been no reason to swap the Reverb Stealth the bike came with but when he has to remove it for a service, an electronic version may take its place.
The Evil Offering Highlights
Size Large
SRAM AXS Drivetrain
RockShox Reverb Stealth
RockShox Pike
RockShox Super Deluxe, 'tinkered with' and swapped to the MegNeg air can
SRAM G2 Brakes
Classic Maxxis DHF front, DHRII rear tires in the 2.5/2.4 WT carcass
Chunky SRAM lock-on Grips

[I] Love my AXS. I've built a lot of bikes over the years and ran a lot of shifter cable – I don't miss it, especially with bikes that have difficult routing. Aesthetically, I like the cleaner look without cables and the function is amazing. Having said that I'm running the C1 Reverb with a cable – I might swap it out for the AXS. – Shawn Cruickshanks

I'm a fan of the sure-footed, shorter travel bikes – pedals great but still capable in most terrain. – Shawn Cruickshanks
I've known Shawn for more than 10 years and while we've shared many a great chin-wag, something rang true working on this feature that I hadn't picked up on before. He has a tendency to push his bikes for everything they've got and I have to admit, it is quite enjoyable riding at a bike's limit, which is perhaps what Shawn gets from this.
The Beemer is a different story though. What was going to be his one-for-all ultimately means it will be pushed out of its comfort zone by the rider at some point. Shawn has set it up more for off-road, with the dirt grade tires but he hasn't gone over the top – there are far more purposeful tires for off-road use on this bike. Now that he has the jazzed up Honda CRF 250X, the dual sport sees only lighter duty off-road action so the next tire change may swing back to more hardpack and bitumen?
If you want to see Shawn smile ask him to start the BMW. I don't think I've ever seen him that happy at his shop.