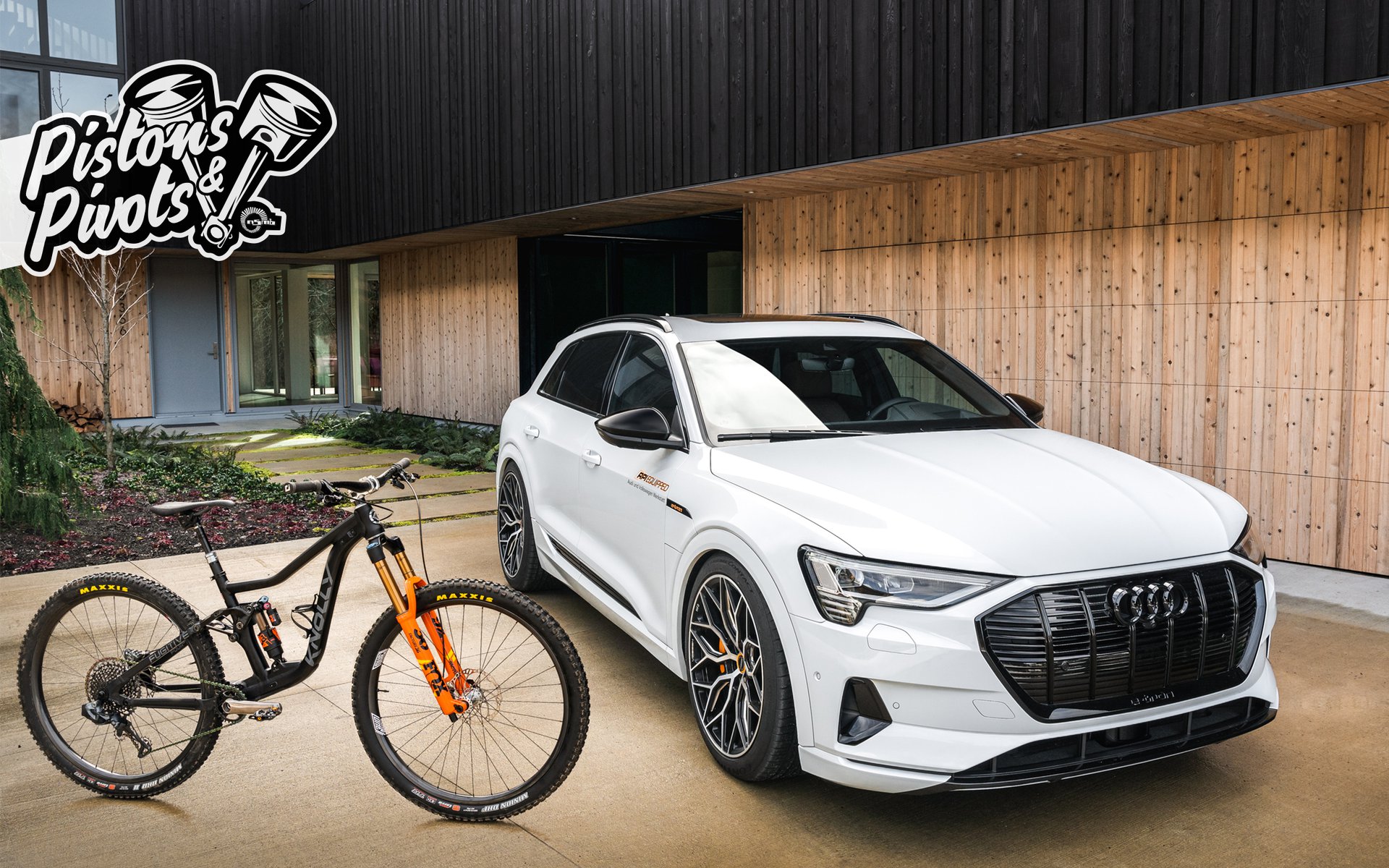 Pistons & Pivots
Warren Goodman's Custom Audi e-tron & Electric Shifting Knolly Fugitive
Presented By

Pistons and Pivots is presented by Maxxis. Every second Monday, we'll present a new round of Pistons and Pivots which features cool vehicles with character, and a little about their owners and the bikes they ride.
If you've got a vehicle and bike that fit the series, we'd love to help you share them with a wider audience, and you can take a crack at winning some tires from Maxxis.
You can submit your photos in one of two ways:
Send photos and articles to submissions@nsmb.com. Make sure to include 'Pistons and Pivots' in the subject line.
Or simply post a few vehicle and bike photos and details to Instagram and use the hashtags #pistonsandpivots and #nsmb.
Once a month, we'll pick a winning submission and feature it on the site, and the person that submitted it will earn a fresh set of tires for their bike, courtesy of Maxxis. At the end of six months, we'll pick a grand prize winner, who will walk away with Maxxis rubber for the vehicle they submitted for Pistons and Pivots!
---
Take a Vancouver native who grew up in "OG Surrey" and spent his childhood watching dad race dirt bikes and you begin to see where this story is going. But for Warren Goodman, it didn't go the direction of what would've been considered stereotypical Surrey* during his teen yearS – there aren't any jacked pick-up trucks or tailgate bush parties here. Warren's affection for finely tuned German automobiles and Canadian made mountain bikes took him on a different path.
*Surrey B.C, a suburb of Vancouver, is not necessarily known for culture and refinement
Warren remembers travelling to his father's enduro dirt bike races during his childhood. Returning home after three days in the desert watching the racing, he often found himself eager to jump back on his BMX and race around the yard. At the age of seven, Warren began racing BMX at the local track, moving up to expert and eventually having the opportunity to turn pro. Unfortunately, the travel involved to pursue professional BMX racing – much of which was in the U.S. – wasn't an option.
Fast forward to 1990 and Warren had an opportunity to work at a Vancouver bike shop called Cap's Bicycles. It was here that he learnt about mountain bikes and had his first opportunity to try one. He was hooked and spent his time getting familiar with the new sport at Vancouver's S.F.U. (Simon Fraser University) campus, Whistler and Seymour. But it wasn't long before his passion for cars met his enthusiasm for bikes. In 1996 cars took a more serious part in his life when he purchased Vancouver-based German tuning shop, Ron's Parts Inc. Eventually the name was changed to RPI Equipped and he's been running the business ever since. As you'll see below, Warren is a fan of customization and quality builds, both with his bike and his car, but they don't lack utility, albeit carrying high ticket prices.

If you want to get even deeper with the OG Surrey thing, I actually grew up in Whalley which is the hood of all hoods. – Warren Goodman
Warren's Custom Black Optics Audi e-tron
Working in the car industry affords Warren access to parts that feed his desires for the ultimate look and drive qualities. It also sees him behind the wheel of some beautiful vehicles that are as much about the joy of driving a car tweaked specifically to your liking as showing off what can be done. RPI Equipped focuses one-hundred percent on German vehicles but after extending its services to Porsche, BMW and Mercedes over the years, it currently remains focused on Audi and Volkswagen. Interest from RPI customers who also owned Toyota Tacomas or 4Runners has led to the business branching out to accommodate, starting RPI Offroad.
But we're going to focus on Warren's current car; a unique and gorgeous Audi e-tron. Or maybe it's his wife's? I guess it depends on who you ask… Warren says that while the e-tron shows some of what can be done to the car, it remains the family grocery getter and regularly takes the family up the road to Whistler. Being the first fully electric vehicle from Audi, Warren got busy tweaking it to his liking. His e-tron is unique in many ways; from the black optics finish that removed all of the chrome accents stock to the North American models, to the custom tuning to get the ride height dialled in. That said, nothing has been done to the motors, not yet anyway.


It sounds like a spaceship – Warren's response to being asked about the e-tron's odd characteristics
Warren's Electronic Shifting Knolly Fugitive
Warren enjoys having his vehicles dialled and isn't completely afraid of the new age of electric power. He's not sold on electric powered bikes though and prefers to keep that to his own power output, but with the assistance of some super accurate electronic shifting. His interest in glamorous vehicles doesn't seem to be anything new either. He surprised me when we met to shoot with a 1991 Rocky Mountain Titanium that he's held onto.
The focus here is his Knolly Fugitive built with a mix of Canadian parts, electronics and a dash of titanium to finish it off. Seven years ago, Warren heard from RPI GM, Jonny that there was a new customer looking to have some work done to his Audi A3. Jonny spent some time with the new customer and during their conversation, being the owner of a bike company was mentioned. That customer was Noel Buckley of Knolly Bikes.
Noel and Warren have since become good friends with Warren spending much of his time on Knolly bikes since starting on a Chilcotin for trail riding and a Podium for park days. He's drawn to the niche product and says the bikes ride great, fitting his riding style perfectly. Fast forward six years and Warren is on the Knolly Fugitive.
Clearly Warren puts an emphasis on quality parts. Both his car and bike feature heaps of customization, making them truly his and one of a kind. They're each finished with attention to detail but he isn't afraid to push them either, whether on the road in the e-tron or on the trails with the Fugitive. That doesn't mean he doesn't take care of them and that attention to detail carries on to cleaning and maintenance.
I may be putting ideas in his head now, but I'd love to see the interior of the car rid of all chrome accents, just like the exterior, and perhaps a few hints of white and yellow too? I reckon that would complete the build phenomenally.
If you've got a combo to show us for Pistons and Pivots, we're keen to see whatever you've got. Send us an email with photos at submissions@nsmb.com