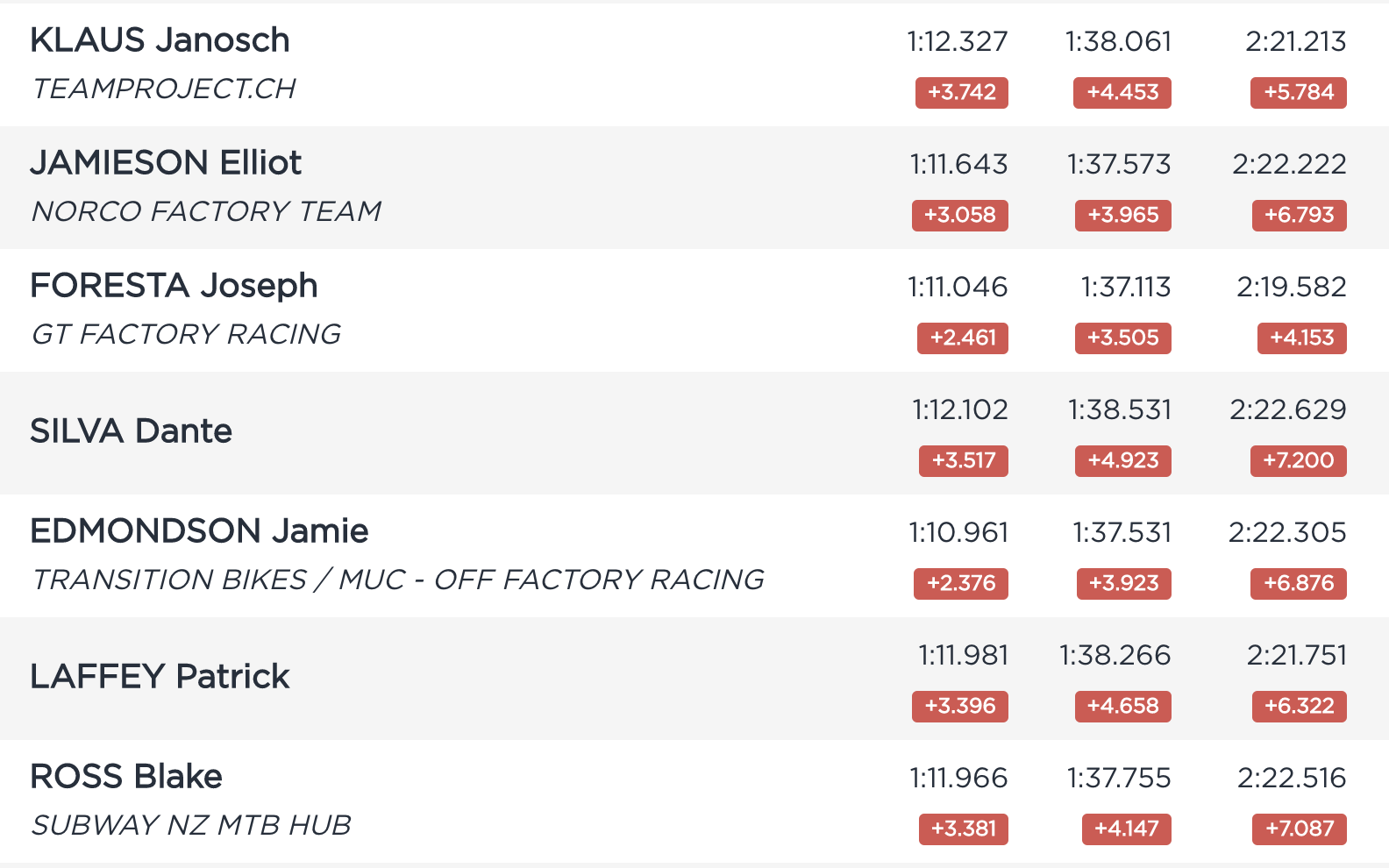 RACE NEWS/EDITORIAL
Final Results: Snowshoe DH World Cup Finals
Elite Men
It was a big day for two of the Three Muskateers at the seventh and final World Cup of 2019. Loïc Bruni and Amaury Pierron each had a chance to take the overall and with Pierron as the defending champ, you know he wanted to retain top spot. But Loïc Bruni wasn't going to let the lead go easy. The current overall leader hasn't won it before and with his new rainbow jersey as 2019 World Champ, is the first rider with potential to take both in the same season since Sam Hill, 12 years ago. It was a tight one too; Bruni had to finish in the top three if Pierron won.
Conditions were primo for finals and after the juniors and elite women had finished their races, things were drier than anyone had ridden. The dry was welcomed with the track's rock gardens proving incredibly difficult in the damp.
Commencal/100% rider Thomas Estaque continued the form he's been showing recently and came down to bump American, Aaron Gwin from the top of the hotseat. Gwin's had a tough season with injuries and is happy to be back racing, but isn't in form – he'll be hungry next season. But Estaque's time was solid – two seconds quicker than Danny Hart's top qualifying time – and he held onto the hotseat for what felt like an eternity.
But then Laurie Greenland dropped in. Greenland is the only non-French rider to have won a race in 2019 and was pushing hard for another result. He was up on Estaque for the first three split, but only just. At the fourth split he was back 0.008 and a couple of mistakes in the final split saw him dropped to 0.8 seconds back. He went into second place.
It was until fast Frenchie and the third of the Three Muskateers, Loris Vergier dropped in that Estaque's time looked threatened. Vergier was up at the first two splits despite being battered and bruised after a big crash in his final run at MSA. But the following two splits had Vergier losing time to his fellow countryman. He slotted into third place, knocking Gwin to fourth and Greenland to third with sixteen to go.
Another beaten and battered rider thanks to MSA was Dean Lucas. Lucas posted the fastest top split in MSA before going down hard in the rock garden. He was up through the first three splits in Snowshoe and looked real fast up top. He didn't carry the same speed out of the woods onto the flat pedalling section and dropped behind Estaque. That remained for the rest of the run and he finished in second.
It took until Connor Fearon to see a significant margin put into Estaque's time. Fearon was up 1.5 seconds at the first split but dropped to 0.6 up by the third split. The rough rock garden took more out of the flat pedal rider and coming onto the pedal section he was back 0.5 seconds. By the bottom of the run Fearon went into sixth place. Who would be the first rider to hold, or build a lead in the lower half of the run?
Amaury Pierron was next and was absolutely on the edge through the upper sections of the track, drifting through the wide open grass corners like a man possessed. At the first split he was up 1.9 seconds but lost a small amount of time to Estaque in the second. But through the rock gardens he opened it up, riding like the wind through the toughest sections of the track. He was up 3.9 seconds at the fourth split and looked certain to take the hotseat. He did! Pierron went into the hotseat with a 5 second advantage on Estaque. His time was seven seconds faster than Hart's qualifying time but was it enough to hold against the top qualifiers?
The top three remained Pierron, Estaque, Lucas for four riders until the G.O.A.T. dropped in. Minnaar's wanted to post a top result all year and this was his last chance to do it. He was up at the second split but couldn't hold it int he following two splits. He hit the speed trap at 54.8km, a couple of clicks slower than Pierron and crossed the line in spectacular fashion – crashing into the fencing – for second place.
Fifth place qualifier Greg Williamson was looking for the best World Cup result of his career. He seemed to mesh with the track in Snowshoe better than elsewhere and looked great on track, carrying momentum through the snaggletooth rock garden like the best. That was until he made a big mistake heading out of the rock garden onto the pedally section. It looked to cost him time and momentum on the pedal but through the speed trap he hit 57km – equal to Pierron – and held the speed into the finish. He went into third place and was set to post a solid top 10 time.
Things were getting tight at the top. With Amaury Pierron in first Loïc Bruni had to finish in third or better to take the overall and with each rider coming close to Pierron's time Bruni's job was getting harder. Brosnan went into third, 2.28 seconds back. Charlie Harrison of the US went into second with one of the most thrilling bottom sections of the race. He was in touch throughout his run but really put things together in the lower half. The entire hotseat was sweating as he crossed into second place.
Bruni dropped with some fire in the belly. Riding looser than we're used to seeing him this season. At the first and second splits he was within a second and he rode the steep section fast and perfectly. But at the third split he was down, losing 1.3 to Pierron and by the third split he was down 1.5 seconds. Coming into the bottom of the track he was riding wild and looked to be losing air in his rear tire. He crossed the line in third place leaving everything up to first place qualifier, Danny Hart. If Hart bettered Bruni's time, Pierron takes the overall, but if he beat Pierron's, Bruni wins.
Danny Hart's been annoyed that he hasn't found that extra bit to take a race win this season and wanted to show he had it here in Snowshoe. Bruni and Pierron watched on as Hart came down in touch with Pierron's time. He was looking fast down the steep section and not making any mistakes, riding smooth and fast. By the third split Hart was 0.9 back – enough to prevent Bruni from claiming the overall. Hart rounded the fourth split in the green and looking to take the win came into the finish area in a full tuck. Hart wins! That gives Bruni the overall with Pierron needing to win to take it. What an absolute nail-biter! I don't remember seeing a race this tense.
Loïc Bruni is your 2019 World Cup Overall and World Champion. Only the fourth rider in the history of World Cup Downhill to win both in one season.
Elite Men Top 5
Danny Hart – 3:03.627
Amaury Pierron – 3:04.283 (+0.656)
Charlie Harrison – 3:04.598 (+0.971)
Loïc Bruni – 3:05.776 (+2.149)
Greg Minnaar – 3:06.022 (+2.395)
Elite Men's Overall Standings
Elite Women
Tahnée Seagrave crashed in qualifying but started her finals run in style, boosting the kicker at the top of the Snowshoe track. Her heart would have been in her mouth as she came in to land deep and nose heavy. It must have got the adrenalin pumping, by the first split she was up more than four seconds. She built on the time throughout the run and was up by seven seconds at the third split. She finished in the hotseat and posted the first time to better Tracey's number one qualifying time.
Australia's Sian A'Hern dropped in next thanks to her best qualifying result at a World Cup. Unfortunately Sian couldn't match the split times of Tahnée and was more than six seconds back at the first split. She was consistent though, remaining around six seconds back throughout her run but improved in the last split, four seconds back. She went into second place and was looking at her strongest World Cup result.
Italian, Veronika Widmann was looking to put down a solid run so she could secure a third place finish in the season overall. She started the run slower than Tahnée and was three seconds back at the first two splits but she built into her run. By the fourth split Widmann was up on Seagrave and she held onto it to the finish, bumping Tahnée from the top of the hotseat. Tahnée's time off the bike was affecting her stamina, and her slower bottom two segments were costing her on this intense, physical track.
New World Champ, Myriam Nicole looks good in those rainbows. At the first split Myriam was up by less than half a second but looked powerful on course. She continued to put time into Widmann's time, nailing the tricky rock garden and hammering the pedals across the ski run. She came into the final split with a 2.3 second lead but lost time to Widmann between it and the finish. Myriam held onto the lead by 1.4 seconds despite not hitting the big jumps to avoid damaging her still healing foot.
The racing was exciting but it was Marine Cabirou and Tracey Hannah that mattered. Their battle for the overall comes down to this final race of the year. Marin looked strong on track and was the first woman to hit the big transfer gap jump and a double in the lower woods that shot her ahead of Pompon's time. She crossed the line with an almost two second lead but was it enough for the overall.
Tracey only needed to finish in the top six to secure the overall but the stress of the situation has been affecting her race runs throughout the tail end of the season. As Marine did before, Tracey stepped up and hit the transfer gap and was up by 0.3 of a second at the second split. At the third split Tracey was down 2.3 seconds, dropping her back to fourth place. She played it safe in the rock garden but was it too safe? At the fourth split she was down almost four seconds and crossed the line 4.8 seconds back – in fifth place. Enough for her to just barely take the overall from Marine, but Cabirou wins in Snowshoe, taking her third World Cup win in a row. Watch out 2020, Marine Cabirou has found her speed and consistency.
Elite Women Top 5
Marine Cabirou – 3:43.032
Myriam Nicole – 3:45.027 (+1.995)
Veronika Widmann – 3:46.514 (+3.482)
Tahnée Seagrave – 3:46.742 (+3.710)
Tracey Hannah – 3:47.857 (+4.825)
Elite Women's Overall Standings
Junior Men
In the junior men's race we saw the return to form of Thibault Daprela. The young French rider has struggled with consistency in the latter half of the season and was rumoured to be pushing for strong results against the elite times. Whether that remained his goal today is unclear but he put more than six seconds into second place finisher, Luke Meier-Smith. The young Aussie has been steadily posting better results throughout the season and finishes on a high with his best result yet.
In third was Canadian Lucas Cruz. Cruz had struggled with the track in practice and said his qualifying run wasn't ideal. Whatever he did after qualifying worked and Lucas finishes 2019 with his fourth top three World Cup result of the year. The USA's Matthew Sterling did his country proud and pulled out a fourth place finish while Janosch Klaus dropped from his second place qualifier to fifth. First place qualifier, Kye A'Hern, is showing as a DNS in finals. Fingers crossed he's okay.
Junior Men Top 5
Thibault Daprela – 3:11.898
Luke Meier-Smith – 3:17.991 (+6.093)
Lucas Cruz – 3:18.819 (+6.921)
Matthew Sterling – 3:19.762 (+7.864)
Janosch Klaus – 3:20.109 (+8.211)
Junior Men's Overall Standings
Junior Women
The junior women were on fire early this morning. The results reflected qualifying but what's interesting is the amount each of them improved their times. Vali Höll put 10 seconds into her qualifying time while second place finisher, Anna Newkirk put 12 seconds into her previous time. Her time still fell short of Vali's qualifying time, but it was close. In third was Mille Johnset, who put 13 seconds into her qualifying time.
Junior Women's Top 4
Valentina Höll – 3:46.865
Anna Newkirk – 3:58.771 (+11.906)
Mille Johnset – 3:59.499 (+12.634)
Mckenna Merten – 4:52.734 (+1:05.869)
Junior Women's Overall Standings