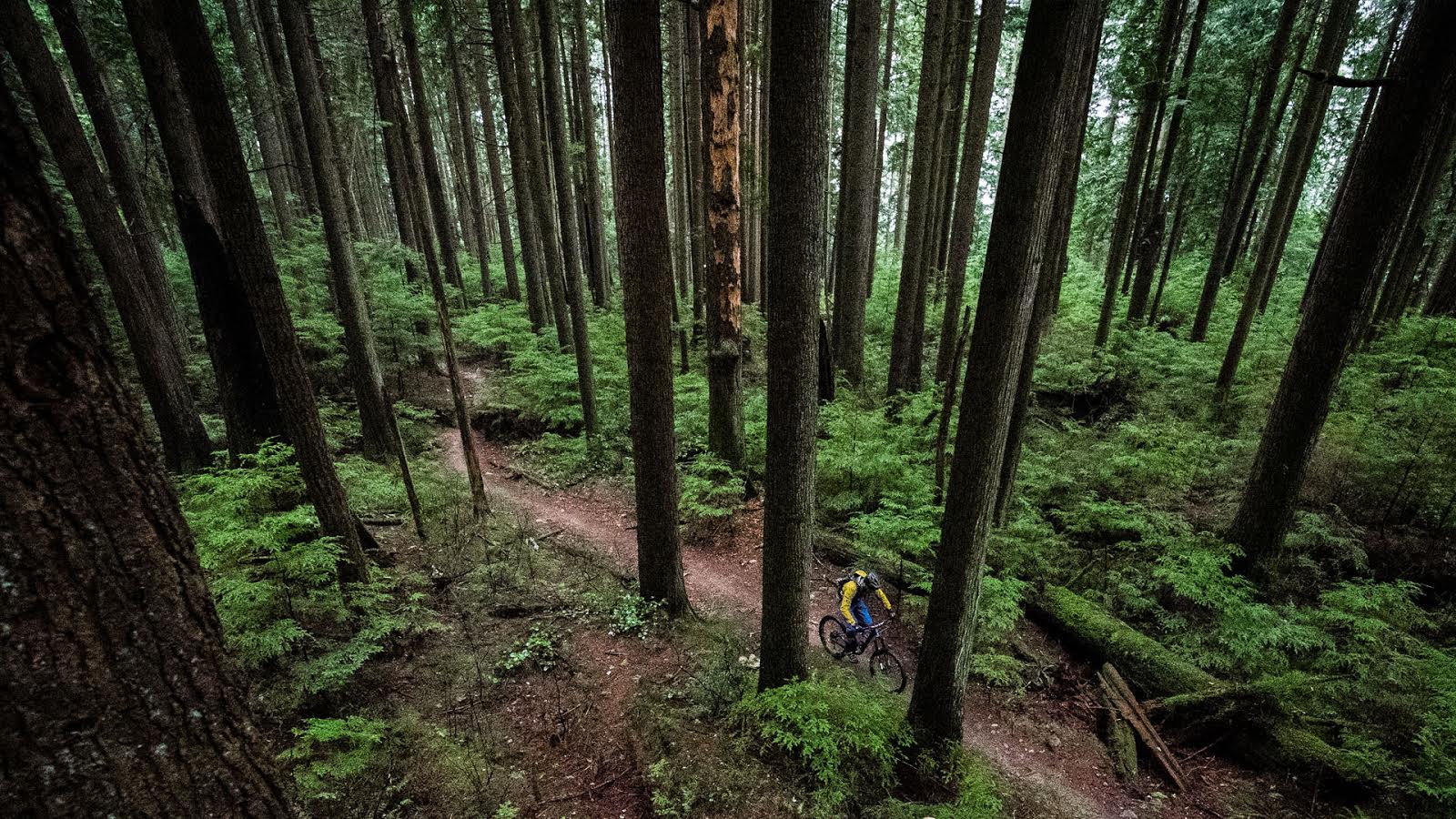 Nomads' Art of War
Racing.
Bikes change colours and styles. They go from no suspension to full suspension and everything in between; from single crown to triple clamp; from 1" of travel to 10"; from single-speed to 30 speed. What doesn't change is the racer who gets on the bike and gives it 100 percent every single time whilst constantly dealing with the weight of hopes, dreams, and pressures of winning. Ultimately, racing is about people, not bicycles. Bicycles can be any colour and have any name on the down tube, but what matters is the man or woman cranking the pedals. It has always been this way, and it will always be.
The Nomads are racers.
Arthur Gaillot, Dylan Wolsky, and Chris Johnston are all laser guided, race tape wrestling people who stir at the start gate beeps. As individuals they have all tasted some degree of success – Arthur was 2011 FVMBA and WEA champion, Dylan was 4Queens winner, and Chris Johnston is reigning West Coast Super D champion – but they want more. By working together they hope to achieve more. Despite being each others' biggest rivals they have banded together.
"It's funny, I know when we race now that some of my biggest competition is going to be Chris or Dylan" Arthur says while shaking his head "but they are also the same two guys I hope do the best."
THE ART OF WAR
Like military strategy borrowed from Sun Tzu's Art of War they are most certainly keeping their friends close but their enemies closer. Except they aren't strictly enemies. Chris, Arthur and Dylan have rotated around each other for several years now at all the major BC races, particularly the emerging Enduro races. Mutual admiration of each others' talents brought them closer and the friendly rivalry bonded them. All three of them are not native to BC – Chris is from New Zealand, Dylan from Australia, and Arthur from a mixed French and American upbringing – further commonality which strengthened their fellowship.
In 2011 they began traveling to races together and it was sharing each others tactics for challenging the hometown heroes of the Ashland Super D race where they realized that collaborating as a whole they were worth more than the sum of their parts. By sharing skills and expertise – Arthur's focus on bike set-up and preparation, Dylan's line choice and skills coaching, and Chris's guts and determination – they raised their own worth. On the journey home from that race, while cramped in Arthur's car in the middle of an eight hour drive, they decided to unite.
In September 2011 they began to execute the baseline preparations for a 13 month strategy. Not strictly a team, they established common goals and implemented a structured framework that will allow them to succeed. Racing requires calculation, preparation, set up, training, learning, priming and planning. Before the gate falls, the starter's gun fires or the beeps count down the race can be won or lost.
They have aligned themselves with brands they trust, have the tools they need, and have readied their bodies for the 2012 Enduro race series.
POWER EQUALS SPEED
In October, while most people were detuning after a heavy summer on the bikes, these boys stepped into the gym. The Nomads, under the guidance and direction of Monika Marx of Marx Conditioning, have been training hard in the gym and on the bikes since October.
They started with strength conditioning, which means kettle bells, single sided moves, dead lifts, squats, pull ups and chin ups. There were no machines used in the program. The reason for this, Monika explains, "is that many people go to the gym and do lots of machine weights, or isolated high rep exercises (bicep curls) and think doing this makes them stronger. It doesn't necessarily. With my clients I work on lifting heavy weights, lifting smart and training the body as a whole."
Their strength program is also cycle specific. Monika herself is a rider and knows exactly what is required of cyclists, particularly mountain bikers.
"Most cyclists are very quad dominant [the muscles on the front of the thigh] so I tried to get their hamstrings, glutes and core muscles stronger. This will give them more power because the front and the back of the body (specifically the legs) are equal and balanced. They will allow them to have a more even pedal stroke, more powerful pedal stroke, and make them less injury prone."
Earlier in the year Monika attended Endless Biking's Instructor Training course as this allowed her to understand the symmetry between body mechanics and skills coaching. "What I learnt with Endless Biking reinforces what I do with my fitness clients. Cornering, drop, rollover, jump, climbing, wheel lifting, all of these skills comes from movements around the hips and core so you need strong and healthy muscles in these areas to help make you a better rider, technically, as well."
PARTNERSHIPS
Having the right equipment is essential for racers. The Nomads need the product and support to achieve their aims, but they weren't willing to align themselves with just any company that may offer them support. They drew a wish list and approached just the companies on this list. This year they have the support of Santa Cruz bikes, Fox Shox, Shimano, MRP, Ergon, Boeshield T-9, Giro, OGC, Cane Creek, and Icebreaker.
"We decided that we would only align ourselves with companies whose products we would be happy to go out to a store and buy anyway. Every one of the companies produce product we would buy or support anyway; that they support us is just a bonus" say Arthur.
The Nomads' outlook to sponsorship and gathering support is far from the desperate, greedy fingers approach. The Nomads see their role as brand ambassadors in a mutually respectful relationship. To find out more about one of these relationships we visited the Icebreaker HQ.
Icebreaker is an iconic New Zealand brand that produces garments made from merino, a material known to have high natural temperature regulation. Last year Icebreaker introduced a small range of bike apparel and this year the Canadian branch of Icebreaker have aligned themselves with The Nomads because they are looking for essential product feedback from athletes who will put the product to the test.
Arthur explains the two-way relationship of Icebreaker's sponsorship of his team. "I like starting things from scratch. I like building something from nothing. We are not hopping on the bandwagon but instead saw Icebreaker as an opportunity to start something new. We liked the product before we signed with [Icebreaker] and see that with their MTB line in its early stages we can really have input into design and direction."
It seems that The Nomads aren't just interested in taking product from wherever they can get it but rather want to work closely with certain brands that they feel strongly about already. Numerous times the team members have pointed out that they didn't want to be sponsored by any companies whose products they wouldn't already choose to buy if they had to. This has meant they have turned down sponsors already, something that can't be easy for a grassroots team with big goals and the impending big financial cost of traveling around the world to compete.
When I met Kent Hawkins, the marketing manager for Icebreaker Canada in their brand headquarters in Gastown, Vancouver, he talked about how important it was for them to use the resources, skills and knowledge of racers and ambassadors like The Nomads to not only help sell the product, but to provide critical feedback on products which will help them produce the very best they can: "In the 1990s the outdoor clothing market was like the MTB market is now: all flash and glam but not always great product. We would like to educate people about proper fabrics and technical attire rather than just serve up loud and garish graphics."
SPRING IS HERE
The tactics and strategies are about to be put to the test. The Nomads have a busy year ahead. As well as trying to hold down jobs they have entered as many big Enduro events as they can. Close to home they are racing Wades Excellent Adventure, The North Shore Bike Fest Ripper Trilogy, Red Bull Divide And Conquer, Crankworx, and The 4Kings. Further afield they will be heading for the Megavalanche and Mountain Of Hell races in France, and the Downieville Classic, Ashland Super-D and Oregon Enduro series in the US. There is a lot to fit in.
Their backgrounds in both cross-country and downhill racing give them a solid foundation. Living and riding within the Sea-To-Sky Corridor has given them an education in technical and challenging riding. Their preparation has been impeccable. Now the real test of the racer within each of them commences. 
thenomads.ca
marxconditioning.ca
ca.icebreaker.com
---
The Nomads' philosophy and approach to training and racing is smooth and calculated – they're a classy bunch. No wonder they chose Dan Barham to film their intro video. Will you be following their nomadic ways this season?