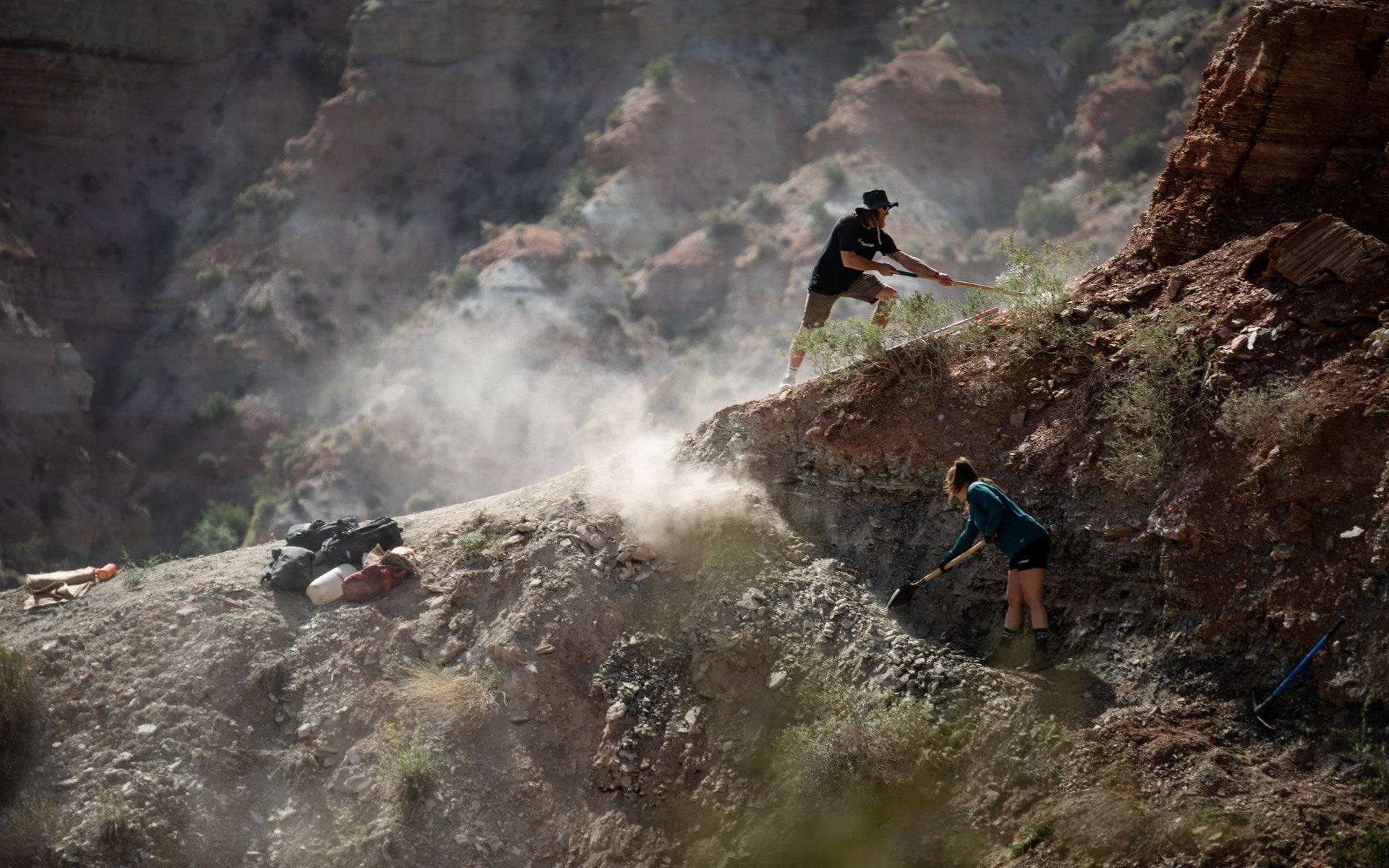 The Women's Freeride event through athletes' eyes
Setting Sight on Formation 2022
Hailey Elise was down in Virgin, Utah to cover Red Bull Formation. This is part 3 of 3 articles she's prepared to help us all understand what happened down in the Utah desert. You can also check out NSMB's Instagram and Facebook.
Formation is one of the most high profile exclusively female events in mountain biking and for many of the athletes in attendance, it's the pinnacle of their season. Laying eyes on the site would look a whole lot different for an athlete attending for the first time compared to someone who has been in the desert at each event since its inception. The red dirt, heat, and sheer size of the features is mind blowing. I wanted to get a taste of what goes into preparing for Formation and what it's like when you're down there so I sat down with Georgia Astle and Vaea Verbeek, first time and third time Formation athletes, respectively.
Georgia has been lighting up the mountain bike world since her time as a Junior Downhill athlete but more recently, she has divided her focus between racing and the world of freeride.  She set her sights on the freeride event early, coming down as a digger in 2021 and hoping to use that as a stepping stone. However, last fall she suffered a shoulder dislocation and fracture in the Whistler Mountain Bike Park that put a slight kink in her plans. What followed was three months of literally nothing, not even restsance training. She was only cleared to ride a few months before Formation but you wouldn't have known based on her composed and dialed performance.
What was the prep like for Formation?
"The selection process, I didn't have a lot to submit except Dark Horse. It wasn't a linear process getting back on the bike after my injury. I've ridden here before, came here for 5 days but not ever ridden proper lines. So I'm coming in with a little pressure on myself and excited about how much I can learn. From racing, I know the build up. Good at staying calm and trusting myself."
What has the experience been like during the digging process?
"Throwing in 3 days of digging makes it a different process. When you build a feature, feet are on the ground, hands are on the shovel, you know everything about the feature.You can become a master of your line, you're allowed to trade off, help each other and gain so much more from it."
Tell me about your line.
"My favourite elements are that I know the key points are safe and a lot of fun guys in between. That's what I want, to have fun while the I ride the line."
Vaea has made it clear she's one hell of a versatile rider, taking home Queen of Crankworx on multiple occasions and DH championship titles. Her talent on two wheels doesn't stop there, she's been selected every year to come back to the desert and push women's freeriding at Formation. This year, she wanted to do things a bit differently, spending time prior getting comfy on larger features and flat pedals.
What was the prep like for Formation?
"Before I knew I was selected for 2022 Formation, I was spending a month here back in February. Just to ride. Just got super comfortable on the terrain. Wether it's step downs, jumps, drops, or tricks, you name it, ticked off a lot of new things. The first day I put flat pedals on and I didn't even bring my clipped in downhill shoes. I just wanted to do a full transition. I started just wearing flats and started small and progressed pretty quickly. Preparation wise even when I was back home after being here, I rode Prevost which is very downhill still, suspension set up was different but I just spent a lot of time on my downhill bike."
What was on your mind when building your line?
"When I was in Virgin in the winter, I was riding the lookers right ridge and from up there you can see the lookers left ridge and that's when I saw the hip that was there. And around the same time that was they said the 2015 site might be the one we come back to. When I got here a week before Formation, we went for a hike and my goal was see if I could use the hip in my line and find a way to link it up from the top. We did find a way, a bench across and hop and off on the ridge and then leads into the hip. So that was my goal."
The hip didn't go as planned. What happened?
"The one and only hip ridge line. The feature that I spotted and that I was so stoked on riding. I built my whole line around that feature. Ironically it's the one that took me out. I've been reviewing a few different angles. You can actually tell I did get wind blown. Blew my knee. That's too bad, but in a way it hasn't hit me as a depressing injury. It was such a high the whole week and it felt so good and thankfully I did tick off a bunch of other things. and I said from the get go, if I can ride my line down to hip that's my goal and everything was going to be a bonus."
When Formation first came to be, it was looking to help nurture the sport of freeride, specifically for women. What is clearly demonstrated, is the model and the event itself has been a success, attested by both Georgia working towards attending for her first time and Vaea continuing to develop her freeride skills the third time around. The skills, mental toughness, and ability to pursue this direction within mountain biking are there, perhaps bridging the gap even more towards women being in attendance at Rampage. Who knows at this point, the possibilities are all before the ladies of freeride.