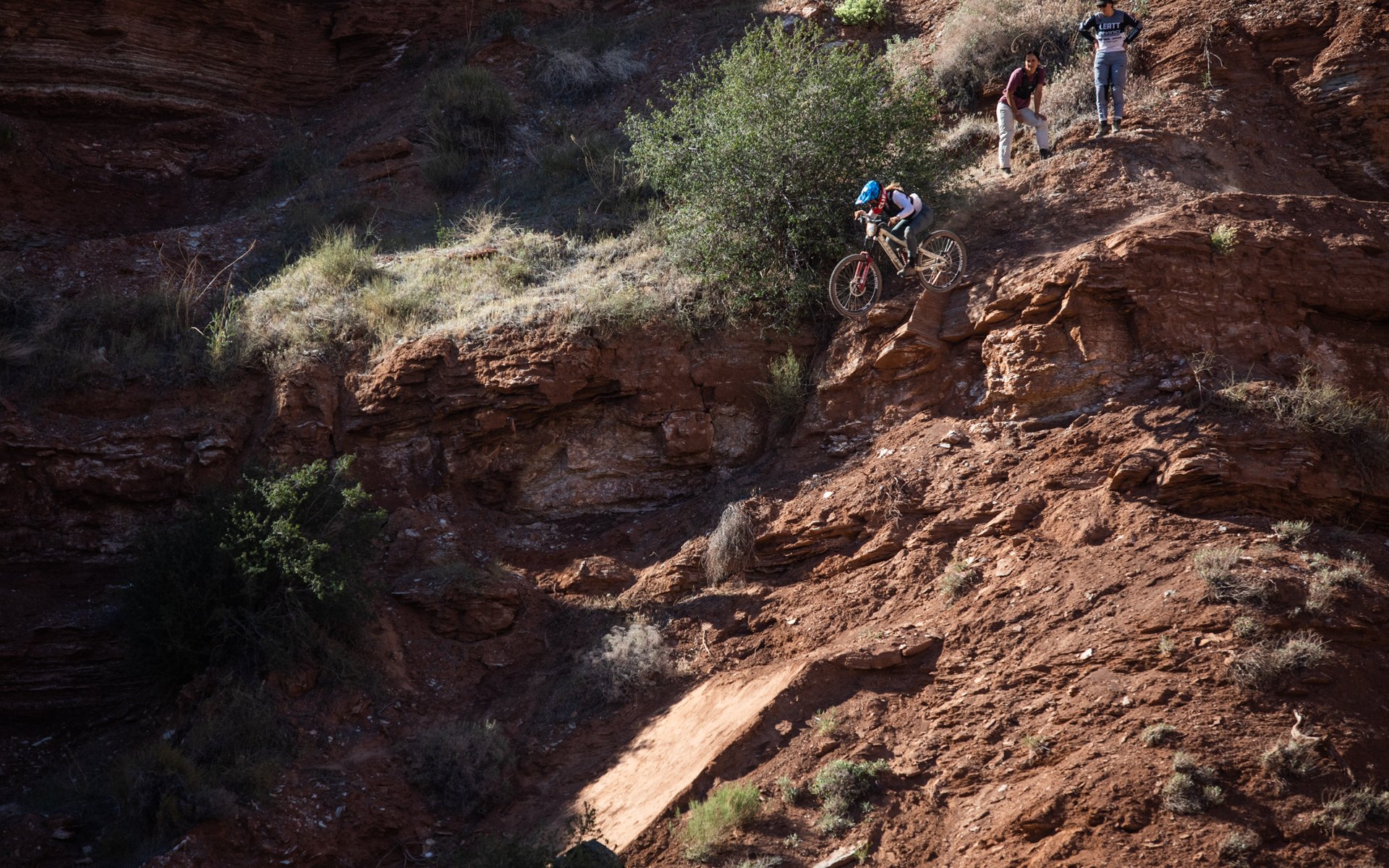 Redbull Formation 2022
Formation 2022: Event Recap
Hailey Elise is down in Virgin, Utah to cover Red Bull Formation. This is part 2 of 3 articles she's preparing to help us all understand what's happening down in the Utah desert. You can also follow along on NSMB's Instagram and Facebook stories, which Hailey is updating daily.
---
On May 15th, 12 women took to the Virgin, Utah desert, home of 2015 Rampage site, and conquered lines built over 3 days by numerous diggers. The features and the riding were nothing less than exceptional, demonstrating the success of the event overall in developing female athletes in the freeride sphere. 
This wasn't my first time in the desert but I'm always amazed by how challenging it is to simply exist in the dry heat in exposed terrain. The athletes and the diggers endured this exposure when they took to the site on May 8th, beginning to shape new lines from the 2015 Rampage relics. This format is much different than the male version in which athletes and diggers have more time to dig, shape, and test their lines before sending them, further attesting to the grit of these women.
The event consists of 3 days of digging and 3 days of riding, 2 of which are test days, with athletes hoping to complete top to bottom runs of their lines on day 6. Over the dig days, conversations were about where to scrub speed, how to shape a lip to make for a smooth take-off, landing angles, and of course, water, water, water. Listening in, my jaw was left hanging by the technical nature of the conversations, seemingly another language as the women went back and forth about aspects of the lines and how to make them better. This illuminated the expertise of the riders and actually worked to hush any nervous energy I was holding about watching them attempt the massive features.
Speaking to the energy, I expected a tension to be rippling through the venue in anticipation of the risks about to be undertaken but it was not found. Instead, the energy was light and focused but calm, the athletes and their diggers secure in the choices they were making.
Each rider's lines catered to their own flavours. Casey Brown and Hannah Bergman shared an entrance that required the highest level of technical execution. The joy expressed by each lady when they cleaned it was enough to bring tears to nearby riders. Casey even commented that it was one of the scariest moments she can remember.
Georgia Astle and Veronique Sandler constructed a line that had a little bit of everything. After watching Hannah Bergmann crash on a drop, in the shared portion of the line, they had to reconstruct the lip to make it more rider-friendly and eliminate the flat transition. This last-minute fix helped huge, allowing their line to be smoothly ridden from top to bottom.
Vaea Verbeeck wanted to cater to her racing roots and do a line that held some speed. She was stoked to work through the top part a lot faster than expected and came up to her very large hip (exact size = really, really big). After flawlessly getting through the hip with the help of Ryan McNolty on day 1 riding, she went to hit it again on day 2 and ended up crashing, causing an injury that forced her out of riding. Nonetheless, her spirits were high when she came back to watch the other ladies slay their own top to bottom runs on day 3.
An incredibly stylish rider, Vinny Armstrong's line choice played to her strength but also included some very technical manoeuvres including a flat drop at the top and a jump over a sizable boulder. An overshoot of this jump threatened to take Vinny out of the event with an ankle injury. The adrenaline was high and Vinny returned after a short visit to the medics to get redemption and finish a stunning stop to bottom tun. It was like candy for the eyes watching Vinny steeze the lower section of the line.
Cami Nogueira and Louise Ferguson shared most of a line with Cami having a more straight down entrance. After the entrance, the riders came to a fall-line double drop and into some sizeable jumps. Cami's line then went into a massive step down which she executed with ease. The combination of features earned Cami the spiciest line award of the event as a whole. Louise also made heads turn as it was her first Formation and completing the line with ease showed exactly why she was part of the group of riders. 
Harriett Burbidge-Smith , Robin Goomes, and Samantha Soriano all shared pieces of a line on looker's right of the site. The line was very playful and had a number of skippers providing opportunities for style and trips. Not disappointing, Robin pulled out an epic suicide no-hander on a huge drop as well as a backflip on the following jump.
Chelsea Kimball created a mixed bag of a line with some larger hits as well as technical features. One of her drops threatened to make her line unrideable with a landing that just wouldn't stay together during the dig days. Perserverance paid off and it all came together... with the help of a lot of water as well. Chelsea's strength coming from her rock climbing back ground was evident as she owned the rowdy shoots into drops.
Being able to witness these women in action, changed my perception of what is possible. I've lived in the mountain bike industry with the phrase "good for a girl" my whole career and what I saw, dispelled that. These women aren't just good for girls, they are competing at the highest level, period.
---
Check out the highlights, filmed by Pinkbike, below.