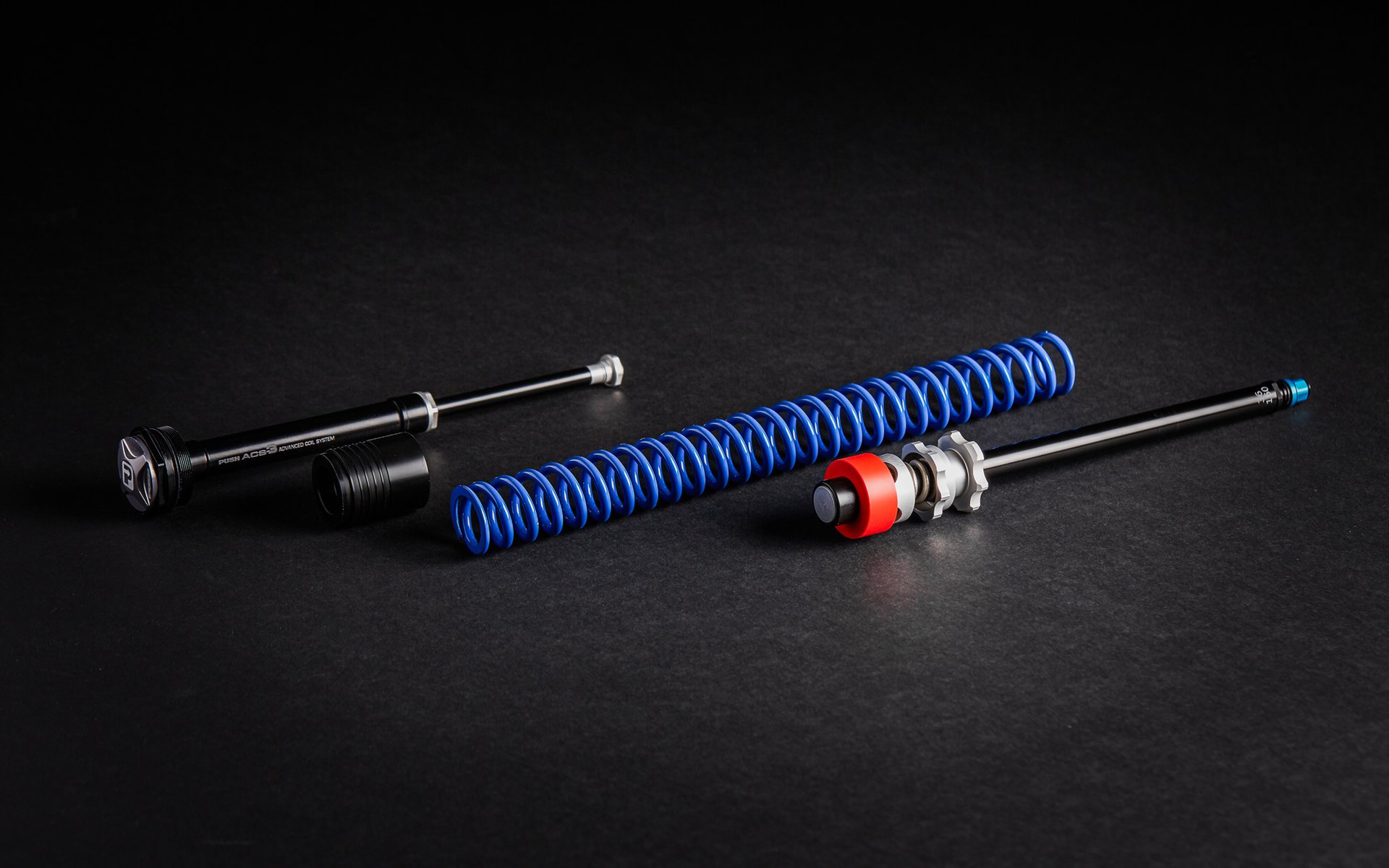 PRESS RELEASE
Forking Magic - Push Industries Announces the ACS-3
Coil vs. Air springs. It's a debate as old as time, and while both systems have their merits and shortcomings, much digital ink has been spilled on arguing which is better. Push Industries is here to save the proverbial day with their ACS-3 coil system. Designed to be a drop-in replacement for the air spring found in Rock Shox Pike and Fox 36 forks, it promises to combine the plushness of coil with the end-stroke ramp of an air spring. Catch the details straight from the source after the break.
Introducing the Push Industries ACS-3, a coil spring conversion kit from PUSH Industries designed to transform front suspension performance. Built in-house with PUSH's hallmark attention to detail, the ACS-3 replaces the stock air chamber of a Fox Racing Shox 36 or RockShox Pike with a proprietary coil spring mated to a pneumatic bumpstop. The result? Supple, linear suspension throughout the early and mid-stroke of the fork with an air cartridge to prevent bottom out at the end of the fork's travel.
Purpose-built to dramatically enhance small bump performance and full-range tuneability, the ACS-3 can be tailored to offer specific performance characteristics throughout the entire range of travel. The kit comes standard with a precision-wound coil spring available in seven different rates while the pneumatic bump-stop can be adjusted between 5 and 50psi. These options along with the spring's ability to rotate without binding allow unprecedented control without any stiction.
"The popularity of the Elevensix rear shock lit a fire under us to offer that same level of performance to the front end of our customers' bikes," offers PUSH's Darren Murphy, "The ACS-3 takes two already noteworthy products, and then adds yet another level of performance. It makes the awesome awesomer."
COIL OR AIR SPRING? YES.
Whether coil or air, each type of spring presents known pros and cons. Air springs typically save weight, but the high pressures required for them to function effectively create stiction – the undesired friction drag between pressurized sealing surfaces. A negative factor that must be overcome or mitigated, harshness is noticeable early in a suspension component's travel,especially on smaller impacts.
Coil springs perform admirably in the early stages of travel and when encountering small bumps, yet their supple feel can end abruptly as they reach the limits of their compression.

PUSH's ACS-3 combines the supple, more responsive ride of a precision engineered coil spring with a pneumatic bump-stop, effectively mating the best qualities of each method. In doing so, this markedly broadens a fork's range of action, freeing it up to more smoothly absorb impacts across the entire spectrum of travel.

THE DETAILS
- MSRP $389, supplemental spring MSRP $80
- Manufactured entirely in the USA
- 2015 through 2017 Fox 36 Float or Talas 160mm kits are available NOW.
- Fox 36 140, 150 and 170mm travel models and 2018 140-170 kits arrive in late July.
- Rockshox Pike kits Coming Soon.
- RockShox Lyrik/Yari will NOT be offered due to the small inside diameter of the
stanchion tube.
BUT WAIT…
While the ACS-3 is BIG news for PUSH, the company remains firmly rooted in its desire to make ALL suspension perform at its best. To that end, PUSH is placing the tools to do just that into the hands of all riders. PUSH's new suspension service kit, the Complete Lower Leg Service Kit, offers a turnkey and value-driven solution that allows riders to perform service work themselves.
The kit includes new fork seals, a seal driver (made in Colorado with the same care and attention to detail as all PUSH suspension components), and enough fork oil and grease for five services. Switching to PUSH seals effectively doubles the service interval of any fork – allowing riders the freedom to go twice as hard for twice as long between services. Lower Leg Service Kits retail for $105, while future seal-only kits are just $36. There's no better time to deploy this service kit than when upgrading your fork to the ACS-3.
"We created this kit to make it easier for home mechanics to service their own equipment," adds Murphy. "By keeping your seals clean and fluids topped off you'll keep your fork running smoother. Plus, our seals double the service interval time compared to stock ones."