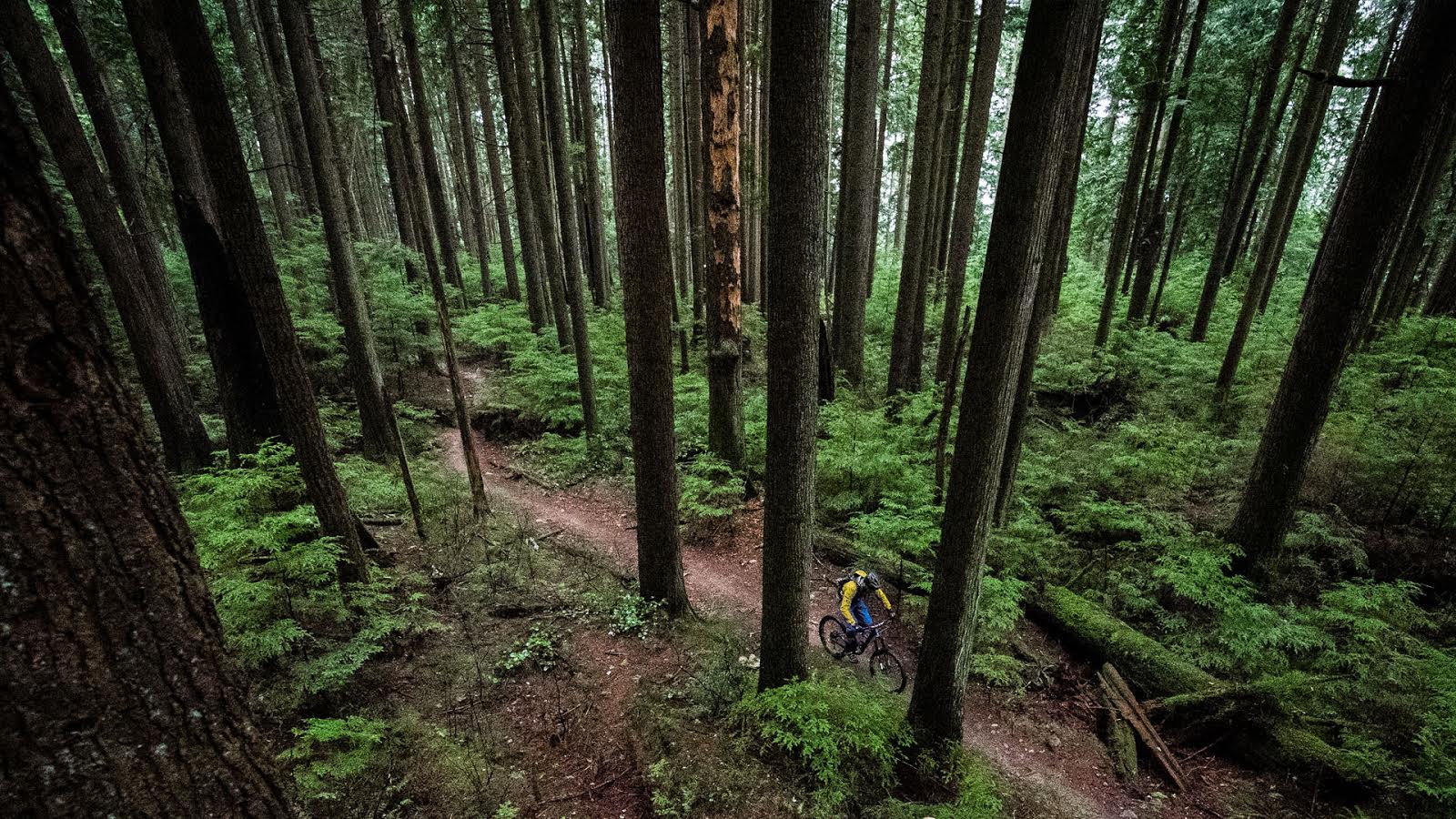 Digger: North Shore History X – Part II
Part I of Mark Wood's North Shore History X covered the foundations of the freeride movement here on the Shore. In Part II, originally published Jan 24, 2012, we have a look at the explosion and see the completion of Digger's new Monster coaster. 
---
North Shore History X – Part II
By the time North Shore Extreme-Downhill Deluxe Vol. 1 hit the shelves in late 1997, a month and a half before Kranked, what was now being dubbed Freeride had been simmering for nearly a decade. The pot finally boiled over. "My first movie was just me and my chumleys. We were looping it on the tv at On Top and someone asked if they could buy a copy. I dubbed a copy that night, sold it the next day and thought 'Hmmmm…'" What happened next is history for all to see.
Although still struggling to find its identity, these movies attempted to define Freeride but Kranked did it in the more literal sense. But even then there was confusion. In Kranked, Herbold is airing it out with bar ends while Simmons wafts between the pillars of the Vancouver Art Gallery, water bottle on the downtube of his Rocky DH Race. Tomac wears what may be the sport's first set of pyjamas looking more Nascar than NORBA, riding cool and calculated, while Chris Lawrence drifts corners in the Okanagan, wearing baggy shorts and a sleeveless jersey, tri-podding to keep upright. Dangerous Dan had a style all his own, riding with hiking boots under toe clips and a fanny pack filled to the brim. Things were getting loose in the Great White North.
Mountain biking never looked like this. Regardless of the style, the videos showcased some big moves.  Drops, air time and gnarly steeps were all on the menu. Quietly incubating up here since the days of the Digger Bicycle Club, the world now got to see things first hand and it was decidedly different than anything that was happening anywhere else. 10 movies later, Digger's NSX series managed to document the progression of the sport and inspire a movement that's echoed round the globe. It spread like wildfire. His movies fuelled a global lust for North Shore gnar, inspiring a migration to a new Mecca. Mountain biking would be changed forever. Today you can find emulations of the Shore around the world, versions of the Flying Circus deep in the heart of Mother Russia, a thousand miles from Moscow. Riders were driven by an unquenchable thirst to shred the Shore and everyone wanted a taste.
Walking across the slopes of Fromme with Digger is a living history lesson. "Up here I cut a big run-in." We're on Lower Ladies, one of his timeless double black creations hewn from stone, carved out from the mountainside. It's steep, chunky and anything but easy. There's room for error, but not much. He's like an excitable schoolboy pointing to a small pile of rubble, what's left of the take off lip built over ten years ago. "I called up Thomas and Tyler and we were out here filming the next day. They were boosting 40 feet down to the fade away!" He points out a natural slope far below. "Woohoo!" He simulates a crossup, as if he's flying through the air. "Bubba Scrub!" Now he's twisting his air-cycle to the side, and I'm wondering where he ever learned to 'bubba scrub'?!
Make no mistake, although he's got some years under his belt, he's still on that leading edge. The old dog's got plenty of new tricks. While his original lines remain timeless, his improvements today are divine. His building speaks for itself; just take a rip down the revamped Ladies Only. His sense of speed and flow is as sublime today as it was 20 years ago, maybe more so. Honing his craft over the eons, he won't allow you to label his work 'new school' or 'old school'; it has simply evolved. Over the years, he's unquestionably mastered Newton's laws. "Every action has a reaction," he repeats over and again to me as we walk his trails that bob and weave through the undergrowth.
"When you build a trail, it's a long term commitment." Building is really just the beginning according to Digger. He's like the tribal elder, imparting not only his skills but his philosophies too. It's easy to see his trails are a sacrosanct place when he's got his head down, absorbed in his work, but when friends drop in unannounced, it suddenly turns into an impromtu party. He seems to know almost every rider on Fromme and everyone stops to ask Digger how he's doing. The self appointed Watchman of the mountain, Digger has been on Fromme nearly every day for the past twenty years, with the exception of the dark days.
"I've always looked at trail building as a privilege." But not everyone saw it this way. As things got higher and skinnier, they drew the attention of concerned citizens who wrote in to the newspapers.  Cowan was relentless and went on his own terror of building, culminating in elevated skinnies, stunts and high consequence drops that were do or die. Pandemonium set in. At one point there were even threats to ban the sport entirely until a mass of riders descended upon City Hall. While mountain biking was being embraced and developed in most other regions, the North Shore, the birthplace of Freeride, struggled to defend the legitimacy of the sport, having to fight for their right to ride.
At the height of the hysteria, Digger was banned from doing any work on Fromme. Ironically, he was told "Your free ride is over on our land!" And with that, Digger wasn't seen again on Fromme for a good long time.
But you can't keep a good man down. Digger kept busy during those dark days on Fromme, building trails for the Cypress Bike Park, entrusted to build through Old Growth forest with the Cypress Spud Crew that included Digger's high school chum, Chris Frampton, Ski Patrol Director at Cypress and long time Shore shredder. "Then I heard one day that people were being given permits to work on Fromme!" It was 2009 and Digger hadn't set foot on his home mountain for over 5 full years. It might as well have been an eternity.
Today, after an 18 month revitalization, Ladies is in prime condition with some vast improvements, arguably better than the day it was crafted. With years of pent up energy and inspired by a new era in which mountain biking is being embraced, Digger has been on a mission since his return, making up for lost time. He's revitalized King of the Shore with Trevor Hansen and he's brought Ladies back from the grave – both projects supported by MEC & nsmb.com. The reroute alone around the Big Stupid, completed last summer, looks like an excavator was brought in to do the work; maximum flow, giant berms, wide bench all deeply laden with gold. It's amazing to think the rolling contour reroute took him under three weeks to build, and with a broken arm no less. He is truly a man possessed.
But that was then and this is now. The future looks bright. The DNV has recently released the draft Parks & Open Space Strategic Plan. This document will guide the planning, use, and funding of parks and open space for the next ten years in North Vancouver. Presently open for feedback until Jan 27th, there is much to celebrate within its pages, including "Work proactively with the NSMBA to maintain the vision for the alpine recreational areas". The best time to plant an oak tree is 20 years ago. The next best time? Today.
In this new era, the DNV and other Land Managers on the Shore are embracing a collaborative approach, engaging in open and ongoing dialogue with the NSMBA. The about face is evident in the last two seasons which saw the inception of a DNV trail crew. Even our Mayor is an avid rider, some say voted in on the backs of bikers when the margin was under 50 votes. And at the same time, we've changed.
The metamorphosis is evident in the changing mission statement of the NSMBA from when Digger was one of the founding members: Build it sick, build it high, build it skinny. Today the mantra is much more palatable by the broader community, reflecting a more omniscient approach: Trails for all, trails forever. There are good things on the horizon and Digger is an integral part of the plan, leading the charge, sharing his knowledge that has come from decades on the mountain, countless cold mornings and long rainy days when he doesn't see another soul. The NSMBA's Builder's Academy, the first of its kind in Canada, begins in 2012 and incorporates much of Digger's experience; our brain trust of building on the Shore.
Our tribal leader is back in his rightful place, seated at the right hand of the NSMBA, back where he began. He'll argue he never left. While Digger is at the forefront of the charge, there is also an entire community behind these efforts, evident in the camaraderie and shared vision represented by TAP which enters 2012 with nearly 20 local and national businesses as adopters. Things are looking very bright indeed.
Digger continues his one-man revitalization project. He's beginning his work in 2012 replacing the famous Roller Coaster at the bottom of Lower Ladies with continued support from MEC and nsmb.com. It was the first mountain bike roller coaster ever built; its replacement is a mega coaster he's dubbed Monster. "Everyone of my trails has a unique first." On Ladies Only is the teeter-totter, on Grannies a cement bridge, Jerry Rig has the first wall ride ever built in a forest.
Today is another first as well. No longer a time where we need to justify our right to ride in the forest or do our work under cover of darkness, we're going through another catharsis, with the support of the community, because we are the community. Imagine our capacity in unity. It's been a long time coming and here we are. In the end, just as in the beginning, you can be assured there will be one man standing, as always, digging 'til the sun goes down, creating his works of art in the forest, innovating and progressing our sport to the next level. This time around it includes everyone. Glad to have you back Digs. On June 23rd the NSMBA will be throwing a very special party on the slopes of Fromme to celebrate the 20th Anniversary of Ladies Only. Everyone is invited.
---
North Shore History X involved a lot more than videos and riders. There was a lot going on behind the scenes in the early days on the Shore. Digger's dedication to building has left a legacy… where do you fit in? Coast on in below… If you missed North Shore History X Part I, check it out HERE.