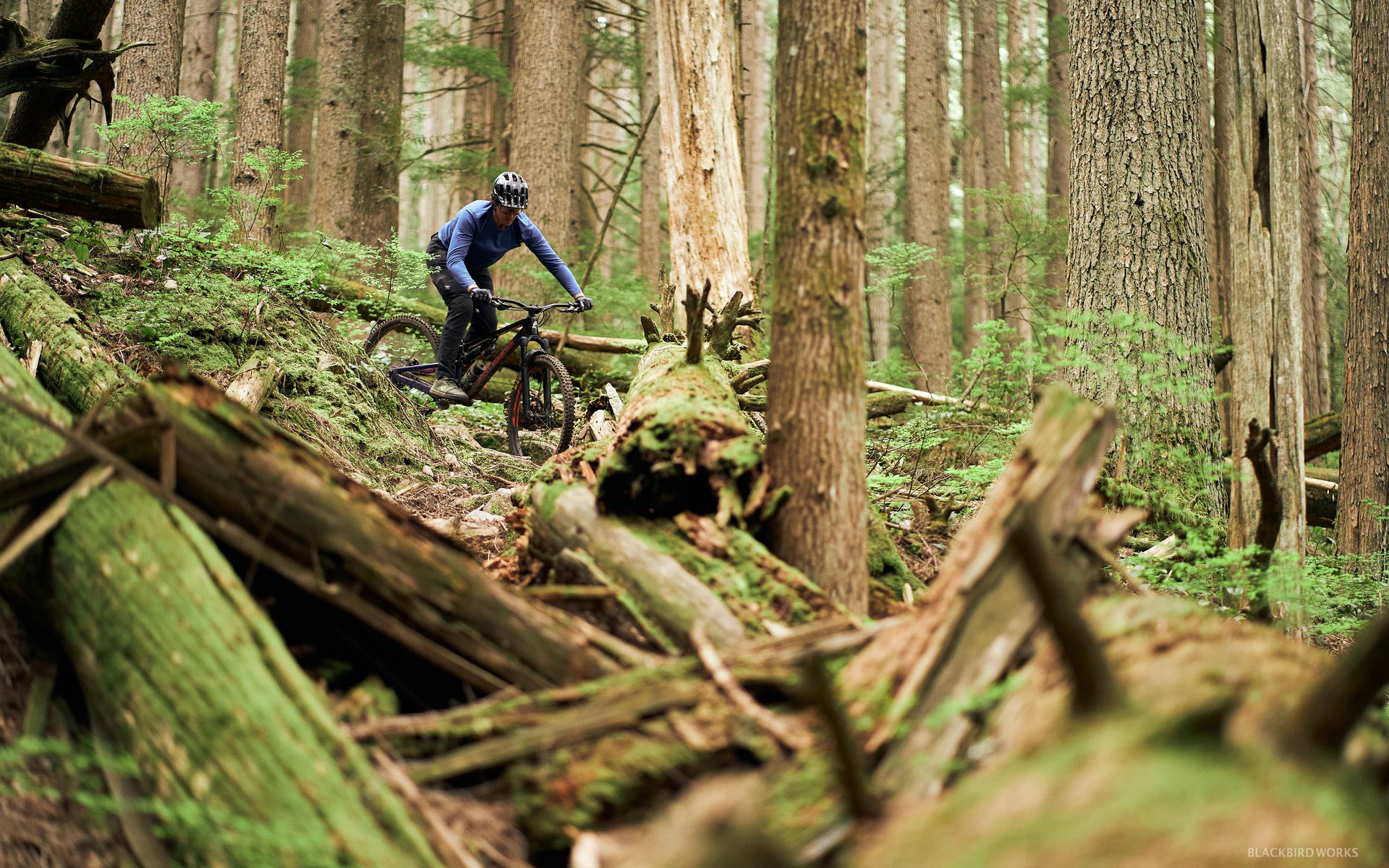 FIVE SHOES REVIEWED
Leatt's Full Shoe Lineup
Leatt is fairly new to the MTB shoe game, with their line debuting in 2020. Leatt has sent their men's five-shoe lineup for a thorough shakedown on the Shore, which took place over the past four months. Shoes 1.0, 2.0, and 3.0 are for use with flat pedals, while the Shoe 4.0 and 5.0 are dedicated clipless slippers. Leatt also has two women's specific models, the 3.0 and 5.0, which feature a narrower forefoot last of about 3-4mm. A word on Leatt's numbered shoes: Leatt doesn't specifically tell us that the 1.0 will be a lesser shoe than the 5.0, but it's safe to say that as the number increases, so do the tech features. I tested the flat shoes with Raceface Atlas pedals, and the clipless shoes with Shimano XT Trail pedals. Let's jump into what makes each Leatt Shoe different from the next.
Leatt Shoe 1.0 Flat
MSRP: 135 CAD
Synthetic suede outer material
Ridegrip sole compound
Anti-compression midsole
Stiffened pedal insert
Active Carbon anti-microbial quick wicking interior material
Cotton flat laces
760g/pair
Sizing: US 6-12, UK 5.5-11.5, EU 38.5-47, CM 24-30
Leatt's Shoe 1.0 Flat look like ubiquitous waffle-soled skate kicks, and are passable as day to day shoes, particularly in the all black colourway. The few bike specific features of the Shoe 1.0 are the stiffened pedal insert, the RideGrip sole, and the quick wicking anti-microbial inner lining. The construction is low profile, without significant padding, and there aren't any protective panels molded onto or in the suede for toes/heels/ankle.
The Shoe 1.0 fits like a skate shoe. I have a low-volume foot, yet a wide forefoot, and the break-in period was damn near instantaneous. A deep heel pocket locked my heel in, and prevented blistering. I primarily used the 1.0 Flat for commuting around town, as it doesn't offer the level of support or protection required for my preferred style of riding.
The Shoe 1.0 wouldn't be in my regular rotation for trail riding, but they did spend a few hours atop Raceface's Atlas flat pedals in the Mt. Washington bike park during the height of moondust season. The Optimized Grip sole pattern latched into the pins exceptionally well, but again, the lack of underfoot support allowed my feet to deform too much for comfort. I'll gladly don the 1.0 Flat for amateur pumptrack hour or dry commuting, but it's under-gunned for the PNW steep and deep riding I'm partial to.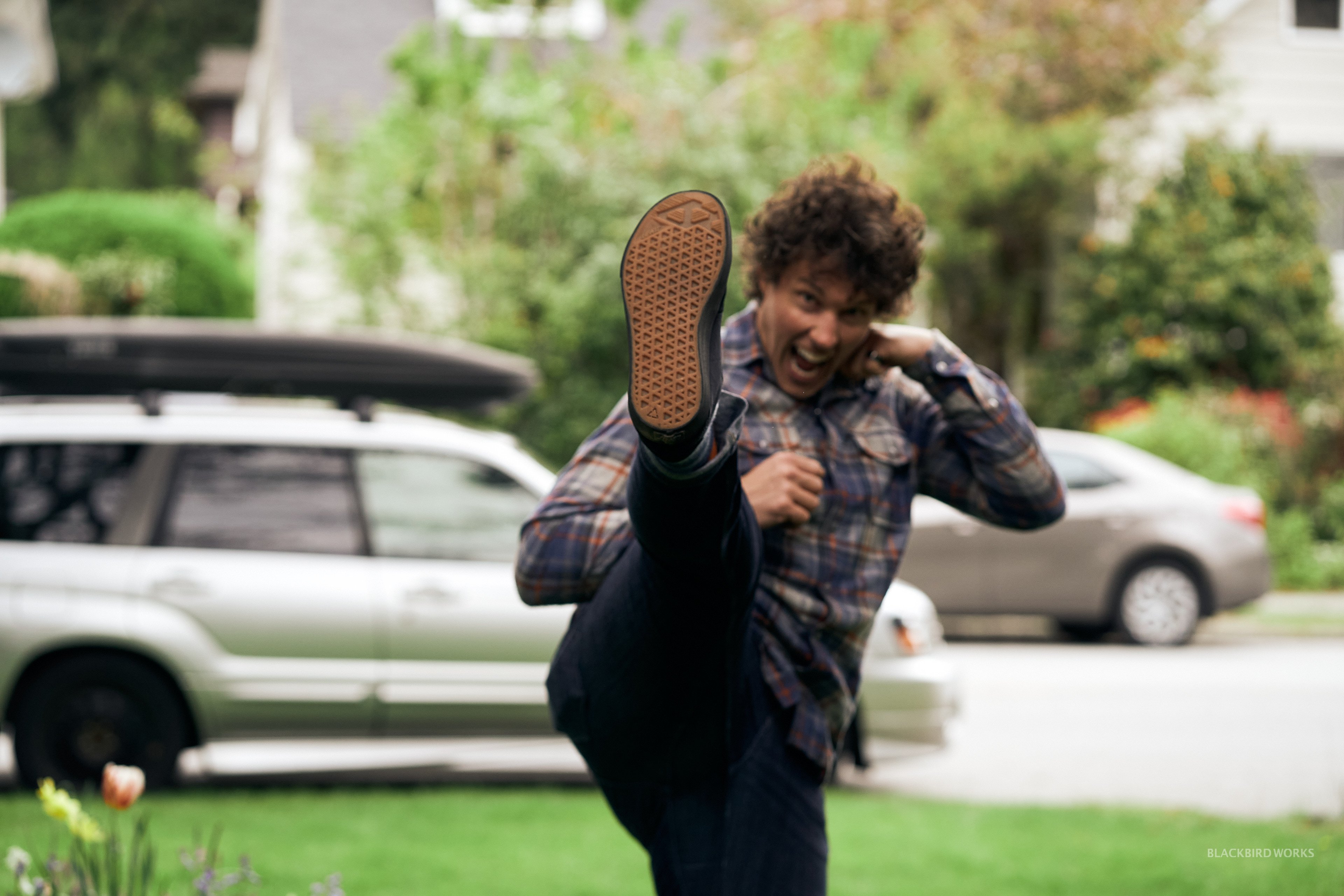 Leatt Shoe 2.0 Flat
MSRP: 155 CAD
Full synthetic construction
FlatGrip sole design
Mud-evacuating channels molded into the heel and toe areas of the sole
Super sticky Ridegrip rubber compound
Stealth heel & toe protection panels
Control-Flex shank: soft-medium stiffness
Flat nylon locking laces
980g/pair
Sizes: US 6-12, UK 5.5-11.5, EU 38.5-47, CM 24-30
Leatt's Shoe 2.0 Flat is much more robust than the 1.0, but maintains the same general fit. This allows the 2.0 to be a proper shoe for trail and gravity riding. The 2.0 Flat is constructed of synthetic suede, which breathes very well in hot weather. Small perforations on top of the toebox further aid in evacuating hot air. Interior padding is also slightly increased over the 1.0, and uses anti-microbial quick wicking material.
The Shoe 2.0 Flat adds moulded heel and toe protection, and utilizes a medium stiffness shank underfoot (akin to a Crank Bros. Stamp Speed lace, or Shimano GR7) to aid in foot stability and efficient power transfer to the pedals. Flat nylon laces don't sound like a feature worth mentioning, but, as Andrew Major's Shoe 2.0 review points out, careful tensioning is required as these laces don't migrate (at all) when tied up.
The RideGrip sole compound is plenty sticky and I would say tackier than Crank Bros. Stamp models, but slightly less than the benchmark grip of 5.10 Trailcross. I rode these shoes primarily on the dustiest of summer days, and didn't slip a pedal once. Adjusting my foot position on the Shoe 2.0 is easily done, without worry that my feet would lock into an irregular location on the pedals.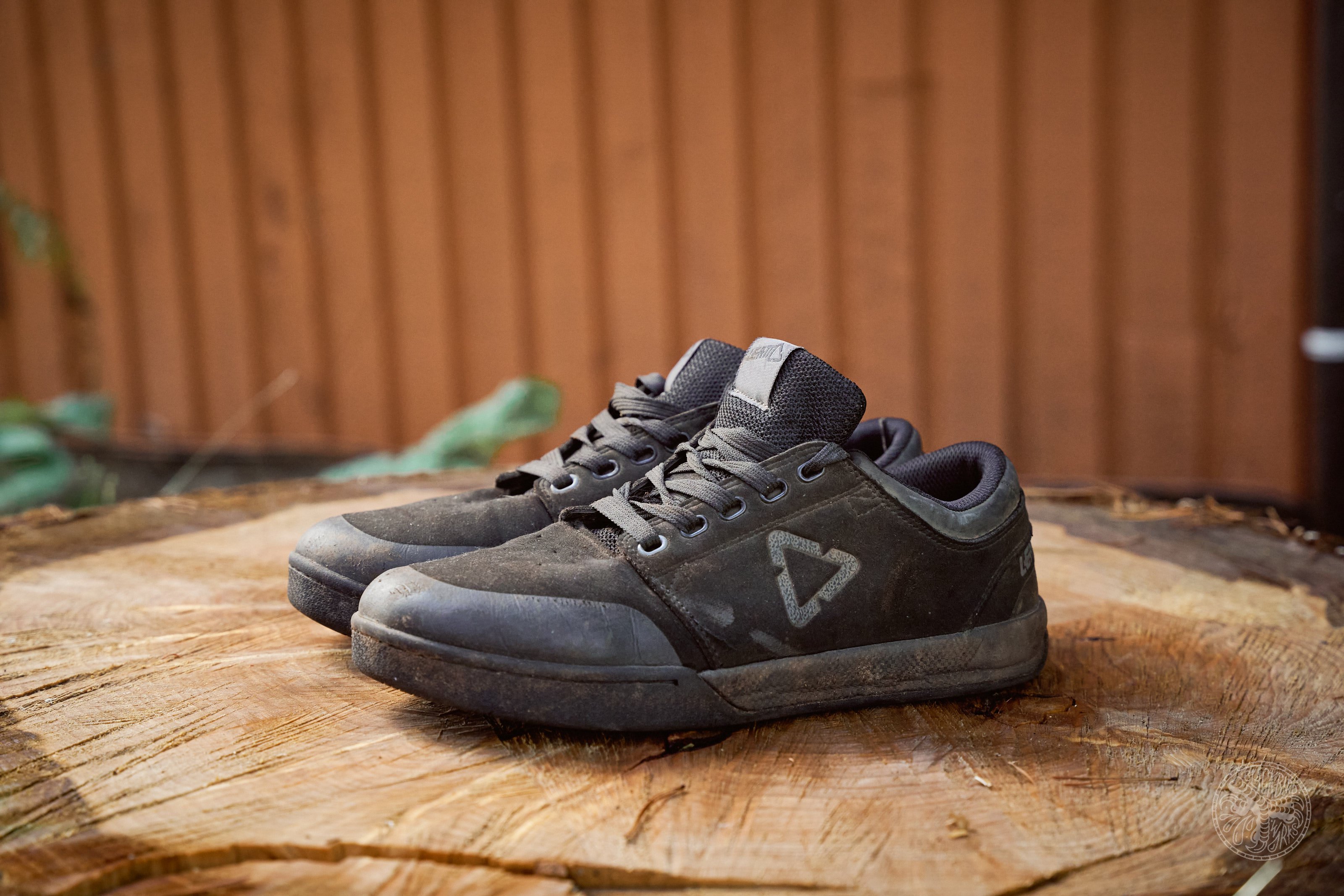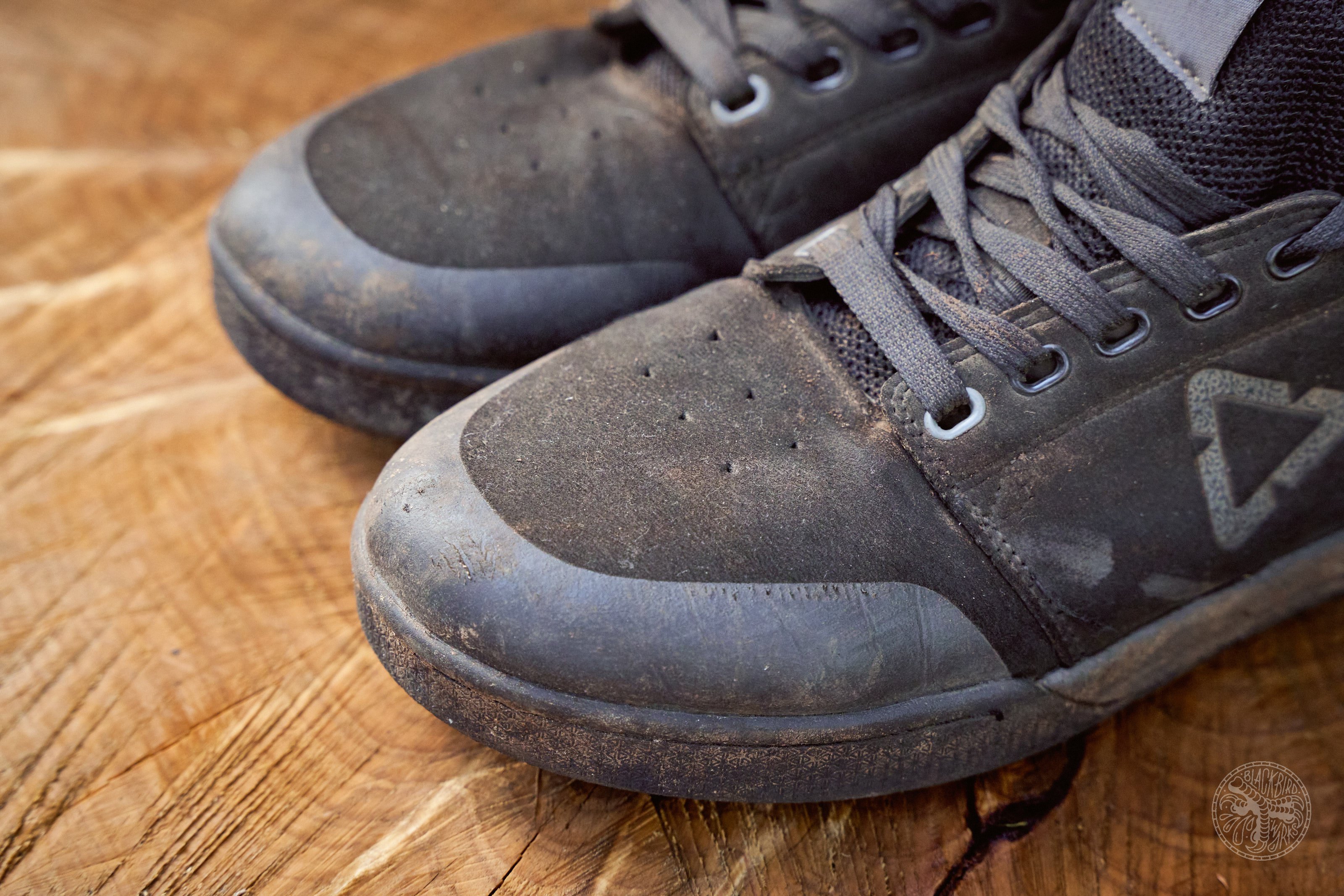 Leatt Shoe 3.0 Flat
MSRP: $180, $210 for Aaron Chase signature edition
Leatt's highest end flat-pedal shoe
Full synthetic construction
FlatGrip sole design
Ridegrip rubber compound
Stealth heel & toe protection
Anti-compression midsole
Control-Flex shank: medium-stiff
Active Carbon moisture wicking, quick dry, anti-bacteria, anti-odor material
Inner Ankle Medial Malleolus protection
Waterproof-breathable membrane
950g/pair
Sizes: US 6-12, UK 5.5-11.5, EU 38.5-47, CM 24-30
The Shoe 3.0 Flat is Leatt's premier flat pedal shoe, intended for gravity/enduro applications. The 3.0 builds on the semi-burly construction of the 2.0, with two more key features: an extended inner cuff panel to protect the medial malleolus, and a 10k waterproof membrane to ward off water ingress.
The 3.0 also fits bigger than the 2.0. I noticed a much larger toebox, and higher volume of the forefoot and instep. This extra volume will be welcomed on cold or wet rides, as there's space for thicker socks. Unfortunately, the extra volume also allowed the tongue to migrate outward, regardless of how tight the laces were set. This could be remedied with simple elasticized gussets on either side of the tongue, keeping them in place far better.
On shitty weather days, the anti-microbial inner lining doesn't sponge up water. Instead, water wants to leave nearly as fast as it arrived. The caveat to this feature is the inner 10k waterproof membrane. While the membrane works well at keeping moisture out, once it does get inside the shoe, it takes longer to leave than a shoe without a waterproof membrane. Luckily, I haven't experienced many ultra-soggy days in which my foot is soaking in a mud bath.
The Shoe 3.0 Flat also features the RideGrip sole of the 2.0, which is plenty sticky, but not overly so. The mud-shedding channels moulded into the toe and heel area of the sole seem practical, and work reasonably well at keeping grime packing up from extended hike-a-bikes. The inner shank seems slightly stiffer than the Shoe 2.0 also, giving direct power transfer on lengthy pedalling missions, but not overly so that it's painful to walk around in them for a while.
I really appreciate the medial malleolus protection of the Shoe 3.0, along with the moulded polyurethane toebox panel. These are standard issue features for a gravity-specific shoe, and shrug off crankarm strikes and rocks flying up from the front wheel.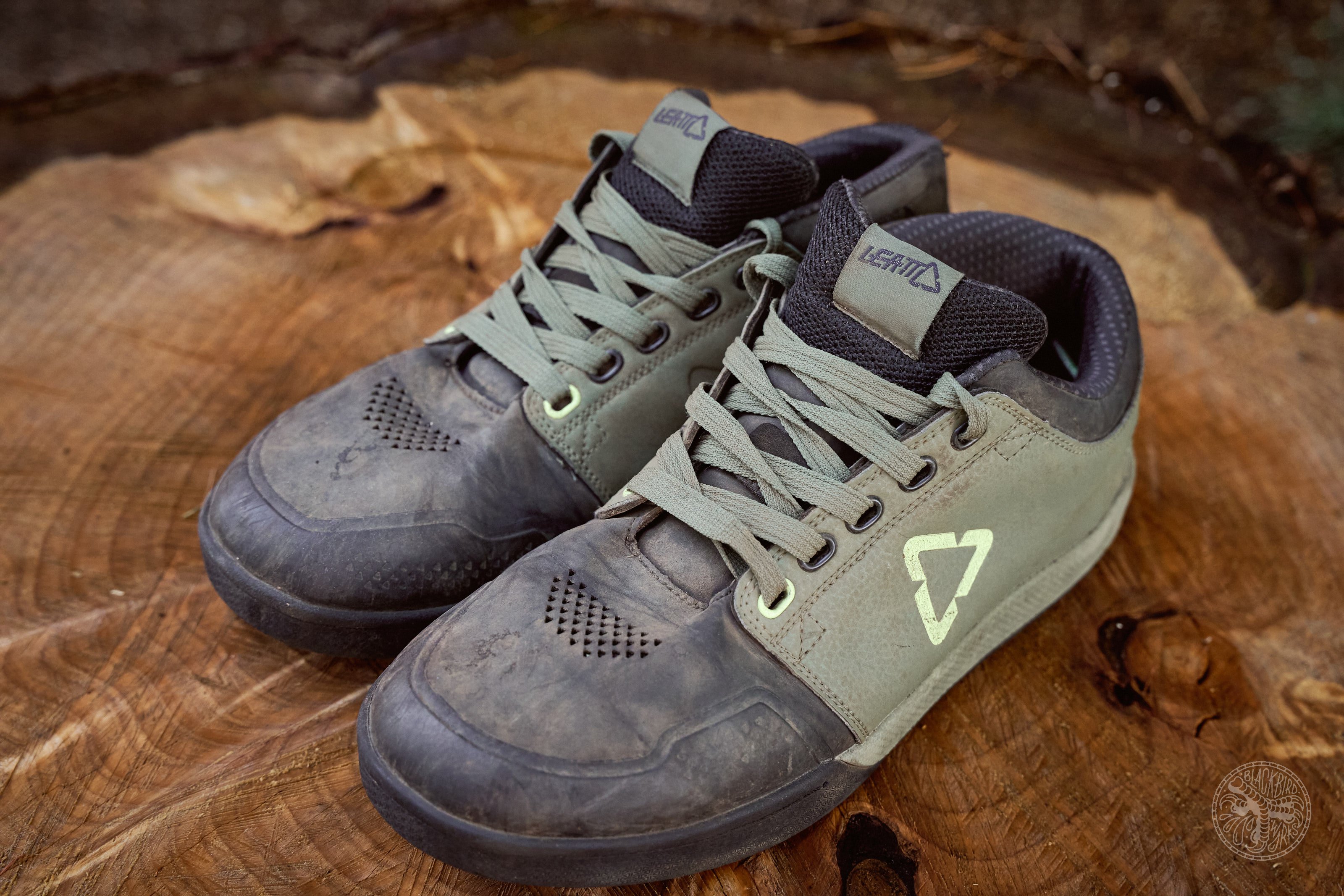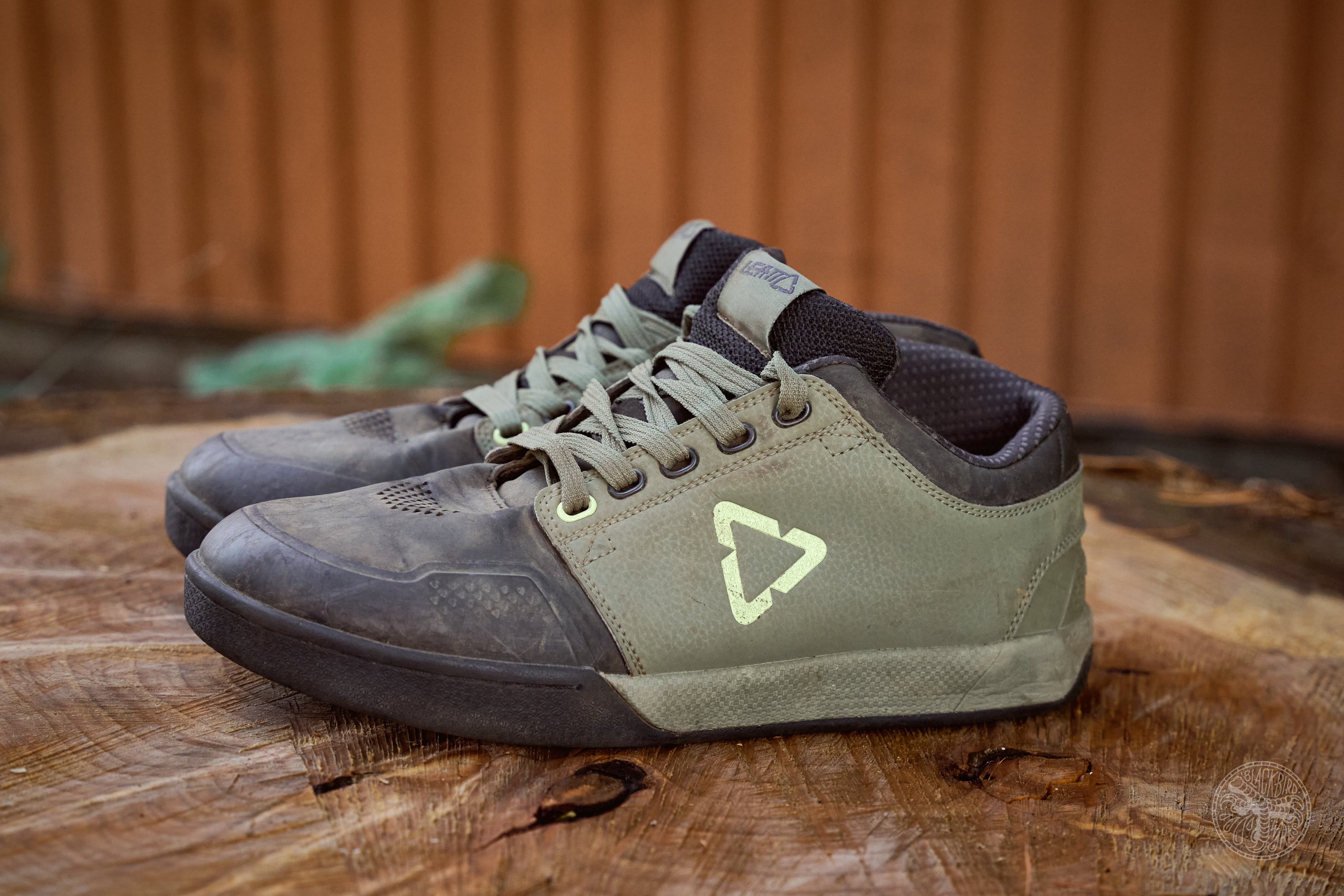 Leatt Shoe 4.0 Clip
MSRP: 200 CAD
Leatt's most gravity-specific clipless shoe
Full Synthetic Construction
ClipGrip SPD Channel with vast fore/aft cleat adjustment
Alloy knurled cleat shims
RideGrip sole compound
ControlFlex shank - medium-firm stiffness
Moulded Z-shape cinch straps
10k Waterproof-breathable membrane
1170g/pair
Sizes: US 6-12, UK 5.5-11.5, EU 38.5-47, CM 24-30
The Shoe 4.0 Clip is an Enduro/DH focused clipless shoe. It also shares the same foundation as the 3.0 Flat - showcasing the same general style and fit, protective toe & heel panels, and raised inner ankle guard. The 10k waterproof inner membrane also transfers over.
The 4.0 is a fairly stiff shoe, and it felt efficient while pedalling on long days. I'd rank the 4.0 slightly softer than a Shimano ME7 or Giro Chamber 2. Hike-a-bikes and occasional trail buffing sessions were comfortable, as the shoe deformed ever so slightly to the terrain I was walking upon. Although the fit is nearly the same as the 3.0, the Z strap snugged up the excess volume - and I didn't experience the wonky tongue twisting of the 3.0.
The cleat pocket of the 4.0 is likely one of the widest I've seen, which alleviates any interface issues from the sole binding on your clipless pedal of choice. Not only is it wide, but the cleat pocket has huge fore/aft adjustment capability - the most I can recall out of any clipless shoe. My usual cleat setup in the past would have me slamming my cleats as far aft as possible, just to get them under the ball of my foot. With the 4.0, I ran the cleats 1 point aft of the centre mark, with nearly 20mm of space to move aft. In total, Leatt offers 40mm fore/aft of cleat adjustment, and I'd be surprised to find anyone wanting more.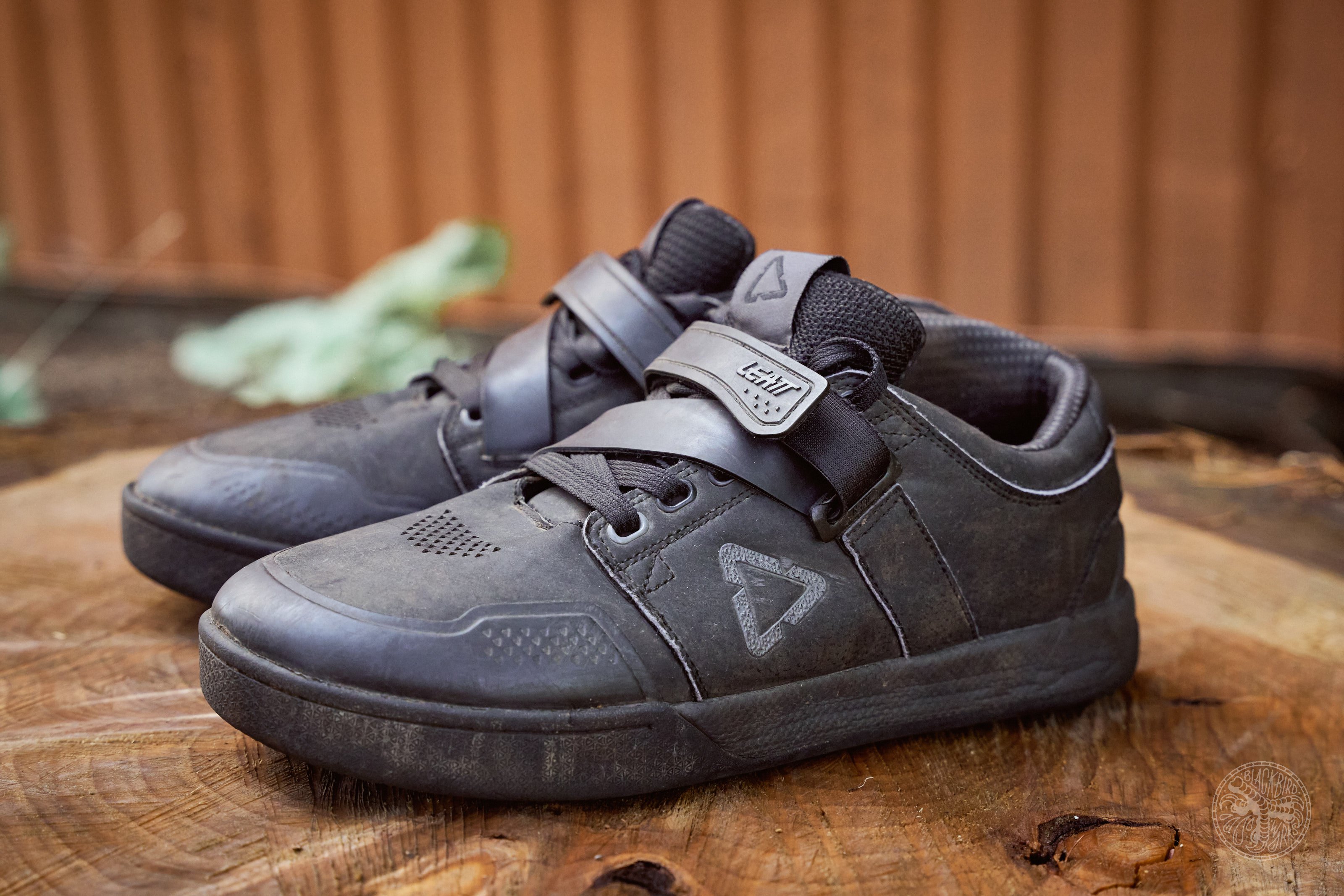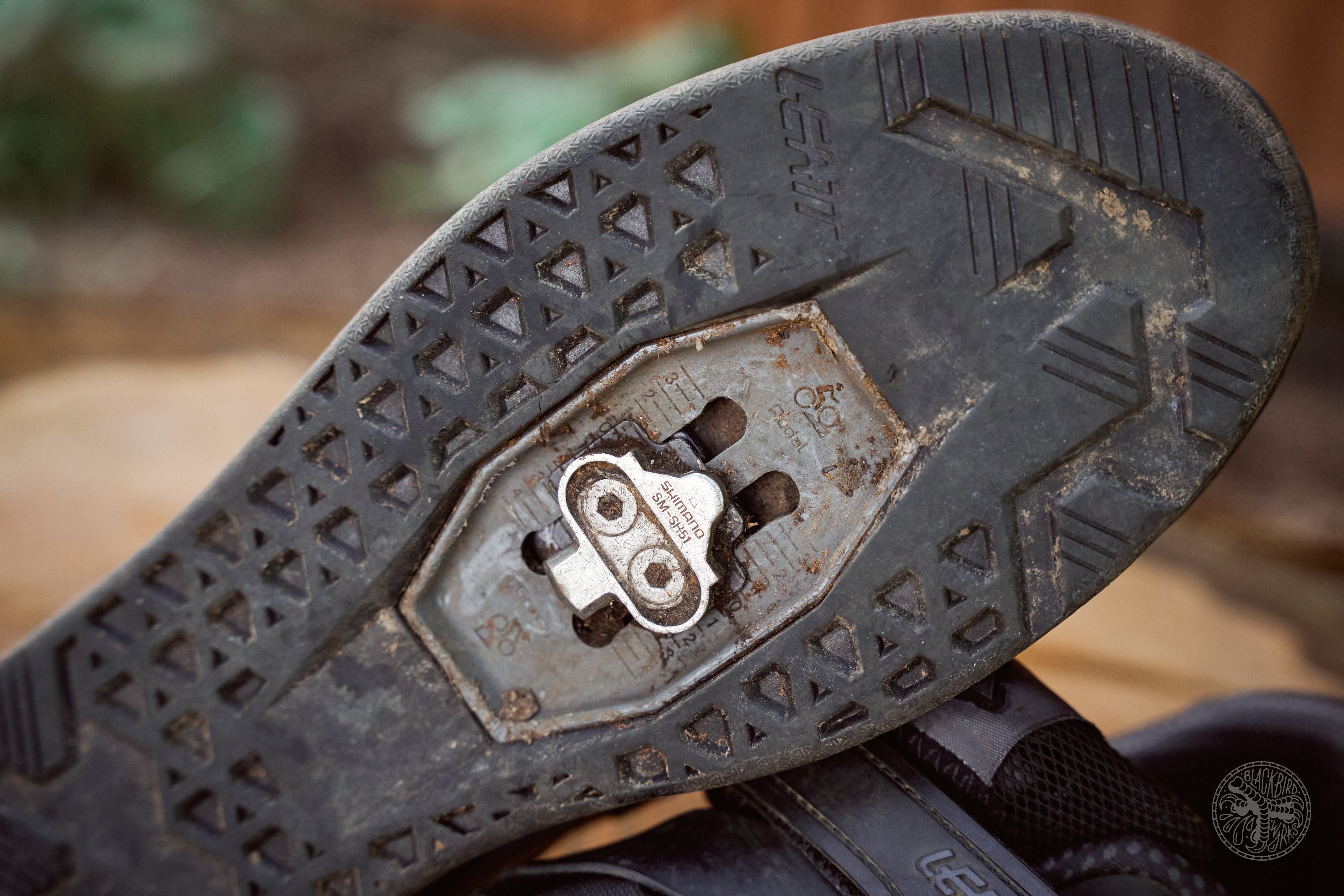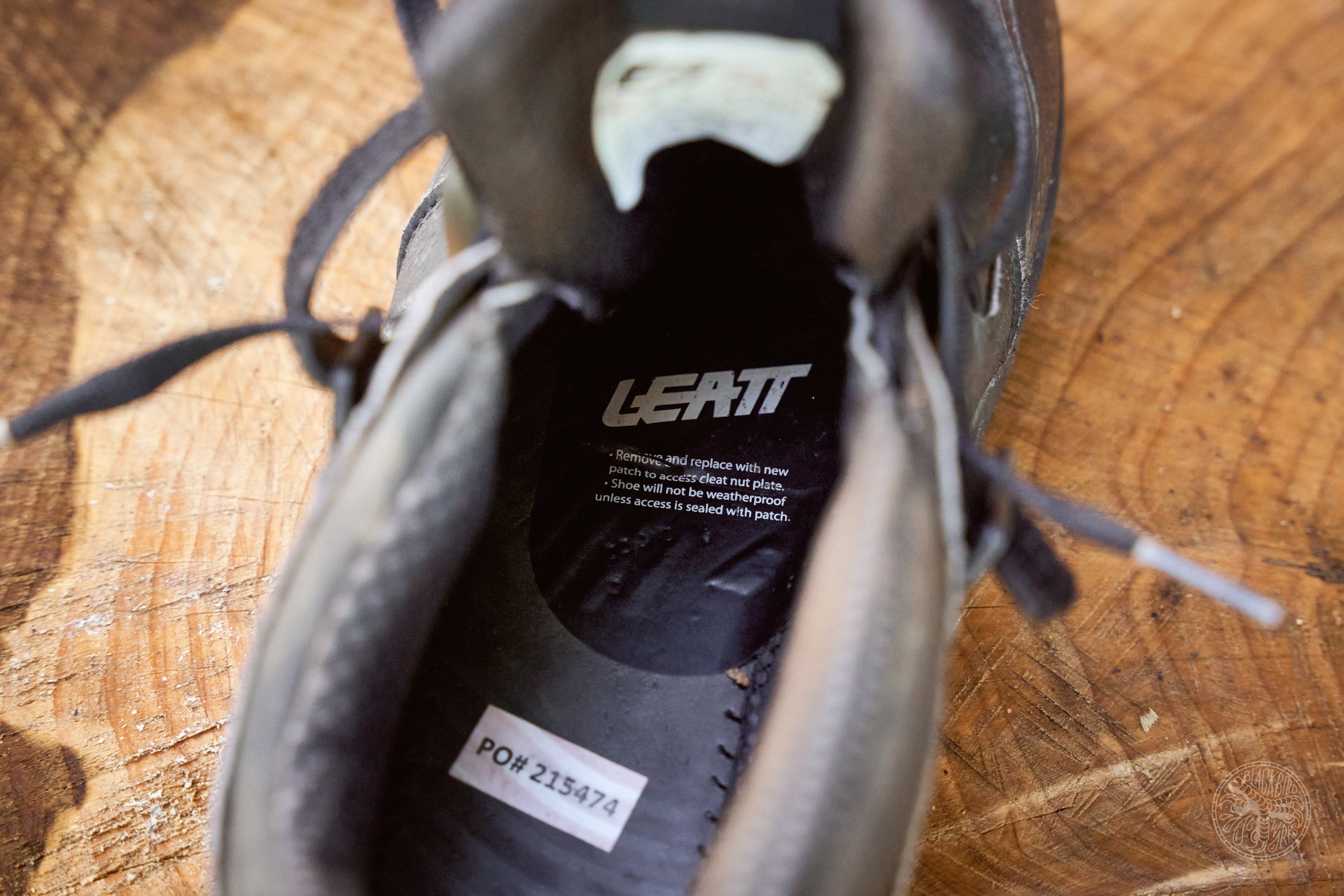 Also included with Leatt's clipless models is a knurled alloy cleat shim, which interfaces perfectly into cleat pocket graduations for further fine tuning. Sure, many shoe manufacturers offer some sort of shim, but an alloy shim is obviously more burly than a plastic one, potentially saving the cleat pocket itself from getting ground away from pedal components. Underneath the footbed on the inner part of the shoe, lives a fabric patch designed to improve waterproofing, and I didn't experience a soaker in these shoes once.
The Z shaped strap on top of the laces is decent for reducing the volume of the entire shoe. It also protects the laces from getting snagged on pedals, or detritus from the trail. The strap itself is a little long, and could use more loop (of hook/loop closure) on the strap. The end tab hung over a bit too much, occasionally flinging itself loose.
Overall, the 4.0 is Leatt's second most tech-laden shoe. It's my first choice to grab when leaving for a ride, with its protective panels, waterproofness, and half-skate styling.
Leatt Shoe 5.0 Clip
MSRP: 215 CAD
Trail style clipless shoe
Full Synthetic Construction
Many vent panels for maximum air flow
Adjustable quick-lace system
Moulded Z-shape cinch straps
10k Waterproof-breathable membrane
1040g/pair
Sizes: US 6-12, UK 5.5-11.5, EU 38.5- 47, CM 24-30
Leatt's Shoe 5.0 Clip is the most tech-laden model they offer but it has a slightly less burly build than its 4.0 sibling, deleting the inner ankle protection. Breathability is noticeably greater than the 4.0 also, with massive venting through the toe box and mid-foot area. Beneath the vents is Leatt's 10k waterproof membrane, defending your feet from a soaker through a creek crossing or an accidental mud puddle dab. The final aid to airflow comes in the form of quick-wicking anti-microbial inner lining (which is featured on all of Leatt's shoes).
The fit of the 5.0 Clip is more anatomical than the 4.0. Like all of Leatt's shoes, the heel cup is deep, but feels a touch narrower in the mid and forefoot area. I noticed a bit of baby toe rub on the inner lining, but that has subsided with full break-in. The Shoe 5.0 shank also feels stiffer than the 4.0, and I'd pick it first if I were going on an all-day epic ride. The 5.0 shares the vastly adjustable cleat pocket of the 4.0, and also includes the thoughtful alloy cleat shim (instead of trashing the plastic of the cleat pocket). A Speedlace system is used instead of flat nylon laces. Upon first glance, the laces are far too long, but can be cut and re-knotted to suit different foot sizes. On top of the speedlace is a rubberized Z strap, which comfortably cinches down any excess volume in the shoe.
I've used the Shoe 5.0 Clip for more epic missions than the gravity-focussed 4.0. The 5.0 fits a little nicer, but the stiffness of the shank is a bit much for my lazy shuttling and hike-a-bikes. I've noticed this a few times on mid-ride trail maintenance minutes, or hiking up pitches I should be riding (within reason, come on!). Nonetheless, the 5.0 is a well built shoe with practical features, and hasn't shown any wear so far.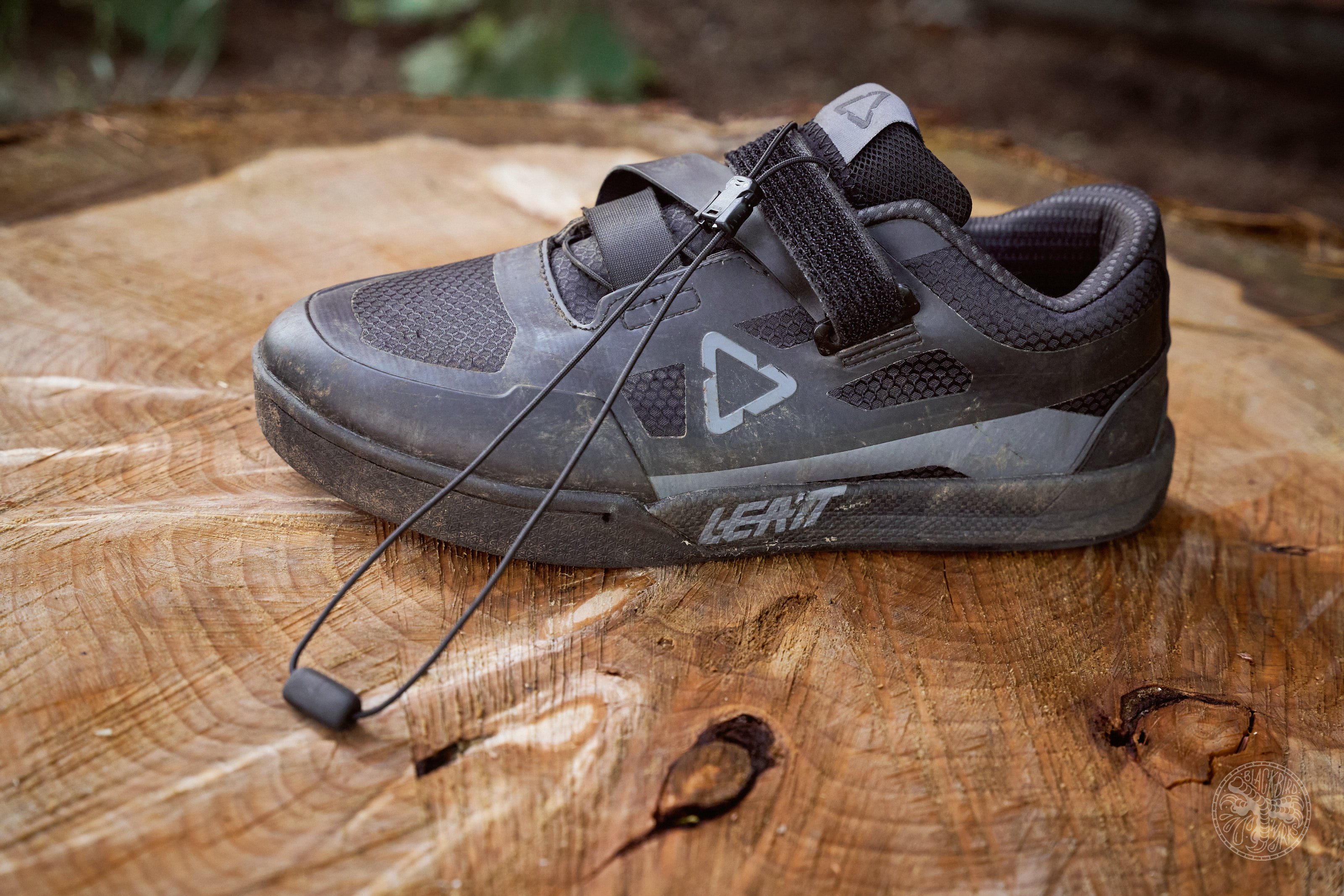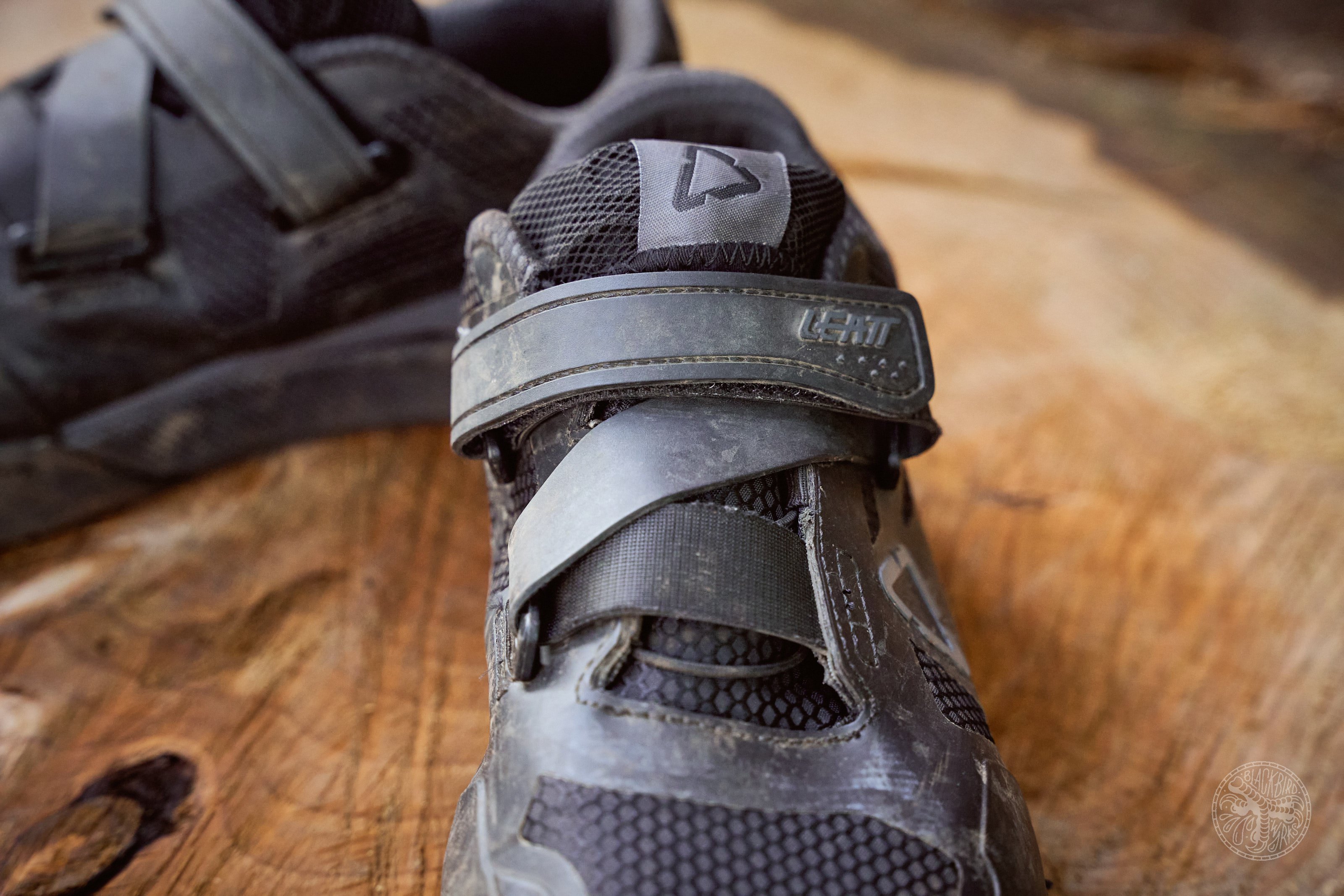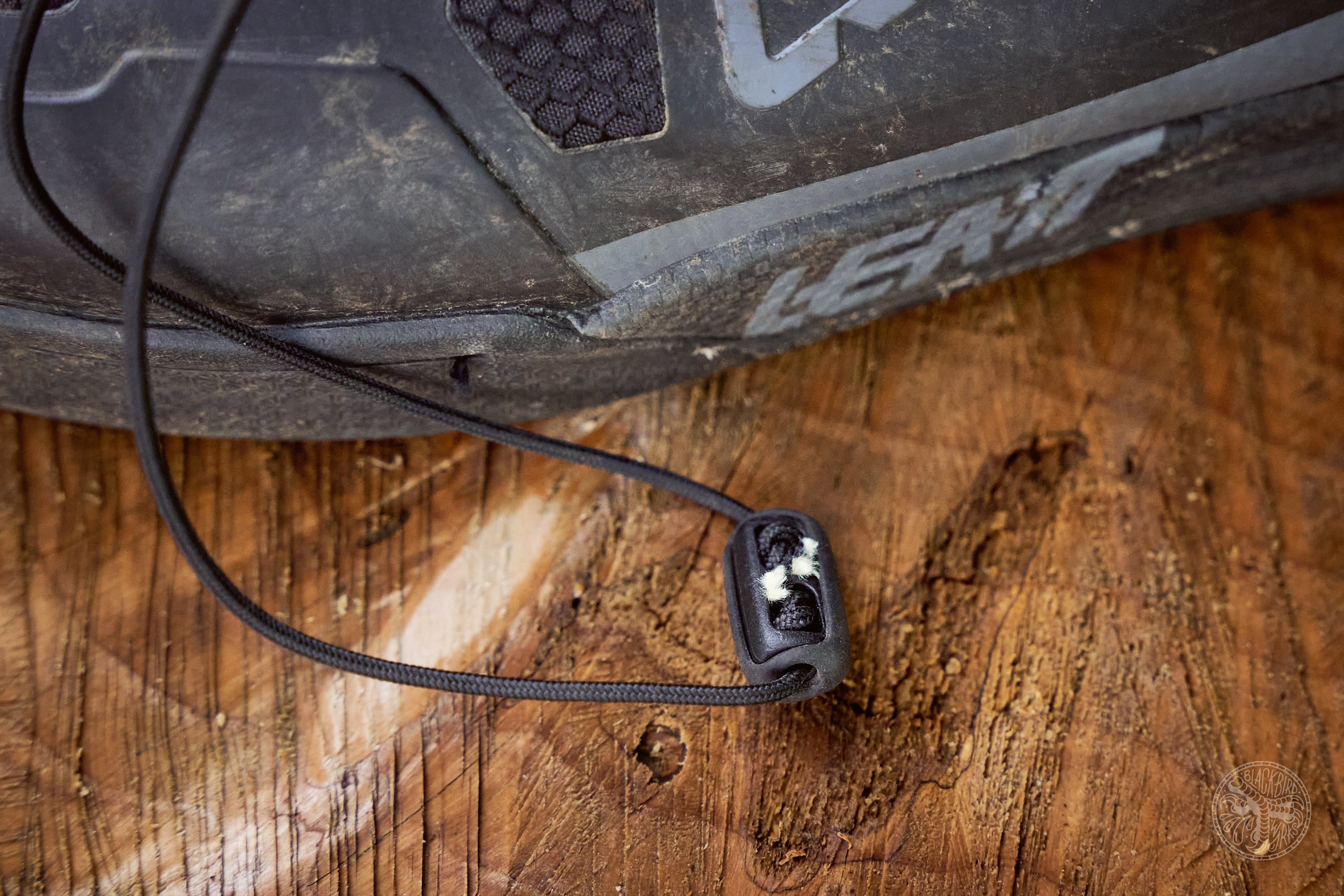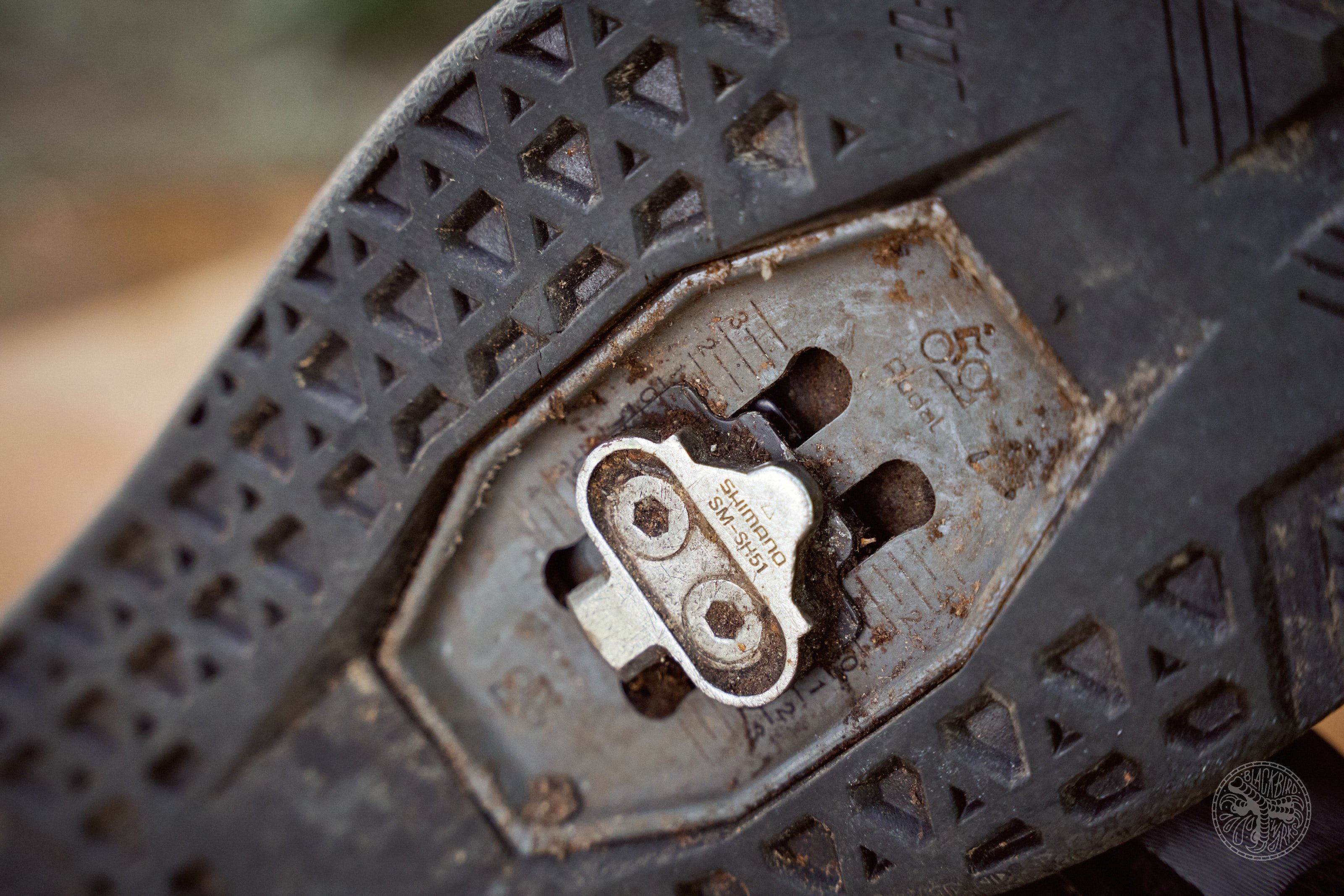 Leatt Shoe Line Review: Wrap-up
Leatt's first crack into the MTB shoes market is impressive, and vast. Build quality is high, and as the numbers increase, so do the technical features. All shoes feature Leatt's carbon inner lining, which wicks moisture away quickly, doesn't sponge up water, and attempts to keep the shoe less funky from many a dunk. All models sport the anti-compression midsole, keeping power transmission direct.
Here's a breakdown of the lineup:
Any questions? Fire away in the comments below.