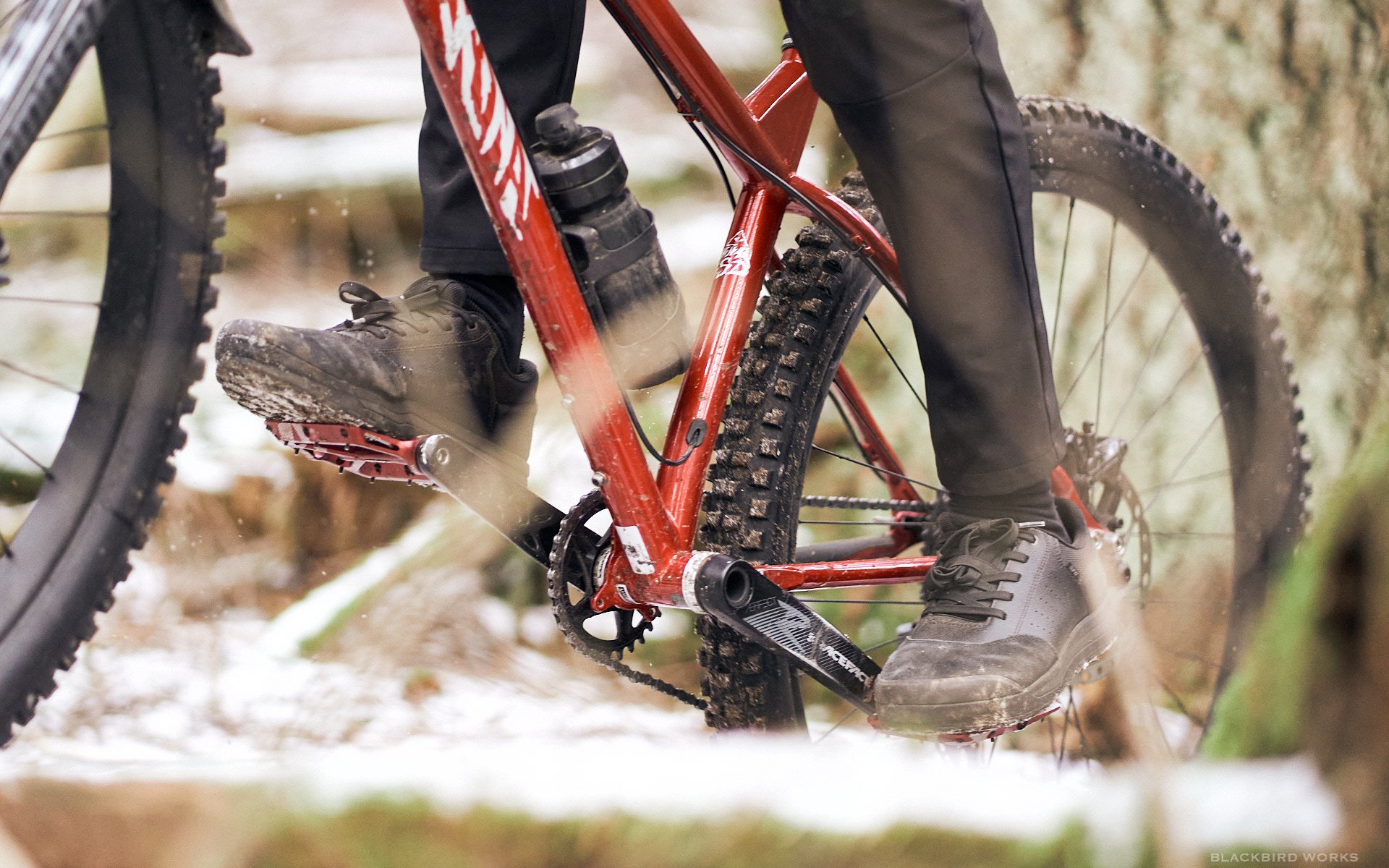 REVIEW
Specialized's 2FO Roost Flat Shoes Reviewed
As a born-again flat pedal rider, I've discovered I am both less particular and more fussy, in relatively equal measure, than I used to be. In my previous life on platforms, I scoffed at any shoes that didn't provide herculean grip. The original 5:10 impact high tops were about all I could ride in. My dependence on these shoes was so complete, I rode for a long time in a pair seemingly made for Desert Storm; they were entirely sand coloured, right down to the soles.
These days I can be happy on higher or lower grip, for different reasons. I appreciate higher grip keeping my foot stuck where I put it, and I like lower grip because, when necessary, I can reposition my lugs without sitting down or lifting off to reposition. My preference lands right in the middle generally. I used to like a more flexible sole that would bend over the pedal but now I like something a little more robust, for both power and protection. Pedals fit into the equation as well of course but currently there are so many good options to choose from it's hard to go too wrong, and I've found several that make me happy every day from Canfield, OneUp, Crankbrothers, Kona, and even Specialized. It seems we've finally emerged from the flat pedal dark ages.
*Cover shot - Deniz Merdano
I was at the launch of the original 2FO shoes back in 2014, and over time I came to appreciate everything about the clip version. I was in the middle of my second SPD period, so I didn't spend much time on the flat model, but I wasn't very impressed with the grip (see above). I was however smitten with everything else. The fit was sublime, the styling was a bit too bowling shoe but at least it was original, and the build quality was very impressive. They were the shoes I always came back to after testing something else, until a similarly impressive pair from Pearl Izumi came along.
This left me with high hopes for this 2021 re-release of the 2FO (Foot Out, Flat Out). I wondered if they had finally achieved the high grip they'd promised in the early shoes with their SlipNot rubber, but had failed to deliver. And I wondered if I'd be pleased if they'd reached that goal.
I ended up having to settle for one size too big, but it turns out the 12s were ideal for winter riding, allowing me to put a pair of (formerly) waterproof* Showers Pass socks inside with more than enough room. I also find that sizing up provides a little extra protection by keeping my toes back from the front of the shoe. Unfortunately this leaves me unable to tell you how true to size these are.
*considering I've been wearing my Showers Pass socks all winter every winter for several years, they still perform remarkably well, but they are no longer entirely waterproof

It turns out the 2FO Roosts aren't fussy; they'll stick to just about anything.
Retention
Lacing up I noticed the flat eyelets that match up with the flat laces, preventing the laces from twisting or compressing as they pass through. You can't pull your shoes tight by pulling the ends of your laces because of the high hold in the eyelets so you'll need to tighten then in layers. I soon learned that it was worth my time to loosen the laces when I removed my shoes after a ride because otherwise I'd have to do it before the next ride. I also found it difficult to get a firm hold over the toe box, even tightening in layers, but this would have been complicated by the larger than optimal size. The laces have very little stretch so there was no value in cranking them down before riding with the expectation that they would loosen off over time; just set and forget.
Uppers
Upper construction is leather with suede on the toes and heels. The suede was apparently added to reduce scuff marks and increase longevity. I was a little surprised by this but wear in those areas hasn't been bad and they don't seem to sponge up extra moisture.
Shoes often fail where materials meet, whether they are bonded or sewn together, and for the most part these junctions are standing up well, with one slight exception. A small flap has opened up where the toecap wraps over the upper by my right baby toe. This isn't bad at all at this point but to make sure, I'll glue it down with a little JB Weld and she'll be right as rain.
Outer Sole
As every flat pedal rider knows, without a suitable sole, there's no saving a pair of shoes designed to mate with pedal pins. The 2FO Roost features the third generation of Specialized's SlipNot rubber, and it seems they may have nailed it this time. In fact the grip is a little much for me, but I'm getting more used to it as time goes on. Repositioning requires sitting down or lifting one foot completely, which I don't like at all. Once my feet are on however, whether they are perfectly positioned or not, they stay right where they were planted. And they work with a range of pedal brands and sizes. Today I was on some Kona Wah Wah IIs, and I've been riding both models of Canfield Crampons and Specialized Boomslangs as well. It turns out the 2FO Roosts aren't fussy; they'll stick to just about anything.
Features
There isn't anything fancy or innovative about the 2FO Roosts, but they deliver most of what I'd like to see. I appreciate the elastic lace tether, which I use religiously, but this wasn't well executed (see below). Instead of traditional foam padding for protection at the cuffs and tongue, XPEL Airmesh is used, both to save weight and prevent the sponge effect early Fivetens were plagued with. The aforementioned flat laces and eyelets keep my foot secure as well as any shoe I've worn, but they are a little less convenient than some others.
Protection
Both ends of the shoes are armoured with a nice rigid structure to protect your little piggies and heels from inevitable trail impacts, while the shank balances protection and feel perfectly for my taste. I've had some bangs and bails without incurring any damage. The rest of the uppers and tongues are also sufficiently robust to provide decent protection.
Misses
This is mostly minor stuff, but there are some areas which could be improved. The elastic loop used to tether the laces once they are tied, is too loose. This is likely because otherwise it would be tough to lift it up in order to tuck your lace loops underneath. Other brands have sorted this out be pulling a small loop of elastic together with a stitch leaving an easy to grab tab, which is vastly more convenient. I'd also like to see a gusseted tongue to keep water and debris out and to prevent the tongue from twisting (although the latter hasn't been an issue thus far). One aglet* has some exposed lace sticking out that has begun fray slightly where it has slid down. It would be nice to see these in metal with covered ends.
*what shoe people call the covers on the ends of your shoe laces
On the Trail
In use I've never found the 2FO Roosts lacking. The shank is stiff enough to provide power for bunny hops or when bearing down on the pedals, and to protect my arches, but flexible enough to give good trail feedback. The grip has been amazing wet or dry, and even in sub-zero (Celsius) temps like we've had recently. The stick is a little different than Fivetens though, which I would describe as a little more gooey, for lack of a better word. I find the grip of these to be at least as tenacious, but slightly more firm, so once I'm in, there is a sturdy feel that I appreciate, at least when I nail my foot placement the first time. While I'm getting better at finding my sweet spot after a foot out with the Roosts, I'd still prefer the ability to reposition while in attack position. Obviously that's a very personal issue, and given the choice I'll take too much grip over too little every time.
Overall
Of all the elements that have impressed me about these shoes, durability has risen to the top. I would have needed to put in some shifts in a coal mine to have treated them worse, and yet the uppers look almost as good as new. The soles are even more surprising, considering how gloriously sticky they are. As anyone who has ridden a sticky tire on the rear, like a Maxxis MaxxGrip, will tell you, that friction comes at the cost of durability. But not here it seems. Close inspection reveals some surface scars but very few chunks removed, and every single lug is intact.
If you don't appreciate a high grip shoe, these may not be for you, but if you crave Fiveten-level stickiness, these could be your glass slippers. They protect well, are easy to walk in, fit nicely, provide excellent support, and allow me to perform at my best. Despite a few details that could be better, and my preference for a little less grip, these are my new high water mark for flat pedal shoes, for a very reasonable 120 USD.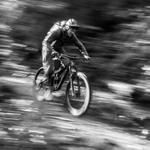 Cam McRae
Height - 6'/183cm (mostly legs)
Weight - 170lbs/77kg
Inseam - 34"/86cm
Ape Index - 0.986
Age - 56
Trail I've been stoked on lately - Boogieman
Bar Width - 760mm
Preferred Reach - 485-500mm (longer with 27.5 wheels than 29)