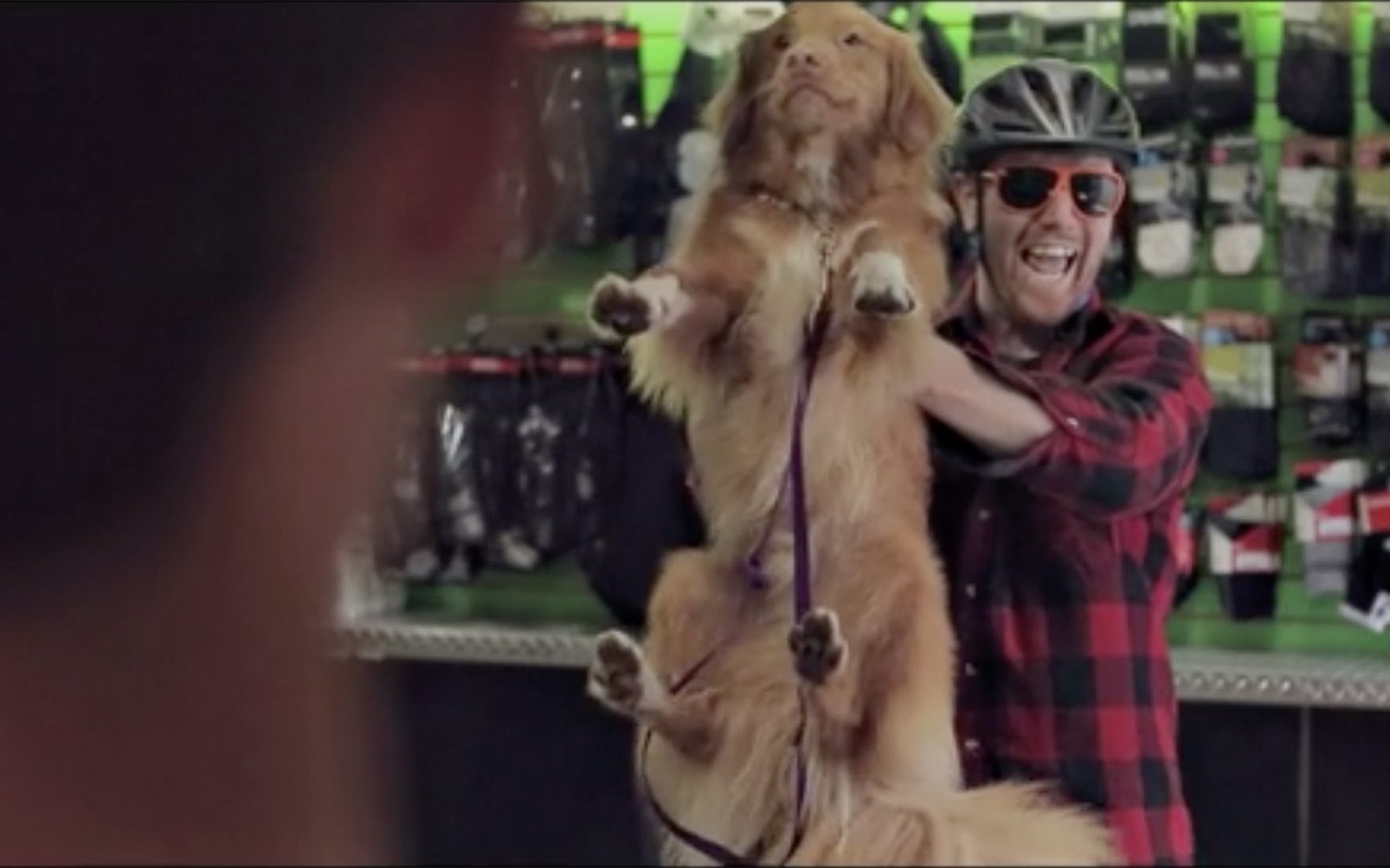 How to Buy a Mountain Bicycle*
I haven't strolled into a bike shop and thrown down my hard earned dollars on an off-the-rack bicycle since roughly 2001, but I find myself fielding at least a half dozen "What bike should I buy?" e-mails every year. Being the lazy bastard that I am, I figured I should just write an article and forward the link on rather than punch out the same e-mail six times a year. Looking to buy your first (or second or third) mountain bicycle? Well, have I got some advice for you!
*Originally published 2014-10-28
1) Find somebody you trust – Have a co-worker that rides mountain bikes? A 2nd cousin, twice removed? Met a guy at a party that mentioned something about bikes over the course of the evening? Well, send 'em an e-mail asking them what bike to buy! Honestly, they love making use of the mountains of totally useless information they've accumulated over the years. Even better, if you know their loved one better than you know them, they can now trot out "Remember that time I helped your friend Jenny buy a bike?" every time they're losing an argument. It's win-win. This guy is now your mountain biking buddy. Honestly though, once you find somebody that you can bounce some questions off of, do not ask too much of this person. It's a fine line between "Hey, I found this pretty great bike that I like, what do you think?" vs. "I was going to go look at some bikes this Saturday and I was hoping you'd come with me to see 6-7 different shops? I don't have a car though, so could you drive?"
Bike shops love the barter system. Just ask Morgan (and Denver). They already have a shop dog? How about a PS3 with lots of sweet games (Call of Duty 4!) from 2006?
2) Answer this question – "What do you want to do on this bicycle?" Until you answer that question you're going nowhere. Tell your trusted buddy the answer to this question. Now, the seasoned mountain biker expects an answer like "ride cross-country" or "Maxim magazine said this freeride thing is pretty awesome, so I want to do that." But you'll probably respond with something like "You know…everything really. Ride to work…do some road rides…hit some trails…maybe take it on the lifts in Whistler." And this is the first time you'll make your mountain biking buddy really sad. So start narrowing down this question. You don't cut steak with a butter knife, so why do you think you can do all those things on the same bike? You need to narrow this down. Hopefully your answer becomes "I want to ride sick trails in the forest on a bike and maybe learn to do backflips at some point." Now we're talking.
3) Figure out a budget – Do you have a number in mind for what you want to spend on a bike? Okay. Double it. Then add $500. We're probably in the neighbourhood now. But once you have that number, stick with it.
4) Go look at some bikes – Wait for a sunny Saturday in May and then head out to some bike shops! Okay. Read this article here on getting the best bike shop experience possible. But go check out some bike shops. Talk to some people. Look at bikes. Figure out what shop you like best. Chances are you are going to be heading back there every time the chain skips, so you want to have a good relationship with your bike shop. Was there a shop full of people that sucked, who sneered at you when you told them how much money you were going to spend? Don't go back there. If you hate them now, you'll want to torch the place after they tell you that a part is not in stock and they'll need to hold onto your bike for a couple of weeks. Was there a salesperson that you really liked and that treated you like a human being? This is probably where you should think about buying your bike.
5) Don't sweat the bullshit – You went to some shops. You looked at some bikes. And you're probably really confused right now. That's okay. Most of what they are telling you totally doesn't matter. 90% of the bikes in a given price range have the same stuff hanging off of them. Sure, one might have a really bitching set of pro model grips on it that the other one doesn't…but I'm telling you, it doesn't matter. Don't pay attention to all the acronyms and model numbers and materials. It doesn't matter.
6) Find a bike that you really like – So you figured out what you want to do with the bike, and you figured out how much you want to spend and you found a shop that you really like and the salesperson is great and they showed you a bike that makes you weak in the knees and ticks all your boxes and you ask your mountain biking buddy if it's a good bike and he shrugs his shoulders and says "it's pretty good, I guess" (high praise from a mountain biker). Well why aren't you buying this bike? The most important thing about buying a bike is that you love it. Don't spend your money unless you love it. You want to want to ride this thing all the time. You want it to cry out to you in sadness if you leave it in the garage for too long. Buy the bike you love, not the one with the fancier rear derailleur.
Bike shop employees, unlike you and I, never have bad days. They are always in a good mood and thrilled to see you. Be sure to ask them what they think about the bikes their competitor down the street carries.
7) Okay. You still need convincing. You love the bike. It does what you want at a price that doesn't make you cry. The shop is a good one. You're still hesitant. You want to make sure it's still the right bike for you. I understand. And I'm about to get controversial. Remember when I told you not to worry about the individual parts on the bike? Okay. I kind of lied. You do have to worry about parts. You're just not smart enough yet to worry about it. And it's probably not the ones you think are important that are. Call this "Advanced First Bike Buying." Here's what you should worry about, in the order that you should worry about them in:
Geometry – This takes dozens of years and countless Internet forum arguments to fully understand. This is why you have your mountain biking buddy review your purchase before you buy it. If the geometry isn't dialled in, no fancy suspension engineering or frame materials will save it.
Frame and Suspension design – This after all, constitutes what we think of when we think of a bike. You can change just about everything else.
Fork – Probably the single most expensive component on the bike. A good one makes a world of difference. A bad one will leave you wanting to hurl the thing into the forest.
Tires – Easy, yet expensive to change. The bike company is probably trying to pawn off some re-treads manufactured in a country you've never heard of. Make sure your mountain biking buddy talks them into putting some good ones on before you head out the door.
Brakes – It's worth paying a bit more to get good brakes.
Wheels – A bad set of wheels can ruin an otherwise great bike.
Seat – You're probably asking the shop to put some gigantic padded monstrosity on the bike for you, aren't you? Don't do it. Get one that is comfortable, but that cruiser bike seat will do you no favours.
Pedals – Decision time. Flats? Clipless? Just get them to throw some cheap flats in until you can figure this out.
8) Everything else – You could take the crappiest, city bike gruppo off a Wal-Mart bike, and it will most likely out-perform the top of the line stuff I lusted after in the early 90s. Don't worry too much about this stuff. Same thing with handlebars and seatposts and stuff. It all works pretty well. You're just learning. We could probably wedge an old stick in through your stem, tell you "all the pros do it" and you wouldn't know the difference.
9) Buy a helmet. Gloves too. Maybe some shoes. A backpack. Some tools? Shorts are important. What about a rack for your car? How are you going to store it in your bachelor's apartment? GPS is pretty cool. A jacket for the rain would be good too. And don't forget the GoPro!
10) Go ride – Ask your mountain biking buddy to take you out for a ride. Tell him you don't want him to go easy on you either, you're up for a challenge. Honestly, they'll love it. Most mountain bikers like nothing better than spending an afternoon passing on all their wisdom on this incredibly easy sport.
Another happy customer! When you are new to the sport picking the right bike shop is more important than picking the right bike. Note: this caption (unlike the other two) is not full of shit. Also – these screen caps are taken from filming Beardless and Fearless at Steed Cycles – one of the best shops around, staffed by knowledgable and friendly employees.
---
That sounds easy doesn't it? Dave forgot to mention spending months on the internet reading forum comments, learning acronyms, memorizing geometry numbers and whipping your lust into a frothy wallet-crushing mess – which is half the fun of buying a new bike. What did we miss?