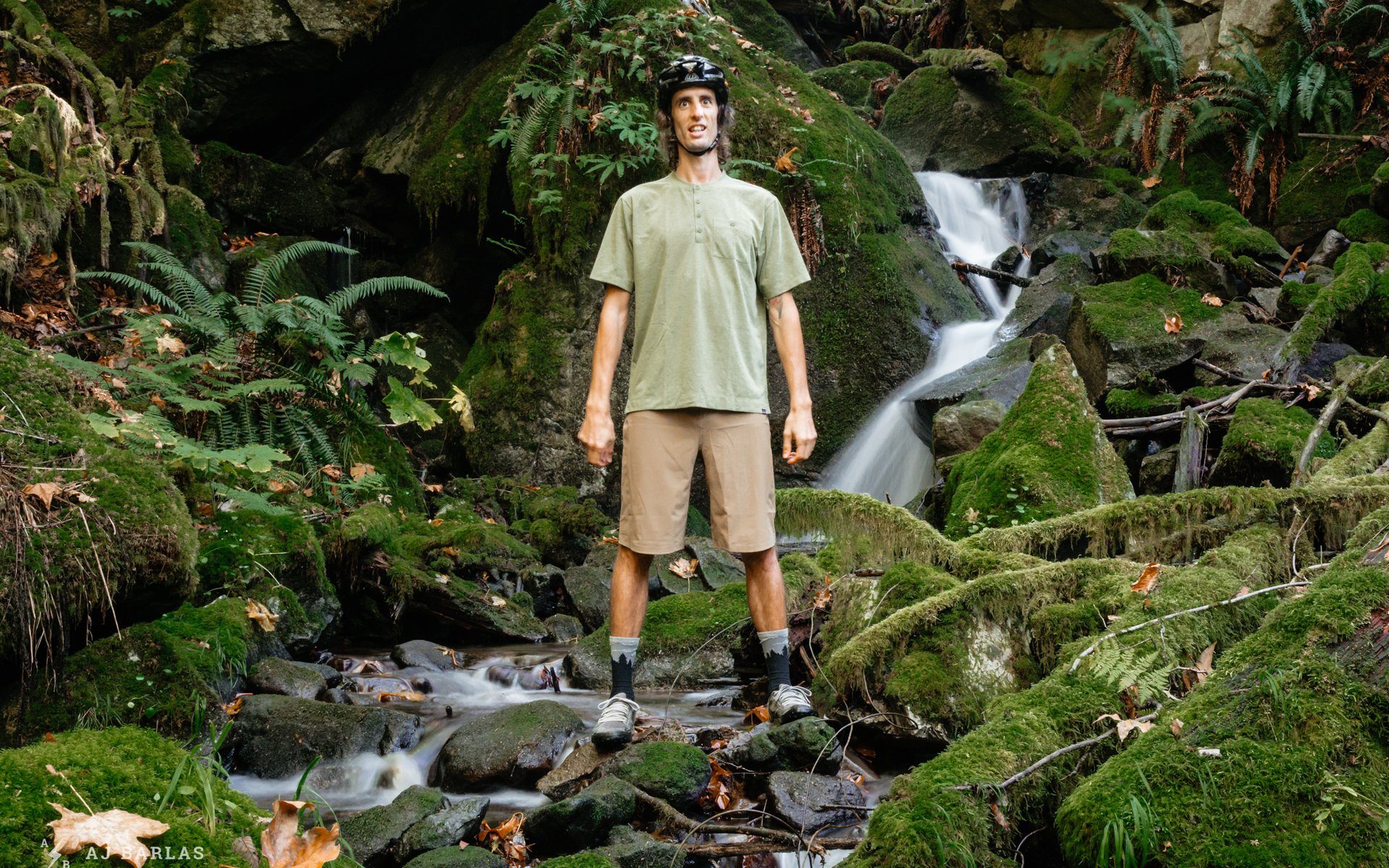 Review
Patagonia Dirt Roamer Short & Trail Bike Henley Review
Patagonia places emphasis on producing functional products that are not only durable but repairable too. They started out developing minimalist styled gear for climbers and surfers but recently stepped into the world of mountain biking. The bike specific range continues their minimalist look and is in some ways the complete opposite to typical cycling apparel.
Through the closing of 2018, I spent the majority of my time riding in their Dirt Roamer short and Nine Trails Henley jersey. The gear has been subject to everything from hot and sweaty conditions to cold and wet. Although worn in a variety of weather, it's clearly best suited to the warmer months.

Features:
Dirt Roamer Short
4-way stretch recycled polyester x spandex short
DWR Coating
Articulated, welded seams
Ergonomically curved waistband
Opposet adjustable waist
Ergonomic zip pocket on the leg
11.5-inch inseam
MSRP: 119 CAD / 99 USD
Trail Bike Henley
Polygiene® permanent odour control
Capilene® fabric
Longer back for coverage when riding
Four button henley design
Button chest pocket
MSRP: 55 CAD / 45 USD
Dirt Roamer Short
Patagonia uses a unique waist adjustment system on the Dirt Roamer short. On the right side, a tab reveals itself from the waist-line of the short. The material from this tab extends through the short to the front button where it loops back. Patagonia calls the system Opposet and it creates a very minimal, easy way of adjusting fit. But at first, I couldn't work out how to use it. I kept looking for the section on the other side of the short. Once figured out it was easy to adjust and stayed set to my fitting throughout rides.
Aside from this and the zippered pocket on the leg, the Dirt Roamer shorts have little going on. No fancy bells and whistles here—everything is built to work without obstruction from the ride. The seams are welded and went unnoticed but they also make for a lightweight short. There's only one pocket, which for some isn't ideal. Positioned with cyclists in mind, it's angled down and around the back of the leg.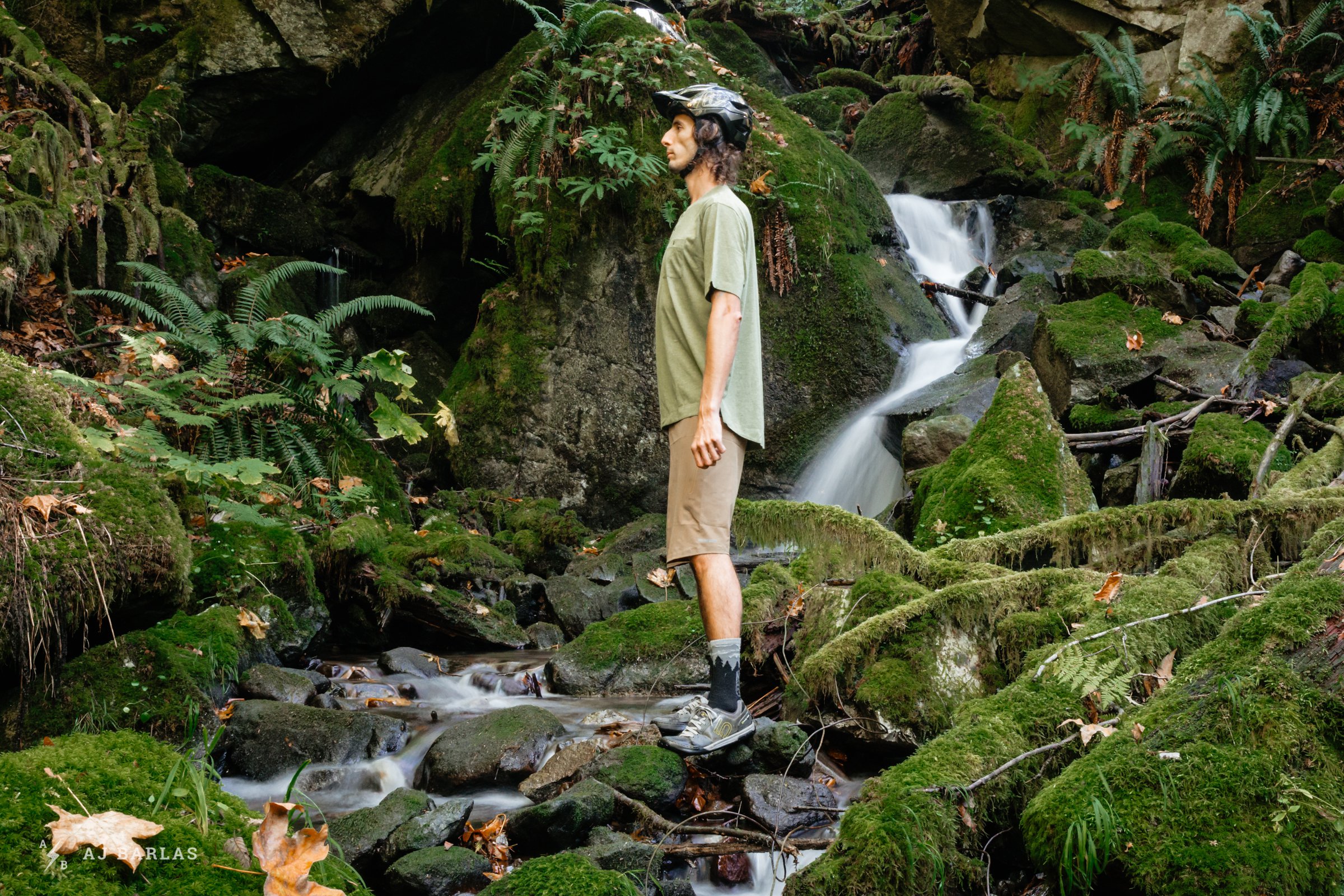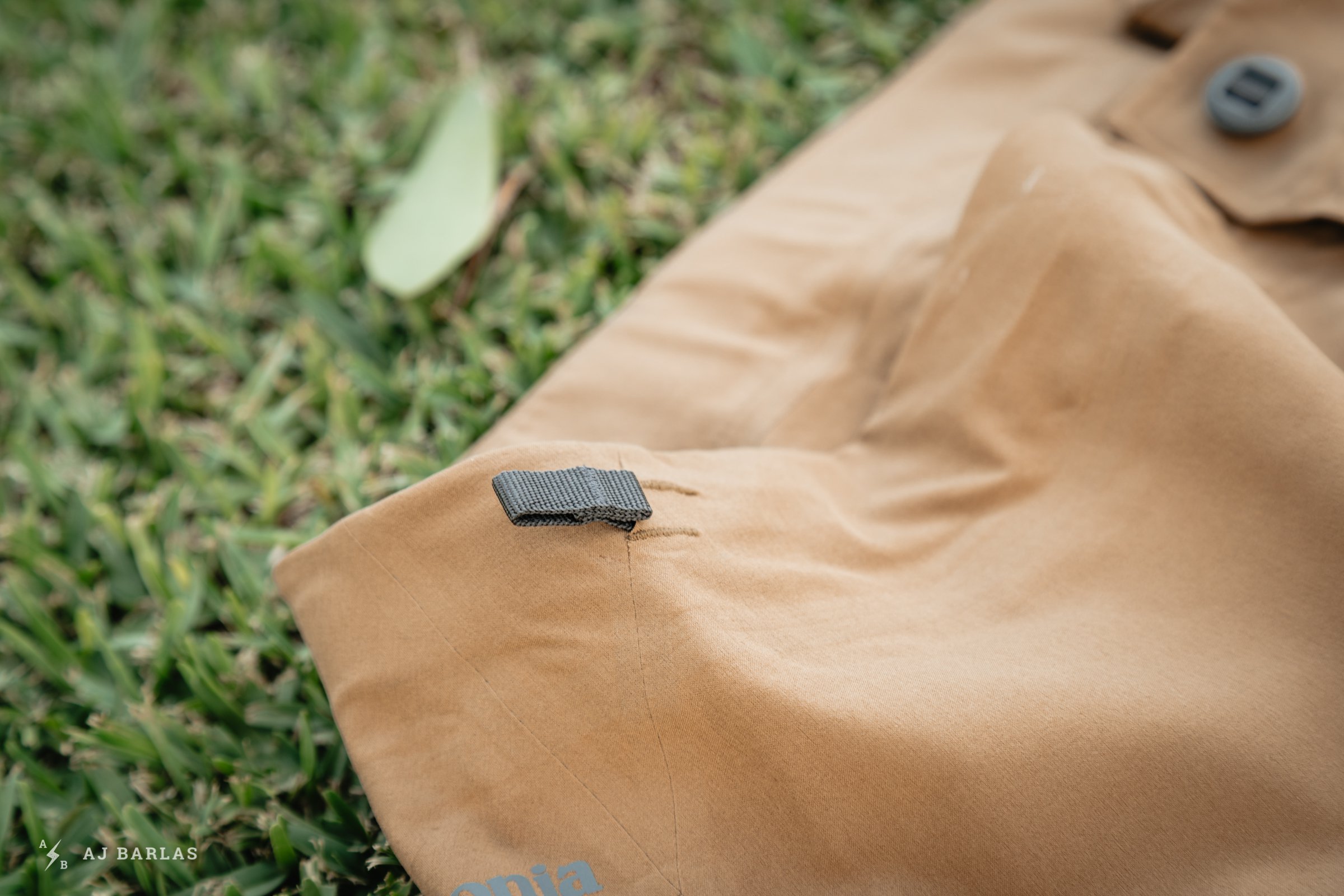 Ergonomics continue to the cut of the waist and leg openings. The waistband curves so that while cycling there's ample coverage at the rear and the sides remain lower. I've not seen this specific cut before* and while my favourite shorts don't have this, I now kind of wish they did. It's likely a combination of features but these are among the most comfortable shorts I've worn. They stay put when riding and there are no pressure points around the waist, something I commonly experience once shorts are adjusted to stay put. #skinnyguyproblems
*Race Face use a similar concept with a raised rear waist band. The Patagonia version differs. Think of it more as a subtle dip at the sides, rather than a rise at the rear.
Cycling specific leg openings are nothing new but it's worth noting that the Dirt Roamer shorts feature this, too. It's been done well and is hardly noticeable even as I look at them now. That said it's enough to provide adequate coverage on the bike. I had no issues with punters-gap in these shorts but I also opt for kneepads with a long thigh section.
The Dirt Roamer shorts are impressively comfortable, lightweight and carry a subdued appearance, which I'm a big fan of. They've been durable despite time spent whipping past the tenacious hooks of blackberry bushes and bushwhacking through the forest. I'd like more pockets but Patagonia has that option covered with their Dirt Craft Shorts. These feel like a pair of boardshorts designed for cycling rather than surfing, which is great. If you prefer heavier weight material in your shorts then these aren't for you. They're a little more pricey than some other minimalist options, especially considering they don't include a chamois, but have proven durable thus far and provide great functionality.
Trail Bike Henley
Patagonia really only has one jersey style in their line but there are a few takes on that design. The Nine Trails jerseys have most riders covered with a selection of sleeve lengths; short, three-quarter and long-sleeve. New for 2019, the Trail Bike Henley carries over the same features as the other jerseys, only in a short-sleeved, one-quarter button up guise. It uses the Capilene® fabric found in Patagonia's base layers, which does an exceptional job of wicking moisture.
The jersey features a longer length back to provide coverage when hunched over the bars of your bike. At each side is a slit, allowing plenty of freedom. Longer back jerseys are also nothing new but this one is looong—too long. This is coming from someone 191cm tall with a proportionally long torso. A minor gripe but one nonetheless. I typically wear a large t-shirt/jersey and that's the size tested.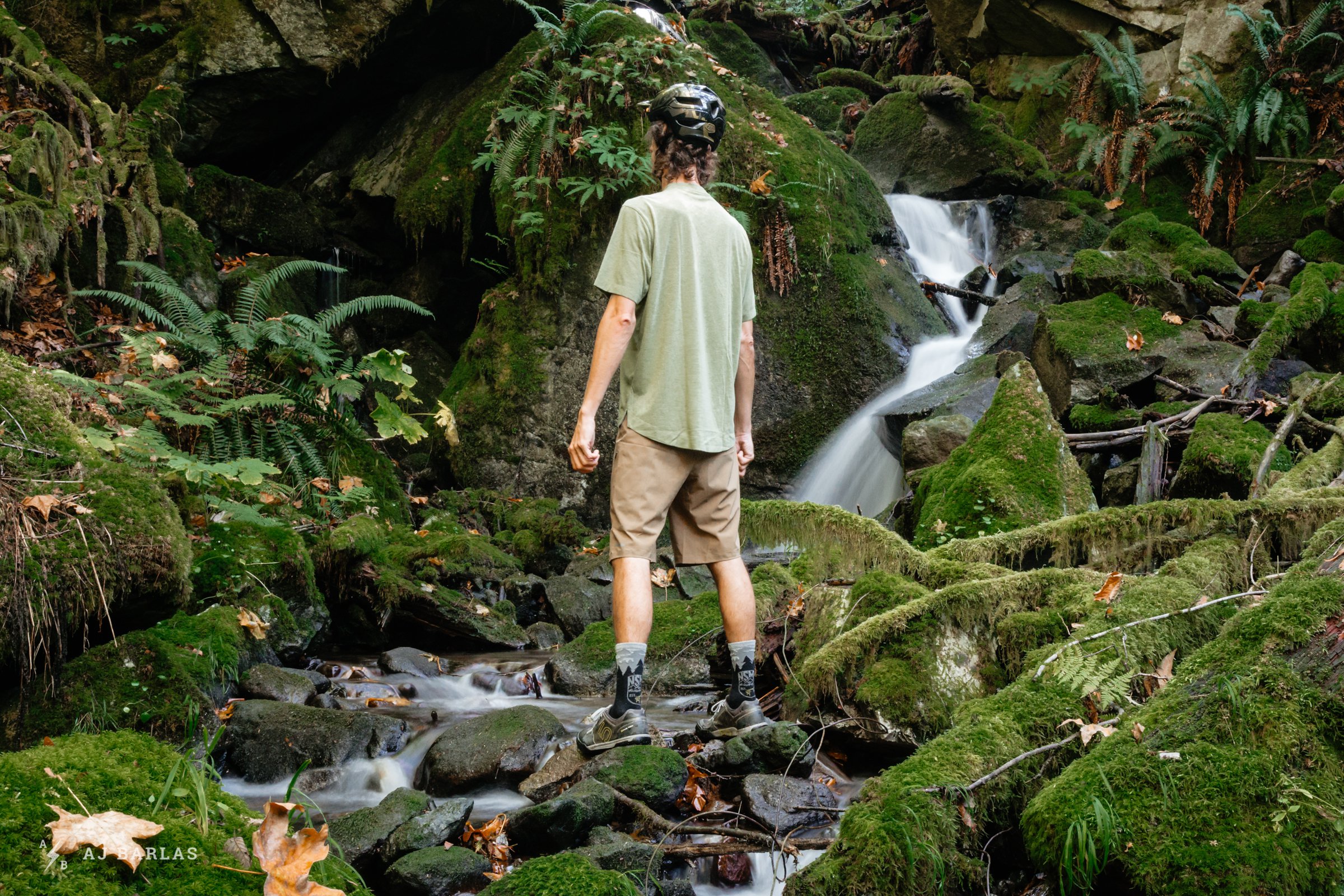 I found the cut of the jersey on the boxy side too. Admittedly, this could be attributed to my #skinnyguyproblems. Although it's not something I've noticed with other jerseys from Mons Royale or Specialized. That said, it would be great if there were a regular and a slim fit to select from. When riding I found the back panel's extra length combined with the boxy cut resulted in the rear flipping up on itself. It would roll back down to full extension after a couple more hits from the trail but it was annoying nonetheless.
Riders who prefer the feel of a t-shirt will be happy with the the Trail Bike Henley. There are heaps of different approaches to poly jerseys and I'm thankful for ones like this. Typically I shy away from poly; I don't like the feel of it, I find it stinks quickly and it isn't as comfortable when sweating. This is the first non-wool jersey I've had in years and it's changed my opinion on the material. It's comfortable against the skin and even after half a dozen rides with no washes (testing life…) didn't stink and remained comfortable.
Patagonia has done a great job with the Trail Bike Henley top. It's not a style that everyone will be drawn to but with the other options featuring the same material and design, it should be easy to find something to your liking. That is unless you relish dressing up in pyjamas or other more noticeable outfits. Although it could fit me better, its minimalist design and comfort against the skin keep it among the most worn items in my riding gear. At 55 CAD the henley offers good value when considering their strengths.
More info on the Patagonia Dirt Roamer short and Trail Bike Henley.
---