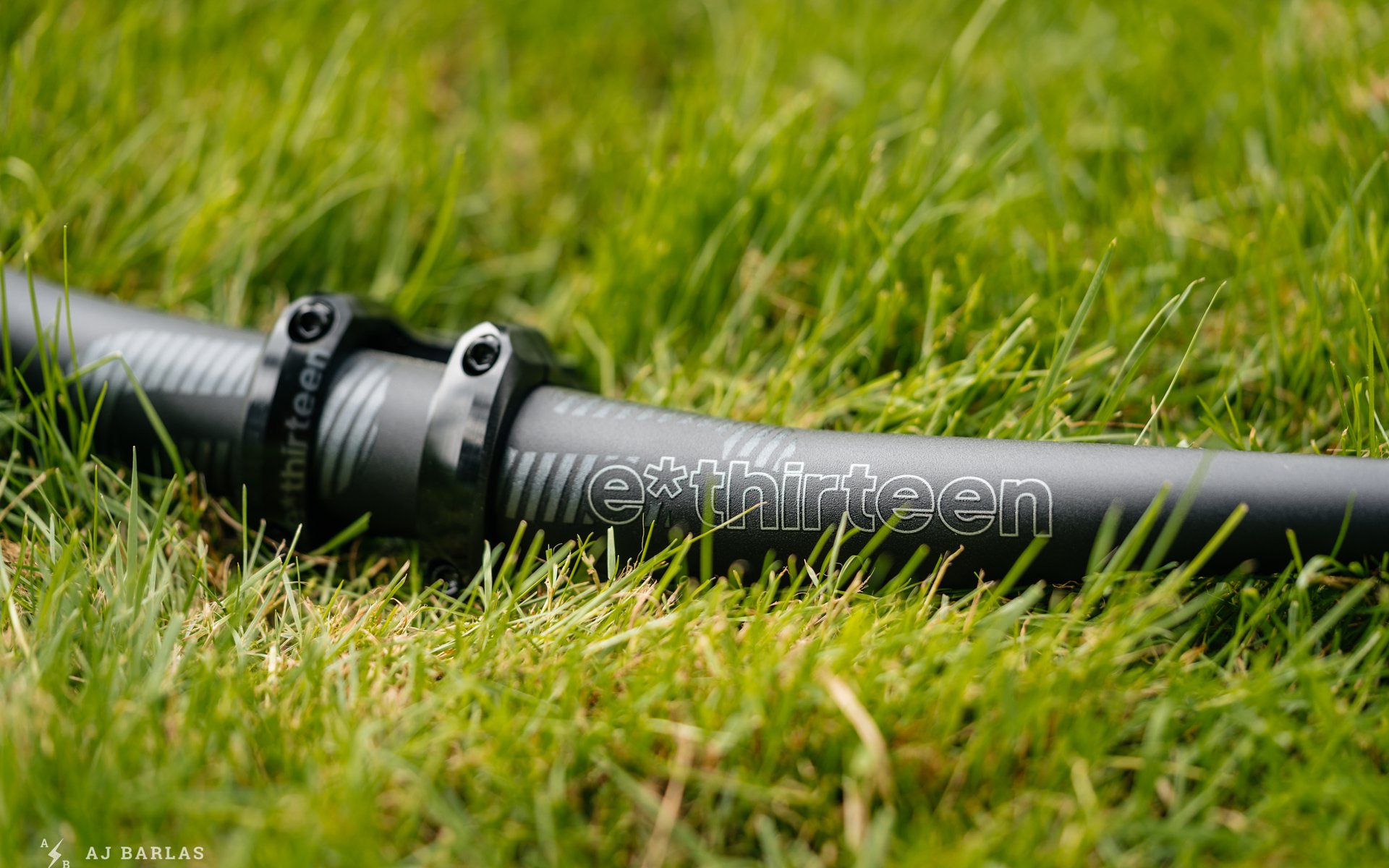 FIRST LOOK
The New e*thirteen Cockpit
The Facts
e*thirteen is no stranger to well thought out, nicely designed components, so when customers and athletes put the request in for handlebars and stems e*thirteen delivered the goods. There are two models of stem to choose from and three sets of bars.
e*thirteen's new Stems
The Base and the Plus stems both feature a 35mm clamp and a zero-degree rise. The angled steerer clamp bolts make for a low profile and are t25 like all other e*thirteen components. The Base stem is the burlier of the two, weighing in at 155g with the Plus coming in at a mere 145g. They are both available in either 40mm or 50mm lengths.
e*thirteen's new Bars
e*thirteen offers two aluminum bar options and one carbon with every type of rider in mind. All bars come stock at 800mm wide with trim lines for easy customization and you can choose from 20mm or 35mm rise. The carbon Race bar weighs in at a respectable 225g, while the aluminum Plus bar is an impressive 280g. The combination of a 5-degree upsweep and 9-degree backsweep is their ergonomic formula for less stress on wrists during long rides and descents. e*thirteen has also put a lot of thought into the layup and butting process with the goal of helping eliminate arm fatigue on trail. Typically a feature of carbon, they claim that even the aluminum bars have the ability to reduce chatter and keep your arms feeling good. Yes, please!
The Fine Details
Base 35mm Handlebar | 6061 Aluminum | 800mm width | 20mm or 35mm rise | 405g | MSRP: 34.95 USD
Plus 35mm Handlebar | 7050 Aluminum | 800mm width | 20mm or 35mm rise | 280g | MSRP: 69.95 USD
Race 35mm Handlebar | Carbon | 800mm width | 20mm or 35mm rise | 225g | MSRP: 139.95 USD
Base 35mm Stem | 6061 aluminum | 40mm or 50mm length | 155g | MSRP: 49.95 USD
Plus 35mm Stem | 7050 aluminum | 40mm or 50mm length | 145g | MSRP: 95.95 USD
More info about the e*thirteen cockpit
First Impressions
I have about a week's worth of riding the Plus stem and Race carbon bar under my belt and most of that has been long, unforgiving bike park laps. I'm pretty excited about this whole e*thirteen set up so far, it looks and feels great. I was running the bars at the stock width of 800mm most of that time which was super stable at high speeds but less than ideal for me in tighter trails. I've since cut them down to 780mm and it feels much better for maneuverability. I suffer from severe arm pump and wrist pain when I ride and I was shocked when I realized that I haven't actually had any since running these bars. Perhaps I have found a winning combination of the right amount of rise, backsweep and material to relieve me of my arm pain but I want to give it a bit more time before I shout it from the rooftops.