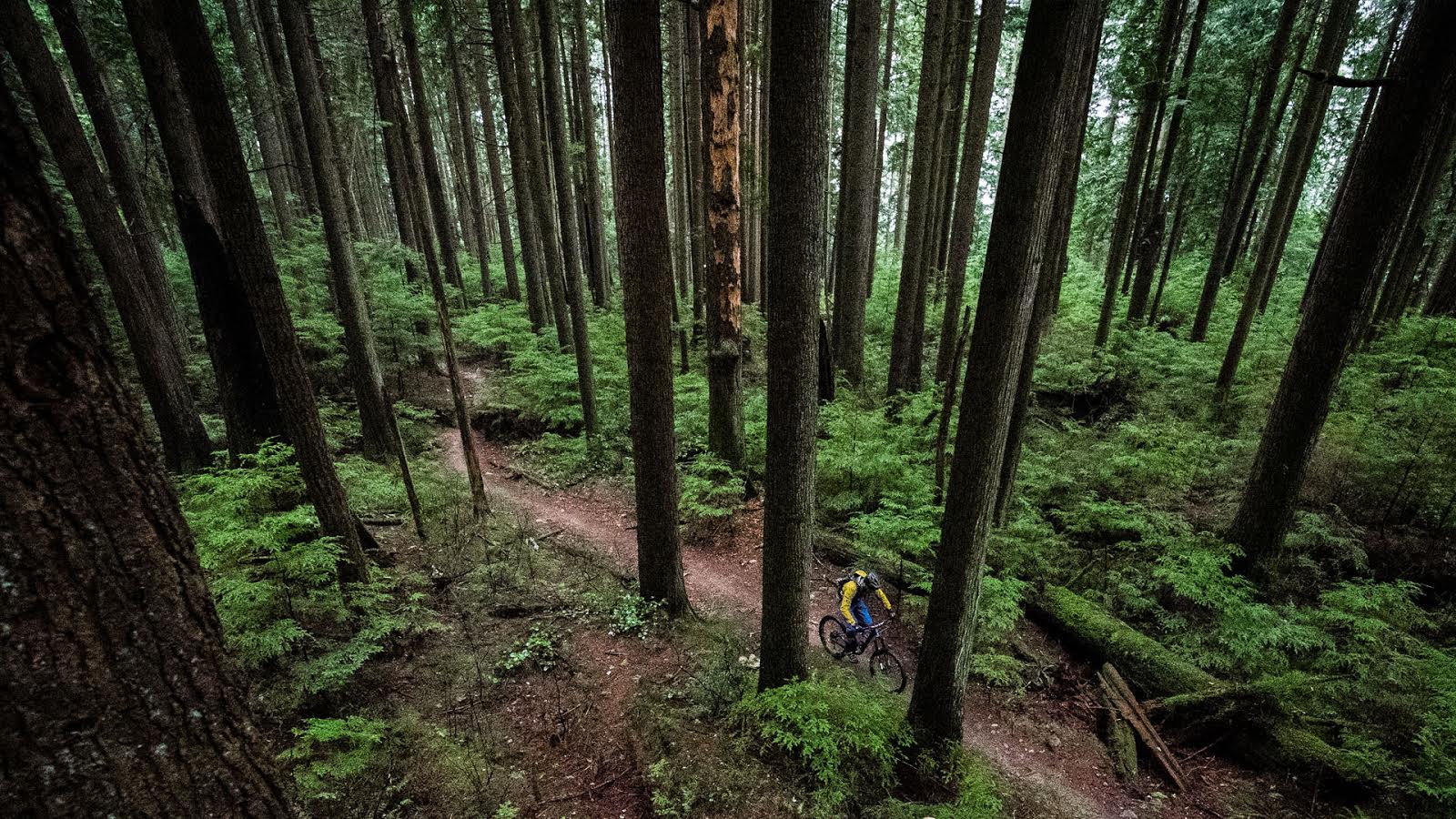 2 New Bikes From Scott
Let's face it, the two markets that have really been distinguishing themselves in the past couple of seasons is longer travel all-Mountain and 29'ers. As technology has progressed we're seeing long travel bikes in more pedal friendly designs, and in much lighter weights. The technology behind the frame construction has also seen a trend towards more carbon fiber as the technology has shed some of its questionable early history and designs have become significantly stronger and more durable. Scott Bikes finds themselves striving to take the lead in this regard with the launch of two very different offerings for 2011; The all new Genius LT, and the Scale 29'er.
Earlier this summer I travelled to Idaho and got the lowdown on these two new rides. The Genius LT with 7.3" of travel, and the 29'er a hardtail that weighed two apples more than 20 pounds. Polar opposites to the max, but both piqued my interest.
A lot of moist weather had greened up Sun Valley, but Saturday broke bright and clear as we cruised to Scott Headquarters to assemble our ride for the day; Scott's brand new Genius LT Carbon. This project was a couple of years in the making and it incorporates a slew of new technologies for the company. Remote adjustable travel adjust and lock out via their new twin-loc lever, one-piece carbon mainframe, and a new shock designed in conjunction with DT Swiss.

  The 2011 Scott Genius LT Carbon, hanging out on the Deer Creek Trail. Photo: Todd Hellinga
After setting up our bikes we rolled out of the offices and headed for a short paved trail jaunt to Sun Valley Ski Area where we uploaded on the mountain's new gondola. They've built a pretty unique system whereby a few of the cabins have been replaced by a rack similar to what one would find at Whistler. The mountain has yet to really develop a mountain bike specific trail system, but there are a number of trail options available to get back down to the bottom. The trails were contoured along the slope and definitely leaned toward the all-mountain side of downhilling, and I don't think that's a bad thing! In fact given some time for reflection, I'd say that its what's lacking at a lot of resorts that cater to the straight up downhill side. I know a lot of people that have no interest in 'typical' resort downhill riding, and I fully believe that if resorts want to start catering to a more widespread mountain biking audience, they need to look to the all-mountain side of the spectrum. Although I'm sure it was no coincidence, Scott's new motto of "redefining all-mountain" with the new Genius LT platform, made Sun Valley a fitting place to launch these new bikes.
  Sun Valley just installed a new Gondola and splurge on some fancy new bike racks, the view is pretty nice too. Photo: Todd Hellinga
The Genius LT brings an adjustable geometery flip chip style feature that allows the bike to be set in either a high or low position. The high offering 7.5" of travel packaged with a 14.4" BB, 67o head angle and 16.8" Chainstay. As the low setting offered a head angle a bit more similar to my regular ride (Cove Hustler/Lyrik/66.5o), I decided to stick with that setting which is 7.3" of travel, 14.1" BB height, and a 16.9" chainstay length. The one-piece carbon moulded frame design also allowed Scott to design a bike that provides plenty of standover clearance, especially for such a long travel bike, as well as a full length seattube. I've never been a fan of interrupted seattube designs, so I think this is a big benefit to the end user who won't have to be worried about being able to drop ones seat low enough for descents.
  Adrian Montgomery used to wrench world cup dh bikes, and he was hard to keep up to! Railing the backside of Sun Valley on the Warm Springs Trail. Photo: Todd Hellinga
Riding behind Scott employees Adrian Montgomery and Silas Hesterberg on the descent, I was able to push a bit harder and faster than I would have otherwise. The descent was fast, with some fairly loose rocky sections and lots of banked corners and rollers to keep the fun factor high. I found the bike to be lively and surprisingly nimble given it's long travel. The interesting thing about this bike is that while the weight (30ish pounds) and geometry put it firmly in the all-mountain category, it actually has more travel than the Volatge FR which is definitely on the downhill/fr side. According to Scott, the Genius LT has the best travel to weight ratio on the market (A new stat! – Ed.), and I definitely noticed it on the downhills!
  Yours truly getting a feel for the Genius LT on Sun Valley's Trails. Photo: Scott Markewitz
I have to say this bike loved to going fast on the trails that wound down the backside of Sun Valley. About half way through the descent we hit a short climb, a quick click of the twin-loc lever and I had the suspension on both the fork and rear shock locked out and I was easily spinning my way up a short 10 minute climb. This is definitely a handy feature on a bike with lots of travel. After another lengthy stretch of descending which included some more high speed sections and rollers to boost, we finally reached the bottom. I had a huge grin on my face from the trail, and the bike handled our first ride with nary a complaint.
  The backside of Sun Valley burnt a couple of years ago, apparently it threatened the resort, but it held off. It made for amazing scenery to ride through. Me airing a roller. Photo: Scott Markewitz
After a quick lunch set up by the fine crew from Western Spirit Tours, we loaded up the Van and Trucks and headed south of town towards Deer Creek where we were to spend the night camping. After setting up our tents and getting geared up again, we rolled out on what was to be a more XC excursion. With a few miles of gravel road to start and a 20+ minute loose singletrack climb to gain some elevation, we had a good chance to put the twin-loc system to use. The twin-loc allows the rider to use a remote lever to adjust the suspension between 3 settings; Full Travel, 60% travel, or both front and rear locked out. The remote lever was perfectly placed to allow for easy clicks between the settings and as the ride went on, and I became more comfortable and familiar with the action, I used it more and more. This came into play even more after we crested the main climb and started dropping back down towards the camp.
  I'd be lying if I said I could tell you how the pull shock designed in conjunction with DT Swiss works.  I'm not much of a technophile! I can say that it never wallowed under heavy high speed hits and the twin-loc worked flawlessly and as advertised. Photo: Todd Hellinga
The trail undulated along with plenty of high-speed, rocky descending and lots of short punchy climbs. I would run the suspension full travel and then quickly hit the twin-loc to drop the travel down to the 60% setting, occasionally locking it all the way out on steeper, smoother climbs. After cresting a hill it was a quick tap and I was back into full travel mode. While the extra 2 cables for the twin-loc makes for a more cluttered looking bar, I must say that it was so easy to use that I really didn't mind so much. I think with a bit of thought, and some work with electrical tape, some of the cable clutter could be minimized to provide a cleaner look. The bike was also equipped with an adjustable seatpost, although not remote, so if one was to want to add that over the under the seat lever model, that would add another cable to the already busy mix.
  Silas leads Adrian down the lower part of Deer Creek Trail. Photo: Scott Markewitz
Back in camp a cold keg was tapped while the good folks from Western Spirit started work on supper for the evening. The biggest bowl of guacamole I've ever laid eyes on was put out for us to chow down on while we waited for supper, and we wasted no time getting into it. Having Western Spirit there to take care of the camp side of things was a treat. These folks know the trails, and they know making amazing food! A huge helping of fajitas, some great desert, and in no time people were zoned out by the fire.
  Relaxing around a campfire out in the Idaho backwoods after a day of great riding. Photo: Scott Markewitz
In the morning, after another killer meal, we got ourselves sorted on the new Scale 989 29er; a full Carbon hardtail weighing in at barely 21 pounds complete. While I've ridden a few 29ers here and there I've never spent more than an hour, probably less, on one. I was excited to spend a couple hours on wagon wheels to see if I couldn't put any of my pre-conceived notions to bed. Starting again with a fire road to the trail head, I immediately noticed how fast the bike rolled. At speed almost any power input was immediately rewarded with acceleration. The bikes we were on were outfitted with the latest SRAM XX drivetrain, and as we left the road and started climbing the singletrack I had a chance to put the drivetrain through it's paces.
  The all carbon, Scale 29'er. Easy on the eyes, and fast on the trail. Photo: Todd Hellinga
Climbing in Idaho is a much different affair than here in the Coastal Mountains of BC. With trails mostly coming from a horse or motorcycle lineage in Idaho, it's very well contoured without many really steep pitches. I found for the most part that the 26×36 was just enough of an easy gear to get up everything, just when it felt like I needed one more gear, the trail would level out and I'd be able to get my breathe and legs back. There were more than a few tight loose switchbacks on the climb, and while I definitely noticed the bikes bigger wheels in these situations, I found that if I just kept applying steady pressure to the pedals and remained seated, the 29 inch wheels dug through the loose dirt, found the traction I needed, and motored through the corners.
  Myself nearing the crest of the climb up to Greenhorn Gulch. The 29'er proved a capable climber, although the 2×10 drive train did it's best to destroy my legs. Photo: Scott Markewitz
After what felt like a lengthy up, we topped out on a ridge which provided some amazing views of the surrounding mountains. And with the prospect of a descent down the legendary Greenhorn Gulch, I was curious has to how the 29er would handle on the down. While starting pretty tentatively, it didn't take long to get up to speed, and I must say that I felt way more comfortable descending on this bike than I initially expected to. Greenhorn is a long, fairly smooth descent, punctuated with banked corners, rollers and many a wide open high speed section that had me absolutely loving life. While I had a bit of trouble, compared to a regular 26" wheel, when it came to wheelies and manuals through dips and waterbars, the bike was incredibly manoeuvrable and in no time I was airing the rollers and drifting into the banked corners.
  The view at the top of Greenhorn was pretty easy on the eyes, oh, and the bike was fun too! Photo: Scott Markewitz
Say what you will about the bigger wheels, but they definitely found traction in the loose dirt and I was constantly jumping out of the saddle and mashing on the pedals to go faster. This bike loved to be rallied down the trail, and I pretty much enjoyed every second of it. Carbon already provides a noticeable amount of vibration damping, and this combined with the vertical flex in the seatstays, engineered in to provided some basic suspension, made for a very enjoyable ride. Being able to design a stay that is vertically compliant while remaining laterally stiff is a huge benefit to the one-piece carbon frame design, especially for a hardtail. The combination of big wheels, and carbon frame with the aforementioned damping characteristics made for a bike that ate up the bumps and actually made for a relatively smooth ride all the way back to the parking lot. The 29'ers feature a 69.5 degree headangle, and 17.2" chainstays, snappy handing to say the least!
  The Greenhorn descent; aspens, buff singletrack – sunny day shredding at it's finest. Photo: Scott Markewitz
After Greenhorn we cruised the paved trail running through the vally all the way back to Ketchum and the town's awesome pumptrack – and let's face it, pumptracks are hot. I am fully on that bandwagon! Scott is on as well and with a rad city-sanctioned track a couple blocks away from their headquarters, it's easy to see why. Anyone who's ridden a pumptrack can testify at how incredibly fun they are, and how important they are in developing a well rounded skill set. With this in mind Scott went about developing a couple of hardtail models that are directly aimed at this growth market.
  The Ketchum pumptrack was filled with berms and rollers, with some opportunities to get a bit of air here and there. The Voltage Hardtail was a lot of fun. Photo: Scott Markewitz
The new 24" kids bike is a prime example of a bike aimed directly at providing an affordable way for parents to get their kids into this part of the sport. In a singlespeed setup with cable actuated disc brakes, schwalbe tires, and with some colour-coordinated pedals/seat/grips, this sweet little rig comes in less than $500 and is a great starter hardtail. For the older/big kids. Scott will also be offering a 26" version that comes with a more mid range spec but still very affordable pricing. Pumptracks offer a great way for more people to get into the sport and learn very valuable skills. It's good to see Scott recognizing this trend and offering something affordable for younger riders. They're also talking about establishing Voltage Parks in conjunction with local towns to help foster the process. That's good news.
   The Voltage 24" hardtail is aimed swuarely at the pumptrack/dj market and at around $500 it definitely fits budgets for growing kids a bit better than a lot of higher priced offerings in the market, a great way to get in for minimal cost. Photo: Todd Hellinga
Overall Scott is working very hard at establishing themselves as one of the world's premiere brands. The Genius LT is a huge step in the right direction and I see that model particularly applicable to the style of riding that takes place in the Pacific Northwest. While it certainly has more travel than most are used to in an All-Mountain machine it really doesn't feel like too much, and the addition of the twin-loc feature and the high/lo geometry settings makes the bike very adaptable.
29'ers are still having trouble finding traction here in the BC's mountains as people continue to question the durability and tire selection/fork choice. But it is gradually changing as the established brands like Rocky Mountain, Norco and even Banshee jump into the mix. While the Scale 29'er seems more suited to high alpine buff singletrack I wouldn't be suprised if it handled our tougher terrain better than we'd give it credit for.
Thanks to Adrian and the whole team from Scott for being such great hosts and taking us on some great rides, and to the Guides and Cooks from Western Spirit for keeping our bellies fuelled with some great food!
  The whole gang at the top of Greenhorn. Photo: Scott Markewitz
---
Interested in a long travel carbon bike for your all mountain adventures?  How about a Scale 29er – maybe for the Whistler Bike Park?  Tell us what you think here…