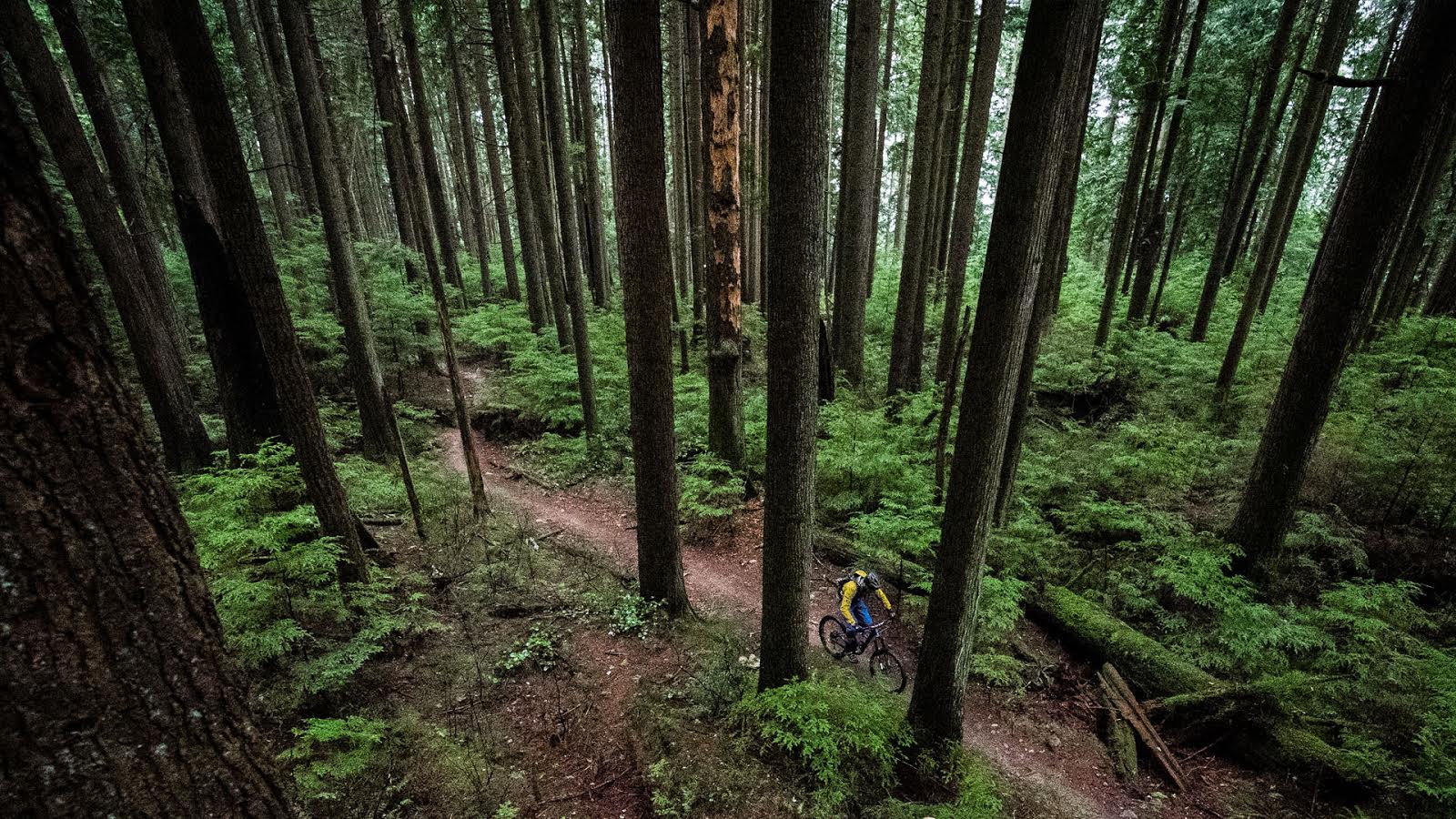 2015 Ibis Mojo HD3 Reviewed
My experience with Ibis Mojos dates back to 2006. Scot Nicol had recently reacquired the brand he had started and later sold, and the Mojo marked the beginning of the new Ibis. For its time, it was unique. There were not many full carbon frames with 140mm travel just yet, and nothing on the market was the equal of the Mojo in the looks department. For product managers, engineers, designers, or anyone else that might question the value of a good industrial designer, you need look no further than that bike, which placed more emphasis than normal on a bike's looks – and succeeded brilliantly. Its beautiful flowing lines gave it an artful look that had me questioning whether I should build it up or have that frame framed. Not many bikes since have had that impact from an aesthetic standpoint. I ordered one and it lived up to its promise: light, great pedaling performance, active rear suspension courtesy the DW-link, it was all there. After some time on the shore, though, I found myself wishing it had longer legs and a more laid back personality…
The 2015 Ibis Mojo HD3, with XTR 1x Werx build kit.
The bike I had been wishing for emerged in '09 with the HD, but it was only updated for 650b wheels when given another makeover this past year. Enter the Ibis Mojo HD3. It has a 67º HA, which drops about half a degree if you run a 160mm Fox 36 (which we tested) instead of the 150mm Pike that they specify on some models. Now, that's slack-ish but not compared to the Nomad, Reign and SB6c I've spent time on this past year. Let's come back to that.
It also got the longer and lower treatment that you would expect of a modern AM bike, a tweaked DW-link designed around smaller front rings and better mid-stroke manners, beefier pivot bearings, internal cable routing, removable front derailleur mount, and the ability to mount a bottle cage inside the main triangle instead of only on the underside of the downtube.
The Ibis' beautiful, clean lines are still there, but the Black colourway is downright boring compared to the 917 and Green Machine editions. If you want to run carbon wheels without the taxman knowing where you're hiding all your cash, go with the subtle stickers you see here.
Important numbers
Travel: 6″ / 150mm
Head tube angle: 67º / 66.6º (with a 150/160mm fork, respectively)
Seat tube angle: 72.6º
Bottom Bracket height: 13.54″ / 343mm
Chainstays: 16.93″ / 430mm
Wheelbase: 45.98″ / 1167mm
For a complete look at design changes from the Mojo HD, see Jon's rundown from the HD3 launch.
When Cam put together an article about his first impressions of the HD3, he figured he would be testing it, having recently spent some time with the Ibis HDR. However, injury kept him out for part of the test period, so I gladly saddled up the Mojo. There are NINE different build kit options that vary from the insane value of the Special Blend at $3,950 USD to the XTR 2x version at $9,200. We tested the XTR 1x Werx version ($7,900) which, it won't surprise you to hear, came with a very high-end build kit, including Ibis' 741 carbon wheelset (now with DT Swiss 350 hubs), Fox 36 fork, and Cane Creek DB Inline shock.
Maxxis Minion DHF 3C rubber front and rear was beefy and capable, although I prefer a DHR II or High Roller II on the rear. The DHF's profile works well on the super wide rims, though.
The stock Ibis bar was carbon (yay) but only 740mm wide (boo).
Not much to argue with, spec-wise. Except that it came with an Ibis-branded carbon bar that was only 740mm wide. For a size Large AM bike, this is too narrow and I left it on for the first few rides just so I would be able to say this: if you are big enough for the Large and run a bar that narrow, you're selling the experience of this bike short. With that cockpit setup, it felt like a trail bike. With the 780mm Renthal bar I threw on, it suddenly became an AM bike again.
Swapping the stock 740mm bar to a 780 gave the Ibis Mojo HD3 a much better feel when things got steep and chunky.
We have been sharing time on an Ibis wheelset, so that was familiar to me on the HD3. They are impressively girthy and while you can run them at low pressure, I still haven't gotten used to that squirmy feeling we all used to love in the days of heavy multi-ply DH rubber on our small bikes. They do not feel quite as stiff as an Enve M70, and you are greeted by spokes popping and settling on occasion – something I haven't heard once from multiple pairs of Enves – but the cost is less than half and so far they've held up brilliantly. We'll have a long term report on these wheels after we've put more heavy duty miles on them but so far they're looking like a really solid choice as a carbon wheel upgrade for someone without a carbon-dipped paycheck.
Not pictured: removable front derailleur mounting plate. What you CAN see is a bottle cage inside the front triangle – a new thing for the Mojo. The internal cable routing is nicely executed.
Because our XTR 1x Werx version came with Shimano's new 11-40T rear cog, the Race Face Turbine cranks (stiff, light, good looking, easy to change rings) were Cinched to a 30T front ring. The 30 x 40 tooth granny combination was plenty low for everything I rode, and I expect that will be the combination of choice for companies that spec Shimano in a 1x configuration. If you like, there is a direct mount front derailleur option (removable) should you choose to go to a 2x system.
Sturdy pivots and big bearings. The Cane Creek DB Inline was a solid performer, other than the Climb switch placement being impossible to read. This is only really a problem when you're constantly switching bikes. Once you get used to it, it's fine.
See? That climb lever is hard to read. Not that I needed to use it much – it usually just stayed wide open. The new DB Inline is easier to adjust than the DB Air, which required a proprietary tool. Now you just need small allen wrenches.
The Cane Creek DB Inline was a nice match to the Mojo HD3's active but efficient platform. While I wouldn't describe the Ibis' mannerisms as plush in comparison to a Nomad or especially the Reign's Maestro suspension, it still felt like a generous 150mm. It delivered tons of traction in sketchy situations where you can never have enough, but pedaled up noticeably better than its aforementioned more aggressive competitors – even without flicking the DB Inline into Climb mode. It is certainly not a mini-DH bike (nor was that Ibis' intention) but it also didn't feel under-gunned in hairy terrain. Ever.
Climbing performance was exemplary, whether grinding up a fire road or tackling steeper, more technical pitches.
And the steeper head angle? Took a bit of getting used to (I've come to love 65) but I appreciated that it didn't feel like I was trying to get a fast-moving Cadillac around an angry moose every time I wanted to change direction. The sub-17″ (16.9/430mm to be precise) chain stays only enhanced the Mojo's nimble demeanor. The Nomad rewards you for picking the right line and will hold up to a rough ride if you get it wrong – the Mojo HD3 makes it easier to adjust whether you were climbing or descending, but also has enough stability and stiffness baked in to endure a poorly chosen line at speed. For outright descending prowess it is not my first choice, however the Mojo HD3's versatility makes it one of the best AM bikes available.
The head angle and short chain stays of the Mojo made steep lines with wiggles in them a little easier to manage.
And I really think that high-performance versatility is a good way to describe the Mojo HD3. It's definitely up for it if you're planning to race Enduro (and congrats to Anne-Caro for her recent win on the HD3 in the first EWS of the year in Rotorua), but you could improve on its already impressive sub-28 lb weight with some XC rubber and be in a very good place for a multi-day epic trip or even a casual XC race (or one in aggressive terrain). Calling a bike an Enduro race bike seems to be the way that most companies make it clear that they intend that model to be ridden hard downhill, and that can pedal back up again. Calling the Ibis Mojo HD3 an Enduro race bike wouldn't be wrong – but it also wouldn't do justice to the bike's multiple capabilities.
That is an impressive amount of seat and chain stay protection. Like most 1x bikes, the Mojo runs very quietly, but those bumpers were an added bonus.
The KS Lev post worked well, except when it didn't. At the start of almost every ride I found I had to cycle it to fend off stiction. After doing that once or twice, it was usually flawless.
If you get the Lev's lever positioned correctly, you'll be happy. But I was never as happy as with a Reverb lever, which I think is the best in the biz.
I got comfortable on the Ibis Mojo HD3 in a very short period of time. As an aggressive descender with great pedaling capabilities, it's one of the best AM bikes among a crop of very impressive rivals.
---
You can find more details about the ibis Mojo HD3, including all available build kits and prices at the Ibis website.