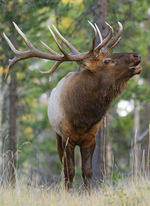 Posts: 62
Joined: Feb. 24, 2017
Syncro is correct.

It doesn't help when you see Pros/youtube stars taking alternate lines or even just making up a new line on a trail in one of their videos.  All for the social media likes.  That bleeds over into real life and I constantly see new trail braids/lines on old trails.  

New bikes are ridiculously fast and make things easy now.  That Wade Simmons/RM ad about his bike dumbing down the trails is dead on.  My new Yeti almost feels like I'm hitting a cheat button most of the time.  I'm hitting stuff I wouldn't have dreamed of on my mid 2000 freeride bike.  I have had to reign myself in, remembering I am on public multiuse trails (thank goodness for Timberbells).  **I always stop or slow down to a crawl for hikers/walkers/equestrians just to be clear** 

I don't know what the answer is really.  Marketing wants to sell stuff and ripping corners and blazing down trails sells.