Posts: 36
Joined: Feb. 24, 2017
It's been about six months since installing the SR Suntour AURON RC2 PCS. In my last post I was having some struggles getting the fork to perform to my liking. After reducing the pressure to about 73psi, running a single air spring token and fine tuning the low speed compression, I was happy with my setup. Having dialed in the progressiveness of the fork to my liking, I wasn't too concerned with the high speed compression and left it open at 1. 
I initially installed the fork on my hardtail where I briefly tried using the fork with a 27.5 x 3.0 Surly Dirt Wizard, however the clearance was simply not there to accomodate a plus sized tire. Fair enough, that is well outside of the design parameters of the AURON. For the remainder of the test I ran this setup on my Santa Cruz Hightower in conjunction with a CC DB Coil IL with 29 x 2.4 wheels. Since installing the AURON, I've racked up about 2000km of riding and feel comfortable reporting on it.
The 29er setup traveled with me on a trip back home to Colorado. During that time I was able to revisit the trails where I learned how to mountain bike in the Front Range. For the most part, these trails consist of casual XC single track with a rock garden or two strewn about. From sprinting through smooth singletrack to navigating chunder through a rock garden, the AURON felt balanced and poised with whatever you might throw at it. It was in the rock gardens however that I really noticed how noisy the fork can be during the rebound stroke. While not exactly detrimental to the performance, I did find it a bit distracting while focusing on line choice / keeping it rubber side down.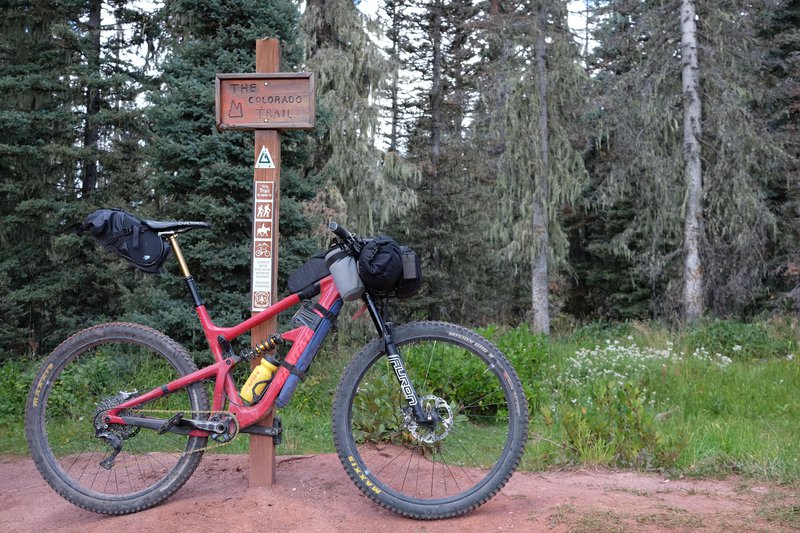 I tacked on an extra week of my trip in Colorado to join some friends in bike packing through the San Juan mountains from Lake City to Durango on the Colorado Trail. I  borrowed what gear I could from friends, strapped it to my bike and got going. Over 5 days we covered about 200 km and 10,000m of elevation gain. With the added weight of the loaded bike, I increased the air pressure 10 psi and and left the single air volume spacer alone. Though bikepacking often implies much slower riding than one might consider during a normal day ride, the added weight of the gear was a great way to test the fork under technical descents. At the end of the trip, there wasn't a time where I had experienced noticeable flex in the fork, brake dive, or really any reduced performance whatsoever.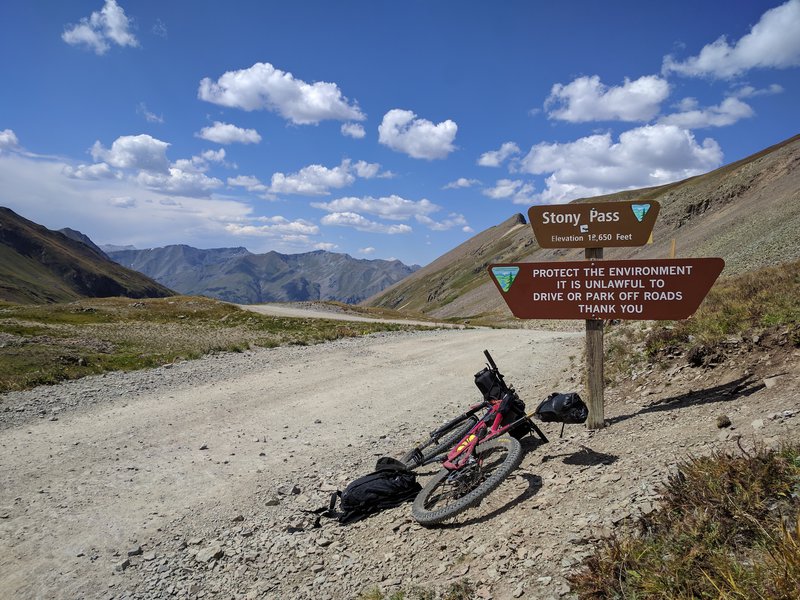 Following a summer of adventures in the Canadian and US Rockies, I was happy to be back in the Northwest and soak up as much fall riding as I could. I've been riding several times a week on my favorite local spots, mostly around Mt Seymour in North Vancouver and in Sudden Valley area of Bellingham. The one area of the fork that I had yet to really feel confident about was the high speed compression damping. The AURON offers 5 adjustment settings, however I wasn't sure I had ever made use of the feature. There was one trail I knew I could reliably bottom out my fork on (the final drop on Ned's), so I took to some suspension bracketing to try and make sense of the damper. A series of jumps later, I still could not personally feel a difference between the performance of the fork with HSC fully closed or fully open. In comparison to other forks with high speed compression circuits, I think this is the most obvious area of reduced performance when considering the SR SUNTOUR AURON.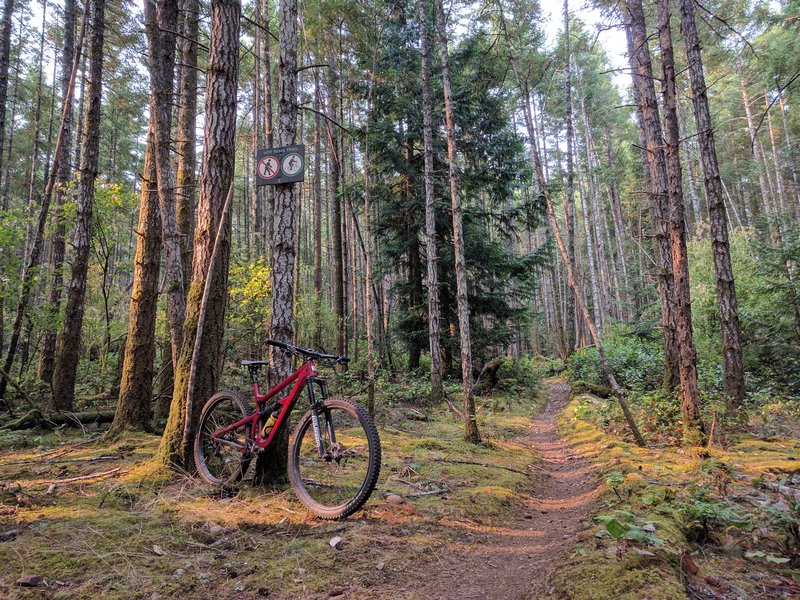 To date, my fork stills feels as plush as the day I first installed it. That's great, but is also a bit of a shame as I was hoping I would have been motivated to open it up to change the seals and oil. From a look at the online service videos, there seems to be quite a bit of information available, however it's rather poorly organized. You have to really know what you are looking for in order to get at the info. The product manuals don't exactly help in that department either, as they seem to feature outdated models in current manuals, or more deluxe dampers that are unavailable in your chassis (i.e. why talk about R2C2 if it's not available in this generation of the AURON chassis?)
Overall I am incredibly impressed with the fork. Once setup, it offers an impressive range of adjustability of the low speed compression and rebound circuits which provides incredible amount of traction and support for aggressive riding. As I'm left wanting a bit more out of the high speed compression damping, there are a few other noteworthy issues that are worth discussing. For one, the brake hose clamp is pretty flimsy and I'm sure I'll crack it one of these days. It would perhaps be advantageous to offer a threaded solution. While impressively designed, the Q LOC 2 axle system isn't as set-it and forget-it as a tried-and-true threaded axle. I experienced improper installation of the axle twice due to improper preloading of the collet; once by myself, and once by a friend putting my wheel back on. It's a simply and easy system, and an impressive way to save machining costs and weight on the lowers, but it's not idiot proof and for being a component so paramount to system safety, it really should be.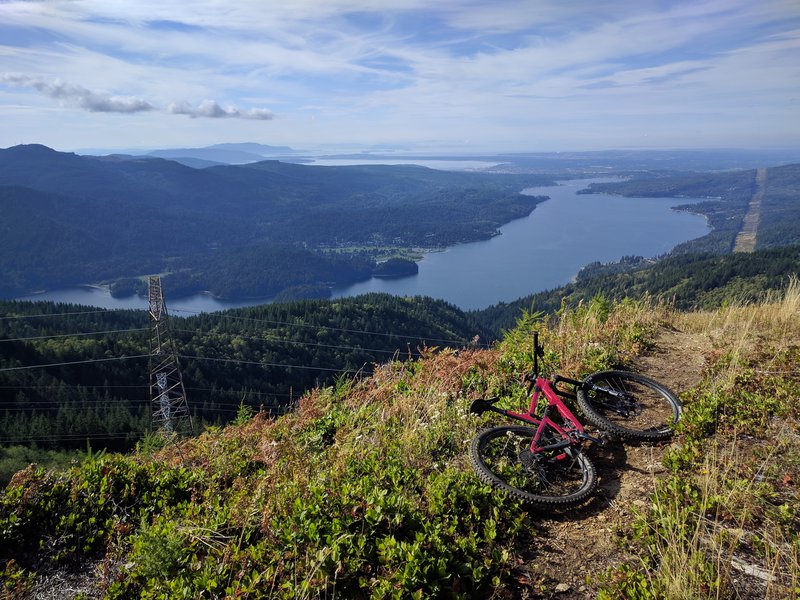 In a time where suspension companies release new products faster than Apple releases iPhones, the AURON is a great option for those who want to think outside the RockFox. Riders looking to trim extra seconds off their stage descents and inflate their strava fueled egos will find more tunable options to support their lifestyle, however I think the SR Suntour AURON 34 is a great option for the vast majority of the mountain biking community. It was impressive enough for me to sell my 36 RC2. 
Super duper thanks to everyone at NSMB and SR Suntour who allowed us laypeople take part in such a neat product test. I hope we were able to help you achieve what you had envisioned from this forum-testing base. 
TLDR
Positives
Sleek design, despite not being one of the 'big guys' in the suspension scene

Ease of user serviceability

Adjustable air spring volume 

Relatively light for its market category

Impressively stiff 

Excellent traction and support throughout the stroke
Negatives
Noisy rebound strokes

compression adjustment knob could be more ergonomically designed

Lackluster high speed compression performance

Very progressive air spring could be tricky for lighter riders

Axle should be idiot proof

Service information could use some organizing