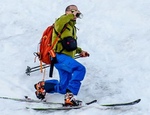 Posts: 24
Joined: Feb. 24, 2017
Last year I raced with 2.3 Minion DHFs front and rear... but I was on a single speed so rear wheel traction while standing was important.
This year I'm mechanical doping with everyone else and I've had a 2.6" Rekon on the back (which was pretty good at first, but I've flatted 3 times this year).  On Wednesday I realized it was bald and so I panic mounted a 2.6" Slaughter last night.  I'll let you know how it goes in the Nimby.  
The Slaughter is noticeably smaller than the Rekon.  2.41" vs. 2.54"
What tire did you end up choosing D_C_?   It would be interesting to compare our impressions with the damp weather.