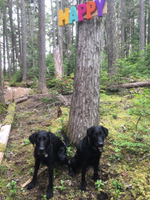 Posts: 556
Joined: Feb. 24, 2017
Posted by: Vikb

Posted by: RAHrider

When you look at the turning radius of a mullet around a corner, the rear wheel tracks inside the 29 front. Not sure exactly how that translates but maybe snappier out of corners once the front wheel has fin8shed the turn?

I've never gone Moo-Leet, but I am trying to understand why the rear wheel would track differently on a 29 x 2 vs. 29/27? In the same frame the wheel's contact patch would be in the same spot so why would the back end of the bike take a different line? Not saying it doesn't I just can't compute the reason.
Same boat. I think if a mullet allows a shorter rear centre then you will have a bike that will corner quicker because of the shorter wheelbase. But how much is that difference? Someone above said front end geometry of a bike has far more impact on a bike's handling characteristics than any other single thing and I think that's probably true.