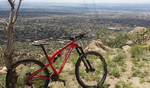 Posts: 26
Joined: Feb. 24, 2017
Posted by: cam@nsmb.com

The biggest difference in the new Yetis (beside the water bottle!) is reach. The new large is 480.2 while the 5.5 was 442. That's huge and very positive. I also appreciate the shorter seat mast. Some are complaining about the squashed head tube but that's not a big issue for me. I already loved the 5.5 despite its foibles so I'm pretty excited about the SB 150. And whatever else might be just around the corner... said the guy who doesn't know anything.
I feel almost bad looking at the new Yetis - because I'm already rocking a 150/130mm travel 29er with 481mm reach.
It's a 2014 Rocky Instinct, and I could set fire to it and buy a new one with carbon everything for the same price as the GX build... and it has room for two water bottles plus a full complement of bro-duro spares for repairs inside the front triangle.
If I want to go bananas (probably will eventually), I'll just get an Avalanche kit to coil front and rear, move it to a 160/140 bike, and laugh all the way down the mountain (admittedly after wheezing the whole way up).