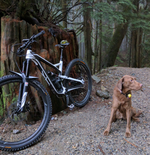 Posts: 69
Joined: March 28, 2012
Posted by: basilbrushboomboom

Related Qs from an older fart and north shore noob.

1. Is there a reason roadies and MTBers don't have bike bells out here?

2. Is it now acceptable to not yield to those traveling up hill? (esp on fromme ascent)

3. Am I allowed to be miffed about trail runners going down Expresso and cutting corners on a busy Sunday afternoon ?
As for question number 2, I have noticed that on weekends there seems to be more traffic coming down Dreamweaver and on the shared section with the ascent trail many people are more concerned about keeping up with their buddies than slowing down to yield to climbers.  It's narrow too in spots.  C'mon people!
Lots of trail runners out there now.  I understand that we are all sharing the trail, but the trail is a downhill, bike primary.  If riders catch up to a group of runners should they not yield?