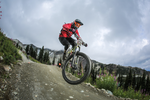 Posts: 133
Joined: Nov. 19, 2002
Posted by: Bull_Dozer

What is the most popular/efficient way to climb up to LOTS? Up Stonebridge, left on Flank trail to Into the Mystic? Or is it better to come in from Function Junction?
I prefer lower sproatt/industrial waste personally. South Flank out of Function is, efficient, but a grind. lots of people still go up stonebridge but we'd prefer if people didn't park up there, besides, then you miss out on finishing the loop with a blast down westside trails right to valley.