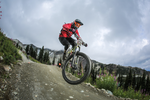 Posts: 133
Joined: Nov. 19, 2002
Posted by: craw

Posted by: FlipFantasia

I keep thinking about swapping to a Surface, but actually can't bring myself to replace the samurai65 with a 29'er because I love how quick handling and responsive it is, so agile.

Why not both?
I think if I get a 29r hardtail it will be carbon, xc oriented, and hopefully really light.